In Parkinson's, Syncopated DBS May Beat the Current Standard
Typical deep brain stimulation (DBS) resembles the beat of a metronome. Steady, high-frequency electrical pulses released deep in the brain help coordinate neural firing and reduce symptoms of Parkinson's disease. But there's a downside. The continuous pulsing drains the device battery, which then has to be replaced surgically. What if a more efficient rhythm worked just as well? Using a computational model, scientists led by Warren Grill at Duke University in Durham, North Carolina, derived a heterogeneous pattern of pulses that repeated in 200-millisecond segments. It alleviated parkinsonian symptoms in rats and in people with PD. This new stimulation uses a third of the energy of conventional DBS. If it works in practice, it would extend battery life and cut down on replacement surgeries. It might also mean fewer side effects, wrote the authors.
"It is impressive that a single model was able to predict a stimulation regime that worked across two very different species," wrote Simon Little, University College, London, to Alzforum. However, he cautioned that follow-up confirmation in larger studies with more extensive clinical evaluation will be needed to determine if the pattern reduces side effects compared to conventional stimulation. Little was not involved in the research.
DBS frequencies below 50 Hz are usually ineffective or even worsen motor symptoms, while higher frequencies, between 130 and 185 Hz, alleviate symptoms such as bradykinesia or tremor. However, high-frequency pulses exhaust the batteries of most implanted pulse generators (IPGs) within three to five years. Surgeries to replace batteries and reprogram the devices, which sit in the chest under the skin, come with the risk of infection and programming errors.
First author David Brocker and colleagues decided to see if a particular pattern of DBS pulse could deliver the same therapeutic benefit but save electricity. Previously, computer models suggested that an irregular series of pulses could alleviate PD symptoms, but no one had yet tested such a pattern in animals or people (Feng et al., 2007). To design an optimal pulse pattern, the authors borrowed from genetic algorithms. GAs exploit the principles of biological evolution and natural selection to find the best solution to a problem. The idea here was to find a DBS pattern that "survived" the selection process best because it efficiently reduced bradykinesia while consuming the least amount of energy.
Brocker's model predicted the output of the thalamus based on input to the subthalamic nucleus, where DBS electrodes are often placed. The genetic algorithm "evolved" an optimal pattern of electrical stimulation by running a series of trials. Each trial assessed 150 different pulse patterns within a repeated 200-millisecond interval. In successive trials, the model selected for patterns that best optimized thalamic output and energy efficiency, mixed them with randomly generated patterns, and "recombined" them to create hybrid sequences—akin to genetic offspring—for the next trial. After 90 "generations," an optimized pattern emerged. It consisted of nine irregularly spaced pulses repeated five times per second. At an average 45 Hz, it took about a third to a quarter of the energy to generate compared to the usual high-frequency DBS stimulation. The authors estimated that using this pattern, the battery life of current DBS devices could stretch up to 10 years.
Brocker and colleagues first tested this GA pattern in rats to see if it would alleviate parkinsonian symptoms. The rats had been injected with 6-hydroxydopamine to wipe out dopaminergic neurons on one side of the median forebrain. This weakened their motor control. Brocker then implanted electrodes in the subthalamic nucleus. After the rats recovered, he stimulated them with either low- or high-frequency pulses or with the new pulse pattern. Control rats received no stimulation.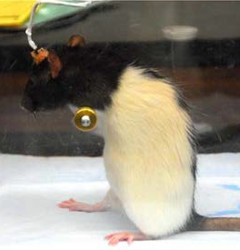 The animals were then tested on how quickly they were able to push away from a fixed horizontal bar, and how much they circled in place after treatment with the stimulant methamphetamine. This is a typical response in animals that have motor control of only one side of their body. Rats that received no treatment stayed on the bar for up to five minutes and turned in circles. Low-frequency DBS partially reduced the time it took to climb down and diminished circling, while high-frequency stimulation restored motor control completely. The new GA pattern also improved movement coordination, though not quite as well as regular DBS.
The researchers then tested the GA pattern in eight people with Parkinson's who were undergoing battery replacement surgery for their IPGs. Between removal of the old battery and placement of the new one, researchers hooked patients' electrodes to an external signal-generating device. They tested finger tapping speed or tremor, respectively, after 45- or 185-Hz standard DBS pulses, the GA stimulus, or no stimulus. Four people who had the classic PD symptom of bradykinesia—i.e., slowness of movement—were able to alternately tap their index and middle fingers more quickly and regularly with both the patterned stimulus and with standard high-frequency treatment. The four other people, who suffered from tremors, saw their hand-shaking reduced with both the GA pulses and the high-frequency stimulation, though the latter was slightly more effective.
Grill contended that although the GA pattern sometimes falls short of achieving the same therapeutic benefit of high-frequency DBS, the energy savings are worth it. It's possible that in the future, the patterns will be further optimized, he said. In addition, patients may be able to choose when they need the most-effective/highest-energy DBS and when they can get by with what feels like an adequate treatment effect that extends battery life.
How did this new DBS pattern improve motor control? The researchers are unsure, but think it relates to a 10 to 30 Hz β-band frequency generated by the basal ganglia. This activity inhibits movement and is pronounced in PD patients. Both the high-frequency and the GA stimulation decreased β-band activity in the subthalamic nucleus in another six patients who were having DBS electrodes placed in their brains for the first time. The β-oscillation remained strong without DBS stimulation, or if low-frequency pulses were given instead. (Recently researchers used light to entrain gamma oscillations and reduce Aβ load in mice. See related Dec 2016 news).
Taken together, the results suggest that computational algorithms may help design patterns of DBS stimulation that are both therapeutically effective and efficient, the authors wrote. "We think this timing between pulses is a new dimension of therapy that can be exploited for any applications of electrical stimulation for treatment of neurological disorders," Grill claimed. It could improve DBS used to treat neuropsychological conditions, chronic pain, or even Alzheimer's disease, they suggested. DBS trials are ongoing in AD (May 2014 news). Different patterns may best fit specific symptoms or even individual patients, and many devices already have reprogrammable wireless technology to deliver such stimuli to the brain, without surgery, Grill added.
Brocker and colleagues suggest in their paper that, besides saving energy, a lower average pulse frequency might also diminish side effects of high-frequency DBS, which include tingling, unwanted movements of the eyes, and distorted speech. However, the researchers were unable to test these side effects during the short time frame of the surgery.
"This ambitious study has generated a patterned stimulation protocol that is worthy of further investigation," said Binith Cheeran, University of Oxford, U.K. It may help next-generation DBS technologies reduce side effects of the therapy, he agreed. Even rechargeable devices, which are less commonly used, might run longer between charges, and be reduced in size, said Cheeran. He noted that this study tested a small number of human subjects for a very short period of time. It was unable to measure effects on rigidity, one of the most troublesome features of PD. Nonetheless, "studies such as this should reassure people with Parkinson's, and the physicians who care for them, that DBS therapy will get better."—Gwyneth Dickey Zakaib