Not All About Dendrites: Presynaptic Tau Harms Plasticity, Too
Many studies link tau to synaptic dysfunction and memory loss in Alzheimer's disease and other dementias. But how does tau do its dirty work? Most previous research focused on the harmful effects of tau that strays into dendrites and acts on postsynapses there. In the April 3 Acta Neuropathologica Communications, researchers led by Eva-Maria and Eckhard Mandelkow at the German Center for Neurodegenerative Diseases, Bonn, turn the spotlight on presynaptic tau. Because tau is an axonal protein, it is likely to occupy presynapses earlier than postsynapses, the Mandelkows told Alzforum. In mouse tauopathy models, small tau aggregates in hippocampal presynapses lowered calcium influx, impaired plasticity, and precipitated the loss of synapses. Inhibitors of aggregation preserved synaptic structure, strengthening the case for aggregated tau as the toxic entity. It is not yet clear whether presynaptic deficits precede postsynaptic problems, or vice versa.
"This is one of the first papers to explore the function of presynaptic tau," noted Amy Pooler at the Nestlé Institute of Health Sciences in Lausanne, Switzerland. She praised the thoroughness of the study, which ranged from in vivo to slice and cell culture experiments. Others agreed. "The paper represents a typically excellent body of work from the Mandelkow lab," George Bloom at the University of Virginia, Charlottesville, wrote to Alzforum.
Previous studies by the Mandelkows and others found that in Alzheimer's models, tau, ordinarily a microtubule-binding protein, wanders off into dendrites, where it contributes to excitotoxicity caused by Aβ (see Jul 2010 conference news; Sep 2010 news; Jan 2011 news). These experiments left unclear what form of tau harms synapses. To pin this down, the Mandelkows generated mouse models that express either a form of tau that aggregates easily, called TauRDΔ, or one that never does. Only TauRDΔ mice developed Alzheimer's-like pathology and memory problems, they reported (see Jan 2008 news; Feb 2011 news).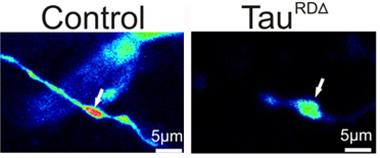 In the current study, the Mandelkows used these mice to investigate the presynaptic effects of tau aggregates. Presynapses are generally harder to study than postsynapses because they are harder to identify. Joint first authors Jochen Martin Decker and Lars Krüger analyzed mossy fibers, axons that extend from neurons in the granule cell layer of the dentate gyrus to contact dendrites of pyramidal cells in area CA3 of the hippocampus. Mossy fibers form one of the largest presynapses in the brain, enabling detailed studies of its structure and function. These excitatory synapses underpin memory storage and retrieval, and their loss correlates with the onset of severe memory deficits in AD patients. In TauRDΔ mice, the CA3 region develops the most pronounced pathology, Eva-Maria Mandelkow said.
These synapses functioned normally in young TauRDΔ animals, but by 13 months of age, the mossy fiber boutons contained hyperphosphorylated, oligomeric tau and looked abnormal. The boutons swelled by about 50 percent, but contained less than half the number of synaptic vesicles of controls. Moreover, these synapses transmitted weakly and were less plastic than those in wild-type mice and in animals expressing non-aggregating tau. Why might this be? Knowing that calcium must enter presynapses for normal plasticity to occur, the authors measured calcium flux in the mossy fibers in hippocampal slices. Slice cultures came from young mice but developed pathology after 10 days in vitro. In tissue from TauRDΔ mice, about one-third less calcium flooded into boutons after depolarization compared to control slices. The authors also saw a 20 percent drop in spine density in the CA3 region. Similarly, calcium influx slowed in primary neurons and cell lines expressing the aggregating form of tau, dropping by two-thirds in cells with visible tau deposits, again fingering tau aggregates as the culprits.
Could blocking tau aggregation save synapses? When the authors treated brain slices with an aggregation inhibitor, it prevented the ballooning of boutons and the loss of spines. These studies had to be done in slice culture because most tau aggregation inhibitors do not penetrate the blood-brain barrier well, Eva-Maria Mandelkow said.
Tau aggregation is not the whole picture, however. The authors also examined tau knockout mice. While these animals had normal synaptic plasticity, they did grow enlarged boutons. Their synapses also transmit weakly, just like the animals expressing the aggregation-prone tau. Bloom was intrigued by the finding that both aggregated tau and a lack of tau perturb synaptic function. "Together, these results raise the possibility that tau misfolding (manifested as oligomerization) represents, at least partly, a toxic loss of function in the context of synaptic behavior," he wrote to Alzforum. Pooler suggested that pro-aggregant tau might sequester endogenous mouse tau so that it can no longer perform its normal function. "The data suggest tau plays a role in regulating neuronal signaling, even in the absence of disease," Pooler said.
However, Decker was quick to point out that the more severe synaptic deficits appeared only in the presence of tau oligomers. "We speculate that the calcium impairment occurs separately from the synaptic transmission phenotype, and explains the impaired plasticity," he told Alzforum.
In future work, the authors plan to investigate exactly how tau oligomers dampen calcium entry. Eckhard Mandelkow pointed out that as a major microtubule-binding protein, tau participates in the transport of cargo along axons, raising the possibility that some of the observed synaptic changes could be due to a lack of key proteins at the synapse. In support of this, western blots revealed a drop in several synaptic proteins in pro-aggregant mice. The authors will also compare the timing of pre- and postsynaptic deficits to see which one drives the disease.—Madolyn Bowman Rogers
References
News Citations
Research Models Citations