Nicastrin Bounces Bulky Proteins from γ-Secretase
Nicastrin has been proposed to help the γ-secretase complex select which transmembrane proteins to cut, but the exact mechanism remains controversial. New data from scientists led by Michael Wolfe at Brigham and Women's Hospital, Boston, suggests that nicastrin blocks substrates with large ectodomains from accessing the enzyme's active site, allowing only shorter substrates to be cleaved. The model questions previous theories that nicastrin actively binds and recruits substrates for γ-secretase, and may explain why α- or β-secretase must first shed most of the substrate ectodomain before γ cleavage can occur, helping scientists better understand Aβ regulation. The researchers published their data in the December 22 Proceedings of the National Academy of Sciences.
Nicastrin is a type-I transmembrane protein that forms a complex with three other proteins to form the γ-secretase complex (see image at left). Presenilin, the catalytic subunit, only cleaves substrates that have had their ectodomains mostly sheared off by α- or β-secretase. The substrates of the protease include Notch, crucial for cell fate determination, and APP, important for Alzheimer's disease (AD).
Previous reports suggested nicastrin actively recruits substrates. A decade ago, Gang Yu and colleagues at the University of Texas Southwestern Medical Center, Dallas, proposed that glutamate at position 333 of nicastrin binds the substrate's ectodomain stub left behind after α- or β-secretase cleavage, and helps pull the substrate close to the active site (Shah et al., 2005). However, recent high-resolution structures place E333 deep inside nicastrin and distant from the active site, causing scientists to question how it could bind substrates (see Aug 2015 news; May 2015 news). What's more, first author David Bolduc pointed out that γ-secretase has more than 90 substrates with diverse ectodomain sequences, and the likelihood that they contain a common recognition sequence is small. Could nicastrin select for substrates a different way?
To find out, Bolduc and colleagues used E. coli to produce a truncated version of Notch that resembles the fragment produced after cleavage by α-secretase. In vitro, when the researchers varied the amino acid at the N-terminal tip of the truncated ectodomain, or lopped it off entirely, γ-secretase cut Notch with the same efficiency. This refuted the idea that the ectodomain harbored a specific site that flagged it as a substrate for γ-secretase. However, if the scientists lengthened the substrate's ectodomain, either by extending its amino acids or tacking on a whole other protein region, γ-secretase processing dropped. The longer the ectodomain, the less the enzyme cut. Together, these data suggested that the length of substrate ectodomain, but not its composition, matters to nicastrin.
In order to measure the substrate interaction in a controlled setting more akin to a mammalian cell, Bolduc and colleagues inserted γ-secretase and the truncated Notch-based substrate into a proteoliposome, a method previously used to study other intramembrane proteases (Dickey et al., 2013). Substrates with short ectodomains were easily cleaved by γ-secretase, but steered clear of the enzyme if they had long ectodomains.
Since nicastrin's bulky outer portion sits atop the lipid bilayer on the extracellular side of the cell, the scientists wondered if nicastrin sterically blocked proteins with large ectodomains. A bacterial protease, RseP, works in a similar way: A large globular domain protrudes from the membrane and keeps bulky, substrate wannabes from being cleaved.
To test this, the researchers had to disrupt the nicastrin ectodomain without deleting the rest of the protein, because the γ-secretase complex cannot form without the subunit. Luckily, nicastrin is the only subunit of γ-secretase that contains disulfide bonds, and they stabilize a protein's secondary structure. When the researchers disrupted those bridges using a reducing agent, nicastrin's ectodomain loosened up and γ-secretase started cleaving substrates with both short and long ectodomains. The results imply that an intact ectodomain on nicastrin keeps larger substrates out of the catalytic site. This likely explains why α- or β-cleavage is required before γ-secretase can do its job: They must first chop off a good chunk of the substrate's ectodomain so it can get past nicastrin.
The results jibe with recent high-resolution cryo-EM structures of nicastrin that place its ectodomain perpendicular to the transmembrane portion of γ-secretase, directly over the binding pocket of presenilin (see image above). The data also fit with a previous study that suggested γ-secretase preferred proteins with short ectodomains (Funamoto et al., 2013).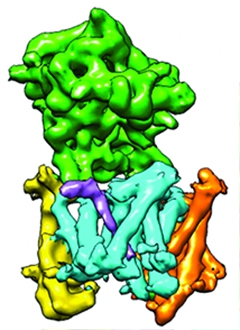 What do these data mean for Alzheimer's disease? They may explain why the APP fragment resulting from α-cleavage, C83, is a better substrate for γ-secretase than the β-cleaved product, C99. The C83 ectodomain is shorter by 16 amino acids. The data also suggest that antibodies and peptides target the N-terminal tip of C99 block γ-secretase action by bulking up the substrate's ectodomain, which is then kept at bay by nicastrin.
"The results are impressive," wrote Satoru Funamoto, Doshisha University, Kyoto, Japan. He noted that the shape of the substrate ectodomain—tight and compact versus loose and uncondensed—might matter as much as its length. He also pointed out that presenilin likely further selects substrates for cleavage. Bolduc agreed, suggesting that blockage by nicastrin is just the first step in γ-secretase selection. He and colleagues plan to work out how presenilin next recognizes, binds, and cuts the transmembrane domain of APP. That might help scientists design more effective therapies for Alzheimer's disease, he told Alzforum. "If we're ever to develop therapeutics that target Aβ production, we need to know how the peptide is made." It may also help them understand how familial AD mutations in presenilin contribute to disease.
The data look strong, said Yueming Li, Memorial Sloan Kettering Cancer Center, New York, noting that the authors included elegant supporting kinetic and biochemical analyses. However, he cautioned that the authors only examined one of nicastrin's substrates and wondered if this steric hindrance model applied to all of them. He said more evidence is required before scientists can definitively nail down nicastrin's mode of action. He suggested that a high-resolution structure of a substrate in the γ-secretase active site might shed further light. A cryo EM structure published by Sjors Scheres, MRC Laboratory of Molecular Biology, Cambridge, U.K., and Yigong Shi, Tsinghua University, Beijing, in the December 1 eLIFE reveals the enzyme bound to an unknown substrate, and finds no evidence that substrates bind nicastrin (Bai et al., 2015). Rather, the substrate ectodomain slides underneath the γ-secretase subunit (see image above). That structure is consistent with the new data, said Bolduc. It implies that the substrate ectodomain has to pass under nicastrin in order to be cleaved by γ-secretase—a feat that would impossible for bulky ectodomain proteins.—Gwyneth Dickey Zakaib
References
News Citations
Paper Citations