Newly Identified Microglia Contain Lipid Droplets, Harm Brain
Microglia in the brain assume a dizzying array of states. Now researchers led by Tony Wyss-Coray at Stanford University, Palo Alto, California, describe a new one: lipid droplet-accumulating microglia (LAM). These lipid-stuffed cells resemble the foamy macrophages seen in atherosclerotic lesions. They accumulate in the hippocampus of the aging brain and appear to be bad news, hiking inflammation and reactive oxygen species while having little ability to phagocytose debris. Notably, inflammatory stimuli induce LAM, as do some genetic variants associated with neurodegenerative disease. LAM accumulate in a mouse model of frontotemporal lobar degeneration. The work is described in a preprint posted to bioRxiv (Marschallinger et al., 2019).
With age, lipid droplet-accumulating microglia (LAM) build up in the hippocampus.
LAM spew pro-inflammatory cytokines and reactive oxygen species.
They associate with neuroinflammation and genetic risk factors for neurodegeneration.
Wyss-Coray believes that these microglia promote pathogenesis. "We think they contribute to a damaging pro-inflammatory environment in the brain," he told Alzforum.
Others agreed that this microglial subtype could shed light on disease. "This work highlights compelling new features of microglia aging, delineating a possible mechanism linking lipid-rich microglia and dementia," Marco Colonna and Simone Brioschi at Washington University in St. Louis wrote to Alzforum (full comment below). Mathew Blurton-Jones and Christel Claes at the University of California, Irvine, noted that many AD risk genes are involved in lipid processing. "It will be fascinating to determine how the composition of lipids that accumulate in human disease-associated microglia and LAM are influenced by these genes, and to watch how this exciting story continues to evolve," they wrote (full comment below).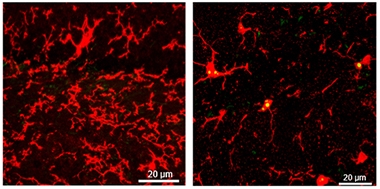 Previous studies have identified a smorgasbord of distinct transcriptional profiles delineating subtypes of microglial states (Jul 2018 conference news; Dec 2018 news). A handful of these have been correlated with neurodegenerative disease. These include disease-associated microglia (DAM), which cluster around plaques in mouse models of amyloidosis, and the similar microglial neurodegenerative phenotype (MGnD) found in multiple mouse disease models (Jun 2017 news; Sep 2017 news). A recent study characterized human Alzheimer's microglia (HAM), which were isolated from AD brain (May 2019 news). It is still unclear how all these types relate to each other and what they do.
Wyss-Coray and colleagues did not set out to do a transcriptional study, rather, they were studying brain aging. While examining hippocampal sections from aged wild-type mice by electron microscopy, first author Julia Marschallinger was struck by the accumulation of lipid droplets inside microglia. These microglia resembled cells first described by Alois Alzheimer, who reported adipose-stuffed glia clustering around amyloid plaques in AD brain more than 100 years ago. Marschallinger and colleagues quantified the phenomenon in mice, finding that more than half the hippocampal microglia in 20-month-old wild-type animals contained from one to three lipid droplets. Droplets were rare in other brain regions, and nearly absent in 3-month-old mice. Lipidomic analysis determined that the droplets consisted of electrically neutral lipids, mainly glycerolipids such as triacylglycerols and diacylglycerols, but almost no cholesterol esters.
To characterize these LAM, the authors isolated microglia from aged mouse hippocampi and sorted out those with high lipid content. Transcriptional profiling revealed 692 genes that were differently expressed between cells with low and high lipid content. In particular, genes involved in the production of reactive oxygen species, lipids, and pro-inflammatory cytokines were up in LAM, while genes responsible for phagocytosis were down. Notably, this transcriptional profile was in many respects the opposite of DAM, which turn up phagocytotic genes.
Functional studies of LAM reinforced these transcriptional findings. When the authors injected myelin debris into aged mouse hippocampus, microglia without lipid droplets engulfed it, but few LAM did. LAM isolated from brain produced more reactive oxygen species (ROS) than did low-lipid microglia, and they secreted higher levels of several pro-inflammatory cytokines such as CCL3, CXCL10, and IL-6.
How do these cells arise? Because many of the LAM genes are regulated by inflammation, the authors speculated they are products of an inflammatory response. To test this, they treated the BV2 mouse microglial line with the inflammatory toxin lipopolysaccharide (LPS). The number of lipid droplets in the BV2 cells increased fivefold. Like LAM in the brain, cells stuffed with lipid droplets poorly phagocytosed a yeast glycan, while producing high levels of ROS. Treating cells with Triacsin C, an inhibitor of glycerolipid synthesis, prevented droplet formation and kept phagocytosis and ROS at normal levels, indicating the lipids were a cause rather than an effect of the microglial transformation. Inflammation also induced LAM in vivo. Intraperitoneally injecting 1 mg/kg LPS into young mice for four days doubled the number of LAM in the hippocampus.
To find genetic factors that could promote LAM, the researchers screened a library of about 2,000 genes involved in cellular stress and protein degradation. They knocked out each gene one by one in BV2 cells, added LPS, then looked for induction of lipid droplets. To quickly find effects, they treated the cells with a lipid marker bound to a phototoxin and blasted them with light, killing off cells with droplets. In this way, they found 112 genes that influenced droplet formation, including several linked to different forms of neurodegenerative disease: SLC33A1, SNX17, VPS35, CLN, NPC2, and GRN. SLC33A1 mutants cause spastic paraplegia, VPS35 variants lead to Parkinson's, CLN to ceroid lipofuscinosis, and NPC2 mutants to Niemann-Pick disease. GRN produces progranulin, variants of which cause frontotemporal dementia. The authors examined middle-aged GRN knockout mice, which already have inflammation in the brain, and found twice as many LAM in their hippocampi as in age-matched, wild-type mice. GRN knockouts also developed LAM in the thalamus, cortex, and corpus callosum.
"We think this accumulation of lipid droplets is intrinsically linked to neurodegenerative disease," Wyss-Coray said. In ongoing work, he has found a similar buildup of LAM in mouse models of amyloidosis. He will test whether lowering brain lipids, or eliminating LAM altogether, improves brain health in various mouse models of neurodegeneration.
It is still unknown whether LAM accumulate in Alzheimer's, but Wyss-Coray and colleagues report finding this cell type in aged human brain. They saw microglia sporting lipid droplets in postmortem hippocampal sections from a cognitively healthy 67-year-old, but few in a 22-year-old. Some previous studies reported finding this microglial phenotype in injured human brain (Lee et al., 1990; Castejon et al., 2005).
Why have more studies not noticed these cells? Wyss-Coray noted that most histological processing of postmortem tissue uses detergents, which removes lipids. In addition, most LAM occur in the hippocampus, so studies of other regions would miss them. The reason for this localization is unclear. Wyss-Coray noted that microglial density is higher in the hippocampus than in other brain regions, as are the functional demands on these cells.
Commenters were also intrigued by this regional specificity. "LAM seem to concentrate in areas subjected to stress," Lorenza Magno at University College London wrote to Alzforum (full comment below). Blurton-Jones wondered if the presence of LAM in the hippocampus might relate to the turnover of newborn neurons, given the role of microglia in clearing apoptotic cells.
LAM are not the only microglial subtype to accumulate lipids. Julia TCW and Alison Goate at the Icahn School of Medicine at Mount Sinai, New York, recently reported that ApoE4 microglia stockpile lipids; however, these are mostly in the form of free cholesterol, rather than neutral lipids (Aug 2019 news). Wyss-Coray noted that ApoE expression does not change in LAM, reinforcing the idea that ApoE4 microglia represent a different subtype. Meanwhile, researchers in Germany described dysfunctional, lipid-filled microglia in old mice with axon injuries; these cells become choked with myelin debris and crystallized cholesterol (Cantuti-Castelvetri et al., 2018). These microglia are also distinct from LAM, which do not take up myelin, Wyss-Coray said.
Peripheral phagocytes can also accumulate lipids. Ido Amit at the Weizmann Institute of Science, Rehovot, Israel, found that macrophages in mouse and human adipose tissue take up excess cholesterol, helping keep body fat under control. These macrophages express TREM2 and have a similar transcriptional profile to DAM. Amit also dubbed them LAM, but for lipid-associated macrophages. He found that TREM2 knockout mice became fatter on a high-fat diet than did wild-type mice, and developed high cholesterol and insulin resistance. Thus, it seems that these LAM in the periphery help protect against the deleterious consequences of a fatty diet. Amit reported these data at the FENS Brain Conference last May and published in the July 25 Cell (May 2019 conference news).
While these peripheral macrophages and the lipid droplet-accumulating microglia seen in brain are now labeled with the same acronym, Wyss-Coray believes the two cell types have little in common. Not only do the transcriptional profiles differ, but the two types of phagocyte accumulate different lipids as well. Peripheral LAM contain mostly cholesterol and sphingomyelin, unlike the neutral lipids found in brain LAM, Wyss-Coray noted.—Madolyn Bowman Rogers
References
News Citations
Paper Citations
Primary Papers
Marschallinger J, Iram T, Zardeneta M, Lee SE, Lehallier B, Haney MS, Pluvinage JV, Mathur V, Hahn O, Morgens DW, Kim J, Tevini J, Felder TK, Wolinski H, Bertozzi CR, Bassik MC, Aigner L, Wyss-Coray T. Lipid-droplet-accumulating microglia represent a dysfunctional and proinflammatory state in the aging brain.

Nat Neurosci

. 2020 Feb;23(2):194-208. Epub 2020 Jan 20 PubMed. Correction.
Jaitin DA, Adlung L, Thaiss CA, Weiner A, Li B, Descamps H, Lundgren P, Bleriot C, Liu Z, Deczkowska A, Keren-Shaul H, David E, Zmora N, Eldar SM, Lubezky N, Shibolet O, Hill DA, Lazar MA, Colonna M, Ginhoux F, Shapiro H, Elinav E, Amit I. Lipid-Associated Macrophages Control Metabolic Homeostasis in a Trem2-Dependent Manner.

Cell

. 2019 Jul 25;178(3):686-698.e14. Epub 2019 Jun 27 PubMed.