New WAVE in Aβ Production—AICD Tempers APP Processing
When the amyloid precursor protein (APP) gets chopped up to make Aβ, other fragments are released, including APP's intracellular domain. Scientists believe AICD acts as a transcription factor, though its genomic targets are poorly characterized. In the August 17 Nature Medicine, researchers led by Yong Kim and Paul Greengard at Rockefeller University in New York report that AICD regulates the gene for WAVE1, a protein needed to transport APP from the Golgi to the plasma membrane. AICD suppresses expression of WAVE1, reducing APP at the membrane and thus its processing, providing negative feedback for Aβ production, according to the researchers. Other scientists found the transcriptional regulation intriguing, but stressed the need for more supporting evidence that it modulates Aβ production.
"This reinforces the view that AICD is an important transcriptional regulator and a key component of the actions of APP," wrote Anthony Turner, University of Leeds, England, who was not involved in the study. While it is still unclear whether the overall effects of AICD are neuroprotective or neurodegenerative, this study is an important step forward, he said.
WAVE1, short for the mouthful Wiskott-Aldrich syndrome protein (WASP)-family verprolin homologous protein 1, activates the Arp2/3 complex, which initiates polymerization of actin. Among other things, this polymerization helps vesicles bud from the Golgi and carry proteins to the plasma membrane. In the brain, WAVE1 exists in a complex with four other proteins. One of them, NCKAP1, was previously reported to be downregulated in the brains of people with Alzheimer's disease (Suzuki et al., 2000). Kim's group wondered whether WAVE1 expression also fell in AD, and what the consequences might be.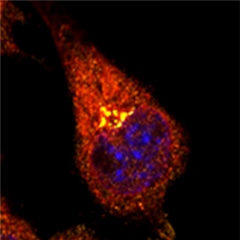 In 3xTg and Tg2576 AD mouse models, which overexpress the Swedish mutant of APP, first author Ilaria Ceglia and colleagues found that WAVE1 levels fell by 25 percent to 30 percent relative to wild-type mice. In postmortem human brain tissue, WAVE1 levels were also lower than in tissue taken from healthy controls, but only in regions affected by AD. Likewise, neuroblastoma cells (N2a) expressing wild-type APP contained half the WAVE1 of non-transfected cells. When Ceglia treated these cells with a γ-secretase inhibitor, WAVE1 levels returned to normal. Together, these data hint that APP somehow shuts down WAVE1 expression.
What explains these results? The group suspected that APP's intracellular domain had something to do with it. AICD reportedly up- or downregulates a variety of genes, such as the Aβ-degrading enzyme neprilysin and the tumor suppressor p53 (for a review see Pardossi-Piquard and Checler, 2012). Using chromosome immunoprecipitation assays, Ceglia found that AICD interacted with the WAVE1 gene promoter. When she overexpressed AICD it brought WAVE1 crashing down.
Ceglia and colleagues next wondered how this drop in WAVE1 affected the cell. In neuroblastoma cells overexpressing APPSwe and PS1ΔE9, tuning down WAVE1 with small interfering RNAs reduced the amount of Aβ40, Aβ42, and sAPPβ they churned out. This implied less β-secretase cleavage. Likewise, APP/PS1 mice missing one copy of WAVE1 did not produce as much Aβ40 and Aβ42 as control transgenic animals, and mice missing both WAVE1 genes produced even less. "Because we didn't see a significant change in the soluble APP generated by α-secretase, we think WAVE1 downregulation affects the amyloidogenic pathway," said Kim.
Immunoprecipitation experiments revealed that WAVE1 and APP bound each other in the Golgi (see image above). In in vitro assays, knocking down WAVE1 reduced APP-containing vesicles budding from the Golgi membrane. Since trafficking of APP from the Golgi to the plasma membrane and endosomes exposes the precursor to secretases, limiting that transport could reduce formation of Aβ, Kim told Alzforum (see image below). In fact, genetically halving WAVE1 corrected memory deficits in the Morris water maze in the APP/PS1 double transgenics.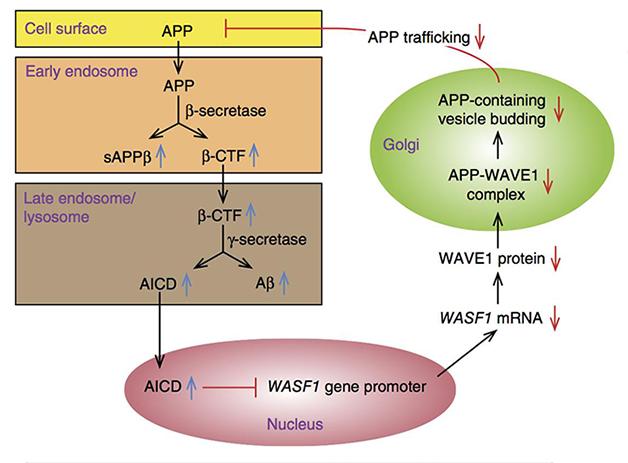 Feedback. APP processing generates AICD, which curbs expression of WAVE1, reduces APP trafficking from the Golgi, and reduces Aβ production. [Courtesy of Ceglia et al., Nature Medicine.]
Kim suggested this protective feedback may be altered or overpowered in AD, an idea he plans to explore in future experiments. The pathway may suggest a way to therapeutically reduce formation of Aβ, perhaps by interfering with the WAVE1-APP interaction to inhibit trafficking, the authors wrote.
"This study supports previous data that, like the Notch intracellular domain and other γ-secretase-derived intracellular domains, AICD can act as a transcriptional regulator," wrote Wim Annaert, KU Leuven, Belgium. He cautioned that the work relied on overexpression models and wondered whether enough AICD—which has a short half-life—reaches the nucleus under physiological conditions to affect gene transcription. He also noted that WAVE1 complexes affect trafficking at other sites in the cell, meaning they could, for instance, promote APP internalization at the plasma membrane (see full comment below). Monitoring APP surface levels and dynamics of internalization would help flesh out the picture.
Ralph Nixon, New York University School of Medicine, suggested that the feedback mechanism may not exist to modulate Aβ production. More likely it exists to modulate APP or another of its metabolites important for signaling, such as AICD itself or the β-C-terminal fragment, he said. He thought it would be interesting to know how these other metabolites are affected by reducing WAVE1 and how the potential changes influence neuronal function.—Gwyneth Dickey Zakaib
References
Research Models Citations
Paper Citations
Suzuki T, Nishiyama K, Yamamoto A, Inazawa J, Iwaki T, Yamada T, Kanazawa I, Sakaki Y. Molecular cloning of a novel apoptosis-related gene, human Nap1 (NCKAP1), and its possible relation to Alzheimer disease.

Genomics

. 2000 Jan 15;63(2):246-54. PubMed.
Pardossi-Piquard R, Checler F. The physiology of the β-amyloid precursor protein intracellular domain AICD.

J Neurochem

. 2012 Jan;120 Suppl 1:109-24. PubMed.
Primary Papers
Ceglia I, Reitz C, Gresack J, Ahn JH, Bustos V, Bleck M, Zhang X, Martin G, Simon SM, Nairn AC, Greengard P, Kim Y. APP intracellular domain-WAVE1 pathway reduces amyloid-β production.

Nat Med

. 2015 Sep;21(9):1054-9. Epub 2015 Aug 17 PubMed.