New Therapeutic Idol? Silencing Ligase Prevents Aβ Deposition in Mice
Researchers may have a new therapeutic target to worship. Getting rid of an E3 ubiquitin ligase known as Idol prevented amyloid pathology in mice, according to a study published November 18 in Science Translational Medicine. AD model mice lacking Idol had less Aβ and fewer plaques in the brain, according to the research. Because Idol normally targets the low-density lipoprotein receptor (LDLR) for destruction, levels of the receptor rose in the knockouts, which led to enhanced clearance of ApoE from the brain. The researchers, led by Peter Tontonoz at the University of California, Los Angeles, and Jungsu Kim at the Mayo Clinic in Jacksonville, Florida, speculate that removal of ApoE explains the dearth of Aβ, however, details of that interaction have yet to be ironed out.
Some commenters agreed. "The results appear strong, solid, and clear," commented David Holtzman of Washington University in St. Louis. "If Idol can be targeted in the brain, it seems like a strong target for AD therapeutics."
LDLR resides on the cell surface and plays a major role in lipid metabolism, as it latches onto lipoproteins such as ApoE and internalizes them (see Go and Mani, 2012). Previous work from Tontonoz's lab revealed that LDLR expression is controlled at the protein level by Idol (aka inducible degrader of the LDLR), which is active in the intestine, adipose tissue, and macrophages, but not the liver (see Zelcer et al., 2009; Zhang et al., 2012). Whether Idol modulates LDLR in the brain was unknown, but previous studies indicated that elevating LDLR expression in the brain helped clear both ApoE and Aβ (see Dec 2009 news; Castellano et al., 2012).
Co-first authors Jinkuk Choi and Jie Gao and colleagues set out to determine if Idol could modulate LDLR (and thus ApoE and Aβ levels in the brain). They readily detected Idol mRNA in multiple regions of the mouse brain, where it was primarily expressed by neurons and microglia. Seven-month-old Idol knockout mice had more than twice as much LDLR in the brain as animals expressing the ligase, while animals expressing a single copy had an intermediate amount.
To investigate the potential role of Idol in amyloid metabolism, the researchers bred the Idol knockouts with APPPS1 mice. At seven months of age, male and female APPPS1 animals lacking Idol had lower concentrations of both soluble and insoluble Aβ40 and Aβ42 in their brain than did control APPPS1 mice. Males with one copy of Idol had intermediate levels of the peptides, but this dosage effect was absent in female mice. Plaque burden in the cortex of AD mice lacking Idol—as measured by immunohistochemistry and thioflavin S staining—was about half that of controls. Idol deficiency affected neither APP nor BACE1 expression, leading the researchers to hypothesize that loss of Idol somehow hastened the clearance of Aβ.
APPPS1 Idol knockouts had more LDLR in the brain and less ApoE, in keeping with LDLR's role in the clearance of the apolipoprotein. Insoluble ApoE was most strongly suppressed, in agreement with previous reports that ApoE accumulates in plaques with Aβ.
How might Idol deficiency facilitate the removal of ApoE and Aβ? The researchers looked for answers in primary cultures of microglia, since these cells are known to gobble up proteins via phagocytosis. They monitored the internalization of fluorescently labeled Aβ42 peptides, finding that cells lacking Idol took in nearly twice as much peptide. Their appetite for ApoE was similarly enhanced. In both cases, uptake depended upon LDLR—silencing the receptor by siRNA suppressed microglial ingestion of both proteins.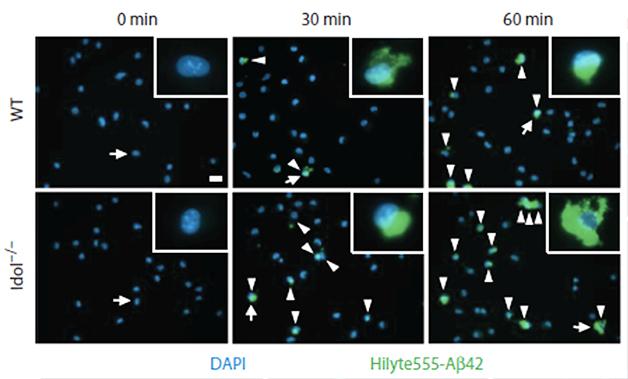 Microglial Munchies. Microglia lacking Idol (bottom) internalize more Aβ42 (green) than wild-type microglia (top). [Courtesy of Choi et al., Science Translational Medicine 2015.]
Choi and colleagues found roughly a third fewer Iba1+ microglia in the hippocampi and cortices of APPPS1 mice lacking Idol than in those expressing the ligase. These mice had about half as many activated microglia, as assessed by CD45 staining. However, the microglia appeared to be fully functional: They expressed the normal complement of microglial proteins and were roused into action by lipopolysaccharide. Tontonoz speculated that in AD mice lacking Idol, the increased expression of LDLR on microglia enhances clearance of Aβ and ApoE, which prevents the formation of plaques and thus microgliosis. The biggest unanswered question is if and how the clearance of ApoE relates to the reduction in Aβ.
"While they show that microglia lacking Idol can take up more Aβ, the study doesn't formally address whether their observed effects in vivo reflect Aβ as a ligand of the LDL receptor, or whether it is ferried into the cell through direct or indirect effects of ApoE binding to LDLR," commented Gary Landreth of Case Western Reserve University in Cleveland. Holtzman agreed, but added that either way, the results suggest that raising LDLR levels would be a good therapeutic strategy for AD (see full comment below).
Blocking the E3 ubiquitin ligase activity of Idol could be the most straightforward way to do this. "As much as we appreciate the importance of ApoE and its receptors in brain lipid metabolism and Aβ clearance, these molecules are in general difficult to target for therapeutic intervention in AD," wrote Guojun Bu of the Mayo Clinic in Jacksonville, Florida. "But now we have an enzymatic target that directly impacts brain metabolism of both ApoE and Aβ."
Tontonoz added that lower Aβ loads in mice expressing only a single copy of Idol support the concept of targeting the ligase. Given that it is unlikely any inhibitor will ever block Idol entirely, it is nice to see that a 50 percent reduction can prevent plaque formation, he told Alzforum. "This dosage effect is consistent with the idea that a small molecule inhibitor could work," he said.
Cheryl Wellington of the University of British Columbia in Vancouver pointed out that researchers will need to determine whether inhibition of Idol, and reduction in ApoE, could have other consequences besides clearing Aβ. For example, ApoE and LDLR have been implicated in neurite outgrowth (see Pitas et al., 1998; Do et al., 2015). "A closer look at neuronal Idol function, especially with respect to synaptic and behavioral effects under baseline and neuronal stress conditions, are eagerly awaited," she wrote (see comment below).—Jessica Shugart
References
News Citations
Research Models Citations
Paper Citations
Further Reading
Papers
Hong C, Marshall SM, McDaniel AL, Graham M, Layne JD, Cai L, Scotti E, Boyadjian R, Kim J, Chamberlain BT, Tangirala RK, Jung ME, Fong L, Lee R, Young SG, Temel RE, Tontonoz P. The LXR-Idol axis differentially regulates plasma LDL levels in primates and mice.

Cell Metab

. 2014 Nov 4;20(5):910-8. PubMed.