New Role for Parkinson's Gene DJ-1: DNA and Protein Repair
Too much sugar not only expands your waistline—it can also stir up trouble deep inside cells. As cells age, sugar molecules begin to decorate proteins and DNA building blocks, interfering with their functions. Now it appears the Parkinson's gene DJ-1 can remedy this. In the June 8 Science, researchers led by Gilbert Richarme at Paris Diderot University report that DJ-1 acts as a DNA deglycase, snipping extra sugars off nucleic acids. In cultured cells lacking DJ-1, DNA accumulates mutations and becomes more prone to breakage, the authors found. The findings complement a previous report by the same group that DJ-1 deglycates proteins. "DJ-1 deglycases may represent the only enzymes that repair both proteins and nucleic acids," the authors wrote.
Other researchers called this deglycase activity a plausible mechanism for DJ-1's known protective effects. "This is potentially consistent with the multiple locations where DJ-1 can be found in the cell, including the cytoplasm, mitochondria, and nucleus, and the multiple proposed physiological outputs of DJ-1, which include a very large number of claimed cellular functions," Mark Cookson at the National Institutes of Health, Bethesda, Maryland, wrote to Alzforum (see full comment below).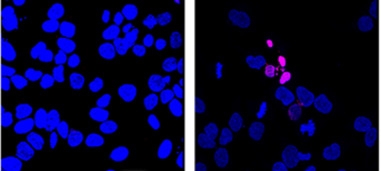 Numerous previous studies had found that DJ-1 helped neurons survive during oxidative stress (see Jun 2004 news; Jul 2005 news; Sep 2005 news). Other research has reported that it acts as a chaperone, preventing aggregation of proteins such as α-synuclein in response to cellular stress (Oct 2004 news). But despite detailed knowledge of DJ-1's structure, its basic molecular function remained unsolved (Jun 2003 news).
In 2015, Richarme and colleagues first made the case for DJ-1 being a deglycase that restores protein function by removing added sugars from the amino acids cysteine, arginine, and lysine (Richarme et al., 2015). Protein glycation occurs during aging, oxidative stress, and in diseases such as diabetes, and glycation itself boosts the production of reactive oxygen species (Vicente Miranda and Outeiro, 2010).
In the current study, the authors extended their research to nucleic acids. In cell-free solution, DJ-1 prevented the addition of sugars to nucleotides, and also clipped off recently added sugars. In E. coli cultures, bacteria that lacked the DJ-1 homologues had more than twice as much glycated DNA as wild-type cells. Notably, their mutation rate was 46 times higher, indicating a dramatic attack on DNA stability in the absence of functional DJ-1. In the human HeLa cell line, knockdown of DJ-1 led to more glycated and broken DNA as well, again supporting a role in DNA maintenance (see image above).
Does this deglycase activity explain how DJ-1 mutations cause Parkinson's disease? Tiago Outeiro at Göttingen University Medical Center, Germany, believes it might. He recently reported that glycation of α-synuclein causes the protein to accumulate (Vicente Miranda et al., 2017). In addition, Outeiro had earlier found that DJ-1 directly interacts with α-synuclein to lower its toxicity, and that pathogenic mutations disrupt this interaction, permitting a buildup of toxic α-synuclein through excess glycation (see full comment below).
Richarme's current paper suggests that faulty DNA repair could also play a role in disease, perhaps by lowering the expression of genes that control proteostasis, Outeiro speculated. "While we cannot dismiss the possibility that DJ-1 performs other functions in the cell, this deglycase activity is extremely exciting, and opens novel avenues for therapeutic intervention," he wrote to Alzforum (see full comment below).
Cookson suggested that future work should examine whether DJ-1 mutations diminish deglycase activity, and whether glycated proteins and nucleic acids accumulate with age in DJ-1 knockout mice. The authors could not be reached for comment.—Madolyn Bowman Rogers
References
News Citations
Paper Citations
Richarme G, Mihoub M, Dairou J, Bui LC, Leger T, Lamouri A. Parkinsonism-associated protein DJ-1/Park7 is a major protein deglycase that repairs methylglyoxal- and glyoxal-glycated cysteine, arginine, and lysine residues.

J Biol Chem

. 2015 Jan 16;290(3):1885-97. Epub 2014 Nov 21 PubMed.
Vicente Miranda H, Outeiro TF. The sour side of neurodegenerative disorders: the effects of protein glycation.

J Pathol

. 2010 May;221(1):13-25. PubMed.
Vicente Miranda H, Szego ÉM, Oliveira LM, Breda C, Darendelioglu E, de Oliveira RM, Ferreira DG, Gomes MA, Rott R, Oliveira M, Munari F, Enguita FJ, Simões T, Rodrigues EF, Heinrich M, Martins IC, Zamolo I, Riess O, Cordeiro C, Ponces-Freire A, Lashuel HA, Santos NC, Lopes LV, Xiang W, Jovin TM, Penque D, Engelender S, Zweckstetter M, Klucken J, Giorgini F, Quintas A, Outeiro TF. Glycation potentiates α-synuclein-associated neurodegeneration in synucleinopathies.

Brain

. 2017 Apr 10; PubMed.
Primary Papers
Richarme G, Liu C, Mihoub M, Abdallah J, Leger T, Joly N, Liebart JC, Jurkunas UV, Nadal M, Bouloc P, Dairou J, Lamouri A. Guanine glycation repair by DJ-1/Park7 and its bacterial homologs.

Science

. 2017 Jul 14;357(6347):208-211. Epub 2017 Jun 8 PubMed.