Neuronal Exosomes Embroiled in Controversy
Small snippets of cell membranes that pinch off the neuronal surface are getting swept up in a rather large controversy. Some of these extracellular vesicles wend their way into the cerebrospinal fluid and even plasma, from where they can be plucked and scoured for signs of brain damage. The plucking, however, is a problem, according to researchers led by David Walt, Brigham and Women's Hospital, Boston. For seven years now, labs around the world have relied on L1CAM, a neuronal cell surface protein, to isolate supposedly neuron-derived extracellular vesicles in biofluids. Alas, in the June 3 Nature Methods online, Walt and colleagues claim L1CAM does not associate with those NDEVs. If they are right, studies that have reported exosome biomarker differences between healthy controls and people with various neurodegenerative diseases, including Alzheimer's, might be called into question.
L1CAM sits in neuronal membranes.
In CSF, plasma, it's being used to isolate neuronal exosomes.
New study says this L1CAM is soluble, not associated with vesicles.
Some are not convinced. "The study by Norman et al. makes an important contribution to the ongoing research on deriving neuronal extracellular vesicles from biofluids; however, I cannot accept its bold conclusions regarding L1CAM," wrote Dimitrios Kapogiannis, National Institute on Aging, Baltimore, to Alzforum. "I think this paper just shows that soluble L1CAM exists in plasma and CSF, something already widely known, but does not show that L1CAM-associated EVs do not exist," added Kapogiannis, a pioneer in the field of extracellular vesicle (EV) research.
Tsuneya Ikezu, however, thinks the authors are onto something. "The results are convincing and will shed new light on the re-evaluation of the L1CAM-based method for isolating neuron-derived EVs," Ikezu, now at Mayo Clinic in Jacksonville, Florida, wrote to Alzforum. "Our lab recently studied the protein composition of EVs isolated from iPSC-derived neurons and could not detect L1CAM by mass-spectrometry," he added.
The issue was debated during a recent workshop organized by the International Society for Extracellular Vesicles and the Michael J. Fox Foundation. One view there held that, for certain research purposes, it may not matter whether L1CAM identifies NDEVs or not. "As a biologist, I would like to know if the L1CAM is coming from neurons, but from a biomarker perspective I think if we have an assay that works and is reproducible, that's great," noted Kenneth Witwer, Johns Hopkins University, Baltimore. The idea here is that if L1CAM, however it does so, associates with markers that are informative, it could be useful.
In recent years, L1CAM enrichment has been used to probe exosome changes in AD, Parkinson's, frontotemporal dementia, multiple systems atrophy, dementia with Lewy bodies, and other neurodegenerative diseases (Shi et al., 2014; Goetzl et al., 2015; Winston et al., 2016; Pulliam et al., 2019; Cha et al., 2019; Jiang et al., 2020).
What's the new evidence against L1CAM? Co-first authors Maia Norman, Dmitry Ter-Ovanesyan, and colleagues developed highly sensitive SIMOA assays to measure this protein and other vesicle markers in size-exclusion and density-gradient fractions of human CSF and plasma. They found that L1CAM eluted together with soluble albumin, while membrane tetraspanins CD9, CD63, and CD81 eluted with fractions containing larger, lighter structures (see image below). These tetraspanin fractions were enriched for extracellular vesicles as seen in electron micrographs (see image below). In short, L1CAM did not associate with EVs.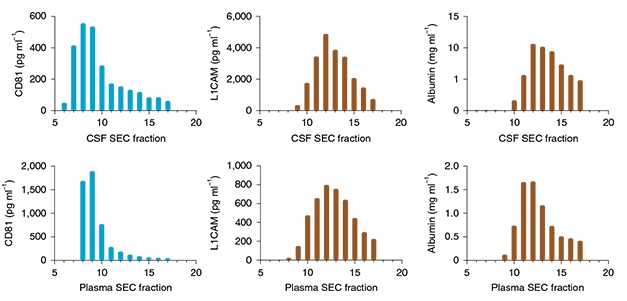 Fractious L1CAM. In size-exclusion chromatography, L1CAM (center) elutes in later fractions along with albumin (right), whereas membrane tetraspanins elute earlier, in keeping with a vesicle origin (left). [Courtesy of Norman et al., Nature Method, 2021.]
L1CAM spans the neuronal cell membrane, so why does it behave as a soluble protein on density gradients and in size-exclusion chromatography? Norman and colleagues think that's because proteases clip the molecule. CSF L1CAM ran as a 200 kDa protein on western blots and was detectable only with an antibody to the extracellular side of the protein, not one to the intracellular domain. This is consistent with it being the shed extracellular domain, not the full-length 220 kDa protein.
Plasma told a different story, however. There, the soluble protein appeared to be full-length, running as 220 kDa. The authors think this is an alternatively spliced form missing exon 25. Since this exon encodes a small transmembrane domain, this L1CAM would have both extracellular and intracellular domains, but never slide into the membrane. Instead, it would be secreted. There is evidence that endothelial cells make this alternatively spliced form and that it has angiogenic activity, perhaps explaining why it is found in the blood (Angiolini et al., 2019).
If L1CAM in the CSF and plasma is soluble, then why would neuronal markers come along when researchers fish out L1CAM with antibodies? Walt and colleagues had an answer for that, at least in the case of one marker. They report that the L1CAM antibody binds α-synuclein, as well.
That may be, but researchers have enriched for many other neuron markers by using anti-L1CAM antibodies for capture, including synaptophysin, tau, Aβ, neuregulin, neurogranin, and neurofilament light. "Do the authors suggest all these proteins nonspecifically interact with the L1CAM antibody?" asked Kapogiannis. "We have found that L1CAM EVs are enriched in neuronal-specific miRNAs, which have an even lower chance to nonspecifically interact with the antibody," he wrote. Kapogiannis' group also recently found that L1CAM associated with ALIX, a protein found in the lumen of extracellular vesicles (see full comment below).
Lynn Pulliam, University of California, San Francisco, told Alzforum that her group has tested the cargo of these L1CAM EVs extensively using Mass Spec, targeted ELISAs, and multiplex neurodegenerative protein panels. "The neuronal EVs we isolate contain abundant neuronal proteins," she wrote. "Whether or not all these L1CAM EVs come from neurons is tough to say, since it is true L1CAM is found on a few non neuronal cells; however, we do believe the majority of the L1CAM isolated EVs are of neuronal origin."
No consensus was reached at the ISEV/MJFF workshop on whether L1CAM identifies NDEVs, and there was no indication that researchers were going to quit using this protein to isolate vesicles any time soon. "I'm all open to using an alternative marker if we can find one," said Kapogiannis. Some suggested neural cell adhesion molecule. "We have found that NCAM is cleaved also, so we don't think that is good, either," said Walt. Others challenged him to suggests a better marker. "We have looked at about half a dozen but have not found a good candidate," he said.—Tom Fagan
References
Paper Citations
External Citations
Further Reading
No Available Further Reading