Mounting Modifications Move Tau Toward Aggregation in Alzheimer's Brain
As a person's symptoms of Alzheimer's disease emerge and worsen, tau tangles spread inexorably through the cortex. What unfortunate series of events pushes this microtubule-binding protein into a cataclysmic state? In a paper published November 10 in Cell, researchers led by Judith Steen at Boston Children's Hospital addressed this question by mapping and quantifying myriad post-translational modifications of the tau protein extracted from more than 90 human brain samples. From truncation to phosphorylation, from acetylation to ubiquitination, the researchers identified modifications that distinguished people with AD from controls. They described an ordered piling-on of alterations that tracked with disease stage. Some of these same modifications adorn tau species that seed aggregation. Ubiquitination stood out as a potential culprit. In all, the findings could help researchers zero in on which species of tau to target therapeutically, and suggest different targets for different stages of disease.
Proteomics of tau extracted from human brain maps tau post-translational modifications on largest scale yet.
Specific changes track with tau's aggregation propensity and disease stage.
As modifications pile on, they neutralize tau's charge, goading aggregation.
"This work represents the first unbiased and systematic effort to provide qualitative and quantitative profiling of the diversity of the tau proteoform and how it changes during the progression of Alzheimer's disease," commented Hilal Lashuel of École Polytechnique Fédérale de Lausanne, Switzerland. "It reaffirms our previous calls for embracing the complexity of tau as a necessary step to deciphering the tau PTM code and understanding its role in health and disease."
Tau is notoriously manifold. Even before the MAPT gene is stitched into protein, alternative splicing renders different isoforms that contain either three or four microtubule-binding domains. After translation, proteases have their way with the protein, nipping off various segments of the N- and C-termini. What's left is subject to a dizzying array of post-translational modifications. Phosphorylation is the best-known, and a vast literature spanning more than 30 years has tied hyperphosphorylated forms to pathology, mostly with the help of antibodies trained against phospho-epitopes of tau (Grundke-Iqbal et al., 1986; Goedert et al., 1992). However, not only do the types of phosphorylated tau species differ from person to person, but other modifications such as acetylation, ubiquitination, methylation, and glycosylation glom onto the protein as well. How do all of these alterations influence tau's structure, and most importantly, its tendency to aggregate and wreak havoc in the brain?
Dressed from N to C. Different modifications of tau bedeck the length of the protein. Tau proteoforms also differ based on how many N-terminal inserts they contain (0N, 1N, or 2N) and whether they contain three or four microtubule-binding domains (3R or 4R). The C-terminus can also become truncated. [Courtesy of Wesseling et al., Cell, 2020.]
Co-first authors Hendrik Wesseling and Waltraud Mair and colleagues grappled with these questions in a proteomic magnum opus of mapping and quantifying tau PTMs. The researchers extracted tau from the BA39 angular gyrus—a region typically burdened with moderate tau pathology in late-stage disease—from postmortem brain samples of 49 AD patients and 42 controls. The controls were matched to cases by age, sex, and postmortem interval. They ran complementary analyses for another brain region—the frontal gyrus—on 10 AD and nine control brain samples.
Using a mass spectrometry technique called FLEXITau they had previously developed, the scientists first quantified total amounts of soluble and insoluble tau (Mair et al., 2016). People with AD had less soluble but 100 times more insoluble tau than did controls. Soluble tau, whether it came from controls or people with AD, was more likely to be full-length, containing both its N-terminal domains and all four microtubule-binding domains (2N4R). In contrast, the insoluble fraction tended to lack the N-terminal domains, and was enriched for the 0N4R isoform.
Turning their focus to insoluble tau, the researchers next used mass spec to detect post-translational modifications along the length of the protein. Among all samples, they detected a total of 95, including 55 phosphorylated, 17 ubiquitinated, 19 acetylated, and four methylated sites. The vast majority of acetylations and ubiquitinations crowded within the microtubule-binding domain, and some residues carried both modifications.
With this PTM catalog in place, the researchers next asked which ones correlated with disease. They calculated the proportion of tau molecules harboring each modification within a given brain sample. Steen emphasized that measuring the frequency and extent—as opposed to merely the presence or absence—of each modification is key to understanding its connection to disease.
Phosphorylation sites clustered in the proline-rich region of tau, as well as its C-terminus. While some residues in this region were phosphorylated in both control and AD samples, the number of residues that were phosphorylated, and the proportion of tau molecules that harbored each phosphorylated residue, was much higher in AD samples than controls. Truncation of the C-terminus, following the microtubule-binding domain, was also a feature that predominated in tau from AD brains and from some controls.
Curiously, some residues in the PRR, including T181, were phosphorylated at high frequency in about 20 percent to 40 percent of clinical and pathological controls, suggesting they may have started the transition toward tauopathy even though they had no tangles or symptoms yet when they died.
Ubiquitination and acetylation centered in the microtubule-binding domain (MBD). These modifications were virtually absent in controls, but bedecked a high percentage of tau molecules in people with AD. Acetylation mostly riddled the R4 domain, while ubiquitination predominated in R1–R3. One lysine residue, K311, was struck with a double whammy of both modifications in people with AD. It is the last residue in the infamous VQIVYK hexapeptide, which plays a pivotal role in snapping tau fibrils into place (van Bergen et al., 2000; research timeline).
Piling On. Map of PTMs along tau's N- to its C-terminus for Alzheimer's (top) and control (bottom). The Y-axis depicts the average frequency of each modification in each sample; type of modification is color-coded. Common antibodies specific for some modifications are designated at top of bars. Heatmap color also denotes extent of modification of each tau peptide. [Courtesy of Wesseling et al., Cell, 2020.]
The investigators analyzed the data in many ways to tease out connections between PTMs and disease. One analysis used a statistical technique called hierarchical clustering to group samples based on their tau PTM profiles. Four groups sprang up. The first had the fewest PTMs, with some singly phosphorylated tau proteins, on residues T181, S231, or S235. Most samples in this group came from asymptomatic controls.
A second group was heterogeneous, comprising 10 AD patients with advanced neuropathology and 16 controls with little to no neuropathology. Tau from samples in this group was phosphorylated on more sites and with higher frequency than in the first group. Interestingly, a subset of the samples in this second group also had ubiquitination in the MBD, and all of these came from symptomatic patients. The finding suggests that ubiquitination may be the defining feature of tau from people with symptomatic AD.
The last two clusters consisted entirely of samples from symptomatic patients. Both of these clusters had extensive PTMs, including ubiquitination and acetylation of the MBD. The second of the two clusters had the most PTMs. Notably, the extent of tau PTMs in these two symptomatic clusters correlated with neuropathological staging—most of the samples in the first cluster came from brains ranked at Braak stage V, while the second cluster was predominated by brains staged at Braak VI.
Together, the findings from this cluster analysis suggested that phosphorylation may start in an early presymptomatic stage of disease and ramp up over time, while ubiquitination and acetylation of the MBD primarily occur in symptomatic stages.
The scientists also ranked specific tau PTMs for their association with clinical diagnosis, reporting that ubiquitination of residues K311 and K317, as well as phosphorylation on residues T217 and S262, best distinguished tau in people with AD from controls.
Finally, the researchers investigated which of these PTMs might goad tau into aggregating. To do this, they referenced data from a previous study, in which they had fractionated tau proteins based on size and solubility, and tested each fraction for its seeding activity in cellular assays (Takeda et al., 2015). In that paper, they had reported that low-molecular-weight forms of soluble tau poorly seeded aggregation, while still soluble but high-molecular-weight oligomers, and insoluble fibrils, sparked tau aggregation with gusto. They now report that the fractions of tau that seed the best also happen to contain the most disease-associated PTMs.
Putting their data together, the scientists proposed a model of how tau might collect modifications that propel it toward aggregation. First off, the isoforms of tau lacking their N-terminal inserts—0N4R and 0N3R—are most aggregation-prone to begin with. Tau undergoes a cascade of PTMs, including cleavage of its C-terminus, phosphorylation of key residues within the PRR, and ubiquitination and acetylation of the MBD. The researchers proposed that the negative charge bestowed by phosphorylation of the PRR effectively neutralizes the positive charge of the lysine-loaded MBD, in much the same way that heparin goads tau fibrillization. Ubiquitination and acetylation of the MBD further neutralize the region, removing kinetic barriers to tau filament formation. The negatively charged, phosphorylated PRR could even fold back onto the MBD, forming a hairpin structure capable of fibril formation (Jeganathan et al., 2006).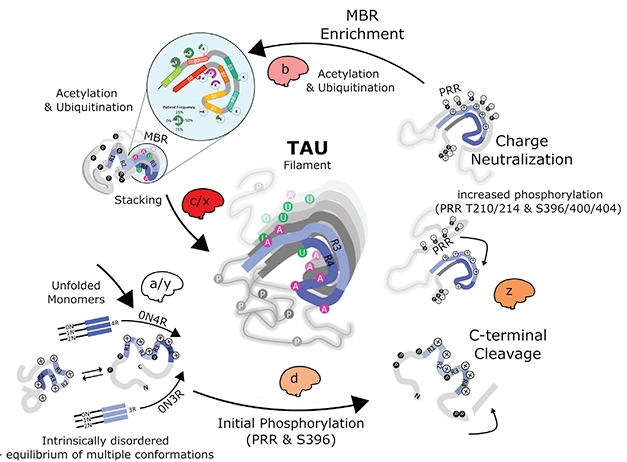 The Making of a Fibril? In this model, 0N and 4R isoforms sustain a cascade of PTMs, including C terminus cleavage, negatively charged phosphorylation in the PRR, followed by charge-neutralizing acetylation and ubiquitination in the MBR. These progressive steps could facilitate tau fibrillization and AD progression. [Courtesy of Wesseling et al., Cell, 2020.]
"This study is an incredible resource of tau PTMs, both from people with AD and controls," commented Gail Johnson of the University of Rochester in New York. Because the study included a large number of samples, the researchers were able to tease out a tau PTM disease signature amidst daunting heterogeneity, she added. Johnson said the discovery of ubiquitinated sites in the MBD that correlate with seeding competency and with disease should spur increased focus on the role of this modification in tauopathy. The findings suggest the tau PTM signature is the product of cooperative modification of epitopes that ultimately lead to pathological aggregation, Johnson said.
Lashuel viewed the model the authors proposed as overly simplistic. He noted past studies showing that some phosphorylation events actually slow aggregation, and that ubiquitin residues in the MBD are bulky, likely hindering fibrillization. Lashuel said the model is at odds with the cryo-EM structure of tau fibrils extracted from AD brain, which was devoid of such PTMs in the MBD (Jul 2017 news). A more recent study that employed both cryo-EM and mass spectrometry suggested that such modifications, including ubiquitination and acetylation, may play a pivotal role in spinning fibrils of tau in people with AD as well as corticobasal degeneration (Feb 2020 news).
Khalid Iqbal of New York State Institute for Basic Research in Developmental Disabilities, Staten Island, commended the authors for their comprehensive detection and quantification of so many tau PTMs. He said the findings largely confirm early antibody studies. He noted, however, that the paper does not demonstrate which PTMs drive tau's pathological aggregation, and questioned whether modifications beyond the earliest phosphorylation events played a functional role. Past research reported that phosphorylation on specific tau residues was sufficient to drive tau to ditch microtubules and form aggregates (Liu et al., 2007). "The study does not give information about which PTM sites are critical for therapeutic targeting or disease biomarkers," Iqbal said.
Nicolas Barthélemy of Washington University, St. Louis, made a similar point. He noted that the aggregation process may expose certain residues in the MBD to processes like ubiquitination, meaning that some modifications could be a consequence, rather than the cause, of aggregation. Steen acknowledged that the snapshot of tau PTMs in the study could not decipher cause and effect relationships, and hypothesized that bidirectional feedback between structural and biochemical changes likely exists.
Barthélemy also said that while the FLEXITau approach enables detection of different PTMs across the tau protein in an unbiased manner, the method has a drawback in that it relies on the disappearance of unmodified tau peptides to infer the presence of potential modifications within a sample. Therefore, it could mistake a truncation for a modification, he said. Barthélemy uses a different mass spectrometry-based technique to detect phospho-epitopes of tau in brain, blood, and CSF. While his approach is highly sensitive and is forming the basis of emerging fluid biomarker tests, it also requires that researchers decide a priori which phospho-epitopes to pursue.
Might detection of tau with ubiquitinated and/or acetylated sites in in the MBD boost the sensitivity of fluid biomarkers? Not necessarily, Barthélemy said. Ubiquitinated sites are tricky to detect with his technique, and most tau in the blood and CSF is C-terminally truncated, lacking the ubiquitinated MBD. On this point, researchers led by Dennis Selkoe at Brigham and Women's Hospital, Boston, just reported that an N-terminal fragment of tau detected in blood predicts future cognitive decline (Dec 2020 news).
Carlo Condello at the University of California, San Francisco, considers the paper a tremendous resource for the field. He views the massive dataset as a guidebook that will inform future studies investigating the functional consequences of certain PTMs. He said researchers could attempt to re-create different modifications in model systems to test if they play a role in aggregation and/or propagation. Future analyses could check for PTMs in other regions of the brain that develop tau pathology earlier or later in disease, which would simulate a timeline of PTMs.
The findings mesh with a recent study led by Bradley Hyman, Massachusetts General Hospital in Charlestown, who co-authored the current paper. It tied aggregation-prone oligomeric forms of tau, phosphorylated on specific residues, to faster progression in AD (Jun 2020 news).
Eckhard Mandelkow of the German Center for Neurodegenerative Diseases in Bonn pointed out that the PTM profile of tau extracted from postmortem brain samples might not reflect the profile in living cells. During the postmortem interval, kinases become inactive while phosphatases continue their work. Using a technique called native state mass spectrometry to analyze tau in cultured cells, Mandelkow and colleagues recently reported that normal human tau was amply phosphorylated (Drepper et al., 2020). He views Steen's findings—which quantified differences in tau PTMs between AD and control brains—as complementary.
How might this PTM playbook steer therapeutic targeting of tau? Steen and colleagues argue that the findings caution against targeting tau's N-terminus. The warning dovetails with previous studies, which have reported that antibodies specific for tau's mid-region—not those trained against the N-terminus—block tau's seeding activity (Apr 2018 conference news). However, because N-terminal antibodies tend to have the highest affinity for tau and also clear neurofibrillary tangles in model systems, several have entered clinical development (such as semorinemab; tilavonemab, zagotenemab, and gosuranemab).
Einar Sigurdsson of New York University agreed about avoiding the N-terminus. Steen and colleagues also say the best species to target might change as disease progresses. Sigurdsson suggested that tau targets should be prominent in AD but also detected, to some extent, in controls. "As alluded to in this article, these are likely to be the earliest pathological epitopes and the control subjects that have them in low amounts may simply be in their early stages of developing tauopathy," he wrote. "Epitopes that are specific to AD/tauopathy are less attractive for targeting in large part because they occur late in the disease, as nicely documented in this article."—Jessica Shugart
References
News Citations
Therapeutics Citations
Paper Citations
Other Citations
Further Reading
Papers
Aoyagi A, Condello C, Stöhr J, Yue W, Rivera BM, Lee JC, Woerman AL, Halliday G, van Duinen S, Ingelsson M, Lannfelt L, Graff C, Bird TD, Keene CD, Seeley WW, DeGrado WF, Prusiner SB. Aβ and tau prion-like activities decline with longevity in the Alzheimer's disease human brain.

Sci Transl Med

. 2019 May 1;11(490) PubMed.
Primary Papers
Wesseling H, Mair W, Kumar M, Schlaffner CN, Tang S, Beerepoot P, Fatou B, Guise AJ, Cheng L, Takeda S, Muntel J, Rotunno MS, Dujardin S, Davies P, Kosik KS, Miller BL, Berretta S, Hedreen JC, Grinberg LT, Seeley WW, Hyman BT, Steen H, Steen JA. Tau PTM Profiles Identify Patient Heterogeneity and Stages of Alzheimer's Disease.

Cell

. 2020 Dec 10;183(6):1699-1713.e13. Epub 2020 Nov 13 PubMed.