To Monitor Neurons, Microglia Talk With the Boss, aka the Soma
To ensure homeostasis in the brain, microglia are constantly feeling about with their finger-like processes, making sure that all is well, or sensing problems and rearing up to help. A study in today's Science suggests that these processes directly touch the soma, i.e., the stable control center of neurons. Most previous studies had focused on microglial interaction with synapses, which are far away from the soma and more changeable.
Microglia contact the cell bodies of 90 percent of neurons.
Hotspots on the neurons' plasma membranes attract microglial processes.
These junctions allow constant signaling between microglia and neurons.
An international group of scientists led by Ádám Dénes, Institute of Experimental Medicine, Budapest, Hungary, reported that the soma of neurons in both humans and mice is dotted with docking areas built to receive microglial processes (see video below). Called somatic microglial junctions, these areas are equipped with special machinery to constantly pass signals from the neuron's mitochondria to the microglia. Key for the signals flying between the two cell types are microglial ATP/ADP-sensing receptors. In essence, the study identifies a new communication site between microglia and neurons, built to maintain neuronal function.
"We think at least in the noninjured brain under physiological conditions, these somatic junctions are one of the main sites of microglia-neuron interactions," Dénes told Alzforum. "These hotspots provide an ideal platform for microglia to monitor and influence neurons over longer periods."
Cserép et al., Science, 2019.
"This paper shows beautiful images of interactions between microglia and neurons and provides evidence that microglia and neurons may communicate via purinergic signaling," Tara Spires-Jones, University of Edinburgh, Scotland, wrote to Alzforum.
"This is an exciting paper," wrote Jonas Neher, German Centre for Neurodegenerative Diseases, Tübingen, Germany. "This novel form of microglial-neuronal communication could be very relevant for neurodegenerative diseases with strong implications of mitochondrial involvement, such as Parkinson's disease."
Most previous studies of microglia-neuron communication focused on interactions with neuronal synapses, for example synaptic pruning (for a review see Wu et al., 2015; Weinhard et al., 2018). Synapses are located far away from the cell body, can number in the thousands to a large neuron, and are highly dynamic, disappearing and re-forming all the time. Individual microglia live for years, during which time they steadfastly monitor neurons, detect signs of injury, and distinguish between neurons that can be repaired and those that need to be eaten.
It seemed to Dénes that monitoring a more central, stable part of the neuron would make more sense for microglia. In zebrafish and mice, microglia had already been reported to get close to neuronal cell bodies, but it was unclear if they made direct contact (Li et al., 2012; Stowell et al., 2018).
To find out, first authors Csaba Cserép and Balázs Pósfai used in vivo two-photon imaging to examine brain cell interactions in mice that had fluorescently labeled microglia and neurons. They observed microglial processes essentially laying hands on the soma of cortical neurons, with each "touch" lasting an average of 25 minutes. This contact was more than three times longer than the average 7.5-minute connection microglia also made with dendrites.
"This impressive new paper […] shows that microglia spend a disproportionate fraction of their time surveying neuronal somata, as compared with synapses," David Attwell at University College, London, wrote to Alzforum (see full comment below).
This new type of handsiness is common in the brain, the scientists report. Analyzing brain tissue with three-dimensional confocal laser scanning microscopy revealed that most neurons have such touch points, which the authors named somatic microglial-neuron junctions. More than 90 percent of 443 cortical, neocortical, subcortical, and interneuron cell bodies examined in four mice did, whereas only 10 percent of 1,183 synapses examined did. In human postmortem tissue from three patients examined in this study, 87 percent of 170 neocortical neurons had similar microglial-neuronal soma connections.
The authors used high-resolution electron-tomography to scrutinize these contact sites. They saw a specialized architecture. The spots comprised a unique combination of proteins and organelles that was absent from surrounding membranes (see image below). For instance, the membrane proteins Kv2.1 and Kv2.2 were massing together on the neuronal side. When clustered, these proteins enable exocytosis by anchoring the requisite vesicle fusion proteins and intracellular organelles to the plasma membrane. Gathered just behind these proteins were mitochondria, reticular membrane structures, intracellular tethers, and vesicle-like membrane structures.
In between microglia and neurons, the researchers spotted cell-adhesion molecules connecting the two membranes. They brought the neuronal hotspots face-to-face with clusters of the P2Y12 receptor on the microglial processes. Known to be instrumental for microglia sensing injury or pathological states, this receptor is attracted by ATP and ADP signals.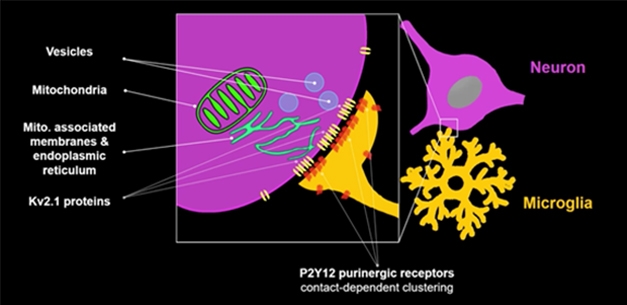 Unique Build. At somatic microglia-neuron junctions, both neuronal and mitochondrial membranes contain a specific set of proteins and organelles. [Cserép et al., Science, 2019.]
Could neurons signal to microglia at these junctions via ATP/ADP? At least in cultured mouse neurons, ATP-containing vesicles dispatched by neuronal mitochondria appeared between mitochondria and the plasma membrane at these junctions, and ATP-containing vesicles were released from neuronal cell bodies upon stimulation with KCl.
Asking what injury might do to these junctions, Cserép and colleagues modeled stroke in mice by occluding their carotid arteries, then monitored microglia-neuron interactions near the lesion. Stroke caused mitochondria to fragment at somatic microglial junctions, which led the overlying Kv2.1 protein cluster to spread out (see image below). In response, the surface area of microglial processes touching neurons quadrupled. However, when the researchers blocked microglial sensing using the P2Y12R inhibitor PSB0739, microglia no longer responded, leading to a larger lesion and disrupted functional connectivity.
Together, the data suggest that somatic microglial junctions pass an ongoing readout of neuronal activity to microglia. Junctions falling silent in response to injury triggers microglia to surround the damaged neurons and activate protective responses.
Dénes emphasized that somatic microglia junctions may well enable microglia to sense molecules beyond ATP/ADP that come from the neuron, including other exocytic or signaling molecules. "In a way these are windows on the neuronal membrane, where neurons communicate with their environment," Dénes said, noting that he will further define their cellular and protein makeup.
The scientists will also assess how this mode of communication is altered in diseases, both in animal models and human postmortem tissue. "We hypothesize that in brain diseases such as Alzheimer's or Parkinson's, these interactions could be changed, which means they could represent a potential therapeutic target," Dénes said. Fully understanding the molecular composition of these sites might ultimately enable researchers to influence microglia to save degenerating neurons, or change how they phagocytose injured cells.
Spires-Jones agreed the work could have implications for AD research. For instance, it may complement recent work suggesting pathological tau causes alterations in the neuronal membrane that trigger microglia to eat them (Aug 2018 news).—Gwyneth Dickey Zakaib and Gabrielle Strobel
References
No Available References
Primary Papers
Cserép C, Pósfai B, Lénárt N, Fekete R, László ZI, Lele Z, Orsolits B, Molnár G, Heindl S, Schwarcz AD, Ujvári K, Környei Z, Tóth K, Szabadits E, Sperlágh B, Baranyi M, Csiba L, Hortobágyi T, Maglóczky Z, Martinecz B, Szabó G, Erdélyi F, Szipőcs R, Tamkun MM, Gesierich B, Duering M, Katona I, Liesz A, Tamás G, Dénes Á. Microglia monitor and protect neuronal function through specialized somatic purinergic junctions.

Science

. 2020 Jan 31;367(6477):528-537. Epub 2019 Dec 12 PubMed.