Microglia Build Plaques to Protect the Brain
Could it be that microglia build plaques rather than bust them? In the April 15 Nature Immunology, researchers led by Greg Lemke at the Salk Institute for Biological Studies, La Jolla, California, add to the evidence for this idea. In a mouse model of amyloidosis, the researchers hobbled microglial phagocytosis by deleting the two primary receptors for this process, Axl and Mer. Surprisingly, fewer dense-core plaques formed. Instead, the Aβ accumulated in wispy cotton-wool plaques and around blood vessels. The data imply that microglia normally act like trash compactors, taking up amyloid and condensing it inside lysosomes before re-depositing it in an inert form. "We conclude that dense-core plaques don't form spontaneously; they're constructed by microglia," Lemke told Alzforum. He believes this may be a mechanism the brain uses to limit the damage from Aβ by confining it.
When microglia cannot phagocytose, fewer dense plaques form in mice.
Instead, amyloid accumulates in wispy deposits and lines blood vessels.
Microglia may help contain amyloid by sequestering it into dense-core plaques.
The findings generated enthusiasm. "This is a landmark study," Wei Cao, Manasee Gedam, and Hui Zheng at Baylor College of Medicine, Houston, wrote to Alzforum (full comment below). "The model the authors put forward is provocative, and it challenges our current understanding of microglia and plaque interaction."
"The caliber of the work is terrific," wrote Gary Landreth at Indiana University School of Medicine in Indianapolis (comment below). Henrik Zetterberg at the University of Gothenburg, Sweden, called the implications profound. "It's an extremely exciting story, and really unexpected. It revises the amyloid cascade hypothesis, because it looks like microglia are the catalyst," Zetterberg told Alzforum.
Pack It Tight. Microglia around plaques (red circle) take up loose amyloid (yellow fuzz) using TAM receptors (black and red), then condense it into dense deposits (red cross-hatches) inside their lysosomes. Then they expel this material, adding to dense-core plaques. [Courtesy of Huang et al., Nature Immunology.]
Specialized Phagocytic Machinery
Microglial phagocytosis is now well understood. The receptors Axl and Mer are part of a family of three receptor tyrosine kinases collectively known as TAMs (Lu and Lemke, 2001). Axl and Mer power microglial removal of damaged and dying cells, with Mer specialized to mop up apoptotic debris (Scott et al., 2001; Fourgeaud et al., 2016). In addition, signaling through these receptors suppresses pro-inflammatory cytokines, with the net effect of shifting microglia toward a phagocytic state (Rothlin et al., 2007). Microglia do not express the third TAM member, Tyro3, which is predominantly found in neurons.
The receptors have been linked previously to Alzheimer's disease and amyloidosis. For example, Lemke and colleagues reported that microglia around plaques modestly boost Mer expression and massively upregulate Axl (Jul 2019 conference news).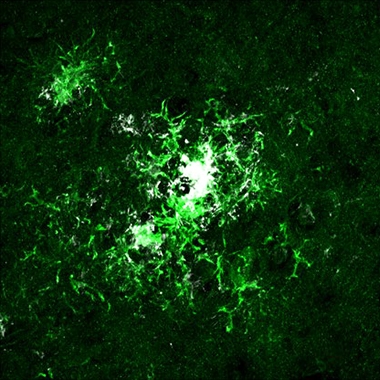 In the new paper, first author Youtong Huang further explored what these receptors are doing at plaques. She found that in 9.5-month-old APP/PS1 mice, which have abundant dense-core amyloid deposits, microglia around plaques expressed three times as much Mer protein, and 25 times as much Axl, as did microglia farther away. Meanwhile, immunostaining for the TAM ligand, Gas6, lit up all dense-core plaques. Gas6 constitutively binds TAMs, forming a kind of hybrid receptor, Lemke noted.
Gas6 alone does not activate signaling, however. For that, the TAM/Gas6 complex must bind phosphatidylserine, a phospholipid found on the inside of cell membranes. In dying or damaged cells, phosphatidylserine flips to the surface, acting as an "eat me" signal for microglia. The authors found that every plaque in APP/PS1 mice was coated with phosphatidylserine. Thus, plaques presented all the necessary stimuli for phagocytosis.
What happens when the system is disrupted? In APP/PS1 mice with both Axl and Mer knocked out, no Gas6 protein was present in the brain, even though its mRNA levels in microglia did not change. The data suggest that Gas6 is only stable when bound to Axl or Mer, Lemke noted. This protein-level regulation also explains why previous RNA-Seq studies did not detect any upregulation of Gas6 around plaques, he added. The finding highlights the importance of using proteomics as well as expression studies.
A New Paradigm: Microglia as Plaque Builders
Without Axl, Mer, and Gas6, Lemke expected to see far more plaques in the double-knockout mice. After all, microglia take up and degrade Aβ, right? To his surprise, he found about one-third fewer dense-core plaques at 12 months of age. By brain area, the difference appeared even more dramatic, with plaques largely wiped out, though the authors did not quantitate total amyloid burden (see image below). At the same time, the double knockouts had about 50 percent more diffuse cotton-wool plaques. They also developed twice as much cerebral amyloid angiopathy (CAA) as did control APP/PS1 mice. To Lemke, the findings suggest that microglial phagocytosis changes the nature of amyloid accumulation, helping pack the peptide into tight parenchymal deposits.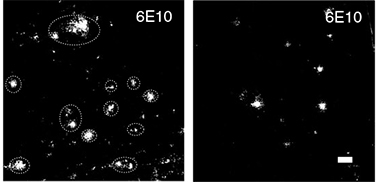 How do these cells do this? The authors followed fluorescently labeled microglia in 16-month-old APP/PS1 mice using live two-photon imaging. They watched microglia surround plaques and extend processes toward them. These microglia had a rounded, amoeboid shape that bespoke activation. They contained large quantities of internalized amyloid in their endosomes and lysosomes, making up almost 10 percent of their cell volume. On the other hand, when APP/PS1 mice lacked Axl and Mer, few microglia gathered around plaques, and these had more ramified processes that actively probed their environment, indicative of their normal surveillance phenotype. These microglia took up only a tenth as much amyloid as did their counterparts. Meanwhile, the halo of dystrophic neurites around plaques was 10 times larger than in control APP-PS1 mice.
To Lemke, the data suggest a model in which Axl- and Mer-positive microglia around plaques take up loosely organized amyloid and shunt it to lysosomes. In this acidic environment, amyloid packs together. Microglia then release this material either by exocytosis or cell death, resulting in the formation of dense-core plaques (see image at top of story).
"To me, this makes biological sense and fits with Aβ chemistry," Zetterberg noted. He pointed out that amyloid aggregation is known to accelerate at a low pH like that found in lysosomes.
The model fits with other recent data implicating microglia in plaque formation. Jaime Grutzendler at Yale University, New Haven, Connecticut, found that microglia encase dense-core plaques, keeping them compact (May 2016 news). Michael Heneka at the University of Bonn, Germany, reported that microglia release protein complexes known as ASC specks that seed plaques (Dec 2017 news). Researchers led by Inhee Mook-Jung at the Seoul National University College of Medicine used two-photon imaging to figure out that microglia in 5XFAD mice promote plaque growth when they die and release accumulated Aβ into the extracellular space (Baik et al., 2016).
Most dramatically, perhaps, Kim Green at the University of California, Irvine, killed off all microglia in young 5XFAD mice and found that almost no plaques formed, but massive CAA developed instead (Sep 2019 news). Green noted that the findings from the Axl and Mer double knockouts closely matched his data. "It's almost a complete replication," he told Alzforum. "It highlights how many of the functions of microglia might be mediated by just one or two genes."
Then There's TREM2
Speaking of microglial genes, how do TAM receptors relate to TREM2? This receptor has broad effects on microglial survival, motility, and gene expression, and scientists believe it orchestrates the disease-associated microglial (DAM) phenotype found around plaques in mice. Some TREM2 genetic variants triple a person's chances of getting AD (Nov 2012 news). Notably, DAM microglia turn up both Axl and Mer expression. Conversely, TREM2 knockouts fail to boost Axl, suggesting this receptor acts downstream of TREM2 (Keren-Shaul et al., 2017).
Lemke's data support this hierarchy. Microglia in the TAM double knockouts were still able to adopt a DAM phenotype, although expression of some of the characteristic genes was blunted. With regard to phagocytosis, however, the effect of TAM knockout was far greater than that of TREM2. Loss of Axl and Mer lowered phagocytosis 10-fold, compared to two- to threefold for TREM2 knockouts. Lemke believes these TAM receptors mediate the effects of TREM2 on phagocytosis.
Other data jibe with the idea that TREM2 and TAM receptors act in the same pathway. Knocking out TREM2 in mice leads to larger, more diffuse plaques similar to those seen in Axl/Mer double knockouts (Jan 2019 news). Conversely, TREM2 activation helps clear plaque halos and ameliorate axon and dendrite damage while leaving dense-core plaques intact (Mar 2020 news; Jun 2020 news).
"The phenotype the authors describe is surprisingly similar to TREM2-deficient microglia, arguing that AXL/MERTK are essential executing molecules of the DAM program in amyloid plaque clearance," Mikael Simons at Technical University Munich wrote to Alzforum (full comment below). Marco Colonna and Yingyue Zhou at Washington University in St. Louis agreed, "We are also intrigued by parallels and differences between the Axl-/- Mer-/- model and the TREM2-deficient model."
To Remove Plaques or Not?
Do dense-core plaques help protect the brain? Evidence so far is limited. Huang and colleagues tested APP/PS1 mice in a fear-conditioning paradigm. They found the TAM double knockouts to be more forgetful than their counterparts with functioning Axl and Mer, hinting at some negative effects from having more diffuse Aβ and CAA. If that is the case, busting up dense-core plaques with, say, an antibody therapy might be counterproductive, Lemke noted. Researchers have debated for years if plaques are toxic or protective and if breaking them up would be a good strategy (Lee et al., 2004; Dec 2009 news).
Alternatively, getting rid of plaques could simply be a waste of time. Charlie Glabe at UC Irvine believes the presence of phosphatidylserine on plaques fits with the idea that they are the remnants of dead neurons (Mar 2013 conference news). "If plaques represent 'tombstone markers' of antecedent pathology, targeting their removal maybe analogous to removing the trash after your house burns down," he wrote to Alzforum (full comment below). Glabe noted that one way to test this idea would be to measure whether the remaining plaques in Axl/Mer double-knockout mice contain neuronal markers, which could suggest they arose through neuron death rather than microglial phagocytosis.
Another key question for AD therapy is how the presence of tau tangles would change the picture. The amyloidosis models used to date do not develop tangles. "We need to understand what happens when we have both pathologies present," Green told Alzforum. Some data suggest microglial states are more complicated in tauopathy than in amyloidosis models (Dec 2020 news).
It is unclear if the findings will translate to people. For example, the human brain does not have an exact parallel to mouse DAM microglia (May 2019 news; Dec 2020 news). However, Huang and colleagues found Gas6 coating plaques in postmortem sections from human AD brain. In the ADNI cohort, researchers have found that high amounts of Axl in cerebrospinal fluid correlated with amyloid deposition in the brain, suggesting the same phagocytic machinery may be at work in people (Mattsson et al., 2013).
Zetterberg noted that this CSF Axl finding was unexpected and has not been pursued yet. "This is something we need to look into further," he told Alzforum. Ideally, a future study would compare CSF Axl to longitudinal amyloid PET imaging to tease out Axl's relationship to plaque deposition, he said.
A Heretical Idea
If dense-core plaques do protect the brain from amyloid toxicity, then stimulating plaque construction could be more beneficial than breaking them up, Lemke suggested. For example, the PPARγ agonist pioglitazone stimulates phagocytosis by boosting Mer expression (Dec 2012 news; Savage et al., 2015). However, pioglitazone and the related compound rosiglitazone have been tried as AD therapies with no success (Sep 2010 news; Jan 2018 news; Nov 2018 conference news).
Likewise, the cancer drug bexarotene boosts Axl and Mer in microglia around plaques, but has not panned out as an AD therapy (Feb 2015 conference news; Feb 2016 news).—Madolyn Bowman Rogers
References
News Citations
Research Models Citations
Paper Citations