In Mice, TREM2 Antibody Mobilizes Microglia, Yet Worsens Tangles
In the October 11 Journal of Experimental Medicine, scientists led by David Holtzman, Washington University School of Medicine in St. Louis, reported that a TREM2 agonistic antibody mobilized microglia to surround plaques, yet did not abate amyloid load. Furthermore, the antibody exacerbated tau seeding, the spread of neurofibrillary tangles, and the formation of dystrophic neurites. The authors caution that, should TREM2 activation not robustly clear amyloid plaques, it could make AD neuropathology worse. Several TREM2 antibodies are being developed to treat AD, and one is in a Phase 2 trial.
Marco Colonna and Yingyue Zhou of WashU thought these results were interesting but difficult to explain. "It is unclear how Aβ accumulation is linked to tau aggregation, not to mention the role of TREM2 or microglia in this process," they wrote. Jacob George, Kaplan Medical Center, Rehovot, Israel, agreed. "This important study points to the complexity of TREM2's interaction with the various determinants of neurodegeneration," he wrote (comments below).
Loss-of-function variants in the microglial receptor TREM2 increase a person's risk of developing sporadic Alzheimer's disease. Faulty TREM2 signaling hobbles microglial response to Aβ, which worsens amyloid plaques, tau tangles, and neurodegeneration (Jul 2019 conference news; May 2016 news). Would boosting TREM2 signaling reduce plaques and prevent neurodegeneration? The answer hasn't been straightforward.
Scientists led by Christian Haas at Ludwig Maximilians University, Munich, developed an antibody that activates TREM2. In mice, it reduced amyloid load and improved memory (Mar 2020 news). Haass collaborates with scientists at Denali Therapeutics, South San Francisco, to develop this antibody for clinical testing. Similarly, scientists led by Zhiqiang An and Ningyan Zhang at the University of Texas Health Science Center, Houston, created a tetravalent anti-TREM2 antibody that mobilized microglia and reduced plaque load in mice (Sep 2022 news). Donna Wilcock of the University of Kentucky, Lexington, found much the same in mice given the TREM2 agonist antibody AL002a (May 2019 conference news; Dec 2016 conference news). This is the antibody Holtzman and colleagues used for their study.
However, scientists led by Colonna and Tina Schwabe at Alector LLC, South San Francisco, reported that AL002c, which binds the same epitope, had no effect on plaque load or microglial numbers, but did reduce neurodegeneration and preserved memory in mice expressing human TREM2 (Jun 2020 news). Alector is testing AL002c in an ongoing Phase 2 trial in early AD. To complicate matters further, scientists led by Timothy Miller at WashU found that suppressing TREM2 expression lowered plaques in mice, questioning whether activation or silencing this microglial receptor would be the best therapeutic approach (Jul 2021 news).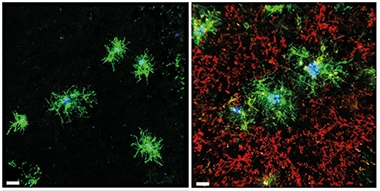 Now, the findings from Holtzman's group add to the unease. Curious about how TREM2 activation influences tau seeding, first author Nimansha Jain injected AL002a into the abdomens of 6-month-old 5xFAD mice. These animals have extensive plaques and gliosis, the beginnings of neurodegeneration, and impaired memory. However, they do not develop tangles. To kick-start that process, Jain injected tau aggregates from AD brain tissue into the mice's hippocampi and cortices one week after they had started AL002a.
The antibody treatment boosted microglial numbers by half in the hippocampus and cortex. Around plaques, twice as many microglia expressed disease-associated microglia (DAM) markers CLEC7A, CD68, or APOE as in untreated mice (Jun 2017 news). The authors concluded that the antibody increased TREM2 signaling and the DAM response (see image above).
However, total and fibrillar plaque load, as measured by the antibody HJ3.4 and the dye X34, respectively, were similar in treated and control mice. This suggests that while AL002a recruited more microglia to plaques, the cells did not clear Aβ or compact the aggregates.
What about tau? Unexpectedly, the antibody accelerated tau seeding. It increased AT8-positive phospho-tau surrounding plaques fourfold (see image at left). Treated mice also had 1.4-times as many swollen dystrophic neurites and 25 percent fewer synapses than did untreated controls.
The stable amyloid load and worsened tau pathology surprised the authors. since they had found previously that seeded tau pathology was worse in APP/PS1 mice when TREM2 was knocked out from birth (Leyns et al., 2019). They attributed the same effect in the antibody-treated mice to the timing of TREM2 activation. "Results from this study emphasize the fact that microglial function is context- and disease-stage-dependent," the authors wrote.
In other words, TREM2 signaling could be either protective or harmful, depending on the type and extent of AD pathology. "Our data suggest that sustained microglial activation through TREM2 that does not result in strong amyloid removal may exacerbate Aβ-induced tau pathology, which may have important clinical implications," the authors concluded. George agreed. "This research supports the rationale of using TREM2 immunotherapy at earlier stages of AD when Aβ load is negligible and thus less influential as a driver of tau pathology," he wrote.—Chelsea Weidman Burke
References
Mutation Interactive Images Citations
News Citations
Therapeutics Citations
Research Models Citations
Paper Citations
Leyns CE, Gratuze M, Narasimhan S, Jain N, Koscal LJ, Jiang H, Manis M, Colonna M, Lee VM, Ulrich JD, Holtzman DM. TREM2 function impedes tau seeding in neuritic plaques.

Nat Neurosci

. 2019 Aug;22(8):1217-1222. Epub 2019 Jun 24 PubMed.