In Mice, Gene Editing Neutralizes Mutant APP, Keeps Plaques Away
Could CRISPR gene-editing technology be used to cure autosomal-dominant Alzheimer's disease? The question preoccupies both families and scientists concerned with ADAD. Researchers led by Nancy Ip at Hong Kong University of Science and Technology reported that it can, at least in mice. In the July 26 Nature Biomedical Engineering, they described an adeno-associated virus carrying gene-editing tools that disrupt mutated amyloid precursor protein gene, while leaving wild-type alleles intact. A single injection of the AAV into the brains of mouse models of APP amyloidosis cut plaque accumulation over six months by 80 percent. Gliosis and neurite dystrophy also slowed. Intravenous infusion of a different AAV that crosses the blood-brain barrier achieved the same effect, and even tempered cognitive deficits.
AAV-based CRISPR targeted mutant APP, limiting plaques in mice. Viruses that infiltrate only the CNS—and only neurons there—may facilitate localized gene editing in the brain.AAV9 carrying CRISPR cuts mutant APP, spares wild-type, in mice.
Halts plaques, gliosis, neurite dystrophy, cognitive decline.
Newly engineered AAVs better target the brain.
A team led by Viviana Gradinaru, Caltech, Pasadena, California, in collaboration with Ip, reported in the December 9 Nature Neuroscience their creation of new AAVs that cross the BBB and infect the brain, and only neurons there, while sparing peripheral organs. Achieving this specificity from peripheral delivery creates new research and therapeutic opportunities unattainable with currently available AAVs.
"This is an exciting example of what gene therapy for an intractable neurological condition could be," Olivier Danos of Maryland-based REGENXBIO wrote to Alzforum. Subhojit Roy, University of California, San Diego, agreed. "Though applicable to a small fraction of Alzheimer's patients carrying the familial Swedish mutation, [Ip's study] opens the door for similar 'personalized' CRISPR-based approaches for other Alzheimer's mutations," he wrote to Alzforum. "It is difficult to imagine a future where gene-based therapies will not be translated to more common neurodegenerative diseases," Roy added. As for Gradinaru's contribution, Martin Ingelsson, University of Toronto, wrote, "This elegant ... work represents an important step forward to enable future AAV-based systemic therapies for various brain disorders" (full comments below).
With CRISPR gene editing, researchers can change specific genetic sequences with great precision. For example, scientists led by Ingelsson previously nicked the APP gene near the Swedish KM670/671NL double mutation to induce a frameshift and remove the nearby BACE cleavage site. This diminished Aβ production in cultured cells from ADAD patients; alas, it edited so few cells in the brains of transgenic mice—below 2 percent of neurons—that the scientists did not assess any effect on AD pathology (May 2018 news). Similarly, South Korean researchers used CRISPR nanocomplexes to suppress BACE1 expression, which reduced amyloid plaques and improved learning and memory (Mar 2019 news).
Now, co-first authors Yangyang Duan and Tao Ye from Ip's lab achieved the same effect by packaging CRISPR machinery into AAV viruses. Similar to Ingelsson, the Hong Kong group created a guide RNA targeting 27 nucleotides surrounding the Swedish APP mutation. In CRISPR-transfected HEK cells, the guide RNA drove Cas9 to cut only mutant APP, leaving the wild-type allele intact (see image below).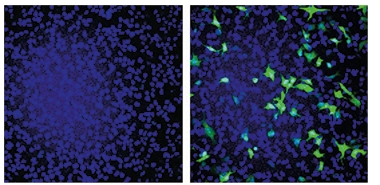 With this guide RNA in hand, the scientists packaged it and Cas9 mRNA into AAV9, a serotype commonly used to deliver gene therapies to the CNS (reviewed by Saraiva et al., 2016). They injected the virus into one side of the hippocampi of 3-month-old 5xFAD mice, which carry five familial AD mutations, including the Swedish APP mutation. Four weeks later, 27 percent of hippocampal cells from the treated side were devoid of the Swedish mutation, indicating it had been edited out. Danos noted that this is a surprisingly high level of gene editing.
Did this matter, though? At 3 months of age, 5xFAD mice begin accumulating plaques; and plaque deposition, gliosis, and neuronal dysfunction are widespread by 6 months. In treated 5xFAD mice, the scientists measured 65 to 80 percent less soluble and insoluble Aβ40 and Aβ42, and a 78 percent lower plaque load in the ipsilateral hippocampus compared to the un-injected control side (see image below). This reduction held by 9 months of age.
CRISPRed mice also had 35 percent fewer Iba1-positive microglia at 6 months, while the number of their astrocytes stayed unchanged. Long-term potentiation (LTP), a sign of synaptic plasticity, came in near wild-type levels, suggesting less neurotoxicity than in untreated controls. In keeping with this, tissue sections from treated mice had 44 percent more PSD-95-positive puncta, 20 percent more NeuN-positive neurons, and half as many dystrophic neurites as did tissue from untreated animals.
To see how gene editing might affect more advanced pathology, the scientists injected the AAV-CRISPR into the hippocampi of 9-month-old APP/PS1 mice, which carry the Swedish APP plus one PSEN1 mutation and have extensive plaque burden and gliosis by 9 months of age. At 15 months, treated mice contained half as many hippocampal plaques, half as many activated microglia, and 18 percent fewer GFAP-positive astrocytes than controls.
Could systemic treatment achieve a brain-wide reduction of pathology? The scientists packaged the same guide RNA and Cas9 mRNA into a BBB-penetrating variant of AAV9, called AAV-PHP.eB (Chan et al., 2017; Nov 2019 conference news). They intravenously injected 3-month-old 5xFAD mice, which achieved similar editing efficiency in the brain as did the intrahippocampal injection. Cas9 was expressed throughout the brain, and stymied amyloid plaque production in the hippocampus, cortex, and brainstem by 6 months of age (see image below).

Peripheral Works, Too. 5xFAD mice intravenously injected with an AVV-PHP.eB-CRISPR targeting the APP Swedish mutation subsequently had fewer amyloid plaques (right) than controls (left). [Courtesy of Duan et al., Nature Biomedical Engineering, 2021.]
Systemic treatment also prevented microglial activation and dystrophic neurites in the hippocampus. In behavioral tests, the mice better remembered which arm of a Y-maze they had just explored, acclimated to an open-field as fast as wild-type, and spent less time on the open arms of an elevated plus maze test.
Of Mice and Marmosets: AAV for Better Brain Delivery
Achieving diffuse brain-specific delivery of an AAV virus that can efficiently edit genes remains a challenge for scientists. For example, AAV-PHP.eB also infiltrates the liver, where it can trigger an immune response from surveilling lymphocytes that reside there, or even damage the liver itself. "The success of gene therapies for CNS disorders will, to a large extent, depend on the development of AAV capsids with improved properties," Ingelsson noted.
To minimize off-target effects, co-first authors David Goertsen, Nicholas Flytzanis, and Nick Goeden in Gradinaru's lab tinkered with the AAV-PHP.eB capsid protein, VP3, to reduce its penchant to infiltrate the liver while maintaining, or even boosting, its preference for brain cells.
The scientists generated hundreds of thousands of AAV capsid sequences, each with a random combination of seven amino acids in a stretch of one surface-exposed loop of VP3. Then they infused this viral amalgam into peripheral veins of 8-week-old, wild-type mice, harvested the mice's organs, and sequenced DNA to identify which viruses had infected which tissue. They put the top 20 percent of capsids with high brain and low liver infectivity through the mouse infection screen again. Of the 39,000 capsid sequences that survived both rounds, the researchers selected 22 that most specifically infected CNS tissue.
One dubbed AAV.CAP-B10 stood out. It infected brain cells as well as AAV-PHP.eB but had negligible liver expression—50-fold lower than AAV-PHP.eB and more than 100-fold lower than AAV9. AAV.CAP-B10 infected four to five times fewer astrocytes and oligodendrocytes as did AAV-PHP.eB. To the authors, this indicated that AAV.CAP-B10 selectively infects neurons.
"The variants described by Goertsen et al. are truly of interest," commented REGEMXBio's Danos. To the mind of Sergio Ferreira, Federal University of Rio de Janeiro, the role of glia cells in Alzheimer's pathogenesis raises the question of whether the capsid's specificity for neurons will prove to be an advantage or a drawback (full comment below).
Will this new virus behave the same way in people? That remains to be seen, but neither AAV-PHP.eB nor its cousin, AAV-PHP.B, infect nonhuman primate brain cells after systemic injection, dashing hope that these might be used for therapeutics (Matsuzaki et al., 2018). However, in two adult marmosets, a species of nonhuman primate, AAV.CAP-B10 infected four times as many neurons and 17-fold fewer liver cells than AAV9 or AAV-PHP.eB (see image below).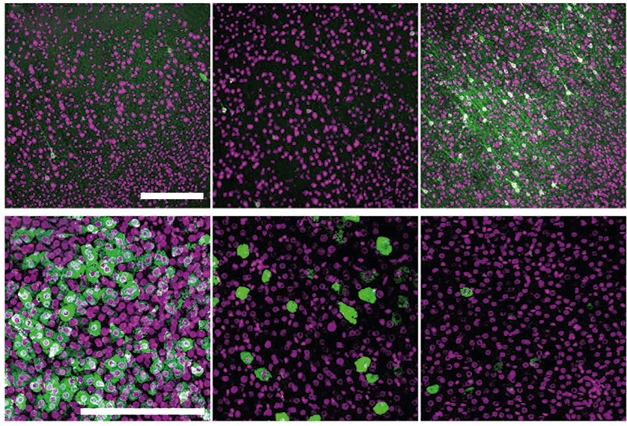 More Brain, Less Liver. In marmosets, AAV.CAP-B10 (right) encoding a hemagglutinin-labeled protein (green) better infected the cortex (top) than did AAV9 (left) or AAV-PHP.eB (middle), while its expression in the liver (bottom) was lower. Purple represents neurons (top) or nuclei (bottom). [Courtesy of Goertsen et al., Nature Neuroscience, 2021.]
Roy hopes that AAV capsids tested in nonhuman primates might work in people, given the successful translation from mice to marmosets. "This is important because testing efficacy of viral capsids in the human brain will be challenging in a clinical setting," he wrote.
Ferreira wondered if AAV.CAP-B10 would improve the efficacy and specificity of the gene editing reported by Duan, Ye, and colleagues. Ip said her and Gradinaru's teams will develop intravenous APP gene editing in nonhuman primates using the CNS-optimized AAV capsids.—Chelsea Weidman Burke
References
Mutations Citations
News Citations
Research Models Citations
Paper Citations
Saraiva J, Nobre RJ, Pereira de Almeida L. Gene therapy for the CNS using AAVs: The impact of systemic delivery by AAV9.

J Control Release

. 2016 Nov 10;241:94-109. Epub 2016 Sep 13 PubMed.
Chan KY, Jang MJ, Yoo BB, Greenbaum A, Ravi N, Wu WL, Sánchez-Guardado L, Lois C, Mazmanian SK, Deverman BE, Gradinaru V. Engineered AAVs for efficient noninvasive gene delivery to the central and peripheral nervous systems.

Nat Neurosci

. 2017 Aug;20(8):1172-1179. Epub 2017 Jun 26 PubMed.
Matsuzaki Y, Konno A, Mochizuki R, Shinohara Y, Nitta K, Okada Y, Hirai H. Intravenous administration of the adeno-associated virus-PHP.B capsid fails to upregulate transduction efficiency in the marmoset brain.

Neurosci Lett

. 2018 Feb 5;665:182-188. Epub 2017 Nov 24 PubMed.
Primary Papers
Goertsen D, Flytzanis NC, Goeden N, Chuapoco MR, Cummins A, Chen Y, Fan Y, Zhang Q, Sharma J, Duan Y, Wang L, Feng G, Chen Y, Ip NY, Pickel J, Gradinaru V. AAV capsid variants with brain-wide transgene expression and decreased liver targeting after intravenous delivery in mouse and marmoset.

Nat Neurosci

. 2022 Jan;25(1):106-115. Epub 2021 Dec 9 PubMed.
Duan Y, Ye T, Qu Z, Chen Y, Miranda A, Zhou X, Lok KC, Chen Y, Fu AK, Gradinaru V, Ip NY. Brain-wide Cas9-mediated cleavage of a gene causing familial Alzheimer's disease alleviates amyloid-related pathologies in mice.

Nat Biomed Eng

. 2021 Jul 26; PubMed.