Massive Icelandic Genome Analysis Offers Clues to Health and Disease, Including AD
The March 25 Nature Genetics details the largest set of human genomes ever sequenced. Senior author Kari Stefansson and colleagues from deCODE genetics, a subsidiary of Amgen based in Reykjavik, Iceland, sequenced whole genomes of more than 2,600 Icelanders. They found rare genetic variants that lend new insights into the intricacies of human genetics and disease, and have predicted the presence of those variants in more than 100,000 other compatriots. Their results are described in four papers. One reveals that rare loss-of-function variants in ABCA7 double a person's chances of getting Alzheimer's disease. Previous genome-wide association studies had implicated this gene in AD, but not definitively. "This study really nails down ABCA7 as a key modulator of Alzheimer's disease," said Alan Tall, Columbia University, New York. "Importantly, it shows that loss of function of ABCA7 is responsible for that association."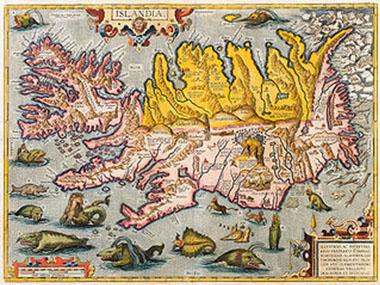 Because Iceland has a modest, relatively isolated population that arose from a small number of settlers, genetic variants are likelier to be passed down through generations there, rather than getting lost as they might in larger, mixed populations. This means rare variants that associate with disease might occur at a higher frequency and be easier to find. DeCode has banked on this, and on Iceland's long and detailed genealogical history.
For this study, deCode scientists sequenced the entire genomes of 2,636 volunteers, including both healthy individuals and those with various disorders. The researchers unearthed about 1.5 million base insertions or deletions and almost 20 million single-nucleotide polymorphisms (SNPs)—9.3 million of which were rare. Most of the rare variants that occurred in coding regions of the DNA had not been found previously. The authors then compared those whole-genome sequences with partial sequences obtained by genotype-array analysis of a much larger group of volunteers. These arrays pick up common SNPs. Knowing which SNPs are normally inherited en masse, and pinpointing where the rare variants fall in those blocks of DNA, the authors imputed, in genetic parlance, the occurrence of those rare variants in a total of 101,584 people, and by extrapolation almost 300,000 of their close relatives, both living and deceased. About 320,000 people live in Iceland.
The authors correlated those variants with various diseases. As reported in one of the papers, first author Stacy Steinberg and colleagues looked for rare loss-of-function variants in genomic regions that previously had been implicated in Alzheimer's disease by genome-wide association studies (Apr 2011 news; Lambert et al., 2013). Among 3,419 cases and more than 151,000 controls, they found eight rare variants within the ABCA7 gene that associated with the disease. These included nonsense and missense mutations, frameshifts, and intron splice-site mutations. In all cases the researchers concluded that the mutant gene made no protein. On average, people with these variants had twice the chance of getting AD. Steinberg found no rare variants in other GWAS genes that correlated with AD in their population.
The researchers then looked for these same loss-of-function ABCA7 polymorphisms in cohorts from Finland, Germany, Norway, and the United States. They found six out of the eight, and they turned up more often in people with AD. On average, people carrying these rare variants were 1.73 times likelier to have the disease than those who had the common alleles. None of these new variants matched the common SNPs around the ABCA7 gene locus that emerged in GWAS. However, because these rare variants all cause a loss of function, it suggests that the GWAS SNPs would also lead to reduced levels of the protein, wrote the authors.
ABCA7, short for ATP-binding cassette transporter A7, belongs to the "A" subfamily of ABC transporters that ferry lipids across membranes. The central nervous system expresses the protein in large amounts, especially in microglia. An in vitro study first suggested that ABCA7 plays a part in AD by enhancing lipid transport and reducing Aβ processing (Chan et al., 2008). Later, GWAS backed up that hypothesis when they revealed that SNPs in ABCA7 associated with AD (Hollingworth et al., 2011). ABCA7 variants also appeared to intensify plaque burden and memory decline (Shulman et al., 2013; Carrasquillo et al., 2015). However, it was unclear if SNPs in ABCA7 affected the gene itself or a neighbor, and whether these variants increased or decreased the normal amount of protein. "We now know from this paper that ABCA7 is the correct gene to study [in this locus], but we still don't know how it relates to Alzheimer's disease," said Gerard Schellenberg, University of Pennsylvania, Philadelphia.
In cellular models, ABCA7 loads phospholipids and cholesterol onto ApoA-I or ApoE (Abe-Dohmae et al., 2004). However, ABCA7 knockout mice have no ApoE changes, suggesting they have no lipid transport deficits (Kim et al., 2013). Other evidence points to ABCA7 supporting phagocytosis. Its ortholog in C. elegans facilitates phagocytosis of dying cells (Wu and Horvitz, 1998). Likewise, ABCA7 enhances macrophage phagocytosis of apoptotic cells in mice (Jehle et al., 2006). ABCA7 expression also ticks up in response to phagocytosis in mouse and human cell lines (Iwamoto et al., 2006). Stefansson and colleagues found no genetic evidence for synergism between ABCA7 variants and those in either the ApoE or the TREM2 genes.
Do these results point to a therapeutic target? Schellenberg was unsure. Since the data suggest that lowering ABCA7 is detrimental, they imply that boosting the protein or its activity could be beneficial. "It is relatively easy to inhibit a protein, but a lot harder to activate it," said Schellenberg. More interesting than harmful loss-of-function variants, such as these ABCA7 polymorphisms, are protective loss-of-function changes, he said. They point to cases where inhibition may be desirable, and that could lead to good drug targets. Stefansson predicted such protective variants will arise from deCODE's analysis.
Nilufer Ertekin-Taner of the Mayo Clinic in Jacksonville, Florida, found it interesting that of all the potential candidate genes that emerged from GWAS studies on late-onset AD, the deCODE study suggests that only ABCA7 harbors rare loss-of-function variants. "The results hint that for the other GWAS hits, the functional culprit may not be rare deleterious variants with strong effect sizes," she told Alzforum. "We may need to look for alternative types of functional variants, such as those in regulatory regions, to identify the full spectrum of genetic variation that underlies the AD GWAS signals."
The findings in the ABCA7 paper make up only one part of a larger study. In another paper, first authors Daniel Gudbjartsson, Hannes Helgason, and colleagues detail other genetic variants that associate with different diseases. For instance, a frameshift deletion in MYL4, which encodes a myosin essential light chain, correlated with early onset atrial fibrillation. Likewise, missense and frameshift mutations in the ATP-binding cassette, sub-family B member 4 (ABCB4) heightened risk for liver and gallstone diseases. Other findings had less to do with disease and more to do with general human genetics. For instance, in another paper, co-first authors Helgason and Patrick Sulem reported that 7.7 percent of the Icelandic population studied had a gene that was completely knocked out. These homozygous loss-of-function mutations are equivalent to mouse knockouts. Stefansson said they plan to phenotype these individuals and see how the missing genes relate to disease and physiology. Last, but not least, a paper from Agnar Helgason and colleagues estimated the mutation rate of the Y chromosome, and predicted that the most recent common male ancestor to modern humans lived about 239,000 years ago.
DeCode cannot share individual data from the study because of restrictions laid out by Icelandic law. However, the company does contribute to other studies by sending out their summary statistics, such as effect sizes and P-values. Interested collaborators can also travel to Iceland to gain local access to the data. The company's methods have previously paid off for AD. Their scientists found a variant of the amyloid precursor protein (APP) that protects against AD, as well as a rare mutation in the microglial activation protein TREM2 that triples risk for the disease (Jul 2012 news; Nov 2012 news).—Gwyneth Dickey Zakaib
References
News Citations
Paper Citations
External Citations