Lodged in Late Endosomes, Presenilin 2 Churns Out Intraneuronal Aβ
Presenilin 2 has long lived in the shadow of its sibling, presenilin 1. Either one can serve as the catalytic subunit of γ-secretase, but presenilin 1 has hogged much of the limelight, in part because many more pathogenic Alzheimer's disease mutations are known to occur in this gene. But now, PS2 may have its own claim to infamy. According to a study published in Cell on June 9, presenilin 2 contains a sorting sequence that directs it to endolysosomal vesicles, where it produces intracellular Aβ peptides that are enriched for Aβ42. According to this new study, PS2's highly specific localization stands in stark contrast to that of PS1. The latter calls many cellular compartments home, including the plasma membrane, from where its γ-secretase complex has long been known to release Aβ into the extracellular space. Wim Annaert at KU Leuven in Belgium led the study. Several commentators called the paper one of the most data-packed and methodologically complete they had read.
"There are very few papers as beautiful as this one," commented Gunnar Gouras of Lund University in Sweden. "High-level research like this opens up new ways of thinking about what could be going wrong in AD."
The findings may reinvigorate interest in intracellular Aβ, which has long been overlooked in favor of extracellular Aβ, commented Charles Glabe of the University of California, Irvine, who, like Gouras, was not involved in the study. Gouras, Glabe, and others have proposed that a pool of sticky intracellular Aβ kills neurons and ultimately seeds plaques (see Gouras et al., 2005; Gouras et al., 2010; and Pensalfini et al., 2014). Furthermore, PS2's pivotal location underscores the central role of endolysosomal dysfunction in neurodegenerative disease, added Ralph Nixon of New York University, who proposed that changes in this endocytic system were among the earliest pathological events in sporadic AD (see Cataldo et al., 2000; Adamec et al., 2000).
The findings also distinguish the presenilins as more than just "proteasomes of the membrane" that chomp membrane proteins indiscriminately, as previously proposed (see Kopan and Ilgan, 2004). Rather, the spatial regulation of the proteases hints that they have specific physiological functions, the authors wrote.
Presenilin serves as the intramembrane protease within γ-secretase. The complex generates Aβ peptides from fragments of the amyloid precursor protein; it also cleaves many other substrates, including Notch. The lion's share of familial AD mutations, more than 180, reside within PS1, while only 13 pathogenic mutations have been discovered in PS2. Gamma-secretase complexes containing PS1 or PS2 produce similar products in vitro, so researchers have tended to focus on PS1—generating mouse models and elucidating the structure of PS1-containing γ-secretase complexes. "I think the field has largely ignored possible differences in localization between the two presenilins, which could have a huge effect on substrate specificity," Annaert said.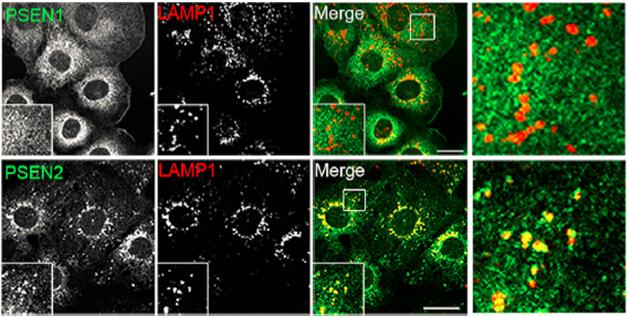 Endosome Home. PS2 (bottom), but not PS1 (top), resides in late endosomes and lysosomes, as evidenced by its co-localization with LAMP1 vesicles. [Courtesy of Sannerud et al., Cell 2016.]
First author Ragna Sannerud and colleagues set out to scrutinize presenilin localization and determine if compartmentalization within the cell would affect the respective complex's proteolytic output. First examining mouse embryonic fibroblasts, they found that PS1 was spread across multiple cellular fractions, but nearly all PS2 was neatly restricted to late endosomal and lysosomal compartments (see image above). Nearly 10 percent of PS1 was detected in the plasma membrane on the cell surface, while only 1 percent of PS2 made it there. Confocal microscopy on several different cell lines and on mouse hippocampal neurons confirmed these findings, as PS2 comingled with vesicles positive for LAMP1, a marker of late endosomes and lysosomes. Rather than just relying on color co-localization to place PS2 in the cell, the researchers zoomed in even further, pairing structured illumination microscopy and correlative light electron microscopy to confirm that PS2 was indeed localized to membranes in these compartments (see image below). In neurons, these PS2-containing vesicles congregated in dendrites rather than axons or cell bodies.
Zooming in on PS2. Pairing structured illumination microscopy (left) and electron microscopy (right panels), researchers pinpointed PS2 (green) to the membranes of late endosomes, lysosomes, and multivesicular bodies (red). [Courtesy of Sannerud et al., Cell 2016.]
How were the presenilins sorted differently inside the cell? To find out, the researchers swapped different domains between PS1 and PS2. They found that the cytosolic N-terminus held the key to localization: Swapping this region shipped PS1 specifically to endolysosomes in fibroblasts and spread PS2 into membranes throughout the cell. The researchers ultimately homed in on a short sequence in PS2's N terminus—E16RTSLM21. It fits the bill for an acidic dileucine motif that is common to other proteins sorted to endolysosomal compartments. Moreover, the researchers found that this sequence in PS2 bound to the cargo-sorting complex AP-1; mutating key residues in the dileucine motif broke this interaction and caused PS2 to be localized broadly. The association between AP-1 and PS2 was regulated by the phosphorylation of the serine-19 residue within E16RTSLM21, the researchers reported (see image below).
On Location. Starting from the trans-Golgi network, PS1 and PS2 take different paths in the cell. PS2 catches a ride with AP-1, which targets the protease to endolysosomal compartments that affect its Aβ output. PS1, on the other hand, spreads throughout the cell and onto the surface. Mutations in PS2's sorting sequence alter the enzyme's trafficking. [Courtesy of Sannerud et al., Cell 2016.]
Does PS2's localization to the endosomal compartment affect the substrate specificity or activity of its respective γ-secretase complex? To find out, the researchers compared the processing of presenilin substrates N-cadherin, a cell surface protein, as well as Notch1 and APP, both of which are distributed throughout intracellular compartments and on the cell surface. For this the researchers used cells expressing either of the presenilins, isolating their membrane fractions. They found that PS2 processed N-cadherin less efficiently than PS1 did, and that, once again, swapping the sorting domains reversed this effect. Notch1 and APP were processed similarly by both presenilins to their respective intracellular fragments NICD and AICD.
What about Aβ production? The researchers found that cells expressing only PS2 contained higher amounts of intracellular Aβ and secreted less Aβ than did cells expressing only PS1. Regardless of which presenilin protein the cells expressed, the intracellular pool of Aβ had a higher ratio of Aβ42 to Aβ40 than did the secreted pool. While it is unclear why the intracellular pool would consist of longer Aβ peptides, Annaert proposed that something about this acidic compartment might affect the processing efficiency of the secretase. Alternatively, aggregation-prone Aβ42 could more strongly resist lysosomal degradation than shorter Aβ peptides can, and thus become overrepresented in that compartment, Nixon suggested.
Finally, the researchers investigated how familial AD mutations in PS1 and PS2 would affect both localization and functionality of the protein complexes. They found that none of four PS2 mutants—T122P, N141I, M239V, or M239I—altered its location. However, all of the mutations elevated the Aβ42/40 ratios, particularly in the intracellular pool. For the N141I mutant, for example, the intracellular ratio of Aβ42/40 shot up 50-fold compared to cells expressing wild-type PS2. The researchers concluded that the intracellular processing was particularly sensitive to the mutations.
Unexpectedly, the researchers found that two of five PS1 mutations, that is, L166P and G384A, acted essentially like phenocopies of PS2. They routed the complex to the endolysosomal compartment, giving it a PS2-like distribution. Cells expressing these PS1 mutants secreted less Aβ and racked up higher Aβ42/40 ratios than those expressing wild-type PS1.
It was striking that such a fundamental difference between PS1 and PS2 had gone unnoticed for more than 20 years of study, commented Todd Golde of the University of Florida in Gainesville. "This is an incredibly strong piece of work. It is important to encourage people not to just jump on the next new thing, but to remember there are still fundamental unanswered questions in the field." He added that the importance of intracellular Aβ compared to its far more abundant extracellular forms had yet to be dissected.
Gabriele Kaminski Schierle of the University of Cambridge in England told Alzforum that the findings point to the importance of intracellular Aβ in the Alzheimer's disease process, adding that her own work and that of others has revealed how readily Aβ clumps into aggregates when inside the cell (see May 2014 news). She wondered whether Aβ generated by PS2 in endolysosomes could go undegraded in people with AD. She proposed a cascade in which hyperactive neurons funnel Aβ-laden endosomes to the synapses, where their aggregated contents are released to neighboring cells. Alternatively, the vesicular Aβ buildup could trigger release of the contents into the cytosol, Schierle suggested. Glabe also mentioned the latter possibility, adding that the release of intracellular Aβ aggregates into the cytosol would trigger an inflammatory response.
"This study points to intracellular Aβ aggregation as a potential key point to pathogenesis in AD," Glabe told Alzforum.
While Glabe believes the results support the notion that intracellular Aβ plays a central role in the endolysosomal dysfunction observed in AD, Nixon proposed it was the other way around: Waning endolysosomal function could precipitate AD before Aβ accumulates. "The paper raises the possibility that aggregation-prone Aβ could be a lysosomal toxin, but it could also be that undegraded proteins in general are bad for the cell," he said. He proposed that age-related lysosomal dysfunction could trigger the buildup of many proteins, including intracellular Aβ produced by PS2. "This would broaden the relevance to sporadic AD, where we think multiple factors are driving the failure of the lysosome," Nixon said.
What, if anything, does PS2's specific role as an intracellular Aβ42 booster mean for antibody immunotherapy? Eric Siemers of Eli Lilly and Company in Indianapolis cautioned against drawing any conclusions in that regard. "Surprisingly little is known about subcellular compartmentation of γ-secretase and Aβ, so this is very interesting work. At this point, to try to relate their findings to the potential success or failure of monoclonal antibodies would be highly speculative, and probably not very useful in terms of moving the field forward," he wrote to Alzforum. Lilly is on the verge of releasing results of its Expedition 3 trial on the Aβ immunotherapy solanezumab.
Gouras added that the intracellular pool might not escape therapeutic antibodies, as his work and others' have revealed many antibodies are indeed taken up into neurons.—Jessica Shugart
References
Alzpedia Citations
Mutations Citations
News Citations
Therapeutics Citations
Paper Citations
Primary Papers
Sannerud R, Esselens C, Ejsmont P, Mattera R, Rochin L, Tharkeshwar AK, De Baets G, De Wever V, Habets R, Baert V, Vermeire W, Michiels C, Groot AJ, Wouters R, Dillen K, Vints K, Baatsen P, Munck S, Derua R, Waelkens E, Basi GS, Mercken M, Vooijs M, Bollen M, Schymkowitz J, Rousseau F, Bonifacino JS, Van Niel G, De Strooper B, Annaert W. Restricted Location of PSEN2/γ-Secretase Determines Substrate Specificity and Generates an Intracellular Aβ Pool.

Cell

. 2016 Jun 30;166(1):193-208. Epub 2016 Jun 9 PubMed.