Inflammation in Midlife Portends Late-Life Brain Shrinkage
Researchers have long suspected that inflammation fuels neurodegeneration, but evidence in humans has been scarce. A prospective study of more than 1,500 people led by Keenan Walker in Rebecca Gottesman's group at Johns Hopkins University, Baltimore, adds new evidence in support of this connection. The researchers report in the November 28 Neurology that people with high levels of five inflammation markers in plasma during midlife were likelier to have lost brain volume and memory 24 years later.
Systemic inflammation in midlife correlates with late-life brain volume loss.
The occipital cortex and AD-related regions are worst hit.
Midlife inflammation also predicts memory loss in old age.
"The authors have provided compelling evidence that systemic inflammation not only precedes, but potentially contributes to neurodegeneration in late life," wrote Angela Jefferson, Vanderbilt University, Nashville, Tennessee, in an email to Alzforum.
Previous studies have uncovered correlations between brain volume and inflammation in older adults (e.g., Jefferson et al., 2007; Schmidt et al., 2016), and between inflammation and cognitive dysfunction, including Alzheimer's disease (AD) (e.g., Tan et al., 2007; Engelhart et al., 2004). A few have hinted at inflammation driving neurodegeneration, with signs of inflammation surfacing years before mental impairment. Data from a sub-cohort of the Honolulu Heart Program, for example, revealed that men with high levels of C-reactive protein, a nonspecific marker of inflammation, had a threefold higher risk of having dementia 25 years later (Schmidt et al., 2002). Also, a retrospective analysis of data from the U.K. Whitehall II study found that middle-aged people, mostly white men, with high IL-6 blood levels experienced a drop in cognitive function over the next decade (Singh-Manoux et al., 2014; Jul 2014 news).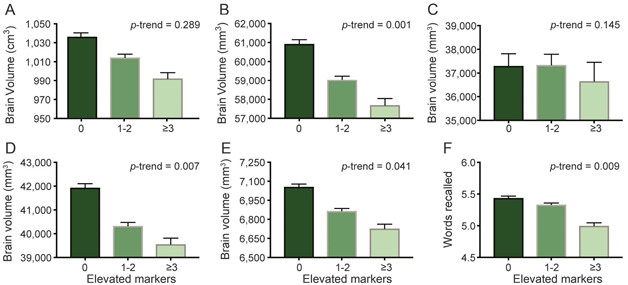 Inflammation and Shrinkage: The number of elevated inflammation markers correlated with smaller volumes of Alzheimer's-related regions (B), occipital lobe (D), and hippocampus (E). They also correlated with poorer word recall (F). (Changes in total brain (A) and ventricular volumes (C) missed significance in this binned analysis.) [Republished with permission ©2017 American Academy of Neurology.]
But a definitive causal link between midlife inflammation and subsequent neurodegeneration has yet to emerge. To test the strength of this purported link, Walker used the Atherosclerosis Risk in Communities cohort (ARIC Investigators, 1989). ARIC includes people from different communities, with nearly a third being African-American. "It was designed to reflect the general American population," Walker said. Walker used baseline measurements of systemic inflammation markers in plasma—fibrinogen, albumin, white blood cell count, von Willebrand factor, and Factor VIII—collected from 1,633 participants at a mean age of 53. He then calculated a composite score from these measurements for each person, and assessed its association with brain volume data from MRI scans done 24 years later.
With every increase of one standard deviation in the midlife inflammation score, the combined volumes of Alzheimer's signature regions—the parahippocampal, entorhinal, inferior parietal lobules, hippocampus, and precuneus areas—shrank by 532 mm3, with the hippocampus alone losing 110 mm3. Participants with three or more elevated markers on average had 5 percent smaller AD signature regions than people with normal inflammatory marker levels (image above). Their occipital lobes and hippocampi were 6 and 5 percent smaller, respectively, than those in people without systemic inflammation. The authors note that the estimated effect of an increase in one standard deviation of the inflammation score on occipital lobe, ventricular, and hippocampal volumes is similar to the effect associated with having one ApoE4 allele.
The authors also searched for links between midlife inflammation and performance in a delayed word-recall test. Asked to remember a list of 10 words, people who had had normal levels of inflammation markers in midlife recalled, on average, 5.5 words. Those with three or more elevated markers recalled, on average, five.
In another recent study, Walker probed the association between midlife levels of the inflammation marker C-reactive protein and white matter microvasculature (Walker et al., 2017). Here, too, midlife inflammation predicted poorer outcomes.
Tom Mosley, University of Mississippi in Jackson, pointed out that midlife blood pressure and midlife diabetes are similarly associated with late-life cognitive impairment (Gottesman et al., 2017; Aug 2017 news). "Taken together, these studies suggest that interventions aimed at preventing late-life brain changes may need to target individuals earlier in life than previously appreciated," he wrote (full comment below). Mosley's institution collected data for ARIC, but he was not involved in this study.
How does one stave off inflammation? "Inflammation markers tend to go up with age. They are associated with many diseases, including atherosclerosis, heart disease, obesity, arthritis, and also depression and psychological stress," said Walker. "All the things the doctor tells you to do to reduce cardiovascular disease can help."—Marina Chicurel
References
News Citations
Paper Citations