Immunotherapy for Cerebral Small Vessel Disease?
There is no treatment for CADASIL, the heritable small vessel disease that causes migraines, stroke, and even dementia. Its full name is a mouthful: cerebral autosomal-dominant arteriopathy with subcortical infarcts and leukoencephalopathy. Taking a step toward therapy, a paper in the July 11 Journal of Experimental Medicine reports that propping up Notch 3 signaling in mice protects cells that ensheathe retinal blood vessels. The authors, led by Joseph Arboleda-Velasquez and Patricia D'Amore at the Schepens Eye Research Institute of the Massachusetts Eye and Ear Infirmary, Boston, also claim that an antibody that activates Notch 3 receptors rescues at least some retinal blood vessels affected by a CADASIL-causing Notch mutation.
"The results are promising. They have certainly moved the field forward," said Raj Kalaria at Newcastle University in the United Kingdom.
Damage to small blood vessels in the brain can impair cognition and may increase risk for dementia (see Feb 2012 news; Apr 2017 news). Aging and cardiovascular disease can damage small vessels, but in rare cases, mutations are to blame, such as those causing CADASIL. "CADASIL is quite rare, but it's useful for looking at general principles of this kind of disease," noted Roy Weller, University of Southampton, U.K.
CADASIL mutations occur in extracellular domains of the Notch 3 receptor (Chabriat et al., 2009). Expressed predominantly in smooth muscle cells that form the outer layers of blood vessels, Notch 3 helps these cells form and maintain their identity, and protects them from apoptosis (Domenga et al., 2004; Baeten and Lilly, 2015). CADASIL mutations interfere with Notch 3 activation and cause aggregates of the protein's extracellular domain to form in blood vessel walls. But researchers still debate whether the mutations cause a loss of normal function or a gain of toxic function, or both.
To get a handle on this, co-first authors Arturo Israel Machuca-Parra and Alexander Bigger-Allen asked how smooth muscle cells would fare without Notch 3 or if they expressed a mutant form of the receptor. The authors created three strains of mice: a Notch 3 knockout (N3KO); the same knockout conditionally expressing human wild-type Notch 3; or the knockout expressing human Notch 3 with the C455R CADASIL mutation (Arboleda-Velasquez et al., 2011; Arboleda-Velasquez et al., 2008; Mitchell et al., 2001). Both transgenes were under the control of a smooth muscle cell promoter.
Machuca-Parra and colleagues examined the retina because this extension of the central nervous system is vulnerable to CADASIL, is surrounded by a boundary similar to the blood-brain barrier, and has a stereotypical pattern of branching blood vessels for easy monitoring. The authors tested the integrity of the mural cells that coat retinal blood vessels, using an antibody to the mural cell protein α-smooth muscle actin (SMA). In wild-type mice and in N3KOs expressing human wild-type Notch 3, SMA outlined the arteries and arterioles of the retinas. In contrast, there was little SMA in retinal vessels of the N3KOs, or the knockouts that expressed the C455R transgene (see image below). That the C455R mutant and the full knockout had similar pathology suggested to the authors that C455R is a loss-of-function mutation.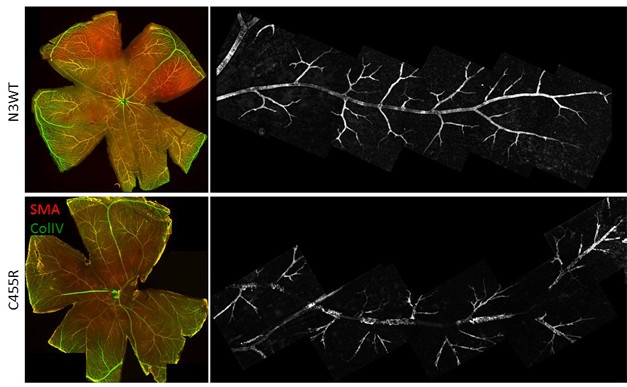 Skimpy Attire: Mice expressing the C445R Notch 3 mutant in smooth muscle cells (bottom) have less α-smooth muscle actin in retinal blood vessels (right) and the whole retina (red in left) than do control animals (top). [Image courtesy of Alexander Bigger-Allen.]
Can the C445R mutant muster any Notch 3 activity? To test this, Machuca-Parra and Bigger-Allen used A13, an antibody that binds the Notch 3 extracellular domain and acts as an agonist (Li et al., 2008). The authors suspected A13 would activate C445R mutants also, because the antibody binds at a site that is distant from CADASIL mutations. Indeed, A13 activated a Notch 3 signaling reporter in cells expressing either wild-type or mutant Notch 3. This key experiment suggested it might be possible to buoy Notch 3 signaling in C445R CADASIL.
The authors next injected A13 once a week for five weeks into the peritoneal cavities of week-old C455R or N3KO mice. As expected, the antibody had no effect on retinal arterioles in the N3KO mice, but doubled the SMA coverage of C445R Notch 3 arterioles (see image below). A13-treated C445R transgenics had more Notch 3 intracellular domain fragments in the brain, as well as higher plasma levels of the Notch 3 extracellular domain, indicating elevated processing of Notch by γ-secretase and ADAM proteases. Levels of endostatin, a fragment of collagen 18α1, a potential CADASIL biomarker, crept up as well (Primo et al., 2016). Arboleda-Velasquez thought this boded well for the clinic. "A big barrier in the field has been the lack of biomarkers," he said.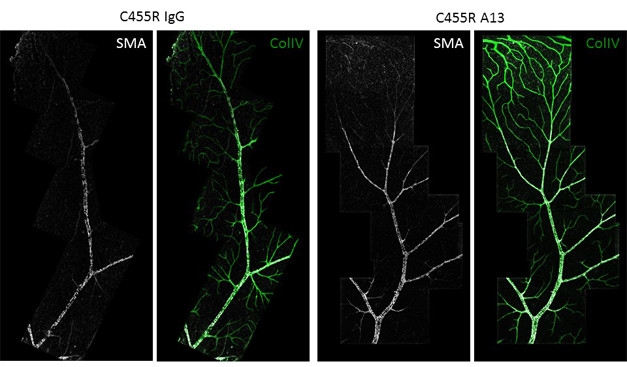 Antibody to the Rescue: A13 acts as a Notch 3 agonist (right two columns). It restores smooth muscle actin (white) in retinal arterioles (green) expressing the C455R CADASIL mutation. Left two columns show control antibody. [Image courtesy of Alexander Bigger-Allen.]
"I am encouraged by this study. It's an approach that would be useful to explore further," said Kalaria. But he was disappointed that it was limited to young mice, when CADASIL's hallmark symptoms usually appear in middle age. "I really would have liked to see what happens to older animals. Whether the antibody will work in that case is a big question," he said. Arboleda-Velasquez agreed this is important to resolve.
Because a smooth muscle cell promoter drives Notch 3 expression in the test animals, the authors don't know how A13 might affect other cells that may normally make Notch 3. They will test this with a new mouse line that expresses a humanized Notch 3 gene under the control of the mouse's endogenous promoter.
Axel Montagne, Zhen Zhao, and Berislav Zlokovic at the University of Southern California in Los Angeles suggested the analysis should be extended beyond the retina to white-matter regions of the brain, such as the corpus callosum and internal capsule, which are particularly damaged in CADASIL. They also suggested monitoring mural cells that lack SMA, since at least in some forms of CADASIL, SMA-negative mural cells may be particularly damaged (Ghosh et al., 2015).
Arboleda-Velasquez wants to test a Notch 3 antibody in clinical trials eventually. He thinks the approach should help the 5-10 percent of CADASIL patients whose mutations map to the Notch 3 ligand-binding domain. He also suggested that people with Notch 3 variations that interfere with Notch 3 signaling, but are not classified as CADASIL mutations, may benefit as well. "The therapy is absolutely relevant to both groups of patients," he said. Even CADASIL patients with mutations in regions outside the Notch 3 ligand-binding domain might be helped by an antibody like A13, he added.
The new findings may have implications beyond CADASIL. "Anything that could increase mural cell survival or maintain their function is likely to be important for vessel diseases," said Weller. He claimed studies by Roxana Aldea in Roxana Carare's lab, also at the University of Southampton, suggest the importance of smooth muscle cell contraction for clearance of fluid and soluble metabolites from the brain. A breakdown in such clearance might cause buildup of toxic proteins, including Aβ (Aug 2012 news).—Marina Chicurel
References
News Citations
Paper Citations
Primary Papers
Machuca-Parra AI, Bigger-Allen AA, Sanchez AV, Boutabla A, Cardona-Vélez J, Amarnani D, Saint-Geniez M, Siebel CW, Kim LA, D'Amore PA, Arboleda-Velasquez JF. Therapeutic antibody targeting of Notch3 signaling prevents mural cell loss in CADASIL.

J Exp Med

. 2017 Aug 7;214(8):2271-2282. Epub 2017 Jul 11 PubMed.