Human and Mouse Microglia React Differently to Amyloid
Transgenic mice fail to capture many aspects of Alzheimer's disease, and a new transcriptional study lays bare one reason. Brain cells in the two species, it turns out, respond quite differently to amyloidosis. In the January 13 Nature Medicine, researchers led by Marco Colonna and Maxim Artyomov at Washington University School of Medicine in St. Louis report distinct transcriptional changes in several cell types in human AD brains compared with those of 5XFAD mice.
Microglia in AD brain turn homeostatic genes up, not down as in mice.
In both species, TREM2 mutation or deletion weakens microglial activation.
Astrocyte and oligodendrocyte responses in AD may be secondary to neuronal death.
In particular, human microglia ramped up a transcriptional program controlled by interferon regulatory factor 8 (IRF8) that had little overlap with the disease-associated microglial (DAM) signature seen in mice. However, in both species, deletion or mutation of TREM2 muted the response to amyloidosis. "This supports the idea that TREM2 mutations impair microglial responses and facilitate the progression of disease," Colonna told Alzforum. This study is the first to report single-nucleus expression data from people with TREM2 mutations. Some of these data were previously presented at last year's Brain Conference in Rungstedgaard, Denmark (May 2019 conference news).
"Among the now several 'omics' papers on Alzheimer's disease that have emerged in the last few years, this new report by Zhou et al. stands out because of its comprehensive analysis of mouse and human tissue at the single cell level," Ashley Bush and Scott Ayton at the University of Melbourne, Australia, wrote to Alzforum (full comment below).
Shane Liddelow at New York University said the field needs to do more such comparative mouse-human studies to parse out what cell types in rodent models best reflect the human disease process. "This paper produces an incredibly rich dataset for the field that will be mined heavily to determine new testable hypotheses … studies like this one pave the way for expanding our combined community dataset so that we can mitigate future mistakes of studying the wrong cellular responses," he wrote to Alzforum (full comment below).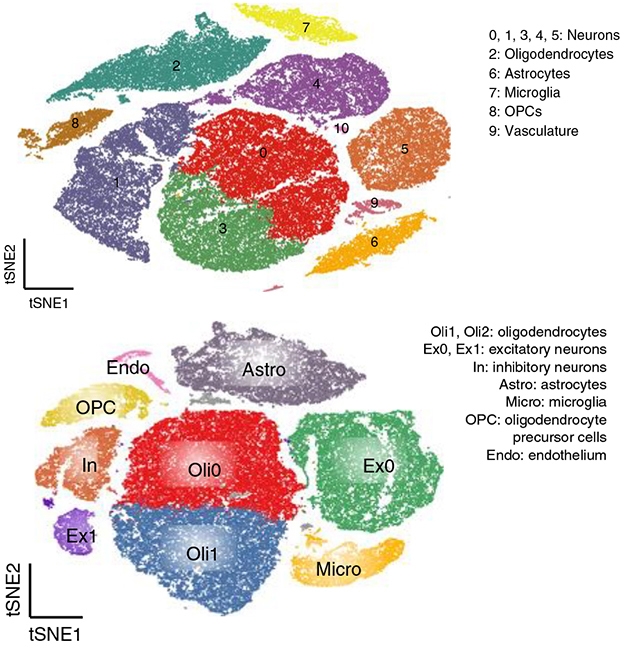 Species Differences. Gene-expression patterns cluster into distinct cellular groups in 5xFAD mouse (top) and human AD brains (bottom). [Courtesy of Zhou et al., Nature Medicine.]
With the advent of techniques like single-nucleus RNA-Seq, researchers have started to delineate how specific cell types react to disease. Initial single-nucleus transcriptome studies from Li-Huei Tsai and Manolis Kellis at MIT and others reported little evidence for a DAM-like signature in microglia from AD brain, with increased expression of only a few DAM genes, such as ApoE (May 2019 news).
Colonna and colleagues focused on the role of TREM2. For mice, first author Yingyue Zhou ran RNA-Seq on a total of 73,419 nuclei isolated from the cortices of four different strains: wild-type, TREM2 knockout, 5XFAD, and 5XFAD mice lacking TREM2. Zhou and colleagues analyzed nuclei from three mice from each genotype, all of them 7 months old. By similarity, the gene-expression patterns clustered into 10 groups, representing five neuronal and five non-neuronal cell types. The non-neuronal comprised microglia, astrocytes, oligodendrocytes, oligodendrocyte precursor cells (OPCs), and endothelial cells (see image above).
To compare with human brain, the authors isolated cells from dorsolateral prefrontal cortex samples taken postmortem from 11 control and 11 AD brains, as well as 10 brains of AD patients with a R62H TREM2 mutation. Samples came from the Rush Memory and Aging cohort. Altogether, the authors analyzed 66,311 nuclei. Gene-expression profiles clustered differently than in mice, falling into three neuronal and two oligodendrocyte subtypes, and one each for microglia, astrocytes, OPCs, and endothelial cells (see image above).
The greatest species differences in the amyloid response were in microglia. In mice with amyloidosis, these immune cells dialed down homeostatic genes and turned up DAM genes, in agreement with previous studies (May 2017 news; Jul 2018 conference news). Lack of TREM2 muted the DAM response, and reduced the number of microglia seen in 5XFAD cortex.
In human AD brain, by contrast, microglia turned homeostatic genes up, not down. This seemed to be controlled by increased expression of the transcription factor IRF8, which is known to activate homeostatic genes. Human microglia bumped up expression of AD risk genes that were not changed in the DAM profile: SORL1, alpha-2 macroglobulin, and chitinase-3-like protein 1, also known as YKL-40. The only overlap with the DAM transcriptome was an increase in TREM2, ApoE, CD68, and MHC-II genes. Overall, the human microglial profile resembled an IRF8-driven response seen in spinal cord microglia after peripheral nerve injury (Masuda et al., 2012). The R62H TREM2 variant, an AD risk factor, softened this response. "The effect of the mutation was not dramatic, but likely snowballs over the lifespan of an individual," Colonna said.
Oleg Butovsky at Brigham and Women's Hospital, Boston, called the differences between mouse and human homeostatic responses fascinating, noting that they might represent a biological dichotomy between species. "This needs to be explored and understood mechanistically. That will give us additional directions in terms of treatment," he said.
Parsing the data by biological processes, microglia in AD brain most altered expression of genes involved in iron metabolism. They suppressed transcription of genes involved in iron transport and storage, such as SLC25A37, HAMP, and FTH1. Iron buildup has been linked to cognitive decline in AD (Mar 2019 news).
After microglia, oligodendrocytes changed most in AD and in mouse models, but again profiles were species-specific. In 5XFAD mice, these cells boosted expression of the complement factor C4b and the serine peptidase inhibitor Serpina3n, as well as the immune histocompatibility gene H2-d1. The increases were smaller in 5XFAD mice lacking TREM2, suggesting these changes partially depended on TREM2 signaling. The effects of these changes were unclear, although the authors found that C4b and Serpina3n independently promoted Aβ aggregation in vitro. In 5XFAD brain, Serpina3n+ oligodendrocytes tended to cluster near plaques. In addition, more oligodendrocytes populated 5XFAD brains than controls, suggesting enhanced proliferation of these cells.
In AD brain, on the other hand, oligodendrocytes took on a different profile, turning down genes involved in myelination, axon guidance, and differentiation, while ramping up genes for oxidative stress and lipid accumulation. The changes may be a response to axon loss and the subsequent buildup of debris in AD brain, the authors suggested. These oligodendrocyte changes were muted in R62H carriers. Curiously, C4b and Serpina3n were not expressed in human oligodendrocytes, but in astrocytes instead.
In mouse brain, astrocytes and other cell types were remarkably similar in wild-type and 5XFAD animals. In human brain, however, astrocytes turned up C4b expression and dampened Serpina3 in AD. It is unclear why Serpina3 changed in the opposite direction and in a different glial cell type than in mice. Overall, AD astrocytes dialed down expression of genes responsible for coordinating lipid metabolism with neurons, and bumped up expression of genes for extracellular matrix. Normally, astrocytes provide metabolic support to neurons, aiding in fatty-acid storage and detoxifying reactive oxygen species.
The findings dovetail with a previous study that reported astrocytes in AD brain poorly handle lipids and overexpress matrix proteins (Aug 2019 news). The human astrocyte-expression profile was distinct from a previously described inflammatory astrocyte signature, the authors noted (Jan 2017 news). The R62H variant had little effect on astrocytes.
RNA-Seq only captures a small portion of the total cells in a tissue, and requires nucleotide amplification, which can introduce errors. Therefore the authors carried out a quantitative analysis of gene expression in bulk AD brain tissue, as well. They found a dearth of transcripts for genes involved in synaptic transmission, axon guidance, and cell survival. These changes probably reflect neuron loss, Colonna said. He believes the alterations in astrocytes and oligodendrocytes may be secondary to neuronal loss as well.
"I think the major difference between human AD and mouse models is that there is much more neuronal cell death in human disease," Colonna said. Liddelow thinks this has broad implications for understanding disease. "Changes in one cell type may not necessarily mean these cells are … driving disease pathology, but instead may simply be responding to the changing metabolic needs of the cells around them," he wrote.
To look more specifically at the effects of TREM2 mutations, the authors analyzed bulk gene expression of parietal cortex samples from five carriers of the R47H TREM2 mutation who had AD, and compared the findings with five control AD brains. These samples came from the Alzheimer's Disease Research Center at WashU. R47H carriers had a less-pronounced microglial response to disease, with lower levels of expression of IRF8 and downstream genes. The effect of R47H was stronger than that of R62H, the authors noted, in agreement with the greater AD risk conferred by the former.
Intriguingly, some expression differences between TREM2 genotypes did emerge, noted Zhuoran Yin in Butovsky's group. In the Rush R62H AD samples, some homeostatic microglial genes, such as TMEM119 and TGFB1, were suppressed compared to AD brain without a TREM2 mutation, she pointed out. In the WashU R47H cohort, this did not happen. It is unclear if the difference is due to TREM2 genotype, the brain region examined, the demographics of the cohort, or some other reason.
Overall, data from this study agrees with previous single-nucleus RNA studies of human brain. There are some differences, though. For example, a recent study of expression in AD entorhinal cortex reported a downregulation of microglial homeostatic genes, and an upregulation of myelination genes in oligodendrocytes, opposite to the effects seen by Colonna and colleagues (Nov 2019 news).
Colonna is now examining larger, more diverse human brain samples, hoping to parse out differences due to demographics and brain region. He will also try to correlate gene-expression changes with disease progression, to see if expression changes substantially from one stage to the next.
Lastly, the work might uncover new biomarkers. Several of the genes identified as altered in AD brain, such as NfL, YKL-40, SORL1, BDNF, and ADCYAP1, encode known fluid biomarkers for the disease. "By examining this transcriptome database, we may identify additional biomarkers for disease progression," Colonna suggested.—Madolyn Bowman Rogers
Primary Papers
Zhou Y, Song WM, Andhey PS, Swain A, Levy T, Miller KR, Poliani PL, Cominelli M, Grover S, Gilfillan S, Cella M, Ulland TK, Zaitsev K, Miyashita A, Ikeuchi T, Sainouchi M, Kakita A, Bennett DA, Schneider JA, Nichols MR, Beausoleil SA, Ulrich JD, Holtzman DM, Artyomov MN, Colonna M. Human and mouse single-nucleus transcriptomics reveal TREM2-dependent and TREM2-independent cellular responses in Alzheimer's disease.

Nat Med

. 2020 Jan;26(1):131-142. Epub 2020 Jan 13 PubMed. Correction.