Hot DAM: Specific Microglia Engulf Plaques
In the June 15 Cell, scientists led by Ido Amit and Michal Schwartz at the Weizmann Institute of Science in Rehovot, Israel, report the molecular signature of thousands of individual immune cells in the brains of mice that model Alzheimer's disease pathology. Using single-cell transcriptomics, they identify a specific subset of microglia that surround plaques. The cells express proteins that break down lipids and gobble up Aβ deposits. The activation of these disease-associated microglia (DAM), which may occur in two stages, requires TREM2, a risk gene for AD.
Scientists have been trying to figure out how immune cells—particularly microglia—contribute to Alzheimer's and other neurodegenerative diseases for decades. They were limited by available methods, notably the use of commonly expressed cell-surface markers to isolate and analyze the cells. "Now we have single-cell RNA sequencing technology that allows us to look at these immune cells in an unbiased way on a single-cell level," said Tristan Li, Stanford University, California, who was not involved in the study. What emerges is a clear picture of the states of individual cells, he said. "This is like using a new microscope to get a higher resolution," said Marco Prinz, University of Freiburg, Germany. "It was not possible previously to analyze subpopulations of microglial cells."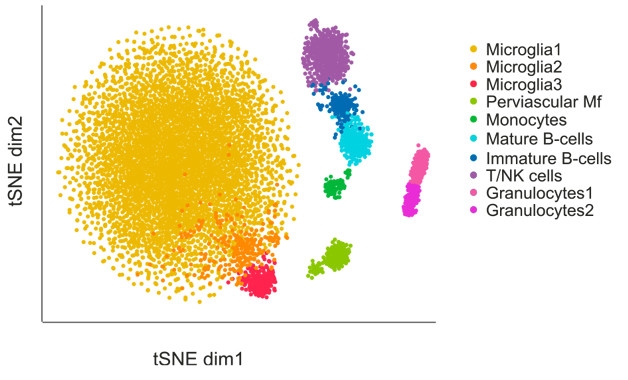 Single Cell Immune Array: Stochastic neighbor embedding (SNE) allows transcriptomic relationships to be plotted in two dimensions (dim1 and dim2). The closer the dots, the more similar the transcriptomes. Among immune cells from 5xFAD mice, resting microglia (yellow cloud) are most abundant, but two unique subsets emerge in diseased brains (orange and red). [Cell, Keren-Shaul et al. 2017.]
Using cell-surface markers to isolate microglia lumps a mixture of cells together, without capturing their diversity. To overcome this, Amit's group has been working to apply single-cell RNA sequencing (see Matcovitch-Natan et al., 2016). The idea is to identify the molecular characteristics of subtypes of cells, Amit wrote to Alzforum.
First author Hadas Keren-Shaul and colleagues used single-cell RNA-Seq to compare microglia from wild-type mice to those from 5xFAD animals, which express five familial AD mutations. These mice develop plaques around two months of age, followed by neuronal loss and cognitive deficits at six months. From the latter age group and age-matched controls, the researchers first isolated cells from whole brain tissue by capturing those that express the immune marker CD45+. They placed individual cells into separate wells and sequenced the messenger RNA (mRNA) from each. This gave them RNA fingerprints they used to group cells and pinpoint differences between the diseased and healthy states.
The scientists found 10 distinct subtypes of immune cell, including monocytes, perivascular macrophages, and a variety of lymphocytes. By far the largest group in both diseased and healthy mice were resting-state, or homeostatic, microglial cells. The researchers called these group I (see image above). Diseased mice harbored two additional minor subsets—groups II and III—that were absent from the healthy animals. These disease-associated microglia, or DAMs, differed from group I microglia in that they turned down expression of certain homeostatic genes, such as CX3CR1 and TMEM119, and dialed up genes for lipid metabolism and phagocytosis, such as CST7 and the AD risk genes APOE and LPL. They also expressed other AD-related genes at higher levels, including CTSD, TYROBP, and TREM2. Group II cells expressed many of the same genes as group III microglia, bar the phagocytic ones, suggesting they may be intermediary between groups I and III. Li was surprised that the authors found no changes in expression of inflammatory molecules, such as cytokines, which have been linked to activated microglia.
To see how DAMs respond to disease, the scientists isolated cells from 5xFAD mice at one, three, six, and eight months. Prior to the onset of plaques, almost all microglia in the cortex were in a homeostatic state, i.e. group I. At three months, group II cells appeared, and by eight months, group III cells dominated. DAMs did not appear in cerebellum, which deposits no Aβ in these mice.

DAM Plaque Eaters. Microglia (red) surrounding Aβ plaques (gray) in the mouse brain express CD11c (green), a marker of disease-associated microglia. [Cell, Keren-Shaul et al. 2017.]
To pinpoint where in the cortex DAMS are, the researchers stained brain slices for plaques and CD11c to identify immune cells, then used single-molecule fluorescent in situ hybridization (smFISH) to label DAM-associated genes such as CSF1 and LPL. The analysis revealed that DAMs concentrated around Aβ plaques (see image above). Further, they contained Aβ particles inside. Postmortem brain slices from people with AD also contained microglia positive for the DAM-associated gene LPL around plaques. Interestingly, DAMs also appeared in the spinal cords of mSOD1(G93A) mouse models of ALS, suggesting they clear general protease-resistant aggregated proteins, not just Aβ, wrote the authors. DAMs appeared in very old wild-type mice, though fewer than in diseased ones.
What triggers homeostatic microglia to transform into DAMs? The researchers suspected the AD risk gene TREM2. The 5xFAD mice that lack TREM2 had no group III DAMs. Rather, a large number of microglia seemed stalled in the intermediate group II state. "That was the most exciting part," Schwartz told Alzforum. "It means TREM2 is essential for the transition of these microglia from normal to having robust phagocytic activity." She is unsure what triggers microglia to enter the intermediate phase.
The work fits with data suggesting that microglia need TREM2 if they are to surround and eat plaques (Wang et al., 2015; May 2017 news). It also jibes with reports that the cells become hyperactive and upregulate certain genes when they encounter plaques (see Yin et al., 2017; Kamphuis et al., 2016). The Israeli researchers plan to conduct the same single-cell analysis of postmortem tissue from human brain to look for DAMs in AD tissue, Schwartz said.
"This work confirms that these microglia are biologically distinct from those tiled [evenly spread] through the parenchyma or in unaffected brain regions such as cerebellum," wrote Richard Ransohoff, Biogen, Cambridge, Massachusetts, to Alzforum. That DAM cells appear in ALS and aging suggests that they are nonspecifically triggered by altered brain homeostasis, he speculated. It is unclear whether the DAM-like cells in ALS models and in aging are deleterious, helpful, or neutral. It will be interesting to decipher the epigenetic basis for this expression phenotype, he added.
Alison Goate, Mount Sinai School of Medicine, New York, agreed that since these DAMs appear in aging, they might respond to more general neuronal damage, rather than protein aggregation. If that is the case, then she would expect TREM2 to increase risk for other neurodegenerative diseases. TREM2 has been linked to FTLD and ALS (Lill et al., 2015; Feb 2014 news).
In a related paper published online April 17 in Nature Neuroscience, Prinz and first author Tuan Leng Tay reported that microglia surrounding damaged brain tissue divide rapidly. They used a multicolored reporter that randomly labeled mouse microglia red, blue, yellow, or green. Under steady-state conditions, adjacent microglia all blinked different colors, suggesting they were relatively stable, with little division. A few days after severing the facial nerve, however, the authors saw clusters of microglia of the same color near the damage, suggesting they were clones derived from a dividing mother cell. It has been unclear up to now whether macrophages are recruited to CNS damage from outside the region, or resident microglia divide to make more cells, Prinz said. His paper suggests the latter. Prinz hypothesizes that these dividing microglia are active around Aβ plaques, and are likely the same DAMs described in the Amit study.—Gwyneth Dickey Zakaib
References
Research Models Citations
Alzpedia Citations
News Citations
Paper Citations
Other Citations
Further Reading
Papers
Mazaheri F, Snaidero N, Kleinberger G, Madore C, Daria A, Werner G, Krasemann S, Capell A, Trümbach D, Wurst W, Brunner B, Bultmann S, Tahirovic S, Kerschensteiner M, Misgeld T, Butovsky O, Haass C. TREM2 deficiency impairs chemotaxis and microglial responses to neuronal injury.

EMBO Rep

. 2017 Jul;18(7):1186-1198. Epub 2017 May 8 PubMed.
Colonna M, Butovsky O. Microglia Function in the Central Nervous System During Health and Neurodegeneration.

Annu Rev Immunol

. 2017 Apr 26;35:441-468. Epub 2017 Feb 9 PubMed.
Primary Papers
Keren-Shaul H, Spinrad A, Weiner A, Matcovitch-Natan O, Dvir-Szternfeld R, Ulland TK, David E, Baruch K, Lara-Astaiso D, Toth B, Itzkovitz S, Colonna M, Schwartz M, Amit I. A Unique Microglia Type Associated with Restricting Development of Alzheimer's Disease.

Cell

. 2017 Jun 15;169(7):1276-1290.e17. Epub 2017 Jun 8 PubMed.
Tay TL, Mai D, Dautzenberg J, Fernández-Klett F, Lin G, Sagar, Datta M, Drougard A, Stempfl T, Ardura-Fabregat A, Staszewski O, Margineanu A, Sporbert A, Steinmetz LM, Pospisilik JA, Jung S, Priller J, Grün D, Ronneberger O, Prinz M. A new fate mapping system reveals context-dependent random or clonal expansion of microglia.

Nat Neurosci

. 2017 Jun;20(6):793-803. Epub 2017 Apr 17 PubMed.