First Primate Model of Familial AD: Marmosets with Presenilin Mutation
Mice fail to model many aspects of Alzheimer's disease. Could monkeys capture the disease more fully? In a preprint posted to bioRXiv on August 24, researchers led by Takaomi Saido, RIKEN Center for Brain Science, Wako, and Erika Sasaki, Central Institute for Experimental Animals, Kawasaki, both in Japan, report the first nonhuman primate genetic model of AD. The authors used gene editing to delete exon 9 in the presenilin 1 gene of marmosets, a small South American monkey that has more similarities to people in their brain structure and physiology than rodents do. This deletion occurs in some people with familial AD.
Three marmosets with one copy of the edited PS1 gene were born. Fibroblasts from the young animals make more Aβ42 than do cells from wild-type controls, though it remains to be seen if the marmosets will develop plaques and tangles as they age.
Other researchers were enthusiastic. "This is a major advance in generating an animal model that more accurately reflects human disease," Cynthia Lemere at Brigham and Women's Hospital, Boston, wrote to Alzforum (full comment below). Lary Walker at Emory University, Atlanta, agreed. "These PSEN1-ΔE9 marmosets are an exciting new model. If they prove to develop a truly AD-like phenotype, they will be a significant addition to the armamentarium of researchers who are fighting to eradicate the disease," he wrote (full comment below).
Better AD Model? The common marmoset lives 10 to 15 years; its sleep patterns and some social behaviors resemble those of people. [© Raimond Spekking / CC BY-SA 4.0 (via Wikimedia Commons).]
Mouse models of amyloidosis do not develop neurofibrillary tangles or neurodegeneration, nor can they reflect most of the cognitive and behavioral changes that afflict people with AD. By contrast, the common marmoset, Callithrix jacchus, has complex social behaviors and sleep patterns that resemble ours. Their metabolism and immune systems are also more similar to those in people than those in rodents. Moreover, marmosets can live 10 to 15 years in captivity, and typically develop hyperphosphorylated tau and amyloid plaques as they age. Their Aβ sequence is identical to the human protein. Finally, raising and maintaining research colonies is feasible because these primates are small and produce many offspring. They typically weigh less than a pound.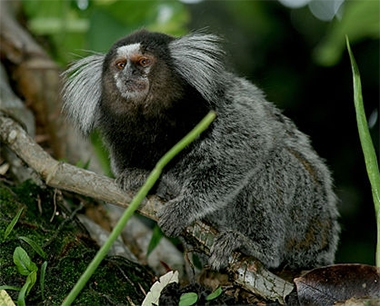 To edit the marmoset genome, joint first authors Kenya Sato and Hiroki Sasaguri used transcription activator-like effector nucleases (TALEN) rather than CRISPR, because the former method works more efficiently and uniformly with marmosets, producing less genetic mosaicism (Hockemeyer et al., 2011; Sato et al., 2016). Because homozygous presenilin mutations were embryonic lethal, as they are in mice, the authors targeted haploid marmoset ova before fertilization. Deletion of the splice acceptor site at the 3' end of exon 9 produced presenilin lacking this exon. The authors then fertilized 578 of these genetically altered ova with wild-type marmoset sperm, and implanted 154 surviving zygotes into 77 surrogate mothers. Six babies survived till birth; three of those carried the presenilin 1 mutation.
The three young marmosets, two male and one female, are all heterozygous for the mutation, but carry no obvious off-target genetic alterations. The authors analyzed fibroblasts taken from earlobe tissue, and found the cells pumped out more Aβ42 than did wild-type fibroblasts, more than doubling their Aβ42/40 ratio. This is similar to human fibroblasts taken from PS1 mutation carriers (Lemere et al., 1996; Scheuner et al., 1996; Kumar-Singh et al., 2006).
If amyloidosis progresses similarly as it does in people with the mutation, the marmosets might be expected to develop amyloid plaques after two to three years, rather than the seven years it takes in wild-types, the authors noted.
They speculate that marmosets may be more likely than mouse models to develop neurofibrillary tangles, because their longer lifespans give more time for these deposits to form. However, Lemere noted that wild-type vervets, an Old World monkey, develop abundant plaques but few tangles even over a lifespan of 20 to 30 years. "It is possible that other factors, such as immune responses to toxins, infections, etc., contribute to those changes. This new marmoset model will facilitate answering these kinds of mechanistic questions, as well as allow for drug screening," she wrote.
The authors plan to make this marmoset model widely available to the research community.—Madolyn Bowman Rogers
References
Paper Citations
External Citations
Primary Papers
Sato K, Sasaguri H, Kumita W, Inoue T, Kurotaki Y, Nagata K, Mihira N, Sato K, Sakuma T, Yamamoto T, Tagami M, Manabe R, Ozaki K, Okazaki Y, Saido TC, Sasaki E. A non-human primate model of familial Alzheimer's disease.

bioRxiv, August 24, 2020