Familial AD Mutations, β-CTF, Spell Trouble for Endosomes
Faltering endosomal trafficking appears to be the common modus operandi by a range of familial Alzheimer's mutations. In the August 14 Neuron, researchers led by Marc Tessier-Lavigne of Stanford University reported initial findings from a panel of isogenic stem cell-derived neurons carrying such mutations. The scientists found that, across the board, fAD mutations in APP or PS1 altered expression of genes involved in endosomal trafficking. They also led to a swelling of early endosomes. The researchers pinned the blame for the endosomal malfunction on β-C-terminal fragments (β-CTFs) of APP, not Aβ.
Panel of isogenic iPSC-derived neurons with familial AD mutations: a new research resource.
Endosomes were enlarged, and β-CTF—not Aβ—was the cause.
FAD mutations changed expression of endosomal trafficking and other AD risk genes.
The findings expand on a wealth previous studies implicating β-CTFs in vesicular foul play in AD, Tessier-Lavigne told Alzforum. The new paper extends prior findings to multiple FAD mutations in iPSC-neurons on an isogenic background, allowing researchers to zero in on the effects of the mutations. The isogenic lines will be made freely available to the research community, Tessier-Lavigne said.
"This is an incredible resource," noted Celeste Karch of Washington University in St. Louis. "These tools are already revealing critical insights into disease mechanism that have implications for the forms of APP that are being targeted therapeutically." Karch herself oversees a growing number of fibroblast lines donated via skin biopsies from participants in the Dominantly Inherited Alzheimer's Network (DIAN). DIAN currently has fibroblasts carrying 34 different APP and PS1 mutations. Karch plans to convert these into iPSC-derived neurons and use CRISPR to generate isogenic controls (Aug 2019 conference news). Well more than 200 mutations in APP, PS1, and PS2 have been tied to familial forms of the disease.
While Aβ peptides secreted into the extracellular space have hogged the limelight in AD research for years, much of APP processing goes on beneath the cell surface, within membranes of endosomes. There, BACE1, an enzyme that flourishes in endosomes' low pH environs, cleaves APP, generating transmembrane β-CTFs. Then γ-secretase processes β-CTF into Aβ peptides of various lengths. Numerous studies have pegged β-CTFs as instigators of endosomal woes (Jul 2015 news; Xu et al., 2016; Takasugi et al., 2018). More broadly, clogged and dysfunctional vesicles in the endolysosomal system have been implicated in AD for decades (Cataldo et al., 2000; Feb 2005 news; Jun 2010 news).
In search of common consequences of familial AD mutations in human neurons, co-first authors Dylan Kwart and Andrew Gregg and colleagues first investigated how the mutations affect gene expression. They used CRISPR gene editing to introduce the two most widely studied AD mutations—APP-Swe (KM670/671NL) and PS1-M146V—into human iPSCs, then differentiated them into neurons. To accentuate effects of the mutations, they generated an iPSC line (called dAP) that is homozygous for both of the mutated genes. RNA sequencing of these respective lines revealed more than 4,000 genes that were differentially expressed relative to isogenic wild-type iPSC neurons in at least one of the mutant lines; more than 1,500 genes changed expression in more than two cell lines, and 406 changed in all of them.
Many differentially expressed genes played a role in endocytic vesicle pathways, and several are linked to AD risk by GWAS. Some of these AD risk genes were implicated in endosomal function, including ApoE, CLU, SORL1, and LRP2. Ribosomal profiling revealed many of the same changes at the protein level. In all, the gene expression analysis pointed to endosomal malfunction as a common consequence of at least these two familial AD mutations.
"That these pathways were consistently altered, regardless of vastly different fAD mutations, suggests that the endocytic network may be uniformly linked to both familial and sporadic AD pathogenesis and thus an early target for therapeutic intervention," noted Jessica Young of the University of Washington in Seattle. Tessier-Lavigne believes the gene expression data could point to a common AD gene network.
Guojun Bu of the Mayo Clinic in Jacksonville, Florida, noted that many AD risk genes, such as ApoE, are expressed predominantly in glial cells. That familial AD mutations alter their expression in neurons could simply suggest that those genes are highly sensitive to perturbation, not necessarily that they are functioning as part of a common AD gene network, or that they are involved in endosomal malfunctions. Wim Annaert of KU Leuven in Belgium had a different interpretation. "The fact that they identified these protein networks in long-term differentiated human neurons underscores a crucial neuronal basis in early pathogenesis," he wrote. "This is important to stress given that in the past few years a major focus and effort has shifted to microglia, and in particular to disease-associated microglia as major perpetrators."
To gauge whether endosomal dysfunction is a shared consequence of multiple familial AD mutations, the researchers expanded their panel of fAD neuronal lines, using CRISPR to generate isogenic lines heterozygous for three APP and four PS1 mutations, as well as homozygous versions all of the APP and three of the PS1 mutations. Together with an APP knockout line, the dAP line, and an APP mutant line homozygous for a protective mutation, the researchers developed a total of 16 isogenic iPSC lines from eight mutations for this study (see table below).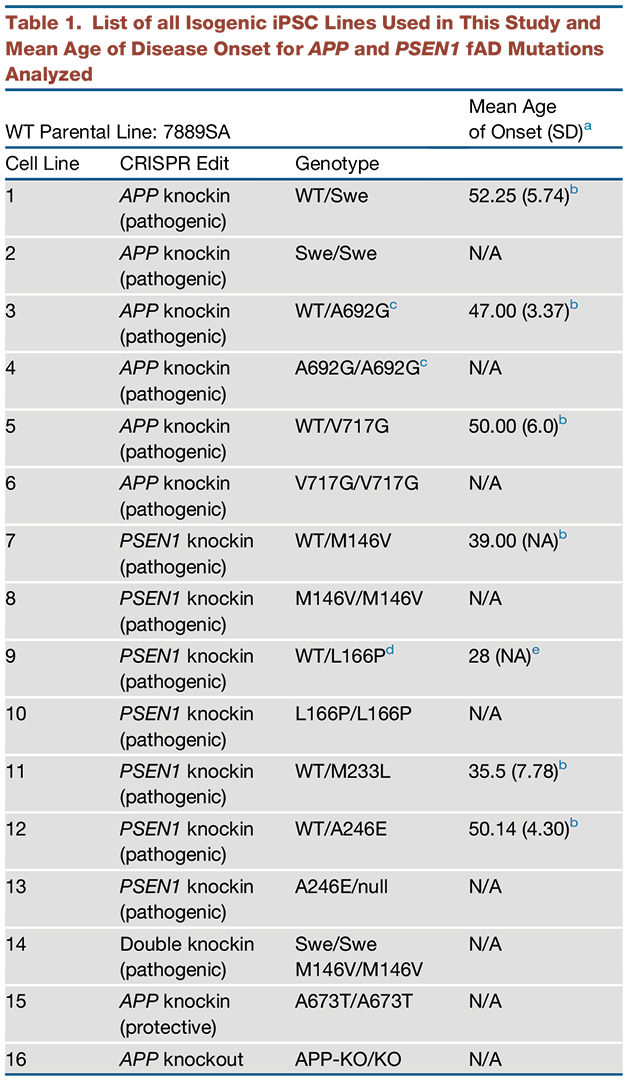 Isogenic Resource. A list of the isogenic lines developed for this study, which will be made available to researchers via the New York Stem Cell Foundation. APP-Swe, APP-A692G, APP-V717G, APP-A673T, PS1-M146V, PS1-L166P, PS1-M233L, PS1-A246E mutations are included. [Courtesy of Kwart et al., Neuron, 2019.]
The scientists report small increases in the size of Rab5+ endosomes in all heterozygous APP mutant lines, while only one heterozygous PS1 mutant—L166P—had significantly larger endosomes. However, every homozygous pathogenic mutant line had enlarged endosomes, suggesting that all of the mutations affected endosomal trafficking. dAP neurons, which carried two mutated copies of both APP and PS1, had the largest endosomes. A mutant line carrying two copies of APP-A673T, a protective mutation, did not have enlarged endosomes.
Ballooning Endosomes. Compared with wild-type iPSC-derived neurons, those carrying two copies of fAD mutations in APP or PS1 had larger endosomes. [Courtesy of Kwart et al., Neuron, 2019.]
To discern whether amyloidogenic processing of APP was involved in the endosomal phenotype, the researchers treated dAP neurons with a BACE inhibitor, which blocks cleavage of APP. The treatment stifled production of β-CTFs; endosomes were of normal size. An APP knockout iPSC-derived neuron line the researchers generated as a control had smaller endosomes than wild-type neurons did, suggesting that APP affects the size of endosomes. Kwart et al. also observed increased β-CTFs in all pathogenic mutant lines, and increases in α-CTFs in some. Notably, they found a strong correlation between endosome size and β-CTFs, not α-CTFs, across all their mutant lines.
Did the mutations influence the size of endosomes via β-CTF, or via the product of γ-secretase cleavage, Aβ? Before addressing this question directly, the researchers first assessed how each mutation affected the Aβ peptide repertoire. Confirming previous studies, they reported that all four PS1 mutations upped the ratio of Aβ42 to Aβ40, but reduced total Aβ production compared with wild-type neurons. All APP mutations enhanced total Aβ production, while APP-V717G also elevated the ratio of Aβ42 to Aβ40. dAP neurons—which carry two copies of both APP-Swe and PS1-M146V—had both increased total Aβ and Aβ42/40 ratio. All 14 cell lines used in this experiment did have one thing in common: a higher concentration of the longer Aβ peptides—Aβ42 and 43—in their culture supernatants than did their wild-type counterparts.
Were these long Aβ peptides to blame for the endosomal problems? Not according to experiments with a γ-secretase modulator (GSM), which skews γ-secretase toward producing shorter, non-amyloidogenic Aβ peptides without altering overall Aβ production. The researchers treated homozygous PSEN1-M146V, PSEN1-L166P, and dAP neurons with the modulator, because PS1 mutations sap the carboxypeptidase activity that the GSM targets. The PS1-L166P mutation did not change its repertoire of Aβ peptides in response to GSM treatment, a finding the researchers attributed to the severe effect the mutation has on γ-secretase activity. PS1-M146V and dAP neurons did respond by producing shorter Aβ peptides. However, endosomes remained enlarged. Notably, the GSM did not affect levels of β-CTFs, which were higher in all mutant lines than wild-type. The findings hinted that the endosomal phenotype may not be caused by longer Aβ peptides.
Next, the researchers treated wild-type iPSC-neurons with a broad γ-secretase inhibitor, which douses activity of the enzyme. This treatment blocked Aβ production, and led to an accumulation of both β- and α-CTFs. Endosomes grew enlarged. Adding a BACE inhibitor to the GSI treatment blocked all but α-secretase processing of APP. Endosomes stayed normal in size. When the researchers treated APP knockout iPSC-neurons with the GSI, endosomes stayed the same. Taken together, the findings tie β-CTFs, not Aβ peptides or α-CTFs, to the endosomal phenotype caused by familial AD mutations, the authors believe.
"This exciting study is an important contribution to the growing body of evidence that mutations in APP and PSEN1 lead to dysfunction of the endolysosomal network in human neurons, and that this is an early pathogenic event in monogenic Alzheimer's disease," commented Rick Livesey of University College London. The findings confirm Livesey's recent work in a panel of patient-derived iPSC-neurons, including three APP and three PS1 mutations, in which he identified endolysosomal dysfunction and attributed it to β-CTF (Hung and Livesey, 2018). Tessier-Lavigne's study builds on that work by examining a panel of mutations in isogenic lines, allowing researchers to more definitively link phenotype to mutation.
Livesey said the next question is how β-CTF interferes with endosomal trafficking. One possibility is by activating Rab5, as reported in a study led Chengbiao Wu of the University of California, San Diego (Xu et al., 2016). Wu reported that overexpression of β-CTF activates Rab5, leading to endosomal enlargement and disrupted retrograde axonal trafficking of nerve growth factor signals. Wu told Alzforum that Tessier-Lavigne's findings agree with a large body of work showing that β-CTF disrupts endosomal trafficking. He believes β-CTF may be particularly prone to messing with endosomal trafficking because, unlike α-CTF, it retains its entire transmembrane domain.
In the brain, Aβ has been shown to damage synapses, stoke neuroinflammation, and interfere with vascular function. What about that? Tessier-Lavigne noted that his groups' findings do not exclude a damaging role for Aβ, especially since the iPSC-derived neurons examined in this study—which are young cells, after all—do not undergo neurodegeneration. Gunnar Gouras of Lund University in Sweden wrote that while the new study convincingly ties β-CTF to enlarged endosomes in fAD neurons, it is difficult to rule out that Aβ disrupts vesicular trafficking. Previous studies, including Gouras', implicated intracellular Aβ accumulation in endolysosomal trafficking disruption (Willén et al., 2017), whereas Tessier-Lavigne's analysis was limited to Rab5+ early endosomes. Gouras speculated that both Aβ and β-CTF likely interfere with the endolysosomal system.
"This new work convincingly demonstrates that β-CTF suffices to drive major AD-related phenotypes, which may explain why therapies that target Aβ—but not β-CTF—have not been successful in the clinic to date," wrote Rik Van Der Kant of VU University in Amsterdam (full comment below). BACE inhibitors, which target β-CTF, have thus far failed, as well (Jul 2019 news; Nov 2018 conference news). "One explanation for this failure might be that BACE inhibitors are effective in FAD neurons, in which β-CTFs accumulate downstream of APP and presenilin mutations as shown by Kwart et al., but not in sporadic AD neurons in which endosomal phenotypes are may be driven by other factors, such as ApoE genotype," Van Der Kant added.
In a joint comment to Alzforum, Selina Wray and Charles Arber of University College London called familial AD an extremely heterogenous disease, at least from the perspective of how its manifold mutations affect the palette of Aβ peptides (Apr 2019 news). "It is noteworthy that, in addition to β-CTF, Aβ42 and Aβ43 are elevated in all lines tested, meaning that the contribution of these peptides to other pathological phenotypes cannot be discounted," they added (full comment below).—Jessica Shugart
References
News Citations
Mutation Interactive Images Citations
Mutations Citations
Paper Citations
Primary Papers
Kwart D, Gregg A, Scheckel C, Murphy EA, Paquet D, Duffield M, Fak J, Olsen O, Darnell RB, Tessier-Lavigne M. A Large Panel of Isogenic APP and PSEN1 Mutant Human iPSC Neurons Reveals Shared Endosomal Abnormalities Mediated by APP β-CTFs, Not Aβ.

Neuron

. 2019 Oct 23;104(2):256-270.e5. Epub 2019 Aug 12 PubMed.