Et Tu, Methylene Blue? Drug Only Works as Prophylactic
According to the latest study on tau-transgenic mice, methylene blue, a drug in clinical trials for frontotemporal dementia (FTD) and Alzheimer's disease (AD), stops decline in its tracks—but only when given at the earliest stages. The report in the May 10 Acta Neuropathologica Communications comes from the lab of Eva-Maria and Eckhard Mandelkow at the German Center for Neurodegenerative Diseases (DZNE) in Bonn, Germany. They found that treating their own tau-transgenic mice up to three months before the onset of learning and memory impairments markedly improved their performance compared to untreated controls. However, the drug failed to rescue when given after deficits appeared. The data imply that methylene blue could work only as a preventative treatment in FTD and other tauopathies, including AD.
"It suggests that with methylene blue, you would have to treat early in patients who have Alzheimer's," said Eva-Maria Mandelkow, pointing to a need for better biomarkers that catch tau accumulation early. However, this proof-of-concept study also hints that a stronger anti-aggregation compound might treat later in the disease, she said. Alzforum briefly reported on some of these preliminary findings from the International Conference on Alzheimer's Disease two years ago (see Mar 2013 news story).
Methylene blue is FDA-approved for a number of conditions (for review, see Schirmer et al., 2011). The compound crosses the blood-brain barrier, and reportedly prevents aggregation of a variety of neurodegenerative proteins, including tau, TDP-43, and huntingtin in vitro, and in cell and animal models (Wischik et al., 1996; Arai et al., 2010; Sontag et al., 2012).
It's not clear how methylene blue works. Some scientists suggest it disrupts tau aggregation by oxidizing it and keeping it in monomer form (Feb 2013 news). Others say it stimulates protein degradation and reduces oxidative damage (Medina et al., 2011; Congdon et al., 2012; Stack et al., 2014). In 2008, Claude Wischik of TauRx Therapeutics in Aberdeen, U.K., presented a Phase 2 trial in which the derivative Rember TM reportedly slowed cognitive decline in people with mild to moderate AD (Aug 2008 news). The modified version LMT-X TM is in Phase 3 for the treatment of behavioral-variant frontotemporal degeneration and AD (Oct 2012 news).
In the current experiment, first authors Katja Hochgräfe and Astrid Sydow wondered how much tau could build up before methylene blue was no longer protective. Would it have to be given long before, shortly before, or even after tau accumulates and symptoms arise? They designed different treatment regimens for two mouse models. The TauΔK mouse expresses a full-length version of human tau, minus lysine 280, that is prone to aggregation, accumulates phosphorylated tau, and develops a learning/memory impairment around 12 months (Eckermann et al., 2007). The TauRDΔK mouse expresses only the ΔK280 repeat domain responsible for tau aggregation. This mouse develops neurofibrillary tangles, its neurons die, and learning and memory problems emerge at around 10 months.
In both models, the tau transgene can be turned off, and the mice learn normally again even if decline had already started (Sydow et al., 2011; Van der Jeugd et al., 2012).
The researchers staggered the time when these mice began getting their daily dose of 20 mg/kg of methylene blue in drinking water. They used six to 11 mice per group, a mix of male and females. The TauΔK mice started as 1½-month-old pups, at 9 months of age (three months before learning problems began), or at 15 months (three months after). The TauRDΔK mice got the treatment starting either at 1½ months of age, or at 15 months, five months after their impairments emerged.
At the end of treatment, when mice were older than 15 months, the researchers compared learning and memory in the Morris water maze to that of untreated transgenic mice and wild-type littermates. They also evaluated general motor and exploration behavior within an open field test. Finally, they analyzed the mouse brains for levels of insoluble, phosphorylated, and misfolded tau, as well as levels of presynaptic and postsynaptic proteins. They also checked whether proteins involved in autophagy, ubiquitin-proteasome function, and oxidative stress rose above normal. All the experiments were carried out in blinded fashion.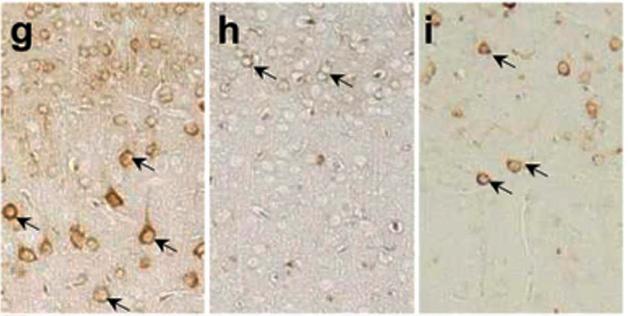 Telltale Tau: Phosphorylated tau, stained with the AT180 antibody (brown), fills cell soma of the somatosensory cortex in untreated TauΔK mice (g). It diminishes when methylene blue treatment starts at 1½ months (h), and to a lesser extent, at 9 months (i). [Image courtesy of Hochgräfe et al., 2015.]
Methylene blue only prevented behavioral changes in TauΔK mice if it was given before learning impairments set in. Mice treated beginning at 1½ months moved more actively than untreated transgenics in the open-field test, and better learned and remembered the location of a hidden platform in the Morris water maze. They had less insoluble, misfolded, and phosphorylated tau in the cortex than untreated TauΔK mice (see image above). At the same time, they maintained synaptic protein levels, autophagy rose, and proteasome function went up.
Methylene blue had similar, though smaller, effects in mice that started treatment at 9 months of age. However, in mice that began treatment after behavioral problems had started, the drug did not alter learning or memory, even though levels of phosphorylated, misfolded, and insoluble tau fell. It also failed to restore presynaptic protein levels, and only partially improved protein degradation. In no group did methylene blue boost proteins involved in oxidative stress.
TauRDΔK mice were a different story. None of the methylene blue treatment regimens rescued behavioral deficits, reduced tau levels, or improved protein degradation, even if treatment started when mice were just 1½ months old. To Mandelkow, this means that methylene blue could not keep up with the detrimental effects of the accelerated tau accumulation in these animals. To see if more of the drug helped, the researchers doubled the dose and gave it to the mice at 12 months. Curiously, instead of slowing, the drug increased tau aggregation, implying that too much methylene blue is harmful.
Also surprisingly, wild-type mice given methylene blue learned slightly better in the Morris water maze than their untreated pals, hinting at benefits that go beyond the drug's anti-aggregation properties. Markers for autophagy and proteasome function rose somewhat, implying that methylene blue could stimulate protein degradation pathways, the authors wrote.
Based on these results, methylene blue may indeed prevent decline in tau-related diseases, Eckhard Mandelkow told Alzforum. However, once tau accumulation reaches a threshold (see image below), cognitive impairment is inevitable, he said. He speculated that this could mean treatment would need to start five years prior to cognitive decline in people.
The lab is screening for better anti-aggregation compounds that could treat ongoing cognitive decline. Because behavior in these mouse strains improves once the transgenes are turned off, suppressing aggregation more robustly could treat later in the disease process. "The results may encourage the development of new compounds which are similar in the mechanism of action, but more effective than methylene blue," agreed Haruhiko Akiyama, Tokyo Metropolitan Institute of Medical Science (see full comment below).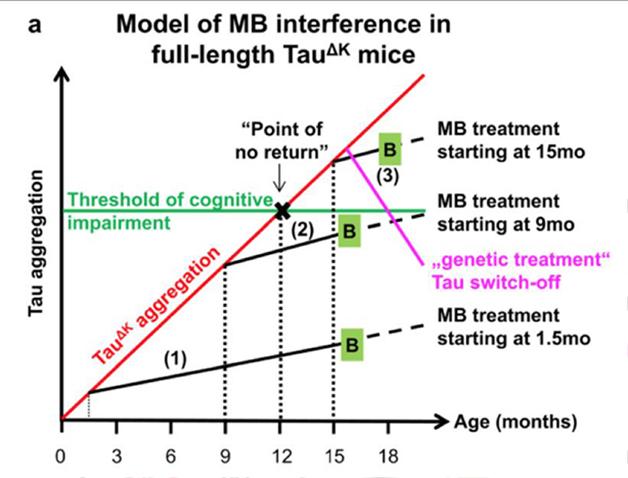 The Model: Tau aggregation reaches a threshold at which cognitive decline starts. Treatment with methylene before, but not after, too much tau builds up prevents decline. In contrast, turning off the toxic tau genes completely seems to reverse symptoms even after they emerge. [Image courtesy of Hochgräfe et al., 2015.]
"This is a very interesting study that sheds some light on the debate about whether methylene blue will be a useful therapeutic for tauopathies," wrote Tara Spires-Jones, University of Edinburgh, to Alzforum (see full comment below). "It implies that treatment would need to begin very early in the disease course, likely before cognitive impairment is detectable and before substantial pathological changes in tau have occurred." The LMT-X clinical trials enrolled people with mild to moderate AD, as well as people diagnosed with bvFTD who had frontotemporal atrophy.
"The paper adds to the list of reports now available confirming that treatment with [methylene blue] is able to reverse tau pathology and behavioral deficits in tau transgenic mouse models," wrote Wischik to Alzforum. He disputes that there is a "point of no return" for treatment, and claims that Hochgräfe and colleagues' data do not support this because the mice were treated for different lengths of time (only three months in the case of the older mice) and at different ages (see full comment below). The lack of improvement in tau mice after behavioral deficits emerge might suggest that mild to moderate AD patients will fail to respond to LMT-X in ongoing clinical trials. However, Wischik pointed out that the treatments in the oldest mice may not have been given long enough to see any cognitive improvement. His recently published Phase 2 data (Wischik et al., 2015) suggest that patients could benefit even after impairments are evident. He found improvement on the ADAS-Cog in mild and moderate AD patients, and better cerebral blood flow in mild AD patients with six months or more of treatment.
However, catching patients at the right time may not be so easy, Markus Otto of the University of Ulm, Germany, wrote to Alzforum (see full comment below). If the only treatment paradigm for methylene blue is in the early symptomatic or late pre-symptomatic phase, then scientists will need better biomarkers that flag the point of no return, he said. He predicted the ongoing clinical trials of LMT-X will help clarify whether this kind of drug can slow or stabilize cognitive decline in people who already have symptoms.—Gwyneth Dickey Zakaib
References
News Citations
Therapeutics Citations
Research Models Citations
Paper Citations
External Citations
Primary Papers
Hochgräfe K, Sydow A, Matenia D, Cadinu D, Könen S, Petrova O, Pickhardt M, Goll P, Morellini F, Mandelkow E, Mandelkow EM. Preventive methylene blue treatment preserves cognition in mice expressing full-length pro-aggregant human Tau.

Acta Neuropathol Commun

. 2015 May 10;3:25. PubMed.