Estimates of Young-Onset Dementia Prevalence Just Doubled
While the focus of dementia has been on older adults, people younger than 65 can also develop it. How common is such young-onset dementia? In the July 19 JAMA Neurology, researchers led by Sebastian Köhler, Maastricht University, Netherlands, reported a meta-analysis of 74 studies encompassing 2.8 million adults ages 30 to 64. Overall, they estimate 119 per 100,000 people develop young-onset dementia, amounting to 3.9 million cases worldwide. Of those, Alzheimer's disease is most prevalent, followed by vascular and frontotemporal dementias. Prevalence increased with age and was similar for men and women. It was lower in more-developed countries.
Largest meta-analysis on prevalence of young-onset dementia to date.
3.9 million people ages 30 to 64 estimated to have dementia worldwide.
Alzheimer's most prevalent, followed by vascular and frontotemporal dementias.
"The authors demonstrate that, although still relatively rare, the prevalence is higher than previously estimated," Michelle Mielke, Mayo Clinic, Rochester, Minnesota, wrote (full comment below). "This information is important for developing services and care for individuals and families affected, and for highlighting the fact that low- and middle-income countries will bear the biggest burden of young-onset dementia," she added. These findings may also help increase awareness of young-onset dementia in primary care settings.
Compared to late-onset dementia, people with younger-onset are diagnosed more slowly because physicians rarely see these cases. "Low prevalence directly translates to a lack of familiarity in primary care and frontline neurology clinicians," David Knopman, Mayo Clinic, Rochester, wrote in a JAMA Neurology editorial. Stevie Hendriks of Maastricht University, the paper's first author, noted that young-onset dementia (YOD) may be missed because it can manifest as depression or burnout, which are much more common in middle age. Zoe Arvanitakis, Rush University, Chicago, agreed. "If someone in their 40s or 50s has cognitive problems and a clear cause is not identified, a primary care physician should refer the person to a neurologist or psychiatrist to determine etiology, consider reversible causes of dementia, and get proper care," she told Alzforum.
To capture a snapshot of young-onset dementia, Hendriks and colleagues scoured the literature for papers that reported prevalence or incidence of dementia among people ages 30 to 64 over the past 30 years. They excluded studies that were limited to cohorts known to have high risk of YOD, such as people with Down's syndrome and residents of care homes. They also ignored studies that might have underreported dementia, such as those that relied on mortality data or death certificates for diagnosis. In the end, 74 studies, comprising a whopping 2.76 million people, qualified for meta-analysis. Most studies had been conducted in Asia, Europe, North America, and Oceania (see image below). The majority of participants were Caucasian.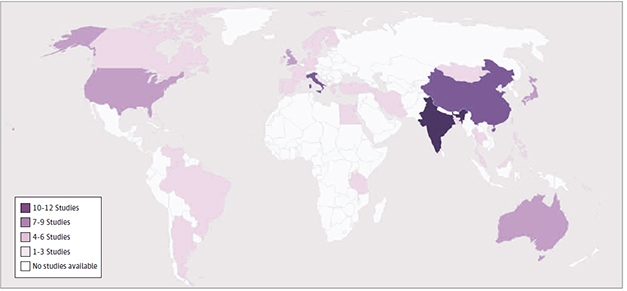 Global Studies. This color scale shows that most studies included in the meta-analysis were done in Asia, Europe, and North America. [Courtesy of Hendriks et al., JAMA Neurology, 2021. © 2021 American Medical Association. All rights reserved.]
Hendriks and colleagues estimated that 119 of every 100,000 people worldwide have all-cause YOD. This is about twice two widely cited estimates of 42 and 54 per 100,000 people in the U.K. and Japan, respectively (Harvey et al., 2003; Ikejima et al., 2009). Prevalence was lower in the U.S. than Europe at 115 versus 159 per 100,000, respectively. The authors chalk this up to an older European population. Based on a global population of 7.7 billion, the scientists calculated that 3.9 million middle-aged adults live with dementia, about 10 times less than the estimated 44 million people with late-onset dementia (Nichols et al., 2019).
Just as for late-onset dementia, young-onset prevalence increases with age, Hendriks found. She analyzed the data by five-year age groups. Prevalence crept up from 1 per 100,000 in the 30s, to 4 and 6 per 100,000 in the early 40s and late 40s, respectively. The pace hastened slightly with 10 and 19 per 100,000 in the early and late 50s, then shot up to 77 per 100,000 in the early 60s (see image below). This leap could indicate underestimates in people younger than 60 because studies on that group are scarce, the authors wrote. Martin Rossor, University College London, agreed. "If the focus is broader and includes diseases associated with significant cognitive impairment, such as HIV and head trauma, then the burden of disease is even greater," he wrote to Alzforum (full comment below).

Dementia By Age. Prevalence of Alzheimer's, vascular, and frontotemporal dementias varied worldwide (WSP), in Europe (ESP), and in the U.S. (USP). Numbers are per 100,000 people. [Courtesy of Hendriks et al., JAMA Neurology, 2021. © 2021 American Medical Association. All rights reserved.]
Did prevalence of dementia subtypes differ? Hendriks and colleagues grouped studies that specified diagnoses: 20 reported on Alzheimer's, 13 on vascular dementia (VaD), and 12 on frontotemporal dementia (FTD). Per 100,000 people ages 30 to 64 worldwide, the authors estimated that 41 have AD, 15 have VaD, and two have FTD. "This result was surprising because we generally think of the prevalence equal between Alzheimer's and frontotemporal dementia in individuals younger than age 65," Andrew Budson, Boston University, wrote to Alzforum (full comment below).
Though all subtypes were rare in the 30s and 40s, VaD was the most prevalent, at 0.2 to 0.8 per 100,000. AD and FTD were at most 0.1 and 0.3 per 100,000, respectively. However, the authors caution against over-interpreting the data on people under 50 because they are based on only a few studies in each age range. By the late 50s, AD and VaD prevalence had grown several-fold; by the 60s, AD rates had ballooned to 25 per 100,000 and VaD prevalence to triple that in the 50s. FTD rates were consistently lower, hovering at or below 1 per 100,000 across all ages (see image above).
The scientists also sorted prevalence rates by sex. While women had slightly higher prevalence rates than men, it was not statistically significant. "Many physicians I talked to were not surprised because they see a similar number of men and women with YOD," Hendriks said. Likewise, Eric Larson at the Kaiser Permanente Washington Health Research Institute, Seattle, did not balk at the age similarity, noting the small rates of YOD coupled with wide variance between studies.
The lower rates in the younger age groups may be underestimates because methodology and demographics complicated that data. The researchers found that cohort-based studies reported prevalence rates almost four times higher than those using health care registry data, and all studies of people 50 or younger relied on the latter. Dementia rates were also higher in middle-income countries compared to high-income countries. Since most studies from high-income countries were registry-based, the authors believe that might contribute to their lower prevalence rates. No data was available on low-income countries.
Some of these issues might be sorted out in future work. Larson believes longitudinal studies will be crucial in this regard, noting that almost a third of young-onset cases were disproved within 15 years of diagnosis in one study (Ron et al., 1979). "If you don't have any follow-up or access to good-quality medical records, it is hard to be certain of a YOD diagnosis," he said.
While Hendriks agrees that longitudinal studies are better for verifying a diagnosis, she notes that much has changed since the 1970s. "Since then, medicine has evolved rapidly, and the diagnostic criteria for dementia, including young-onset dementia, have improved," she told Alzforum. "A few ongoing longitudinal studies on YOD should provide more accurate prevalence numbers once they have sufficient follow-up," Hendriks added.—Chelsea Weidman Burke
References
Paper Citations
Primary Papers
Hendriks S, Peetoom K, Bakker C, van der Flier WM, Papma JM, Koopmans R, Verhey FR, de Vugt M, Köhler S, Young-Onset Dementia Epidemiology Study Group, Withall A, Parlevliet JL, Uysal-Bozkir Ö, Gibson RC, Neita SM, Nielsen TR, Salem LC, Nyberg J, Lopes MA, Dominguez JC, De Guzman MF, Egeberg A, Radford K, Broe T, Subramaniam M, Abdin E, Bruni AC, Di Lorenzo R, Smith K, Flicker L, Mol MO, Basta M, Yu D, Masika G, Petersen MS, Ruano L. Global Prevalence of Young-Onset Dementia: A Systematic Review and Meta-analysis.

JAMA Neurol

. 2021 Sep 1;78(9):1080-1090. PubMed.
Knopman DS. Young-Onset Dementia-New Insights for an Underappreciated Problem.

JAMA Neurol

. 2021 Sep 1;78(9):1055-1056. PubMed.