Epoxide Hydrolase, a Fat New Target for Alzheimer's Therapy?
Can making ephemeral anti-inflammatory fatty acids stick around a little longer protect people against Alzheimer's disease? It just might, according to a study by Hui Zheng and colleagues at the Baylor College of Medicine, Houston, published December 9 in Science Translational Medicine.
In AD brain and 5xFAD mice, epoxide hydrolase is up and its anti-inflammatory products are down.
Astrocytes express this lipid metabolism enzyme.
In mice, inhibiting it restored epoxy fatty acids and a chain of consequences at molecular, synaptic, and behavioral levels of investigation.
These so-called epoxy fatty acids, or EpFAs, protect neurons; alas, epoxide hydrolases quickly break them down. The scientists found more epoxide hydrolase in brain tissue from people with AD and 5xFAD mice than in controls, corresponding to fewer epoxy fatty acids in the mice. Long-term treatment with an inhibitor curbed the hydrolase and boosted EpFA concentration in the mice's brains. Inhibiting the hydrolase also prevented neuroinflammation and amyloid pathology, synapse damage, and cognitive decline in the mice. Given that epoxide hydrolase inhibitors are already being tested in the clinic for other conditions, they may have the potential to become a new class of AD drug.
Darryl Zeldin, National Institute of Environmental Health Sciences (NIEHS), Research Triangle Park, North Carolina, was unsurprised by these findings. "This is consistent with what we know about the role of inflammation in Alzheimer's, the effects of epoxide hydrolase inhibitors on epoxide fatty acid levels, and the anti-inflammatory effects of those fatty acids," he told Alzforum. Aditi Das, University of Illinois at Urbana-Champaign, considers the approach promising. "sEH inhibitors would increase the body's own bioactive epoxide lipids to a beneficial level, improving our capacity to heal," she told Alzforum.
Epoxy fatty acids are derived from the omega-6 fatty acid arachidonic acid, which generally is released into the cell in two ways: from endocannabinoids by fatty acid amide hydrolase, or from membrane phospholipids by phospholipase A2. Higher amounts of phospholipase A2 and arachidonic acid have been seen in AD brain tissue and mouse models before (Oct 2008 news). Arachidonic acid metabolism produces various other fatty acids, as well.
Some types of EpFA, such as epoxyeicosatrienoic acids (EETs) and epoxydocosapentaenoic acids (EDPs), are known to be anti-inflammatory and neuroprotective (Node et al., 1999; Wang et al., 2018). Unfortunately, their rapid breakdown by soluble epoxide hydrolase (sEH) limits these beneficial effects. Previously, sEH had been implicated in neurodegenerative diseases because it was found at higher concentrations in people with AD and Parkinson's disease (Griñán-Ferré et al., 2020; Ren et al., 2018). Inhibiting sEH genetically or with drugs improved the phenotype of mouse models of these diseases, but researchers did not understand how. Zheng wondered if these effects had to do with increased amounts of protective EpFAs.
To find out, first author Anamitra Ghosh and colleagues probed what was happening to sEH and EpFAs in the brains of people with AD and amyloid mouse models. In postmortem AD samples, they confirmed higher expression of PLA2G2A, the gene encoding phospholipase A2, and they also found twice as much sEH as in age-matched controls. Likewise, brain tissue from 4.5-month-old 5xFAD and APPNLGF knock-in mice had more hydrolase and less EET and EDP. Therefore, more hydrolase meant less EpFAs in the brain.
To see which cell types expressed the hydrolase's gene, Ephx2, the scientists separated astrocytes, microglia, and vascular endothelial cells from 5xFAD and wild-type hippocampus tissue using flow cytometry. Quantitative PCR and immunofluorescence confirmed high Ephx2 expression in astrocytes, as seen before (Lee et al., 2019).
What happens without epoxide hydrolase function? Ghosh and colleagues provoked inflammation in mouse astrocyte cultures with lipopolysaccharide, then treated the cells with the sEH inhibitor TPPU, short for 1-trifluoromethoxylphenyl-3-(1-propionylpiperidin-4-yl) urea. TPPU quelled the inflammation, reducing the cell's release of nitrite and expression of proinflammatory molecules. Blocking EETs with the antagonist epoxyeicosa-5(Z)-enoic acid abolished the positive effects of TPPU hydrolase inhibition, but adding EETs once again soothed the astrocytes.
TPPU's anti-inflammatory effects held true in vivo. Feeding wild-type mice LPS provoked inflammation in their cortices and hippocampi; TPPU quelled it. Western blotting and immunofluorescence confirmed both the LPS-induced proinflammatory molecule upregulation and TPPU-induced downregulation. Another sEH inhibitor, called EC5026, showed similar results.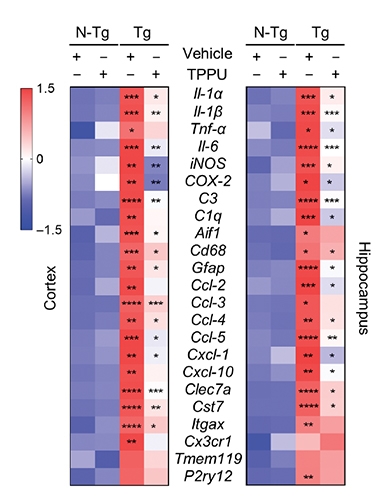 To study long-term effects of epoxide hydrolase inhibition, the scientists spiked the drinking water of 2-month-old 5xFAD mice with TPPU for 2.5 months. They found TPPU in brain tissue by mass spectrometry, indicating it was able to cross the blood-brain barrier. As expected, the treated mice had more EETs and EDPs in their brains.
TPPU treatment changed gene expression in the treated hippocampi. In the 4.5-month-old mice, 73 of the 171 previously upregulated genes had become downregulated. Most of the 73 were in immune-related pathways. Two of them, iNOS and COX-2, were less abundant in the hippocampi of treated mice, as seen via western blotting and immunofluorescence. All told, inhibiting epoxide hydrolase calmed overactive immune pathways in the brains of an amyloidosis mouse model.
The mice's amyloid plaque burden responded, as well. Ghosh and colleagues stained hippocampal and cortical sections from TPPU-treated and untreated 4.5- and 6.5-month-old 5xFAD mice with the 6E10 plaque antibody. At both time points, treated mice had fewer, smaller plaques and fewer microglia surrounding the plaques than untreated mice, agreeing with previous findings in neuronal cells (Liang et al., 2019). The authors used protein quantification and qPCR analysis to rule out that this was due to off-target effects of TPPU on APP processing or Aβ metabolism.
Frédéric Calon, University of Laval, Quebec, was struck by the effects of TPPU and sEH expression. "I hope this fascinating observation will be replicated in other models," he told Alzforum.
Next, the scientists stained hippocampal samples from 6.5-month-old 5xFAD mice, either untreated or treated for 4.5 months, with the synaptic marker synaptophysin and the neuronal marker NeuN. They saw that blocking epoxide hydrolase with TPPU partially restored synapse and neuron losses, possibly because treated microglia no longer expressed complement components known to damage synapses, the authors propose.
Did these molecular and cellular changes matter functionally? While untreated 5xFAD mice behaved abnormally on the novel-object and the fear-conditioning tests, TPPU restored their behavior to that of wild-type in both paradigms.
The paper's overall results are in line with two previous studies that knocked out sEH genetically, not pharmaceutically (Lee et al., 2019; Huang et al., 2018).
Zeldin noted that inhibiting epoxide hydrolase would prevent the breakdown of many additional EpFAs beyond the two in this paper. "The authors did not talk about other EpFAs, such as the omega-3 epoxides, that are prevalent in the brain and would undoubtedly be affected by the sEH inhibitor. These other EpFAs may also be contributing to the phenotypes they report," he speculated.
Nabil Alkayed, Oregon Health & Science University, Portland, noted that sEH began to climb at 2 months, around the same time astrogliosis and microgliosis start in 5xFAD mice. "It would be important to determine which comes first—whether inflammatory signals induce sEH expression, or sEH upregulation leads to neuroinflammation," he told Alzforum.
Zeldin wondered how older mice would respond, alluding to potential application in AD patients. "I would like to see what happens if you give an sEH inhibitor to mice that already have inflammation and pathological changes—will inhibiting inflammation then reverse the process?" he asked.
sEH inhibitors have been tried clinically in cardiovascular and renal disorders, though none are FDA-approved; for details, see Alkayed comment below. The new data beg the question of whether sEH may be a plausible target for AD and other brain disorders (Zarriello et al., 2019). "Several sEH inhibitors have produced promising results in Phase 1 studies," Richard Bazinet, University of Toronto, told Alzforum (full comment below).
One of those studies is led by Bruce Hammock, University of California, Davis, who collaborated with Zheng on this work. His company, EicOsis, is pursuing the sEH inhibitor EC5026 in neuropathic pain (NCT04228302). "In our Phase 1a study, there were no adverse effects reported at doses far above those expected to be therapeutic; however, there are many more steps needed to adequately test safety," he told Alzforum (full comment below).
One caveat to consider is a known angiogenic effect of inhibiting epoxide hydrolase. Inhibitors are not thought to cause tumors, but they have been reported to stimulate metastasis of existing ones (Panigrahy et al., 2012). "I would be concerned about an older patient with a cold tumor being treated long-term with an sEH inhibitor and having accelerated tumor growth. Screening for cancer becomes really important," Zeldin explained. Zheng is currently creating analogs of TPPU.—Chelsea Weidman Burke
References
News Citations
Research Models Citations
Antibody Citations
Paper Citations
External Citations
Further Reading
Papers
Huynh K, Lim WL, Giles C, Jayawardana KS, Salim A, Mellett NA, Smith AA, Olshansky G, Drew BG, Chatterjee P, Martins I, Laws SM, Bush AI, Rowe CC, Villemagne VL, Ames D, Masters CL, Arnold M, Nho K, Saykin AJ, Baillie R, Han X, Kaddurah-Daouk R, Martins RN, Meikle PJ. Concordant peripheral lipidome signatures in two large clinical studies of Alzheimer's disease.

Nat Commun

. 2020 Nov 10;11(1):5698. PubMed.