Epilogue on Edonerpic: It Does Not Work in Alzheimer's
The drug edonerpic maleate failed to slow cognitive decline in Alzheimer's patients, according to a paper published online July 8 in JAMA Neurology. Scientists led by Lon Schneider, University of Southern California, Los Angeles, reported that in a year-long Phase 2 trial among people with mild to moderate disease, patients taking the sigma-1 activator fared no better than those on placebo. Both groups equally declined on the Alzheimer Disease Assessment Scale–Cognitive Subscale (ADAS-cog) and on physician-reported outcomes. Alzforum previously covered these findings when they were presented at the 2017 Clinical Trials in Alzheimer's Disease (CTAD) conference (Dec 2017 conference news).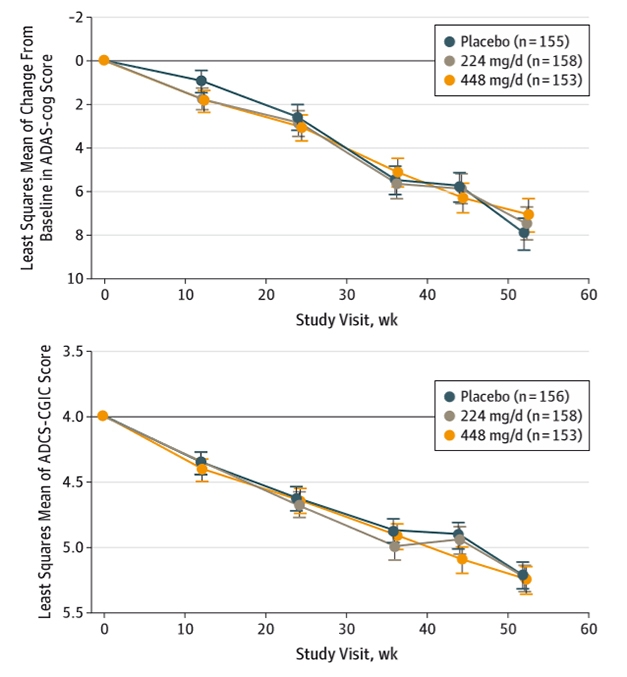 Steady Decline. Once again, a trial of an investigational AD medication shows overlapping curves for patients on drug and placebo. [©2019 American Medical Association. All rights reserved.]
Edonerpic, also known as T-817MA, is a neurotrophic agent developed by FUJIFILM Toyama Chemical, based in Tokyo. In preclinical studies, the drug reportedly protected against Aβ-induced toxicity in cultured rat neurons, prevented memory deficits in rats infused with Aβ, and promoted neurite outgrowth and synaptic plasticity in the rat cortex and hippocampus (Hirata et al., 2005; Kimura et al., 2009; Takamura et al., 2013).
Edonerpic was found tolerable in two previous Phase 2 trials. Neither demonstrated efficacy on primary or secondary endpoints, but, as has often been the case in AD drug development, post hoc analyses appeared to hint that the drug might work for patients with an MMSE less than 20. Schneider and colleagues designed another Phase 2 trial to test this in 482 AD patients, average age 72. Of those, 377 completed the study. All had been diagnosed with probable AD according to the DSM-IV criteria and National Institute of Neurological and Communicative Disorders and Stroke and the Alzheimer Disease and Related Disorders Association criteria (McKhann et al., 1984). They also had MRI or CT scan results matching the diagnosis, an MMSE score between 12 and 22, and were on donepezil or rivastigmine for at least four months. Participants were randomly assigned to receive placebo or once-daily doses of 448 mg or 224 mg of edonerpic for a year.
The co-primary outcomes were change on the ADAS-Cog and Alzheimer's Disease Cooperative Study–Clinical Impression of Change (ADCS-CGIC). Neither group differed from placebo on either score (see image above). The drug improved none of the secondary outcomes, which included the Alzheimer's Disease Cooperative Study–Activities of Daily Living, Mini-Mental State Examination, Functional Activities Questionnaire, and the Neuropsychiatric Inventory. Gastrointestinal side effects were more common in the treatment groups than in placebo, and included diarrhea, nausea, weight loss, and dizziness. These tended to occur within the first 24 weeks.
"The clinical outcomes of three Phase 2 trials do not provide evidence of clinical proof of concept for edonerpic maleate for patients with mild to moderate Alzheimer disease," wrote the authors.—Gwyneth Dickey Zakaib
References
News Citations
Therapeutics Citations
Paper Citations
External Citations
Further Reading
Papers
Pines AR, Sattur MG, Abi-Aad KR, Bendok BR. Edonerpic Maleate: A Promising Pharmacological Agent for Stroke Recovery.

Neurosurgery

. 2019 Jan 1;84(1):E3-E4. PubMed.
Abe H, Jitsuki S, Nakajima W, Murata Y, Jitsuki-Takahashi A, Katsuno Y, Tada H, Sano A, Suyama K, Mochizuki N, Komori T, Masuyama H, Okuda T, Goshima Y, Higo N, Takahashi T. CRMP2-binding compound, edonerpic maleate, accelerates motor function recovery from brain damage.

Science

. 2018 Apr 6;360(6384):50-57. PubMed.