Earliest of Them All: Blood P-Tau231 Assay Flags Pre-Amyloid Alzheimer's
Many recent studies have suggested that blood-based biomarkers will become less invasive and more affordable tools to track Alzheimer's disease pathophysiology than PET scans and cerebrospinal fluid biomarkers. Of those plasma markers, tau phosphorylated at threonine 181 and 217 have received a lot of attention. Now, a study published February 14 in Acta Neuropathologica brings a new player into the blood biomarker game. Readers, meet p-tau231.
CSF p-tau231 is an early biomarker of AD pathology, and now this is also known for plasma p-tau231.
Plasma p-tau231 rose before plasma p-tau181, and prior to brain-wide amyloid PET positivity.
This marker could help scientists delineate healthy aging, diagnose AD, and track its progression.
Older readers have known of p-tau231 for 20 years, ever since multiple research groups reported it in Alzheimer's brain extract (Kohnken et al., 2000; Arai et al., 2000). P-tau231 in CSF has recently been reported in a Spanish cohort to be an early marker of tau pathology (Suárez-Calvet et al., 2020; Ashton et al., 2021).
Now, a team of researchers also led by Kaj Blennow from the University of Gothenburg, Sweden, wanted to see if they could quantify it in blood, as well. Through an extensive collaboration with scientists in Montreal, they found that plasma p-tau231 cleanly differentiated AD participants from healthy people and from those with other neurodegenerative disorders. Plasma p-tau231 also segregated different phases of AD progression and picked up very early stages better than did p-tau181 and Aβ PET. It is the only blood marker so far to show change prior to Braak stage III. "This is most likely the plasma P-tau assay we will set up in clinical laboratory practice," co-author Henrik Zetterberg wrote to Alzforum.
"Plasma p-tau has the potential to revolutionize the diagnostic work-up of Alzheimer's disease in the near future … Nicholas Ashton, Kaj Blennow, and collaborators have developed a highly sensitive assay for quantification of plasma p-tau231, which exhibits an amazing performance for differential diagnosis of AD dementia on par with plasma p-tau181," Oskar Hansson of Lund University, Sweden, wrote to Alzforum.
"This interesting article demonstrates the promise of a new plasma p-tau231 assay in helping to inform the diagnosis, prognosis, and unusually early detection of Alzheimer's disease," Eric Reiman of Banner Health in Phoenix wrote to Alzforum. "Plasma p-tau231 is a welcome measure in the growing list of highly specific blood-based measures," agreed Randall Bateman, Washington University, St. Louis, adding, "The comprehensive analysis to amyloid and tau PET, as well as CSF and neuropathology, are great strengths of this study, as are the number of cohorts evaluated, including primary care." (Full comments below).
Hoping to measure p-tau231 in plasma, co-first author Nicholas Ashton at UGot, together with Thomas Karikari there, developed an ultrasensitive in-house assay for the single molecule array, aka SIMOA, platform. This assay works robustly in the 10 to 30 pg/ml range. The UGot authors verified through immunoprecipitation and mass spectrometry that the assay specifically measures N-terminal to mid-domain forms of p-tau231 and does not recognize non-phosphorylated forms of tau. They then collaborated with Pedro Rosa-Neto's team of brain-imaging specialists at McGill University to validate their new assay and correlate it with PET and MRI scans. Together, the scientists fielded four independent cohorts with a total of 588 participants.
The first, aka discovery, cohort was a group of 38 people, 20 of whom were diagnosed with AD and 18 age-matched, Aβ-negative healthy controls. With the new assay, plasma p-tau231 was able to differentiate AD from controls.
The second cohort used for this paper came from an ongoing project in Canada, called Translational Biomarkers of Aging and Dementia, aka TRIAD. It included 313 participants, who ranged from cognitively unimpaired young (20 to 30 years old) and aged (50 to 86 years old) people, to people with mild cognitive impairment, and people with AD and non-AD dementias. All had their Aβ and tau levels measured through both CSF assays and PET scans, along with clinical and cognitive assessments, including the CDR and MMSE tests.
In TRIAD, p-tau231 tracked with Aβ abnormality. Blood concentrations of this tau fragment were higher in the AD, Aβ-positive MCI, and even older cognitively unimpaired but Aβ-positive groups than in the three Aβ-negative groups. Plasma p-tau231 was better than p-tau181 at differentiating cognitively unimpaired elderly who were Aβ-positive from MCI who were Aβ-negative. P-tau231 also correlated with p-tau181 and plasma neurofilament light protein.
Ashton and co-first author Tharick Pascoal also examined plasma p-tau231 in a primary care cohort to get a first inkling of how the new assay might perform in that setting. Researchers urgently need robust markers for clinical trials, and clinicians the world over urgently need AD blood tests for routine care. This cohort included 190 people from around Montreal who either were cognitively unimpaired young or older adults, or had received a clinical MCI or AD diagnosis. None of them had yet had biomarker assessments. The scientists found that p-tau231 levels increased progressively across those four groups.
The fourth cohort was a neuropathology set, i.e., coordinated brain and fluid samples of 47 deceased people who had a definitive postmortem AD diagnosis and had donated plasma between one and nine years prior to their autopsies. Here, p-tau231 was able to discriminate people with AD from those with non-AD dementia, with an AUC of .99, i.e., almost 100 percent accuracy.
To learn how plasma p-tau231 fits in with established markers of AD pathogenesis, Pascoal and colleagues compared it to CSF and PET biomarkers. They found that it correlated with CSF p-tau231, tau PET as measured with the MK-6240 tracer, and plaque burden as measured with the AZD4694 tracer.
P-tau231 vs. PET vs. CSF. Blood p-tau231 levels matched up with cortical tau PET (a) and cerebrospinal fluid p-tau231 (b). The new assay also correlated with Aβ PET (c), and inversely correlates with CSF Aβ (d), showing that it fits in with established AD pathogenesis markers. [Courtesy of Ashton et al., Acta Neuropathologica, 2021.]
Many groups in the field have been pushing to develop ever-earlier presymptomatic markers. Remarkably, measured with this new assay, plasma p-tau231 was seen to nudge up even before plasma p-tau181, and before amyloid PET crossed the brain-wide threshold of positivity. This suggests it may be the earliest specific plasma marker of AD pathology known thus far. "In my opinion, p-tau231 is no better or worse than p-tau217 or 181," said Ashton. "Its advantage is that it starts to increase earlier. When you have no symptoms, you start to develop amyloid pathology in the brain, and 231 seems to increase earlier than 181 and potentially 217, although we don't have a 217 blood comparison in this study." (Jan 2021 news).

Plaque Patches. Blood p-tau231 increases earlier in pathogenesis than both p-tau181 and p-tau217. It detects the lowest quartile of tracer uptake (left bar in each graph), a stage that reflects regional amyloid patches well below the brain-wide threshold of amyloid positivity. [Courtesy of Ashton et al., Acta Neuropathologica, 2021.]
Importantly, plasma p-tau231 segregated participants across the entire Braak spectrum as well, including stage 0 through I–II. Neither plasma p-tau181 or 217 were able to do that. This finding implies that p-tau 231 could more crisply define normal aging, and help trialists ensure that their drug studies' control groups are free of asymptomatic people who are nonetheless on the road to AD. "What truly stands out is the stepwise increase of p-tau231 per amyloid-PET quartile and per pathology-confirmed Braak stage," wrote Elisabeth Thijssen from Amsterdam UMC (full comment below).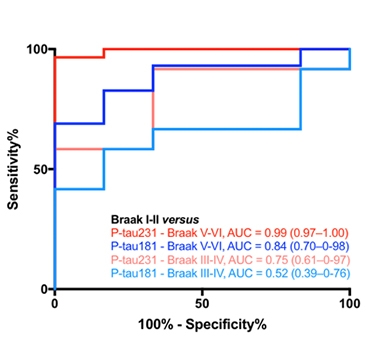 Plasma p-tau231 appears to be able to predict progression. Using a subsample of 126 people from the TRIAD cohort who had a one-year follow-up with a structural MRI and MMSE assessment, Ashton and Pascoal found that p-tau231 forecasted cognitive worsening and hippocampal atrophy. Longer follow-up data can be generated as the TRIAD cohort ages.
The authors hope to see plasma p-tau231 used with other biomarkers in the near future to detect early AD. "One scenario, maybe not so far away, is that patients come into their primary care clinic saying their memory is not that good, and then you do a simple memory test plus plasma p-tau231 and others like Aβ and neurofilament light. Those who have abnormal values on one or more of these biomarkers, you can admit to a specialist clinic for more detailed examination," said Blennow. The assay was developed in collaboration with the company ADx Neurosciences and may become commercially available, Zetterberg wrote to Alzforum. He added that the current paper shows the potential of the 231 phospho-epitope, hence anyone who has a good antibody against this site could try to make a test with it.
Although a blood draw is much easier to obtain than CSF or a PET scan, Blennow doesn't think p-tau biomarkers can be used by themselves to track AD just yet. "The change in biomarkers is much clearer in cerebrospinal fluid," Blennow said. "So, I'm not convinced we can replace CSF with blood biomarkers. We'll have to evaluate the data from each one."—Helen Santoro
References
News Citations
Paper Citations
Further Reading
No Available Further Reading
Primary Papers
Ashton NJ, Pascoal TA, Karikari TK, Benedet AL, Lantero-Rodriguez J, Brinkmalm G, Snellman A, Schöll M, Troakes C, Hye A, Gauthier S, Vanmechelen E, Zetterberg H, Rosa-Neto P, Blennow K. Plasma p-tau231: a new biomarker for incipient Alzheimer's disease pathology.

Acta Neuropathol

. 2021 May;141(5):709-724. Epub 2021 Feb 14 PubMed.