In Down's Syndrome, Blood P-Tau217 Detects Plaques and Tangles
In Alzheimer's disease, a person's blood levels of Aβ42/40 and of tau correlate with his or her burden of plaques and tangles in the brain. Is the same true for Down's syndrome? Yes, according to a cross-sectional study led by Shorena Janelidze and Oskar Hansson, Lund University, Sweden, and Benjamin Handen, University of Pittsburgh. In the July 5 JAMA Neurology, they reported that a combination of age and plasma phosphotau-217 best identified who had plaques, tangles, or faltering cognition.
In DS, a higher plaque or tangle load meant more plasma p-tau217.
High p-tau217 correlated with poor cognition but only in amyloid-positive participants.
Plasma p-tau217 should simplify screening for DS clinical trials.
Just as in late-onset AD (LOAD), p-tau217 in DS seems to be a highly accurate marker of plaque pathology, with an area under the curve of 0.94. The AUC is a statistical measure of sensitivity and specificity, with 1.0 suggesting perfection. This is the first report of plasma p-tau217 in DS.
"Plasma p-tau217 is currently considered the most promising blood-based biomarker of brain tau pathology, [and this paper] demonstrates that this is also the case with DS-related AD," Michael Rafii, University of Southern California, San Diego, wrote (full comment below). Juan Fortea, Hospital of Sant Pau, Spain, agreed. "Research on AD biomarkers in DS is catching up to that of familial and sporadic AD," he told Alzforum.
People with DS carry an extra copy of the amyloid precursor protein gene and are destined to develop AD. To track AD pathology in DS, scientists are searching for good plasma markers. Having a blood test is especially important for people with DS, because they are less able or willing to tolerate lengthy or more-invasive procedures, such as PET scans or lumbar punctures.
In search of the best combination of plasma markers, first author Janelidze turned to the Alzheimer's Biomarker Consortium-Down's Syndrome (ABC-DS). She analyzed tau and amyloid PET scans, blood markers, and cognitive test scores from 300 adults with DS. Half were men, and the average age was 45.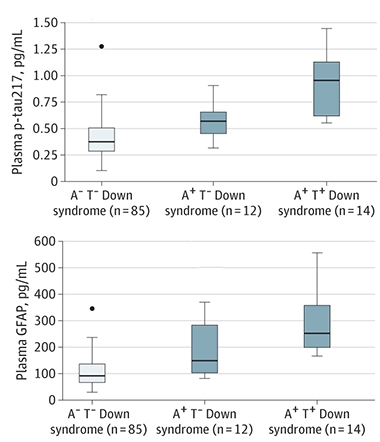 Plasma markers included total tau, p-tau217, Aβ42/Aβ40, neurofilament light (NfL), and glial fibrillary acidic protein (GFAP). The authors chose p-tau217 because it better correlated with AD pathology than did p-tau181 in LOAD, and because it is the first fluid tau marker to tick up in people who have familial AD (Jul 2020 conference news; Apr 2020 conference news; Mar 2020 news).
To learn how these markers tracked with plaques and tangles, Janelidze divided participants into those who tested PET-positive for plaques and tangles (A+T+), those who tested positive for only plaques (A+T-), and those who tested positive for neither (A-T-). Among these three groups, plasma p-tau217 was highest in A+T+ volunteers, followed by A+T-, then A-T-. GFAP was higher in the A+T+ group than either A+T- or A-T- (see image above left). T-tau was higher in both A+T+ and A+T- groups than in A-T-, while Aβ42/Aβ40 and NfL did not differ among the DS groups. All told, the authors concluded that plasma p-tau217 was the most responsive marker to changes in pathology.
When considering plaque and tangle load as continuous variables as quantified by PET, p-tau217 tracked best with both. The higher a person's PET signal, the more concentrated that marker was in his or her blood. However, this was only true in amyloid-PET-positive participants (see image below).
Tracking with Tangles, Plaques. Plasma p-tau217 correlated with neurofibrillary tangles (left) and amyloid plaques (right) in amyloid PET-positive people with Down's (blue) but not in those without plaques (orange). [Courtesy of Janelidze et al., JAMA Neurology, 2022.]
Did combining markers make the blood tests more accurate? Slightly. Plasma p-tau217 detected tau and amyloid PET positivity with AUCs of 0.94 and 0.91, respectively. Adding age, a strong driver of AD pathology in DS, bumped up the AUC to 0.96 for tangles and 0.94 for plaques. Adding any other biomarkers nudged up the AUCs by just 0.01 more.
And how did this correlate with cognition? High p-tau217 was associated with poor performance on the DS Mental State Exam and the Cued Recall Test (CRT), but again, only in amyloid-positive participants. "This shows that plasma p-tau217 tightly correlates with amyloid-induced tau phosphorylation, and it underscores how similar Alzheimer's processes are in people with DS, familial, or sporadic AD," Henrik Zetterberg, University of Gothenburg, Sweden, told Alzforum.
Indeed, this paper comes on the heels of two cross-sectional PET studies showing analogous tau behavior in DS and in sporadic AD. One paper reported that tau PET turns positive just after the earliest detection of plaques, confirming a lag between amyloid and tau accumulation in DS (Zammit et al., 2021). The other showed that amyloid-positive, cognitively intact people with DS who had a high tau PET load slipped faster on the CRT than those with few tangles, highlighting the close relationship between neurofibrillary tangles and cognitive decline (Hartley et al., 2022).
"[All three] papers paint the picture that, despite some differences between AD pathology in LOAD and DS, biomarker findings are similar," wrote William Klunk at the University of Pittsburgh, who was a co-author on all the manuscripts (full comment below). Fellow co-author Beau Ances of Washington University in St. Louis agreed. "Alzheimer's in DS follows A/T/N progression," he said.
Scientists believe these parallels will help shape treatment and prevention trials in DS. "I think that similar biomarkers and outcome measures to those in sporadic AD trials can be used in the DS population," said Bradley Christian, University of Wisconsin, Madison, another co-author. Rafii agreed. "The prospect of accurately staging individuals with DS within the A/T/N framework using plasma p-tau217 is a major advance in the field and sets the stage for more efficient clinical trials," he wrote.—Chelsea Weidman Burke
References
News Citations
Paper Citations
Zammit MD, Tudorascu DL, Laymon CM, Hartley SL, Ellison PA, Zaman SH, Ances BM, Johnson SC, Stone CK, Sabbagh MN, Mathis CA, Klunk WE, Cohen AD, Handen BL, Christian BT. Neurofibrillary tau depositions emerge with subthreshold cerebral beta-amyloidosis in down syndrome.

Neuroimage Clin

. 2021;31:102740. Epub 2021 Jun 24 PubMed.
Hartley SL, Handen BL, Tudorascu D, Lee L, Cohen A, Piro-Gambetti B, Zammit M, Klunk W, Laymon C, Zaman S, Ances BM, Sabbagh M, Christian BT. Role of tau deposition in early cognitive decline in Down syndrome.

Alzheimers Dement (Amst)

. 2022;14(1):e12256. Epub 2022 Apr 1 PubMed.
Primary Papers
Janelidze S, Christian BT, Price J, Laymon C, Schupf N, Klunk WE, Lott I, Silverman W, Rosas HD, Zaman S, Mapstone M, Lai F, Ances BM, Handen BL, Hansson O. Detection of Brain Tau Pathology in Down Syndrome Using Plasma Biomarkers.

JAMA Neurol

. 2022 Aug 1;79(8):797-807. PubMed.