Does More Aβ38 Mean Less Cognitive Decline in Alzheimer's?
While clinicians commonly gauge a person's Alzheimer's disease risk by the amount of Aβ42 in their cerebrospinal fluid, it is unclear exactly what shorter peptide fragments mean in this regard. According to researchers led by Oskar Hansson at Lund University, Sweden, having more Aβ38 protects against AD and slows cognitive decline. In the December 22 Neurology, they report that among people who had early Alzheimer's as per their CSF phospho-tau181/Aβ42 ratio, those with higher CSF Aβ38 declined less on the Mini-Mental State Exam and were less likely to be diagnosed with dementia four years later. This held true irrespective of APOE genotype, disease stage, or absolute CSF Aβ42 and p-tau181 concentrations. The finding supports the amyloid hypothesis and may buoy efforts to develop modulators of γ-secretase that limit production of Aβ42 in favor of shorter peptides.
People with high CSF Aβ38 decline more slowly on MMSE.
This held after correcting for demographics and APOE genotype.
The finding may rekindle interest in γ-secretase modulators.
"This is a very important story that relates high Aβ38 levels to reduced cognitive decline in two independent cohorts," wrote Christian Haass of the German Center for Neurodegenerative Diseases, Munich. Although, he added, the mechanism remains unclear. Lucia Chavez Guttierez, KU Leuven, Belgium, offered an idea. "This study supports, from a clinical perspective, the hypothesis that a lower ratio of shorter to longer Aβ peptides plays a role in amyloid toxicity and pathogenicity," she wrote (full comments below).
Low Aβ42 in the CSF correlates with amyloid plaque load in the brain (Nov 2021 conference news; Oct 2021 news). Being stickier, Aβ42 clumps more easily to form plaques than do shorter Aβ peptides, such as Aβ40 and Aβ38, which tend to remain soluble in the interstitial fluid of the brain. In mice, Aβ40 and Aβ38 only incorporate into plaques that have been initiated by Aβ42 (Jun 2021 news). Given this interplay between Aβ peptides, the researchers wondered how Aβ38 concentration relates to cognitive decline and AD risk.
To find out, first author Nicholas Cullen compared CSF biomarker, demographic, and MMSE data on people whose CSF p-tau181/Aβ42 ratio was above the cutoff for preclinical AD. Of 338 participants in the Swedish BioFINDER study and 318 in ADNI who fit the bill, 71 had reported concerns about memory loss, 342 had mild cognitive impairment, and 243 had been diagnosed with AD dementia.
After controlling for age, sex, years of education, APOE4 genotype, clinical diagnosis, and CSF Aβ42 or p-tau181, the scientists found that higher baseline Aβ38 correlated with slower decline in MMSE score over an average of four years of follow up (see image below). "By including these CSF biomarkers, we adjust the Aβ38 results for the amount of AD pathology in each individual," Hansson noted.
What explains this correlation between Aβ38 and decline? "Could it be that the higher Aβ38 and Aβ42 values are from subjects with less advanced disease?" wondered Colin Masters, University of Melbourne, Australia (full comment below). In other words, does CSF Aβ38, like Aβ42, simply reflect amyloid plaque load in the brain? Hansson clarified that the correlation between Aβ38 and cognitive decline was independent of disease and people's CSF Aβ42 level. "The higher a person's CSF Aβ38, the slower their clinical deterioration regardless of their Aβ42 level," he told Alzforum.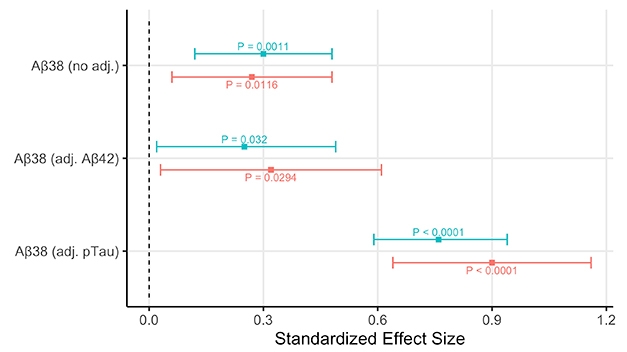 Slow The Slide. In the BioFINDER (blue) and ADNI (red) cohorts, CSF Aβ38 concentration correlated with slower cognitive decline on the MMSE after adjusting for demographics alone (top), demographics and CSF Aβ42 (middle), or demographics and CSF p-tau181 (bottom). [Courtesy of Cullen et al., Neurology, 2021.]
How would CSF Aβ38 relate to the risk of developing full AD dementia? Adjusting for the correlation between CSF p-tau181 and cognitive decline, people in both cohorts whose Aβ38 was high were 45 percent less likely to be clinically diagnosed with dementia on follow up four years later (see image below). This risk remained essentially the same after adjusting for the effects of demographics alone or demographics plus Aβ42 on dementia. The adjusted correlations fit with amyloid/Aβ42 poorly correlating with cognitive decline or dementia, whereas p-tau181 strongly predicts both.
Aβ38 and Dementia. In BioFINDER (blue) and ADNI (red), high CSF Aβ38 correlated with lower risk for dementia after adjusting for demographics and CSF p-tau181 (bottom lines). The correlation was weak after adjusting for only demographics (top), or demographics and Aβ42 (middle). [Courtesy of Cullen et al., Neurology, 2021.]
The researchers also checked how CSF Aβ40 factored in. As with Aβ38, people in both cohorts declined more slowly and were less likely to develop dementia if their baseline Aβ40 levels were high.
All told, the results suggest that people with more of the short Aβ forms in their CSF resist cognitive decline somewhat, despite having AD pathology. Could this have therapeutic implications? The authors suggest γ-secretase modulators to shift Aβ production to less amyloidogenic, smaller fragments, and Bart de Strooper, Dementia Research Institute, London, agreed. "While it is obviously not excluded that Aβ38 has direct protective effects, the more likely explanation is that increased Aβ38 levels reflect a more effective γ-secretase, resulting in less of the long Aβ42 and longer peptides," he wrote (full comment below).
γ-Secretase modulators (GSMs) can shift Aβ production from Aβ42 toward Aβ38 while keeping the total amount of Aβ steady, skirting off-target effects of inhibiting the enzyme outright (Aug 2013 news; Sep 2011 news; Apr 2011 conference news). Though some are reportedly safe in healthy adults, their efficacy remains unclear as none have reached Phase 3 (Jun 2019 news).
For example, Pfizer's GSM PF-06648671 shifted Aβ production from longer to shorter peptides while reportedly being safe in multiple Phase 1 studies (Ahn et al., 2020). Still, Agata Copani, University of Catania, Italy, noted the uncertainty of tinkering with the amount of shorter Aβ fragments. "Increasing the concentration of aggregation-prone peptides, as Aβ37 and Aβ38 are, could favor their self-assembly, with unpredictable results," she wrote (full comment below). Alas, Pfizer halted clinical development of its GSM when it abandoned neurology research in 2018.
Researchers believe these modulators are worth more attention. "It's my great hope that more than 25 years of fantastic γ-secretase research may not be forgotten, but rather a translational revival may be celebrated," Haass wrote.—Chelsea Weidman Burke
References
News Citations
Therapeutics Citations
Paper Citations
Ahn JE, Carrieri C, Dela Cruz F, Fullerton T, Hajos-Korcsok E, He P, Kantaridis C, Leurent C, Liu R, Mancuso J, Mendes da Costa L, Qiu R. Pharmacokinetic and Pharmacodynamic Effects of a γ-Secretase Modulator, PF-06648671, on CSF Amyloid-β Peptides in Randomized Phase I Studies.

Clin Pharmacol Ther

. 2020 Jan;107(1):211-220. Epub 2019 Sep 11 PubMed.