Does Astrocyte Tau Cause Dementia?
Once again, tau creates havoc—this time by hijacking astrocytes. According to a November 9 report in Nature Neuroscience, researchers led by Nicolas Toni at the University of Lausanne, Switzerland, found that in people with AD, tau accumulated in astrocytes of the hilus, a portion of the hippocampus. In mice, they found that too much tau in these astrocytes impaired mitochondrial function and ATP production. This reduced the number of inhibitory neurons in the hippocampus, put the kibosh on neurogenesis, and suppressed neuronal network activity there. The mice had trouble navigating a water maze. Mouse memory deficits were rescued by ramping up activity of inhibitory neurons. All told, the findings hint that tau pathology extends beyond neurons in people with AD and that glial tau might contribute to dementia.
In AD, 3R tau accumulates in hippocampal astrocytes.
In mouse hippocampal astrocytes, 3R tau damages mitochondria.
This weakens neuronal network activity and spatial memory.
Alberto Serrano-Pozo and Bradley Hyman of Massachusetts General Hospital, Charlestown, were intrigued by these findings but wondered about the origin of the tau. "Is tau expression increased in AD reactive astrocytes, or is it taken up from the extracellular space after being released by neurons?" they wondered (see full comment below). This remains to be determined, though Richetin noted that they only saw astrocytes with three-repeat (3R) tau in hippocampal regions that also had neurofibrillary tangles, hinting that the protein may have come from the neurons.
Tau tangles are an integral part of AD pathology, appearing in the hippocampus in early stage disease and then gradually spreading throughout the brain. Their accumulation closely mirrors cognitive decline (Braak and Braak, 1991; Jun 2019 news; May 2019 news). Researchers have focused on tau's role in neuron dysfunction and death (Jan 2020 news; Aug 2016 news). What about other cells?
First author Kevin Richetin looked for tau tangles in different areas of the hippocampus in tissue samples from healthy controls and from people with AD. As expected, he found them in the AD samples, but the pathology was not equally distributed; there were hot spots in certain areas, including the hilus.
"The hilus is seen as a highway between the dentate gyrus and CA3 region within the hippocampus, so most researchers do not pay much attention to what happens there," Toni told Alzforum. "It turns out to be very important."
Zooming in on the astrocytes in the hilus, Richetin saw they were packed with 3R tau in the AD tissue samples. This isoform contributes to the 3R/4R type of neurofibrillary tangles found in Alzheimer's. The amount of 3R tau in the astrocytes correlated with tau tangles and with Aβ plaques in the surrounding tissue (see image below), suggesting the 3R tau accumulation may be downstream of other AD pathologies. Oddly enough, Richetin found no increase in phosphorylated forms of tau in the astrocytes or any evidence of tangles in these cells. He speculated that this might be because these hilar astrocytes cells do not phosphorylate the protein as easily as neurons do, or that tau is dephosphorylated by the astrocytes.
Tau-Stuffed Astrocytes. Within the hippocampus, 3R tau (red) in astrocytes correlated with amyloid plaque burden and levels of phospho-tau181. [Courtesy of Richetin et al., Nature Neuroscience, 2020.]
Understanding Astrocytic Tau Accumulations
Phosphorylated tau and tangles have been found in astrocytes in disorders such as age-related tau astrogliopathy (ARTAG), progressive supranuclear palsy (PSP), and corticobasal degeneration (CBD) (Kovacs et al., 2016; Briel et al., 2020). However, this astrocytic tau is poorly understood, especially in AD.
Does this 3R tau accumulation affect the astrocytes or their surrounding neurons? To test this idea in a mouse model, Richetin and colleagues collaborated with Nicole Déglon, also at the University of Lausanne, to overproduce tau in mouse hippocampi. Previously, Déglon worked out how to selectively express genes in astrocytes using lentivirus vectors, and the researchers used this same strategy for tau (Humbel et al., 2020). Richetin injected lentiviruses carrying a gene for human 3R tau into the hippocampi of 3-month-old wild-type mice. Two weeks later, he verified that the human 3R tau was expressed only in hilar astrocytes.
Four months after the lentiviral injection, Richetin found that the hilar astrocytes were packed with 3R tau. Richetin found that within these astrocytes, mitochondria languished in the cell bodies, rather than travelling to the astrocyte arms that support neurons. Mitochondrial function also suffered; the organelles replenished less often, and they produced much less ATP than usual. "If there are no dynamic mitochondria in astrocytes, they have no power to support brain activity," Richetin noted.
Still, neurons looked normal for the most part, with no signs of neuronal death. However, neurogenesis had faltered, and the treated mice had fewer parvalbumin-positive inhibitory neurons in the dentate gyrus than controls. The number of inhibitory synapses also collapsed.
Parvalbumin-producing neurons are like the pacemakers of the brain, modulating γ-frequency oscillations, which is important for working memory (Kim et al., 2015). Indeed, the 3R mice had weaker γ activity in the hippocampus and Richetin found they had trouble finding a hidden platform in a water maze. Otherwise, they seemed to behave normally.
Taken together, the results suggested that accumulation of tau in hilar astrocytes compromised the function of hippocampal inhibitory neurons. "Neurons and astrocytes are so codependent and intermingled that it is hard to tease them apart," Toni noted. "To know that the phenotype we observed is only due to tau accumulation in astrocytes, not neurons, is critically important."
The researchers were also able to correct the spatial-memory deficit by injecting the neurotrophin neuregulin 1 (NRG1) into the hippocampus. This synaptic cleft protein stimulated production of parvalbumin by inhibitory neurons and improved spatial navigation in the 3R mice (see image below). NRG1 is known to increase the activity of parvalbumin-positive inhibitory neurons (Li et al., 2011).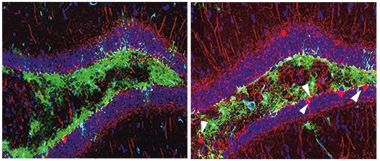 Toni was surprised that altering just a few hundred astrocytes could have such a profound effect in mice. Whether that might hold true in people remains to be seen. "The human hippocampus is about as big as the pinky finger and the hilus is about one-tenth of that, with one-third of its cells being astrocytes. If we could target this minute number of cells and have such a profound effect on behavior, it would be pretty amazing," he said.
In fact, researchers at MIT led by Li-Huei Tsai are testing γ-frequency strengthening strategies in clinical trials. Tsai previously reported that this preserves cortical neurons and stimulates microglia to gobble up amyloid plaques (May 2019 news). Tsai found this new study intriguing but said it raises many questions. She wondered if microglia also accumulate 3R tau, and if the astrocyte tau trove was limited to the 3R isoform.—Chelsea Weidman Burke
References
News Citations
Paper Citations
Further Reading
Papers
Nolan A, De Paula Franca Resende E, Petersen C, Neylan K, Spina S, Huang E, Seeley W, Miller Z, Grinberg LT. Astrocytic Tau Deposition Is Frequent in Typical and Atypical Alzheimer Disease Presentations.

J Neuropathol Exp Neurol

. 2019 Dec 1;78(12):1112-1123. PubMed.
Reid MJ, Beltran-Lobo P, Johnson L, Perez-Nievas BG, Noble W. Astrocytes in Tauopathies.

Front Neurol

. 2020;11:572850. Epub 2020 Sep 24 PubMed.
Primary Papers
Richetin K, Steullet P, Pachoud M, Perbet R, Parietti E, Maheswaran M, Eddarkaoui S, Bégard S, Pythoud C, Rey M, Caillierez R, Q Do K, Halliez S, Bezzi P, Buée L, Leuba G, Colin M, Toni N, Déglon N. Tau accumulation in astrocytes of the dentate gyrus induces neuronal dysfunction and memory deficits in Alzheimer's disease.

Nat Neurosci

. 2020 Dec;23(12):1567-1579. Epub 2020 Nov 9 PubMed.