Does Anti-Amyloid Immunotherapy Need the Lymphatic System?
Why does anti-amyloid immunotherapy clear plaque faster in some people than others? In the April 28 Nature, researchers led by Jonathan Kipnis, Oscar Harari, and Carlos Cruchaga at Washington University in St. Louis suggest that the health of the meningeal lymphatic system may be a factor. This system consists of tiny vessels that pervade the brain's outer covering and help drain fluid and solutes from parenchymal tissue. When Kipnis and colleagues destroyed some of these vessels in a mouse model of amyloidosis, anti-amyloid antibodies cleared less plaque from the brain. Conversely, when the scientists stimulated growth of new lymphatic vessels, antibodies mopped up plaque more efficiently.
In mice, damaging meningeal lymphatic vessels slows plaque clearance by aducanemab and lecanemab.
Enhancing lymphatic vessels boosts plaque clearance.
Dysfunctional lymphatics activate microglia.
The condition of lymphatic vessels on the brain's surface affected the mice's vasculature and immune systems, as well. After vessel ablation, endothelial cells in blood vessels expressed more vascular repair genes, while microglia assumed a disease-associated microglia (DAM) state. This microglial profile resembled that of activated microglia from postmortem sections of Alzheimer's brain, the authors found.
Helene Benveniste at Yale School of Medicine in New Haven, Connecticut, was particularly impressed by the potential causal link between impaired lymphatics and microglial activation. "This is a breakthrough study," she told Alzforum. Mony de Leon at Weill Cornell Medicine College in New York City was likewise intrigued, though he noted there are still many mechanistic questions about how these systems interact. "This paper is a good first step that generates a lot of hypotheses," he told Alzforum.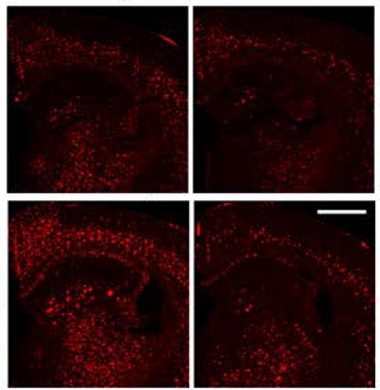 The study of brain lymphatics is quite new. Researchers including Kipnis first identified meningeal vessels in 2015 (Oct 2017 news). These tiny tubes are similar to blood vessels, but are located outside the brain in the dura mater. Instead of blood, they carry cerebrospinal fluid drained from the brain.
Since their discovery, studies have called this system the main exit route for CSF, with most of the fluid flowing through basal lymphatic vessels to lymph nodes in the neck, and from there to blood (Nov 2017 news; Jul 2019 news). Kipnis and colleagues previously showed that drainage efficiency in the mouse brain wanes with age. This may be bad for the brain, since damaged lymphatic vessels weakened memory in young, wild-type mice, and exacerbated plaque buildup in a mouse model of amyloidosis (Jul 2018 news).
In the current study, the authors investigated how the lymphatic system might affect the efficacy of anti-amyloid antibodies. Scientists still do not fully understand how these antibodies clear Aβ from the brain. First author Sandro Da Mesquita injected the light-activated toxin verteporfin into the CSF of young 5XFAD mice, then shone light through the skull onto the dorsal lymphatic vessels. This damaged those vessels. The researchers then treated these animals, and intact controls, with eight weekly doses of mouse analogs of aducanumab or lecanemab. Compared to 5XFAD mice with intact lymphatics, the damaged animals cleared less plaque (see image above). They also had more dystrophic neurites and learned more slowly in the Morris water maze.
What caused these problems? In the damaged mice, about 20 percent fewer antibodies reached plaques in the first place, but Kipnis believes the main reason plaque persisted was the slower removal of material from the brain. Clogging clearance pathways had wide-reaching effects. Endothelial cells in blood vessels turned on genes involved in vascular activation, cell migration, and proliferation. Perhaps impairing lymphatic drainage puts more pressure on the capillaries of the blood-brain barrier to clear waste, leading to these changes, Kipnis suggested.
Meanwhile, mice with damaged lymphatic vessels had about 50 percent more activated microglia than controls, and these cells expressed a pro-inflammatory, DAM-like signature (Jun 2017 news). Kipnis speculated that when the antibodies busted up plaque, they freed toxic Aβ oligomers that lingered in the brain and revved up the microglia.
Enhancing lymphatic vessels, on the other hand, boosted clearance. Da Mesquita and colleagues expressed vascular endothelial growth factor C (VEGF-C) in 5-month-old 5XFAD mice. This growth factor preferentially binds a receptor on lymphatic endothelial cells, but can also affect the vascular endothelium (Joukov et al., 1996). As expected, treated mice grew more lymphatic vessels, and in these animals, lecanemab cleared about twice as much plaque as in control 5XFADs. They did not try the aducanumab analog in this experiment.
The benefit of enhancing the lymphatic system was greater in aged mice. In 2-year-old APPswe and J20 mice, treatment with aducanumab alone failed to budge plaque. When combined with VEGF-C, however, up to half of plaques were wiped out.
Researchers were enthusiastic about these data. "This is a proof of principle that immunotherapy works best if you have an efficient lymphatic system," Costantino Iadecola, also at Weill Cornell Medical in New York, told Alzforum. Matthias Nahrendorf at Massachusetts General Hospital, Boston, noted that the findings might apply to other therapies directed to the brain, as well. "It may be highly clinically relevant," he wrote (full comment below).
Overlooked in AD? Mouse lymphatic endothelial cells (purple) and vascular brain endothelial cells (aqua) express more AD-related genes than do microglia (orange), hinting at a role for lymphatic processes in disease. [Courtesy of Da Mesquita et al., Nature.]
Do the findings apply to people? To get at this, Da Mesquita and colleagues compared their mouse expression data with known AD genes. Surprisingly, mouse lymphatic endothelial cells expressed a greater number of those human risk genes than did cortical microglia. The set included such stalwarts as APOE, SORL1, and ABCA1 (see image above). In cohort studies at WashU, inheritance of AD risk SNPs from this lymphatic gene set correlated with higher amyloid load, higher AD risk, and a lower age of onset. Likewise, in human postmortem brain samples, the same SNPs correlated with having a larger number of activated microglia that expressed AD-associated genes. These activated microglia resembled those seen in mice with damaged lymphatic systems. Altogether, Kipnis believes the findings imply that lymphatic dysfunction could contribute to AD pathogenesis.
Greg Lemke at the Salk Institute for Biological Studies, La Jolla, California, agreed. "This strengthens the connection between meningeal lymphatic impairment and aberrant microglial activation in AD, though the mechanism requires further study," he wrote to Alzforum (see comment below).
To explore the mechanism, Kipnis' group will analyze lymphatic endothelial cell gene expression in 24 AD brains and six healthy, age-matched controls. He wants to determine if there is a consistent disease signature. Because endothelial cells are fragile and hard to isolate, the scientists will use fresh autopsy tissue. Kipnis also plans to investigate what AD-linked genes do in lymphatic endothelial cells.
Kipnis is also interested in the study's implications for immunotherapy. If the health of the lymphatic system determines how well antibodies work, and this is mediated by genetics, then it might be possible to define a genetic signature to stratify patients into those who will respond best, he suggested.
Kipnis has partnered with Boston-based biotech company PureTech Health to search for therapeutic strategies to boost lymphatic drainage. One option is to find a method for delivering VEGF-C to people in a targeted way so that it only affects lymphatic vessels. Because the meningeal lymphatic system lies outside the central nervous system, it is easier to target than brain tissue, Kipnis noted.
Other researchers cautioned that the brain's drainage system is complex, integrating perivascular clearance, glymphatic flow, and transcytosis through the blood-brain barrier. Many parts of this system break down with aging, so improving lymphatic vessels may not fix everything, Iadecola noted. De Leon believes more work is needed to understand how the kinetics and mechanisms of clearance vary between different brain regions. He suggested studying how impaired lymphatics might affect CSF biomarkers of AD.—Madolyn Bowman Rogers
References
News Citations
Research Models Citations
Paper Citations
Joukov V, Pajusola K, Kaipainen A, Chilov D, Lahtinen I, Kukk E, Saksela O, Kalkkinen N, Alitalo K. A novel vascular endothelial growth factor, VEGF-C, is a ligand for the Flt4 (VEGFR-3) and KDR (VEGFR-2) receptor tyrosine kinases.

EMBO J

. 1996 Jan 15;15(2):290-98. PubMed.
Primary Papers
Da Mesquita S, Papadopoulos Z, Dykstra T, Brase L, Farias FG, Wall M, Jiang H, Kodira CD, de Lima KA, Herz J, Louveau A, Goldman DH, Salvador AF, Onengut-Gumuscu S, Farber E, Dabhi N, Kennedy T, Milam MG, Baker W, Smirnov I, Rich SS, Dominantly Inherited Alzheimer Network, Benitez BA, Karch CM, Perrin RJ, Farlow M, Chhatwal JP, Holtzman DM, Cruchaga C, Harari O, Kipnis J. Meningeal lymphatics affect microglia responses and anti-Aβ immunotherapy.

Nature

. 2021 May;593(7858):255-260. Epub 2021 Apr 28 PubMed.