Does Amyloid Shrink Neurons, Shorten Their Fuses?
Neurons can be quick to fire while in their death throes. This may be because their reduced size gives them a shorter fuse, according to a study published November 13 in Neuron. Researchers led by Stefan Remy of the German Center for Neurodegenerative Diseases in Bonn reported that as amyloid plaques overrun the brain in a mouse model of Alzheimer's disease, shrinking dendrites render hippocampal neurons small enough that they are more easily stimulated, firing more often. Both dendritic destruction and hyperactivity have been observed in the context of neurodegenerative diseases, including AD, but this study proposes a mechanistic link between the two processes.
"Finding this structure-function relation is very exciting and represents a major advance in our understanding of how amyloid-β pathology alters brain function at the level of individual neurons," Marc Busche of the Technical University of Munich wrote in a comment to Alzforum. "This novel mechanism may also have broad implications for other diseases that are associated with neurodegeneration." Busche was not an author on the paper.
Burst Boost. Local field potentials measured in the hippocampus revealed network bursts in APP/PS1 mice (right) compared with the single action potentials seen in wild-type mice (left). [Image courtesy of Zuzana Šišková et al., Neuron, 2014.]
Long before neurons croak in the face of disease, they start to shrink and change shape, Remy told Alzforum. One characteristic change is the shrinkage of the dendritic arbor, which, like the branches of a tree, make up most of a neuron's surface area. Indeed, loss of dendritic branches has been observed in people with AD as well as in AD mouse models (see Oct 2004 news story and Grutzendler et al., 2007). In addition to these morphological changes, neuronal activity changes as disease progresses, and some neurons become more excitable (see Sep 2008 news story and May 2012 news story). However, understanding the relationship between morphological deterioration and changes to neuronal activation patterns has been difficult.
To connect the dots, Remy, an electrophysiologist, invoked a basic law of physics. "If you reduce the surface area of the cell membrane, you need less current to charge the membrane and trigger the neuron to fire," he said. Remy hypothesized that the loss of dendritic branches in neurodegenerative disease would therefore boost neuronal excitability.
To test this idea, first author Zuzana Šišková and colleagues turned to an APP/PS1 mouse model (see Willuweit et al., 2009). The researchers first measured the excitability of hippocampal neurons using an in vivo whole-cell patch-clamp technique: They inserted electrodes into the CA1 pyramidal layer of the hippocampus of deeply anesthetized mice and recorded neuronal firing patterns. They found that compared to neurons in wild-type or young APP/PS1 mice, neurons in plaque-ridden 10- to 14-month-old APP/PS1 mice more often fired spontaneously. They tended to go overboard, firing bursts of back-to-back action potentials rather than just one at a time. This hyperactivity increased whole network bursts, as detected by measuring local field potentials in the hippocampus.
The network bursts look like those that trigger epilepsy, commented Igor Timofeev of the University of Laval in Quebec. If confirmed, these findings would jibe with observations that some young AD patients have epileptic seizures, he wrote to Alzforum.
To more characterize more precisely what the neurons were doing, the researchers turned to hippocampal slice cultures. As with the in vivo recordings, neurons in slices from APP/PS1 mice fired more often than wild-type, and in bursts rather than single-action potentials. APP/PS1 neurons also required less current to trigger an action potential. To find out if this hyperexcitability correlated with changes in the neuron's shape or size, the researchers injected biocytin—a dye that reveals dendritic branch structure—into the cells while recording. Fluorescence imaging showed that dendritic branches were 25 percent shorter and there were 22 percent fewer of them in old APP/PS1 mice than in wild-type or younger APP/PS1 mice without plaques. Overall, old APP/PS1 mice lost 20 percent of their dendritic surface area. Given that dendrites make up most of a CA1 pyramidal neuron's surface area, these alterations had a big impact on the total size of the cells. When the researchers examined neurons with a high-resolution fluorescent-imaging technique called stimulated emission depletion (STED), they found fewer dendritic spines in APP/PS1 neurons (see Apr 2006 news story). The loss was most pronounced at the apical tuft dendritic branches, which are furthest from the soma. Any loss of spines, Remy said, decreases the total surface area of the neuron. The correlation between surface area lost and hyperactivity gained suggested to Remy that the two processes were intertwined in the context of amyloid plaque destruction.
To cinch the connection, Šišková and colleagues modeled the effects of dendrite loss with the computer program NEURON, which simulates electrical properties of cell networks. Each "neuron" in the model is made up of tens of thousands of tiny cylinders that can propagate electrical signals. Researchers can plug in parameters such as the size, number, and surface area of "dendritic branches" into the program, and simulate changes in the excitability of the "cell." Based on the loss of dendritic structure seen in their morphological data, the researchers modeled 30 hypothetical neurons from APP/PS1 mice. They also created an in silico wild-type CA1 neuron for comparison. As with their data on real cells, the computational model predicted that the APP/PS1 neurons would fire more frequently, and would tend to fire spontaneously in bursts. When the researchers simulated the electrical stimulation, the model predicted that the APP/PS1 neurons would require less current to fire than the wild-type neuron.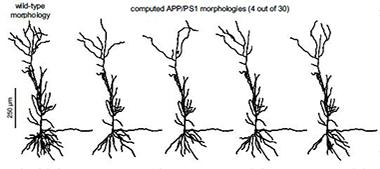 The researchers also simulated a more physiological scenario in which only some dendrites received signals that then propagated to the cell body, as opposed to delivering an overall current to the cell. Normally, neurons "hear" signals from their outermost branches less well than they do those from close to the soma because signals peter out as they travel, Remy said. When he simulated this type of distant stimulation, he found that excitatory post synaptic potentials (EPSPs) traveled more readily to the soma of the cells in APP/PS1 neurons.
The researchers next simulated the effect of rhythmic cumulative activation of 200 to 250 synapses at once, which resembles an input pattern CA1 neurons receive in vivo during behavior. This activation resulted in dramatic burst firing. "The neurons basically yell louder," Remy said.
The modelling supported the idea that a simpler dendritic architecture sensitizes neurons to stimulation. Remy said more research is needed to determine whether dendritic degeneration and neuronal hyperexcitability are the cause or a consequence of network connectivity changes that occur in AD. Remy said one possible consequence of revved-up neuronal firing is the sapping of resources, adding that over time, this could tax neuronal circuits and exacerbate neurodegeneration.
Is the structure-function relationship specific to Aβ pathology, or a side effect of APP overexpression? Remy's group did not use APP processing inhibitors to isolate the role of Aβ. However, he said, the problems occurred in mice after plaques appeared. Furthermore, the purpose of his study was not to point a finger at a specific species of Aβ or tau as the cause of neurodegeneration, but rather to uncover a fundamental relationship between degeneration and neuronal activity, he said. It is possible that such a relationship exists in other neurodegenerative diseases, even if they have different causes, Remy said. —Jessica Shugart
References
News Citations
Paper Citations
Grutzendler J, Helmin K, Tsai J, Gan WB. Various dendritic abnormalities are associated with fibrillar amyloid deposits in Alzheimer's disease.

Ann N Y Acad Sci

. 2007 Feb;1097:30-9. PubMed.
Willuweit A, Velden J, Godemann R, Manook A, Jetzek F, Tintrup H, Kauselmann G, Zevnik B, Henriksen G, Drzezga A, Pohlner J, Schoor M, Kemp JA, von der Kammer H. Early-onset and robust amyloid pathology in a new homozygous mouse model of Alzheimer's disease.

PLoS One

. 2009;4(11):e7931. PubMed.
Primary Papers
Šišková Z, Justus D, Kaneko H, Friedrichs D, Henneberg N, Beutel T, Pitsch J, Schoch S, Becker A, von der Kammer H, Remy S. Dendritic structural degeneration is functionally linked to cellular hyperexcitability in a mouse model of Alzheimer's disease.

Neuron

. 2014 Dec 3;84(5):1023-33. Epub 2014 Nov 13 PubMed.