Do Tribes of Astrocytes Wage War on Synapses?
As researchers are becoming wise to microglial diversity, they may also want to keep their eyes out for varied populations of the true glia of the brain. In the April 1 Nature Neuroscience, Jeffrey Rothstein's group at Johns Hopkins University in Baltimore report a type of astrocyte with a distinct distribution and molecular profile. Residing mainly in layer V of mouse cortex, these cells produce Norrin, which regulates spine density and synaptic function in surrounding neurons. Mutations in Norrin cause Norrie disease, a developmental disorder.
Scientists identify a special tribe of astrocytes in layer V of the brain's cortex.
The cells tweak synapses by spilling Norrin, linked to Norrie disease.
Are there more disease-related astroglia, waiting to be discovered?
"One major implication of this work is that other neurodevelopmental/degenerative disorders could arise from a similar disruption between astrocytes and neurons," wrote Christopher Norris, University of Kentucky, Lexington. In Alzheimer's disease (AD), spine loss and synaptic dysfunction directly correlate with dementia. "This exciting new study reinforces the mechanistic importance of astrocytes to synapse vitality, and the potential of astrocyte-specific targets for treating synapse dysfunction and cognitive loss in neurodegenerative diseases like AD," he wrote to Alzforum.
Single-cell transcriptomics has focused attention on microglial diversity (Feb 2019 news; Dec 2018 news), but a similar analysis of astrocytes has lagged behind. Like microglia, astrocytes play multiple roles in the brain, ensuring proper levels of extracellular ions, clearing excess neurotransmitters, controlling blood flow to active neurons, and aiding synapse formation and renewal. They also participate in amyloid- and tau-induced synapse loss (Jan 2017 news; Sep 2017 news). While scientists have long recognized morphologically distinct astrocyte subsets, the study of their molecular and functional diversity is in its infancy (Haim and Rowitch, 2017). Only a few studies have analyzed astrocytes with single-cell RNA sequencing, for example (Tasic et al., 2016; Darmanis et al., 2015; Ziesel et al., 2015).
In the new study, first author Sean Miller set out to explore cell-specific regulation of the expression of the astrocyte glutamate transporter 1 (Glt1 or EAAT2). Glt1 levels are highest in astrocytes of the hippocampus and cortex, lowest in the spinal cord, and dysregulated in amyotrophic lateral sclerosis (ALS). By analyzing Glt1 promoter activity in mice expressing a red fluorescent reporter, Miller found an 8.3 kilobase fragment that was only active in a subset of gray-matter astrocytes restricted to cortical layer V.
Select Few. In a sea of cortical astroglia (green cells in top panels), an 8.3 kB Glt1 promoter fragment is active in only a subset, where it drives expression of a red fluorescent reporter (bottom panels). No 8.3-astroglia are found in the hippocampus. [Courtesy of Miller et al., 2019 Nature Neuroscience.]
Transcriptome profiling revealed that the 8.3-astroglia were marked by elevated expression of several proteins, including Norrin, OLIG2, KCNJ10, and the receptor LGR6, which was 10-fold higher on these astroglia. The investigators also detected LGR6-positive astrocytes in human postmortem brain tissue.
The LGR6 astroglia played a role in maintaining normal dendritic spines in the layer V neurons. Miller found that neurons produced the LGR6 ligand, R-spondin1, which increased proliferation of the astrocytes and boosted their Norrin output. On primary mouse cortical neurons, Norrin made their dendrites longer and more arborized, and strengthened the firing and connectivity of their synapses.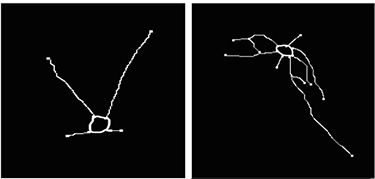 Mutations in Norrin cause Norrie disease. This X-linked neurodevelopmental condition primarily affects sight and hearing, but also can cause mental retardation and psychosis and even, in rare cases, dementia in early adulthood. Norrin knockout mice had 50 percent fewer dendritic spines in cortical layer V. They appeared hyperactive, resting less, running faster, and rearing up on their hind legs more than wild-type mice. When Miller expressed Norrin specifically in the 8.3-astroglia in either Norrin or LGR6 knockout mice, their spine density was partially restored. Taken together, the results indicate that that loss of Norrin expression by 8.3-astroglia may underlie some of the symptoms of Norrie disease.
Does Norrin have any bearing on Alzheimer's disease? Tara-Spires Jones, University of Edinburgh, thinks it is worth a look. "I haven't seen any papers linking Norrin to synapse integrity, so this is a novel pathway for the AD community to investigate," she wrote to Alzforum. Previous work from Elly Hol's group at the Brain Center at University Medical Center, Utrecht, in The Netherlands, noted a drop in Norrin expression in cortical astrocytes in AD mouse models (Orre et al., 2014). Hol told Alzforum they had not looked at spine loss in those mice, but with this new work they will. Notably, Rothstein's group detected no 8.3-astroglia in the hippocampus, where early spine loss occurs in AD.
"This was an awesome detective story," said Philip Haydon, Tufts University, Boston. "These researchers did a superb job of linking together signals from neuron to astrocytes and back again, and showing the importance of Norrin in spine density—it's a tour de force," he told Alzforum. "I think this work will help shine some light back on astrocytes," he said.—Pat McCaffrey
References
News Citations
Paper Citations
Primary Papers
Miller SJ, Philips T, Kim N, Dastgheyb R, Chen Z, Hsieh YC, Daigle JG, Datta M, Chew J, Vidensky S, Pham JT, Hughes EG, Robinson MB, Sattler R, Tomer R, Suk JS, Bergles DE, Haughey N, Pletnikov M, Hanes J, Rothstein JD. Molecularly defined cortical astroglia subpopulation modulates neurons via secretion of Norrin.

Nat Neurosci

. 2019 Apr 1; PubMed.