Do Perivascular Macrophages Mediate Aβ Pathology?
Amyloid-β is bad news for neurons, and also for the blood vessels that feed them. Now, a study from the lab of Costantino Iadecola, Weill Cornell Medical College in New York, proposes an unexpected role for perivascular macrophages (PVMs) as mediators of Aβ-induced vascular dysfunction in mice. First author Laibaik Park and colleagues propose that PVMs respond to Aβ by releasing a burst of reactive oxygen species (ROS) that put the brakes on blood flow. The findings appeared in the May 17 Circulation Research.
"Park and colleagues have put together an elegant study that links activation of perivascular macrophages (PVMs) with known effects of Aβ on vascular function," wrote Berislav Zlokovic and colleagues at the University of Southern California, Los Angeles, in an email to Alzforum. "This is an exciting discovery, which identifies a new target for developing treatments for the vascular dysfunction that often accompanies AD and other diseases," they wrote. (See complete comment below.)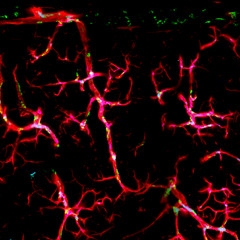 Previously, Iadecola had shown that Aβ profoundly affects the coupling between neuronal activity and blood flow in mice. Compared with wild-type mice, Tg2576 animals, which overexpress amyloid precursor protein, have both lower resting cerebral blood flow and diminished capacity to increase that flow in response to synaptic activity—a property known as neurovascular coupling. Iadecola's earlier work established that Aβ reduces this coupling through a pathway that involves the innate immunity receptor CD36, NADPH oxidase, the production of ROS, and damage to endothelial cells that regulate blood flow (Mar 2011 news). However, the identity of the ROS-producing cells was a mystery.
Perivascular macrophages seemed like good candidates. A unique population of brain-resident phagocytic cells derived from bone marrow, PVMs are perfectly positioned to encounter Aβ as it collects and is cleared through the Virchow-Robin space surrounding cerebral blood vessels. PVMs express both CD36 and NADPH oxidase, and have the capacity to make large quantities of ROS. To investigate the function of PVMs, Iadecola's group transiently ablated the cells using liposomal clodronate, a cell toxin that is selectively taken up by phagocytizing cells. In their hands, intraventrical administration of the liposomal preparation resulted in an 80 percent decrease in phagocytic cells in the brain, including PVMs and meningeal macrophages. They found no detectable effect on the numbers of microglia, smooth muscle cells, astrocytes, or endothelial cells.
Unlike in intact animals, in mice depleted of PVMs, Aβ applied directly to the cortex did not interfere with resting cerebral blood flow, or with somatosensory cortex-neurovascular coupling evoked by stroking a whisker. Production of ROS in response to Aβ was also much lower in PVM-depleted mice. Similarly, in young (three- to four-month-old) Tg2576 mice, ablation of PVMs normalized cerebral blood flow and activity-coupled flow, and reduced oxidative stress.
To confirm that CD36- and NADPH oxidase-expressing cells mediated these responses, the investigators used a bone marrow transplant model. After eliminating native PVMs by lethal irradiation, they reconstituted the mice with donor marrow from wild-type animals, or animals lacking CD36 or the Nox2 subunit of NADPH oxidase. In mice transplanted with either knockout, topical Aβ now elicited no neurovascular dysfunction or ROS production. Likewise, in irradiated Tg2576 mice, transplantation of CD36 or Nox2 knockout bone marrow normalized blood flow and ROS levels. In a converse reconstitution, they showed that transplantation of wild-type bone marrow could restore Aβ responsiveness to CD36 knockout mice.
The unique combination of ablation, bone marrow chimeras, knockouts, and Tg2576 AD model makes a strong case for a role of perivascular macrophages in the response to Aβ. Together, this work highlights a role for the immune system, said Donna Wilcock of the University of Kentucky in Lexington. "Finding that mediator opens up a whole new line of research to study how AD pathology interacts with and affects the vasculature," she told Alzforum. For example, Wilcock wondered about immunotherapies, which cause the clearance of Aβ through the Virchow-Robin space. "Could it be that Aβ ends up finding these perivascular macrophages and disrupting neurovascular coupling?" she asked.
Wilcock would like to know more about what forms of Aβ trigger the PVMs. The young mice used in the current study would have mainly soluble Aβ, and it is unclear how the results might change with fibrillar forms, or in the presence of plaques that are seen in older mice and people, she said.
Since they used young mice, the authors do not know if ablation of PVMs, and the better circulation that affords, improves cognition. The Tg2576 mice they used for the ablation and bone marrow experiments would not have developed memory problems yet. Iadecola told Alzforum his group is now doing experiments in older animals, to see if reversing blood flow abnormalities can improve memory.—Pat McCaffrey
References
Research Models Citations
News Citations
Primary Papers
Park L, Uekawa K, Garcia-Bonilla L, Koizumi K, Murphy M, Pistik R, Younkin L, Younkin S, Zhou P, Carlson G, Anrather J, Iadecola C. Brain Perivascular Macrophages Initiate the Neurovascular Dysfunction of Alzheimer Aβ Peptides.

Circ Res

. 2017 Jul 21;121(3):258-269. Epub 2017 May 17 PubMed.