Do Endothelial Cells Spur Capillaries to Grow in Alzheimer's Brain?
Endothelial cells tend to get short shrift in studies of Alzheimer's, but new results now implicate these cells in the toxic brain environment of people with this disease. In the September 28 Proceedings of the National Academy of Sciences, researchers led by Nancy Ip at the Hong Kong University of Science and Technology analyzed a large dataset of single-nucleus RNA sequencing data from AD brains. They spotted numerous cell-type-specific changes, including a loss of beneficial astrocytes, oligodendrocytes, and microglia. Curiously, though, AD brains harbored more endothelial cells, which expressed genes needed for angiogenesis and antigen presentation—something they do not do in a healthy aging brain. Possibly, these changes could lead to abnormal capillary growth and enable peripheral immune cells to infiltrate the brain, Ip told Alzforum.
Large snRNA-Seq study finds more endothelial cells in AD than control brains.
They expressed angiogenesis genes, perhaps triggering blood vessel abnormalities.
AD brains had fewer beneficial astrocytes, oligodendrocytes, microglia.
Rachel Bennett at Massachusetts General Hospital, Boston, believes the findings could guide therapeutic development. "With increasing data highlighting vascular dysfunction as an integral component of AD pathology, these results could help identify molecular targets to improve cerebrovascular health and combat detrimental changes such as impaired perfusion and blood-brain barrier leakiness," she wrote to Alzforum.
Researchers use snRNA-Seq to get a granular picture of how gene expression changes in a given tissue. Previous studies on AD brains have shed light on neuronal and glial changes, but included few endothelial cells (May 2019 news; Nov 2019 news; Wang et al., 2020).

Endothelial Burst. The e1, e3, and e4 subtypes of endothelial cells are overrepresented (red) in AD brains. [Courtesy of Lau et al., PNAS.]
To more comprehensively represent the different cell types present in a person's brain, Ip and colleagues profiled 169,496 nuclei taken from the postmortem prefrontal cortices of 12 AD patients and nine age-matched controls. These cells clustered into six subtypes: overall, 45 percent were excitatory neurons, 14 percent inhibitory neurons, 12 percent astrocytes, 22 percent oligodendrocytes, 5 percent microglia, and 2 percent endothelial cells. The latter amounted to 3,900 endothelial cells, far more than in previous studies.
Comparing expression patterns of all cells between AD and control brains, first author Shun-Fat Lau identified 2,190 differentially expressed genes. Altered genes were distributed unevenly across cell types, with astrocytes and oligodendrocytes having the most, at more than 500 apiece, and inhibitory neurons the fewest. Endothelial cells in AD brain changed expression of 299 genes.
Across the cell types, the gene-expression changes reflected a dysfunctional brain. Astrocyte genes involved in stress and injury response shot up, while those responsible for mopping up neurotransmitters waned. Oligodendrocytes expressed fewer genes indicating mature, myelinating cells, and more hinting at remyelination. Other expression changes suggested microglia were aberrantly activated and neurons' synaptic signaling had grown weak. These changes largely overlapped with those seen in the previous snRNA-Seq studies of AD brain cited above.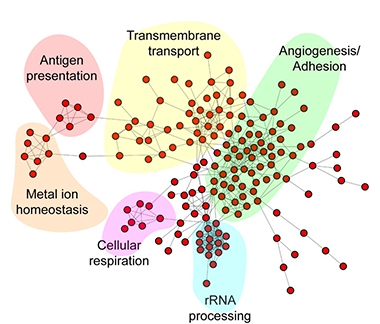 For endothelial cells, the unexpected boost in angiogenesis was accompanied by an increase in genes involved in antigen presentation, such as major histocompatibility complex class I. MHC-I typically presents viral fragments from the inside of infected cells, and triggers activation of CD8+ T cells. Some studies associate AD with viral infections and with harmful T cells infiltrating the brain (Jun 2018 news; Jul 2019 news; Jan 2020 news).
The findings dovetail with Bennett's recent findings that tangle pathology in mice induces aberrant blood vessel formation, resulting in a mess of narrow, twisted capillaries (Bennett et al., 2018). "I'm thrilled that these human data support our own observations from tau-overexpressing mice," Bennett wrote (full comment below). She noted that data are mixed on whether new blood vessels sprout in AD brains, however, and suggested examining endothelial cell transcripts in situ to see if they correlate with local alterations in the microvasculature.
For her part, Ip was intrigued by the microglial changes, as well. She recently reported that injecting IL-33 into the brain of an amyloidosis mouse model spurs microglia to clean up plaques (Fu et al., 2016; Lau et al., 2020). Microglial genes induced by IL-33 dropped in AD brain, hinting at the loss of this protective microglial subtype. Perhaps restoring these cells would help protect the brain, she suggested.
Soyon Hong at University College London noted that the microglial changes fit with other data showing an accumulation of senescent and lipid-filled microglia in AD brains (Sep 2018 news; Aug 2019 news). "I'm very curious at how the data looks when categorized according to ApoE genotype, as we understand ApoE to be a major regulator of lipid metabolism and signaling," Hong wrote. In future work, Ip plans to examine how risk genes such as APOE4 alter gene expression in particular brain cell types.—Madolyn Bowman Rogers
References
News Citations
Paper Citations