Dementia à la Mold? Fungi May Lurk in Alzheimer's Brains
Could infectious agents that enter the brain contribute in some way to neurodegenerative disease? This idea has been fermenting in recent years, and new data from researchers led by Luis Carrasco at the Autonomous University of Madrid add fuel to the brew. In the October 15 Scientific Reports, they report that fungi dot brains taken postmortem from people with Alzheimer's, but not those from controls. The study does not address what the fungi might be doing, leaving it ambiguous whether the organisms exacerbate pathology or are merely opportunistic invaders. Nonetheless, researchers said the findings should stimulate efforts to understand the role of infectious agents in brain disease. "I believe this opens a new direction for research," Carrasco told Alzforum.
The idea that infection might underlie Alzheimer's pathology is not new. In 1910, Oskar Fischer, a contemporary of Alois Alzheimer, proposed that foreign bodies in the brain, possibly fungi, provoked inflammation and amyloid plaques (see Eikelenboom et al., 2006; Goedert, 2009; Mar 2009 conference news). "Alzheimer's paper was a clinicopathological description of the disease, but Fischer presented the first hypothesis about its etiology and pathogenesis," noted Piet Eikelenboom at Vrije University, Amsterdam (see also comment below).
While the idea never gained widespread acceptance, recent studies have sparked new interest in the concept. Researchers have reported, for example, that chlamydia pneumoniae and herpes simplex virus 1 infections can kick off Aβ plaque growth in mice, while a complex relationship has long been studied between HIV and dementia (see Jul 2002 conference news; Feb 2011 webinar; Oct 2004 conference news). In 2009, Robert Moir and Rudy Tanzi at Massachusetts General Hospital, Boston, made a case that Aβ is an antimicrobial that defends the body, and suggested that infection could trigger excess amyloid production and deposition (see Apr 2009 conference news; Apr 2015 conference news).
Few research groups have focused on fungi. However, Carrasco and colleagues previously reported finding fungal proteins in frozen brain tissue and cerebrospinal fluid from AD patients, but not in controls (see Alonso et al., 2014; Alonso et al., 2015). Immunostaining detected fungal cells inside frontal cortical neurons from Alzheimer's patients (see Pisa et al., 2015).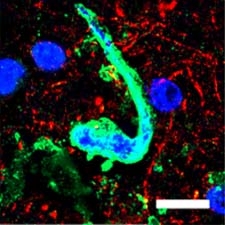 To determine how widespread fungi might be in the brain, first author Diana Pisa tested multiple brain regions from a single Alzheimer's patient with several antibodies raised against fungal proteins. The antibodies bound a variety of shapes from the entorhinal cortex, hippocampus, frontal cortex, and cerebellum. These structures contained DNA, suggesting they were cells, and in some cases formed long fibrillar structures resembling the multicellular fungal threads known as hyphae. In addition, the structures appeared in cerebral blood vessels and in the choroid plexus that lines ventricles. The authors detected nothing similar in a postmortem brain from a normal healthy control.
To identify the species, the authors amplified fungal DNA from brain sections. They found six species of yeast, which grow as unicellular organisms, and four molds, which form hyphae. All were common fungi that typically live on skin or in soil and usually cause no health problems, but do occasionally infect people. Different species populated distinct brain regions in an eclectic mix.
How common are fungal infections in the brain? Entorhinal cortex and hippocampal samples from 10 additional AD brains all contained fungi, whereas none appeared in 10 additional controls of various ages. Fungi also dotted choroid plexus samples from three more AD patients, but not a control. "The fact that we find this in 100 percent of AD patients [tested] but no controls makes me optimistic that this is significant," Carrasco noted.
Other researchers urged caution in interpreting the results. "The data need confirmation by skilled specialists," wrote Kurt Jellinger of Vienna University School of Medicine in an email to Alzforum (see full comment below). "In our large [collection of] postmortem material of dementia and AD, we did not find any indications for fungal infections, although we did not use specific methods to detect fungal material in the brain."
Brian Balin at the Philadelphia College of Osteopathic Medicine noted that all of the immunolabeling in this study was done with polyclonal antibodies, which may have poor specificity. Polyclonals raised against fungi might recognize polysaccharides, for example, which abound in AD brains. Alzheimer's brains also contain a lot of fibrillar material that might resemble hyphae. Follow-up studies should use electron microscopy to zoom in on the structure of the labeled bodies and confirm that they represent hyphae and yeast cells, Balin suggested. Nonetheless, he found the paper intriguing for drawing more attention to the hypothesis that infection can be involved in neurodegenerative disease.
Other commenters agreed on the need for further study. Annemieke Rozemuller, a neuropathologist at VU University Medical Center, Amsterdam, noted that the paper does not address whether an active infection occurs around fungi, with infiltration of peripheral immune cells such as neutrophils and lymphocytes. Thus, it is unclear how much these organisms contribute to inflammation or pathology. She also would like to know at what stage fungi infiltrate the brain. Does this happen early in disease, leaving open the possibility that the organisms trigger pathology, or do the cells simply slip in late in disease through a weakened blood-brain barrier? It would be interesting to examine postmortem brains from people in early stages of cognitive impairment to address this, Rozemuller suggested.
Carrasco believes fungi might play a causative role in dementia. He noted two examples in the literature of people diagnosed with AD who were later treated for cryptococcal meningitis with antifungal medications, which reversed their dementia symptoms (see Ala et al., 2004; Hoffmann et al., 2009). Balin cautioned that treatment for any infectious agent should only be undertaken if there is evidence from blood or cerebrospinal fluid samples that the person has been exposed to that particular pathogen.—Madolyn Bowman Rogers
References
News Citations
Webinar Citations
Paper Citations