Cut Loose, Soluble TREM2 Beckons Microglia to Mop Up Plaques
As if the biological functions of membrane-bound TREM2 weren't complicated enough, researchers also have to contend with the actions of its freewheeling counterpart, soluble TREM2. In the March 25 Nature Communications, researchers led by Guojun Bu at the Mayo Clinic in Jacksonville, Florida, and Xiao-Fen Chen of Xiamen University in China reported that injecting soluble TREM2 (sTREM2) into the brains of AD model mice activated microglia and rallied them to encircle and engulf plaques. The soluble fragment, which is shed from the microglial membrane, also corrected synaptic and memory deficits in the animals, the researchers claim. They have yet to nail down the enigmatic receptor for sTREM2, but zeroed in on microglia as the cells that express it.
Upping sTREM2 boosted plaque clearance in 5xFAD mice.
The fragment recruited microglia to plaques, and enhanced their phagocytosis.
It restored synaptic function and rescued memory loss.
"Studies like this are crucial to understand the functions of both full-length receptor and its cleaved ectodomain, and are extremely instrumental in aiding design strategies to therapeutically target TREM2," commented Gernot Kleinberger of ISAR Bioscience in Planegg, Germany.
Since the discovery of TREM2 as a major AD risk factor (see Research Timeline, 2012), enormous strides have been made in unraveling its complex function in the brain. In a nutshell, stimulation of the receptor by ligands including phospholipids, Aβ, and ApoE, summon microglia to clean up debris, including plaques or degenerating cells (Feb 2015 news; Oct 2015 news). In some animal models of amyloidosis and tauopathy, signaling through Trem2 can switch from beneficial to detrimental as disease progresses (Jul 2018 news).
Making matters more complex, ADAM proteases cleave the receptor, shedding the extracellular sTREM2 domain into the interstitial environs. This soluble bit has been spotted mingling with neurons around Aβ plaques in mice (Jan 2018 news). In people, sTREM2 spikes in the cerebrospinal fluid in the early stages of AD (Jan 2016 news).
In 2017, Bu and colleagues reported that sTREM2 bolstered microglial survival and upped pro-inflammatory cytokines (Feb 2017 news).

sTREM2 Lessens Plaques. Plaque load dropped by a third in the hemisphere of hippocampus injected with sTREM2 (right). [Courtesy of Zhong et al., Nature Communications, 2019.]
In their new paper, the researchers extended their investigation of sTREM2 to the 5xFAD model. First authors Li Zhong and Ying Xu, both at Xiamen University, and colleagues injected a recombinant form of sTREM2 into the right hippocampus of plaque-ridden, 7-month-old mice. They injected saline into the left hippocampus. A week later, they found that the plaque burden in the right hippocampus was a third lower than in the left. The sTREM2 injection led to the greatest reduction in large plaques, which dropped by more than half, but also reduced the total area of dystrophic neurites.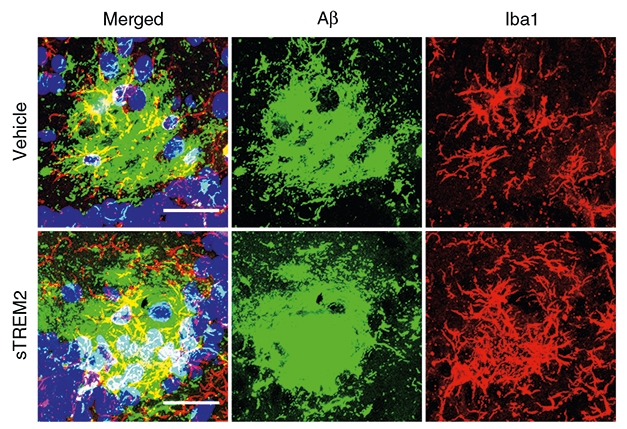 Attack the Plaque. More microglia (red) swarmed Aβ plaques (green) in mice injected with sTREM2 (bottom panels). [Courtesy of Zhong et al., 2019]
How did sTREM2 vanquish plaques? As suspected, the receptor riled up microglia. The glial cells proliferated in the hippocampus in the days following sTREM2 injection, and pumped out pro-inflammatory cytokines, including IL-1β and TNF. The microglia also surrounded plaques and expressed the phagocytic marker CD68. In a dish, primary microglia migrated toward sTREM2, and treatment with sTREM2 triggered microglia to gobble up fluorescently labeled Aβ42 via phagocytosis. Overall, the data suggested that sTREM2 both attracted microglia and stoked their appetite for Aβ.
Curiously, the effects of sTREM2 appeared to go beyond plaque clean-up. In hippocampal slice cultures from 5xFAD mice, it rescued deficits in long-term potentiation of Schaffer collaterals, a major hippocampal circuit. Soluble TREM2 also boosted expression of synaptic receptors in both the pre- and postsynapses.
Notably, when the researchers treated 5xFAD mice with PLX3397, a CSF1R receptor inhibitor that depletes the brain of microglia, sTREM2 treatment no longer boosted plaque clearance, microglial activation, or synaptic plasticity. This suggested that the beneficial effects of sTREM2—even on synaptic signaling—are mediated through microglia.
If it boosts plasticity, would sTREM2 rescue memory problems? To find out, the researchers expressed it long-term. They injected neonatal wild-type and 5xFAD mice with an adeno-associated virus carrying an sTREM2 construct, then put their spatial memory to the test in the Morris water maze six months later. Among mice expressing a control virus, wild-type mice learned the location of a submerged platform faster than did 5xFAD mice, but sTREM2 overexpression rescued this deficit in the 5xFAD animals. The AAV-TREM2 dramatically reduced plaque load, recruited microglia to plaques, and boosted synaptic function.
Bu proposed that in a physiological setting, sTREM2 amplifies and maintains the protective responses instigated by full-length TREM2. By the early symptomatic stage of AD, Aβ plaques are rampant, tau pathology has spread into the cortex, and neurons are degenerating. These injury signals might exacerbate the shedding of sTREM2 from microglia surrounding plaques and damaged cells, Bu said. In addition to binding many of the same ligands its full-length counterpart latches onto, sTREM2 likely binds an unknown receptor on microglia as well, recruiting more of the cells and potentiating their activation, Bu added. He hypothesized that the subsequent drop in sTREM2 in the CSF reflects the die-off of microglia.
"I find it very interesting that sTREM2 can promote functions that we thought are associated with membrane bound full-length TREM2," commented Christian Haass of the German Center for Neurodegenerative Diseases in Munich. "This indeed makes therapeutic modulation of TREM2 even more tricky." Haass added that identification of the sTREM2 receptor could shed more light on the complicated functions of microglia.
Kleinberger added that it would have been interesting to test whether mutant forms of sTREM2, such as the AD-linked R47H variant, would generate a similar loss-of-function phenotype as described for the full-length mutant receptor. The full-length receptor has so far been associated with beneficial functions such as microglial phagocytosis (Kleinberger et al., 2014). However, one study indicated that too much sTREM2 could be harmful: People harboring the H157Y mutation, which enhances sTREM shedding, had an increased risk of AD (Jiang et al. 2016).—Jessica Shugart
References
News Citations
Research Models Citations
Paper Citations
Kleinberger G, Yamanishi Y, Suárez-Calvet M, Czirr E, Lohmann E, Cuyvers E, Struyfs H, Pettkus N, Wenninger-Weinzierl A, Mazaheri F, Tahirovic S, Lleó A, Alcolea D, Fortea J, Willem M, Lammich S, Molinuevo JL, Sánchez-Valle R, Antonell A, Ramirez A, Heneka MT, Sleegers K, van der Zee J, Martin JJ, Engelborghs S, Demirtas-Tatlidede A, Zetterberg H, Van Broeckhoven C, Gurvit H, Wyss-Coray T, Hardy J, Colonna M, Haass C. TREM2 mutations implicated in neurodegeneration impair cell surface transport and phagocytosis.

Sci Transl Med

. 2014 Jul 2;6(243):243ra86. PubMed.
Jiang T, Tan L, Chen Q, Tan MS, Zhou JS, Zhu XC, Lu H, Wang HF, Zhang YD, Yu JT. A rare coding variant in TREM2 increases risk for Alzheimer's disease in Han Chinese.

Neurobiol Aging

. 2016 Jun;42:217.e1-3. Epub 2016 Mar 3 PubMed.
Other Citations
Primary Papers
Zhong L, Xu Y, Zhuo R, Wang T, Wang K, Huang R, Wang D, Gao Y, Zhu Y, Sheng X, Chen K, Wang N, Zhu L, Can D, Marten Y, Shinohara M, Liu CC, Du D, Sun H, Wen L, Xu H, Bu G, Chen XF. Soluble TREM2 ameliorates pathological phenotypes by modulating microglial functions in an Alzheimer's disease model.

Nat Commun

. 2019 Mar 25;10(1):1365. PubMed.