Cryo-EM Unveils Distinct Aβ42 Fibril Structures for Sporadic, Familial AD
When asked to name their favorite letter, Aβ fibrils pulled from the brains of 10 people answered with a resounding "S." This, according to a cryo-electron microscopy study led by Bernardino Ghetti of Indiana University, Indianapolis, and Benjamin Ryskeldi-Falcon, Sjors Scheres, and Michel Goedert of the MRC Laboratory of Molecular Biology, Cambridge, England, U.K. Published January 13 in Science, the study detected two main types of Aβ42 filament. Type I predominated in cases of sporadic AD; they were built with paired Aβ42 protofilaments curved into S shapes, which reached out to hug each other. Type II predominated in cases of familial AD and, surprisingly, were also the only configuration in people with other neurodegenerative diseases and in APP knock-in mice. The core of these filaments also consisted of paired S-shaped protofilaments, but they were arranged differently from those in type I filaments. While the new structures bear resemblance to some previously reported structures of Aβ fibrils, they are novel at their core.
Cryo-EM of Aβ42 fibrils from 10 brains revealed two predominant filament structures.
Type I and type II filaments comprised distinct, S-shaped protofilaments.
Type I filaments predominated in sporadic AD; type II was found in familial AD, related diseases, and in APP knock-in mice.
"The gorgeous and informative cryo-EM images of Aβ assemblies presented by Yang and colleagues are a significant step forward in deciphering the link between protein aggregation and disease," wrote Mathias Jucker of the German Center for Neurodegenerative Diseases in Tübingen and Lary Walker of Emory University in Atlanta in a comment to Alzforum.
"Congratulations to the authors. At last, we see high-resolution structures of Aβ42-dominated filaments from patient brains," wrote Dieter Willbold of Heinrich Heine University, Düsseldorf, Germany. "These are highly aesthetic structures that are similar and yet so different, especially in their protofilament arrangement. We will learn a lot more from them."
Numerous structures of Aβ fibrils have been described using techniques such as NMR and cryo-EM. They differ wildly depending on their source, i.e., whether fibrils were grown in vitro, amplified from fibrils extracted from the brain, or plucked from the brain and viewed as-is (May 2015 news; Jan 2017 news; Sep 2017 news). While fibrils made in vitro tended to twist to the left, as most β-sheet fibrils do, one cryo-EM study led by Marcus Fändrich at Ulm University in Germany found that Aβ fibrils extracted from the meninges of people with AD twisted to the right (Nov 2019 news). Consistent with the known predominance of Aβ40 in vascular Aβ deposits, fibrils from the meninges harbored mostly this peptide. Each folded into a C-shaped structure, arranged back-to-back along the length of the fibril.
How would Aβ fibrils isolated from the brain parenchyma—which largely consist of Aβ42 peptides—compare? Do structures differ depending on the cause of AD? What about Aβ fibrils haunting the brains of people who died with other neurodegenerative diseases? Co-first authors Yang Yang, Diana Arseni, and Wenjuan Zhang and colleagues addressed these questions by focusing their cryo-electron microscope on Aβ fibrils extracted from 10 postmortem brain samples. Five samples came from people with AD, including three with sporadic AD and two with familial AD. The other five came from people with aging-related tau astrogliopathy (ARTAG), Parkinson's disease dementia (PDD), dementia with Lewy bodies (DLB), familial frontotemporal dementia (FTD) caused by a GRN mutation, and from a 59-year-old man with amyloid deposits who had died of cardiac arrest but did not have dementia.
What did they see? In people with sporadic AD, they spotted predominantly the left-twisted type I filament. Each protofilament consisted of a pair of Aβ42 peptides, each folded into an S-shaped configuration. The N-terminal segment of each S jutted out, cradling its protofilament partner (see image at right). The core fibril structure comprised five β-strands—two within the extended arm and three within the S itself. Residues 9-18 made up the N-terminal arm, while 19-42 formed the S.
Akin to the fuzzy coat described for tau's N-terminus, residues 1-8 of Aβ had no consistent structure and were not part of the filament core. The two protofilaments packed against each other using hydrophobic interactions. Type I filaments predominated in all three sporadic AD cases. However, for cases 1 and 3, 13 percent of type I filaments doubled up, forming a side-by-side filament structure that the researchers dubbed type 1b (see image below).
A different fibril structure predominated in Aβ deposits from people with familial AD. Like type I filaments, these type II filaments also comprised protofilaments of paired Aβ42 peptides striking an S-shaped pose. However, type II S's were arranged differently, and lacked the N-terminal extension embraces of the type I's. Instead, type II protofilaments held each other at arm's length, using electrostatic interactions to form a minimal interface free from entanglements. While all fibrils detected in case 1 of familial AD were type II, these fibrils made up 76 percent of the structures in the second case, who also had some type I fibrils. Type II filaments were also detected one case of sporadic AD, where they represented 17 percent of the Aβ fibrils.
Notably, 100 percent of Aβ fibrils detected in people with the other disorders contorted into type II filaments. The same held true for fibrils extracted from APP knock-in mice.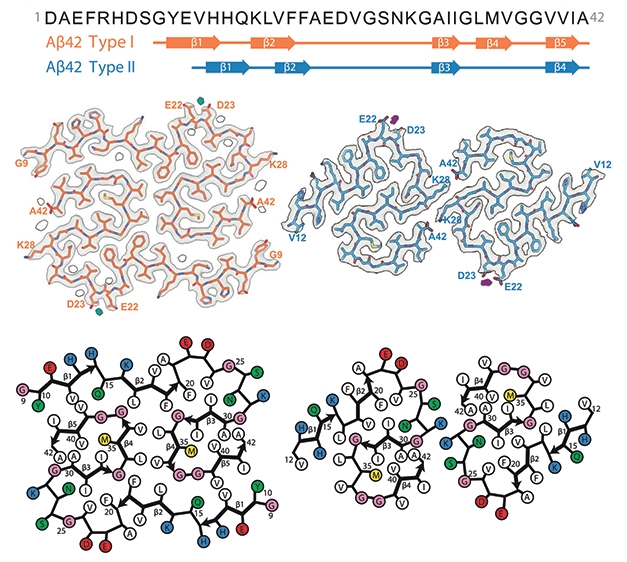 S-Siblings. Aβ42 (sequence at the top) folds into type I and type II filament structures. Both have S-shaped protofilaments, but similarities end there. Protofilaments of each filament type include different amounts of β-strands (top), and are arranged in distinct configurations. [Courtesy of Yang et al., Science, 2022.]
Why do type I fibrils predominate only in sporadic AD? This remains unknown, but the researchers pointed out some notable distinctions among sporadic cases. For one, cases of sporadic AD had more focal plaques with dense cores than did any other disease group, in whom diffuse deposits predominated. People with sporadic AD were oldest when they died. How these factors might tip the balance toward type I filaments remains unclear.
To Goedert, the biggest surprise was that the same exact Aβ filament structure—type II—marked familial AD, the other diseases, pathological aging, and APP knock-in mice. This scenario is in stark contrast to tau, where Goedert and colleagues found distinct protofilament folds in different tauopathies (Oct 2021 news).
These precisely matching Aβ fibril structures appear at odds with studies describing "clouds" of Aβ conformers detected by luminescent conjugated oligothiophenes (LCOs), which suggested that more than one configuration of Aβ fibril exists not only among people with different forms of AD, but even within a single brain (Aug 2017 conference news; Nov 2017 news). Other indirect methods have inferred a similar diversity for tau filament structures in people with AD (Jan 2022 news).
Goedert cannot explain these discrepancies. At least for tau, he said, it is possible that variations in the structure of the fuzzy coat, as opposed to the ordered core of the filament, could explain the structural variation reported by indirect methods. However, compared to tau's shaggy fuzzy coat, which comprises 80 percent of the protein, Aβ42's is more like peach fuzz, using only 20 percent of the peptide. Goedert doubts that structural variations in this small part of the peptide entirely explain the clouds of configurations inferred by LCO binding. He also noted that cryo-EM detects upwards of 99 percent of Aβ filament structures, making it unlikely that they simply missed different structures in their analysis.
Jucker and Walker, who led the Aβ LCO study, noted that LCO binding and cryo-EM are fundamentally different techniques. "LCOs (particularly when used in combinations) largely show the arrangement and packing of Aβ-amyloid fibrils; the readout varies with the different Aβ40/42 ratios, and it also is sensitive to age-related changes in the aggregates," they wrote. Along those lines, Jucker and Walker raised the question of whether Aβ fibril structures might change with age. "While the current study focuses on AD patients with end-stage disease, in which fibrils have been brewing for two to three decades, the seeding activity of Aβ is highest at earlier stages of the pathogenic process," they wrote.
Robert Tycko, National Institute of Diabetes and Digestive and Kidney Diseases, Bethesda, Maryland, wondered if Yang and colleagues may have missed some structures. "Although the cryo-EM-based structures are certainly correct, it is difficult to know whether these are the only, or the predominant, polymorphs in the original tissue, since fibrils extracted from cortical tissue tend to be highly self-associated, entangled with one another, and coated with other material," he noted. Because the cryo-EM analysis focuses on fibrils that are relatively clean, "a large fraction of the fibril segments end up being discarded," he wrote (comment below). Goedert acknowledged that they have to discard fibrils that are stuck together, and wondered if this may explain why they didn't see any Aβ40 fibrils. Using solid-state NMR, Tycko previously found two main polymorphs, but also other forms that showed up in varying intensities from different patients.
How did the new structures compare to older ones? While they are different than the right-twisting C shaped protofilaments of Aβ40 from the meninges, left-handed filaments and S-shaped protofilaments have been reported for Aβ42 fibrils made in vitro. Even so, none exactly matched the configurations described here, noted Fändrich and Michael Willem of Ludwig Maximilians University, Munich, in a perspective in Science. "This is in accordance with previous conclusions that in vitro fibrils do not necessarily model the specific morphologies of ex vivo fibrils," they wrote. Willem and Fändrich pointed out that the S-shaped fold resembles a conformation previously suggested via NMR for an Aβ42 oligomer (Ahmed et al., 2010). Still, Tycko found the similarities very interesting. "Although the conformations are very similar, the details of some side chain orientations and side chain-side chain interactions are different. This shows how subtle the structural distinctions among amyloid polymorphs can be," he wrote. "It is amazing how many similar but different structures these peptides can form."—Jessica Shugart
Further Reading
No Available Further Reading
Primary Papers
Yang Y, Arseni D, Zhang W, Huang M, Lövestam S, Schweighauser M, Kotecha A, Murzin AG, Peak-Chew SY, Macdonald J, Lavenir I, Garringer HJ, Gelpi E, Newell KL, Kovacs GG, Vidal R, Ghetti B, Ryskeldi-Falcon B, Scheres SH, Goedert M. Cryo-EM structures of amyloid-β 42 filaments from human brains.

Science

. 2022 Jan 14;375(6577):167-172. Epub 2022 Jan 13 PubMed.
Willem M, Fändrich M. A molecular view of human amyloid-β folds.

Science

. 2022 Jan 14;375(6577):147-148. Epub 2022 Jan 13 PubMed.