Courtesy of CryoEM: GABAA Receptor in Close-Up View
Using cryo-electron microscopy, scientists have gotten their first atomic snapshot of a human GABAA receptor. This inhibitory channel is the target of a range of anesthetic, anxiolytic, and recreational drugs. It is also the target for allopregnanolone, a neurosteroid metabolite in clinical trials for Alzheimer's disease. Dysfunction at this receptor plays a role in disorders such as autism, insomnia, and epilepsy. Exposing its nooks and crannies in the June 27 Nature, scientists reveal the exact spots where the GABA neurotransmitter touches the receptor. They also capture the receptor bound to an antagonist for benzodiazepines. Understanding the receptor's architecture in detail will help scientists design better compounds that modify the channel, said senior author Ryan Hibbs, University of Texas Southwestern Medical Center, Dallas.
CryoEM reveals three-dimensional atomic structure of the GABAA receptor.
Binding pockets for GABA and flumazenil wedge between subunits.
Results could allow better design of drugs to target the receptor.
"Now we have the first reliable structural information for one of biggest drug targets in the human brain," he told Alzforum. Understanding how diverse compounds work through this receptor will help scientists design new drugs with fewer off-target effects, he said.
"This work is an outstanding collection of data on the synaptic isoform of the human GABAA receptor," Graziano Pinna, University of Illinois, Chicago, wrote to Alzforum (full comment below). "It will help us understand why current drugs fail to exert pharmacological properties by acting at GABAA receptors and help anticipate future design of agents for the treatment of neurological and psychiatric disorders."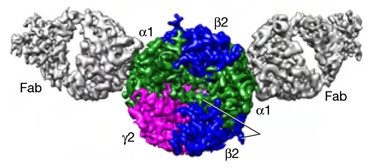 In GABAA receptors, five subunits band together to form a channel that allows chloride ions to flow into the neuron. These five subunits come from a pool of 19 possible candidates. Researchers previously used cryoEM to zoom in on a GABAA receptor made of five β3 subunits, but this isoform is not found physiologically (Miller and Aricescu, 2014). To image an isoform involved in human disease, first author Shaotong Zhu and colleagues purified and froze the most common GABAA receptor in the human brain—comprising two α1-, two β2-, and one γ2-subunit—and imaged it with an electron microscope.
Achieving an average resolution of 3.9 angstroms, the scientists viewed the receptor bound to two ligands: the GABA neurotransmitter or flumazenil, a drug that blocks benzodiazepines, decades-old drugs that allosterically enhance GABA's effect on the receptor. Benzodiazepines act as sedatives, anesthetics, anticonvulsants, calming agents in panic attacks, and muscle relaxants; flumazenil counteracts them.
Zhu and colleagues show that the subunits of this GABAA receptor join up in a cylinder, where β2-α1-β2-α1-γ2 form an inner channel (see image above). Each subunit is tall and thin, with a single extracellular α-helix that sits atop 10 folded β-strands. Four more α-helices curl up underneath, one of which lines the ion channel.
GABA binds the receptor in the extracellular region at the interfaces between both β2 and α1-subunits (see image at right). There, the neurotransmitter is enveloped by amino acids whose side chains complement its negative and positive ends.
While flumazenil also binds extracellularly, it occupies the crevice between α1 and γ2 subunits (see image below). Here again, this pocket is lined by specific amino acids that complement the molecular structure of flumazenil to form aromatic, electrostatic, and hydrogen bonds.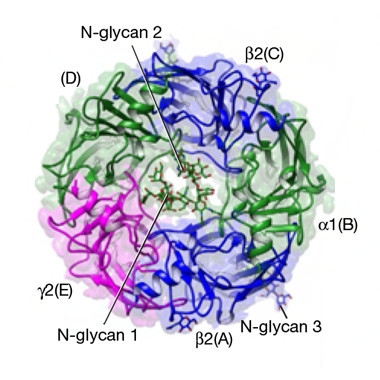 However, neither compound occupies the interface formed between the α1 and β2-subunits, or that between γ2 and β2. These two areas are potential gold mines for chemists who want to design new drugs that target GABAA allosterically to enhance GABA function, Hibbs said.
The authors were surprised to see that the two α subunits had bulky sugars that protruded into the channel's pore. This likely explains why GABAA receptors contain at most two α subunits; the pore cannot accommodate more.
Hibbs said the mechanism for opening the GABAA receptor remains a hotly debated question. In future work, he wants to image the receptor before, during, and after it opens to get a better sense of how it allows chloride ions to pass through.
Is this set of structures useful for Alzheimer's? Possibly, said Hibbs. Seizures are commonly observed in AD patients. Agents that potentiate GABAA receptors can calm this hyperexcitation in the brain, which could be useful for some patients, he said. The GABAA receptor occasionally rears its head in AD research. For example, inhibition spikes in hippocampal neurons of APP transgenic mice in response to hyperactivity (e.g., Palop et al., 2007).
On the clinical front, researchers still debate whether using benzodiazepines long-term increases a person's risk for dementia (e.g., Zhong et al., 2015; Gray et al., 2016; Picton et al., 2018; Calvo-Flores Guzmán et al., 2018).
Specifically, understanding the structure of GABAA receptors could help determine the consequences of isoform substitutions that happen over the course of disease, Hibbs said (Kwakowsky et al., 2018).
In future work, Hibbs said he plans to explore how other classes of drugs, including anesthetics, interact with the GABAA receptor.—Gwyneth Dickey Zakaib
References
Therapeutics Citations
Paper Citations