Could Rogue APP Variants Invade Genome of Individual Neurons?
Multiple copies of the amyloid precursor gene crop up in adult neurons of the human brain, creating a heterogeneous neuronal landscape in a single person. This is especially true in brains from people with sporadic Alzheimer's disease, but how this variation in amyloid precursor protein (APP), the precursor to the Aβ peptide, comes to be has remained a mystery. An article in the November 22 Nature proposes a mechanism and reveals a plethora of new forms of APP. Scientists led by Jerold Chun, Sanford Burnham Prebys Medical Discovery Institute, La Jolla, California, propose a DNA recombination process whereby mRNA from somatic cells is reverse-transcribed into complementary DNA (cDNA), which is then reinserted at some spot in the genome. Somewhere on the path between mRNA and cDNA reinsertion, APP exons disappear, point mutations pop up, and various insertions and deletions are introduced, creating thousands of APP variants in a single brain.
APP mRNA is converted back to DNA and reinserted into the genome.
Resulting "gencDNAs" are often mutated, common in sporadic AD.
The process relies on the enzyme reverse transcriptase, inhibited in HIV/AIDS therapy.
This method of somatic gene recombination, if seemingly haphazard, allows neurons to mix up their genome content and diversify, the authors suggest. While the process takes place in healthy people and may even represent a mechanism for learning, it seems to intensify in sporadic AD. Intriguingly, 11 known APP mutations that cause familial AD were found in these mosaic neuronal genomes in people with sporadic disease.
"The study could alter our understanding of the roots of neurodegeneration," wrote Guoliang Chai and Joseph Gleeson, both of the University of California, San Diego, in an accompanying News and Views. At the same time, they cautioned that it remains unknown whether this is a cause or an effect of disease, as did commentators contacted by Alzforum.
The paper drew a mixed response. "In this truly remarkable and ground-breaking study, the Chun group conclusively demonstrates a totally unexpected cause of genomic variability in the human brain," wrote Christos Proukakis, University College London, who was not involved in the study.
Rachael Neve, Massachusetts General Hospital, Boston, cautioned that PCR and in situ hybridization are methods prone to artifacts. She would have liked to see data on more genes expressed outside the brain. "I would be more convinced of their hypothesis if some sort of control like that had been done," she wrote to Alzforum. Chun said he plans to test more genes.
Neurons are among the few cell types in the body that have distinct genomes from one cell to the next, a phenomenon known as mosaicism (for a review, see Leija-Salazar et al., 2018; Verheijen et al., 2018). A few years ago, Chun and colleagues reported variable numbers of copies of APP in neurons from sporadic AD (SAD) patients (July 2015 news on Bushman et al., 2015).
In the present study, first author Ming-Hsiang Lee and colleagues took small, 50-neuron batches of neurons from the postmortem prefrontal cerebral cortices of three people who had had SAD and three elderly controls who had aged normally. The researchers amplified the APP transcripts and performed Sanger sequencing on them. As expected, they found the full-length APP-770 protein, as well as known splice variants APP-751 and APP-695. To their surprise, however, a host of other variants never before described turned up, as well. Twelve prominent ones stood out, but they were accompanied by many other, minor variants. Many were missing multiple central exons, meaning the two outer ends were pasted together. This created new intra-exonic junctions, or IEJs, new sequences that formed when two distant exons joined via complimentary sequences. The authors used these IEJs to identify these transcripts. Several of the RNA products could be translated and the products were toxic to SH-SY5Y cells.
Where were these RNA variants from? To find out if they came straight from the source—from DNA—Lee and colleagues sequenced APP fragments from the DNA of these cells. The DNA sequences exactly matched those found in the RNA. Unlike typical APP DNA, the variants lacked introns, suggesting that they had come from an RNA intermediate that had been reverse-transcribed into cDNA. The authors termed these regions genomic cDNA, gencDNA for short. These APP species seem specific to the brain, since some non-neuronal brain cells such as lung fibroblasts and human embryonic kidney cells showed little sign of them, though a comprehensive tissue comparison was not done. Neither did any gencDNAs for PSEN1 emerge, although that, too, was the only other gene the authors examined.
Lee and colleagues confirmed the presence of these gencDNAs in the genomes of six people with SAD and six without by DNA in situ hybridization—where probes specific for particular IEJs bound in the DNA. GencDNAs inserted at different spots in the genome, not necessarily near the original APP locus. A single neuron contained anywhere from zero to 13 gencDNAs.
To try to validate that these gencDNAs were real, the researchers used Agilent SureSelect DNA pulldown and short-read sequencing, an assay where APP variants are chopped up and the fragments sequenced, with overlapping nucleotides to help reassemble them into complete transcripts. All the gencDNAs analyzed lacked exon 8, which gets spliced from APP mRNA in the brain, further suggesting these species had their origins in mRNA.
To capture the diversity of APP gencDNAs, the researchers sequenced individual gencDNAs using single-molecule real-time (SMRT) circular consensus sequencing. In 96,424 neuronal nuclei isolated from five AD patients with sporadic AD, they found 6,299 unique APP sequences. By comparison, 162,245 nuclei from five elderly healthy controls yielded 1,084 different APP sequences. That gencDNAs are found in healthy brains suggests they may be part of some normal process, suggested Chun. However, neurons from SAD brains contain more gencDNA, with more SNVs, insertions, deletions, and novel IEJs, and much less of the normal APP transcript (see image below). Eleven gencDNAs from SAD patients were reported to contain autosomal-dominant AD mutations, including the Indiana, French, Austrian, Australian, and German mutations, which were absent in controls.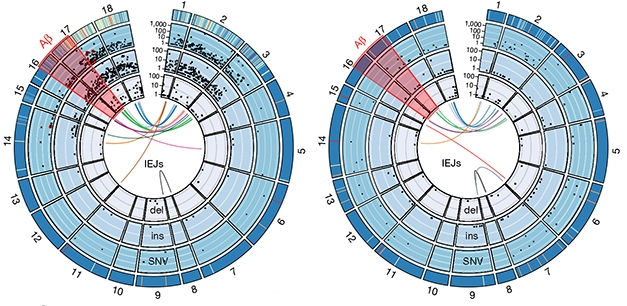 APP Diversifies. Exons 1–18 of APP (outer rim) contain thousands of single nucleotide variants (SNV), insertions (ins), and deletions (del), each represented by a black dot. Novel intra-exonic junctions (IEJs) connect disparate exons (colored lines in center). More gencDNAs invade neuronal DNA in SAD (left) than controls (right). Some contain known familial AD mutations (red dots). [Courtesy of Lee et al., 2018. Nature.]
Turning mRNA into cDNA requires the enzyme reverse transcriptase. Is this enzyme part of the process of creating gencDNA? The authors introduced an APP-containing plasmid into Chinese hamster ovary cells, which have endogenous RT activity. GencDNA appeared, but only if double-stranded breaks were created in the DNA first by hydrogen peroxide. When reverse transcriptase was inhibited, no gencDNA arose. That suggests to Chun that both reverse transcriptase and double-stranded DNA breaks are required for the generation of gencDNA.
In neuronal nuclei from J20 mice, which overexpress APP with the Swedish and Indiana mutations, the number of gencDNAs increased over a mouse lifetime of 2.3 years, suggesting accumulation with age.
This process of somatic APP gene recombination could enable a sort of recording and playback mechanism, wrote the authors, whereby the cell stores a preferred version of the APP transcript, sans introns, and can quickly access it later without having to splice it again. However, reverse transcriptase is a sloppy enzyme, hence the numerous alterations, Chun said. It's possible that inhibiting this enzyme could prevent formation of gencDNAs, he added. Such inhibitors are FDA-approved for use in people with HIV.
"This study provides a potential mechanism leading to Alzheimer's disease," wrote Proukakis. "This work also gives fundamental insights into the brain genome, which is clearly much more plastic than previously thought."
"I'm convinced what they detect is really there in the samples," wrote Simon Mead, University College Hospital, London, to Alzforum. Mead praised the study as a fascinating technical advance that warrants independent replication in larger series of diseased human brains and different neurodegenerative diseases. That said, he cautioned that the current data don't demonstrate a robust association with disease. "I would expect, if this is a real causal mechanism, that GWAS might have thrown up genes involved in DNA repair or gene recombination."
Michael Rafii, University of Southern California, Los Angeles, echoed the question of causation. He said the work raises the possibility that genetic recombination may play a role in AD while opening up new avenues in fundamental neuroscience research. "The observation of neuronal DNA recombination via reverse transcription not only provides a mechanistic explanation for the mosaicism that has been previously observed in neurons, but also allows for diversification of each neuron's unique protein repertoire over its long lifespan," he wrote to Alzforum.—Gwyneth Dickey Zakaib
References
News Citations
Research Models Citations
Paper Citations
Leija-Salazar M, Piette C, Proukakis C. Review: Somatic mutations in neurodegeneration.

Neuropathol Appl Neurobiol

. 2018 Apr;44(3):267-285. Epub 2018 Feb 28 PubMed.
Verheijen BM, Vermulst M, van Leeuwen FW. Somatic mutations in neurons during aging and neurodegeneration.

Acta Neuropathol

. 2018 Jun;135(6):811-826. Epub 2018 Apr 28 PubMed. Correction.
Bushman DM, Kaeser GE, Siddoway B, Westra JW, Rivera RR, Rehen SK, Yung YC, Chun J. Genomic mosaicism with increased amyloid precursor protein (APP) gene copy number in single neurons from sporadic Alzheimer's disease brains.

Elife

. 2015 Feb 4;4 PubMed.
Further Reading
Papers
Nhan HS, Chiang K, Koo EH. The multifaceted nature of amyloid precursor protein and its proteolytic fragments: friends and foes.

Acta Neuropathol

. 2015 Jan;129(1):1-19. Epub 2014 Oct 7 PubMed.
Poduri A, Evrony GD, Cai X, Walsh CA. Somatic mutation, genomic variation, and neurological disease.

Science

. 2013 Jul 5;341(6141):1237758. PubMed.
Rehen SK, McConnell MJ, Kaushal D, Kingsbury MA, Yang AH, Chun J. Chromosomal variation in neurons of the developing and adult mammalian nervous system.

Proc Natl Acad Sci U S A

. 2001 Nov 6;98(23):13361-6. PubMed.
Primary Papers
Lee MH, Siddoway B, Kaeser GE, Segota I, Rivera R, Romanow WJ, Liu CS, Park C, Kennedy G, Long T, Chun J. Somatic APP gene recombination in Alzheimer's disease and normal neurons.

Nature

. 2018 Nov;563(7733):639-645. Epub 2018 Nov 21 PubMed.