Could the Purported Muscle Exercise Hormone, Irisin, Jog Memory?
Physical activity may improve cognition, and a paper in the January 8 Nature Medicine makes the case that a peptide shed from muscles during exercise might be responsible. Researchers led by Fernanda De Felice of Federal University of Rio De Janeiro report that boosting levels of the peptide irisin in the brain protected mouse models of Alzheimer's disease from synaptic deficits and memory problems. Exercise did also, but not in animals lacking irisin. What's more, the researchers reported that levels of the peptide flagged in the brains and cerebrospinal fluid of people with AD. Numerous unknowns remain, including whether irisin released from muscle, and/or expressed within the hippocampus, provides the neuroprotection. The new data also come after years of controversy surrounding this purported myokine. Some researchers called the findings promising, but others took issue with small sample sizes and ambiguity around the identity of the purported irisin.
FNDC5, the precursor to irisin, is low in AD brains and CSF.
Boosting FNDC5 expression in the brain spared AD mice from synaptic and memory deficits.
Knocking down FNDC5 counteracted synaptic benefits of exercise in mice.
Irisin, a cleavage product of fibronectin type III domain-containing protein 5, emerged as an exercise-induced hormone in 2012. Researchers led by Bruce Spiegelman of Harvard Medical School reported that FNDC5 expression tripled and the release of irisin inched up when mice worked out regularly, and that this induced fat metabolism (Jan 2012 news). They extended the findings to people, reporting that 10 weeks of exercise nearly doubled plasma irisin in older obese volunteers. Researchers immediately challenged the expression data and its relevance, claiming a noncanonical ATA start codon in human FNDC5 almost completely suppresses its expression (Timmons et al., 2012; Raschke et al., 2013). Others reported that the commercial polyclonal antibodies Spiegelman and colleagues used to detect irisin were not specific (Albrecht et al., 2015). A follow-up study from Spiegelman's lab identified irisin in human plasma using mass spectrometry, and reported that its levels increased in response to exercise (Jedrychowski et al., 2015). The same group also reported that exercise raised FNDC5 expression in mouse hippocampus, which in turn upped the expression of brain-derived neurotrophic factor, hinting at a possible mechanism for the effect on cognition (Oct 2013 news). A systematic review concluded that methods for identifying irisin lack precision and that no conclusions regarding irisin responses to physical activity can be made (Dinas et al., 2017).
Against this backdrop, De Felice and colleagues wondered if irisin modulates Alzheimer's disease pathology. First author Mychael Lourenco and colleagues measured FNDC5/irisin levels in mouse and human brain tissue using a commercially available polyclonal antibody, though not the antibody Spiegelman used in his early studies, which is seemingly no longer available. Given the prior controversies, Lourenco first tested the specificity of this newer polyclonal. Pretreatment with recombinant irisin blocked the antibody from detecting any protein expressed in Chinese hamster ovary cells, suggesting it only bound FNDC5/irisin in those cells. In western blots of mouse hippocampus, the antibody recognized four major bands and many minor ones. One, of 29 kDa, roughly matched the size of recombinant irisin, but was 7 kDa larger than irisin reported by Spiegelman's group. Mass spectrometry determined this 29 KDa band contained an octapeptide found in FNDC5, but C-terminal to the proposed irisin peptide sequence, suggesting it represents a larger peptide and not a post-translationally modified form of irisin that migrates more slowly (see image below). Larger species of ~40, 58, and 75 kDa also contained FNDC5 peptides, and the authors think these are multimers or post-translationally modified forms.

For this study, the authors based all western blot analyses on the amount of the 29 kDa band, acknowledging that it was unclear whether the band represented irisin or full-length FNDC5. For CSF they measured irisin using an ELISA—based on a different polyclonal—on the assumption that only this cleavage product and no full-length or other fragments of FNDC5 end up there. James Timmons of King's College London was not satisfied with this approach. "It is simply not scientifically robust to say that most FNDC5 detected in blood/plasma should be irisin, so we will call the results we get irisin," he wrote (see comment below).
In agreement with prior studies, Lourenco also detected FNDC5 mRNA in the mouse hippocampus and cortex, albeit at lower levels than in muscle. Next, he reported that hippocampal FNDC5/irisin and its mRNA were lower in two different AD mouse models than in control mice. They tested wild-type mice injected with synthetic Aβ oligomers, and 13-16 month old APP/PS1 mice.
Running western blots on human postmortem brain tissue, he found that, on average, seven people with late-stage AD, defined as an MMSE of 13-17, had markedly less of the 29 kDa FNDC5/irisin form in hippocampus extracts than did 11 controls and seven people with early AD, who had MMSEs of 20-25. The ELISA told a slightly different story, detecting less irisin in the CSF of 13 people with mild cognitive impairment, 13 with AD, and 13 with Lewy body dementia than in 26 controls. Plasma levels did not differ. Among controls, levels of CSF irisin ran higher in older people. All told, the findings suggested that in animal models and in people with AD/DLB, FNDC5/irisin levels drop in the brain.
The researchers decided to test what happened if they added the peptide to the brain. They again turned to the synthetic Aβ oligomer injection model. After five days, the animals poorly recognized novel objects placed in their cages, and they more quickly forgot a mild foot shock than did control mice. Boosting irisin levels in the brain—either by injecting recombinant irisin or a virus carrying the FNDC5 gene—spared these memory problems. In APP/PS1 mice, raising FNDC5/irisin levels also protected hippocampal neurons from synaptic deficits and improved plasticity in hippocampal slices.
Does any of this relate to exercise? The researchers put mice on a regimen of one hour of swimming per day for five weeks, then tested memory and synaptic function. To mitigate the stress of swimming, the researchers exposed the animals to short sessions at first, gradually building to a full hour by the end of the first week. This exercise routine staved off memory problems, as judged by novel object recognition, and synaptic malfunctions in both Aβ oligomer-injected and APP/PS1 mice. However, knocking down FNDC5 expression in the brain using short-hairpin RNAs negated the protective effect. In all, the findings suggested that FNDC5 expression in the brain mediated the neuroprotective effects of physical activity.
But wait—irisin is primarily known as an exercise-driven myokine. Does the muscle peptide released into the blood contribute to neuroprotection as well? To address this, the researchers took two approaches. They used neutralizing antibodies to remove the protein from circulation, and they intravenously injected adenoviruses carrying the FNDC5 gene to increase its expression in plasma. The antibodies attenuated the effect of exercise, while the viruses protected against Aβ toxicity. Oddly, boosting expression of FNDC5 in the periphery triggered an uptick of the protein in the hippocampus as well. How, remains unclear. De Felice believes the adenoviruses did not enter the brain. But she does not know if the muscle peptide directly affects FNDC5 expression in the brain or if it even traverses the blood-brain barrier. Margaret Fahnestock of McMaster University in Hamilton, Ontario, said that correlating peripheral irisin with brain FNDC5 mRNA might address this issue.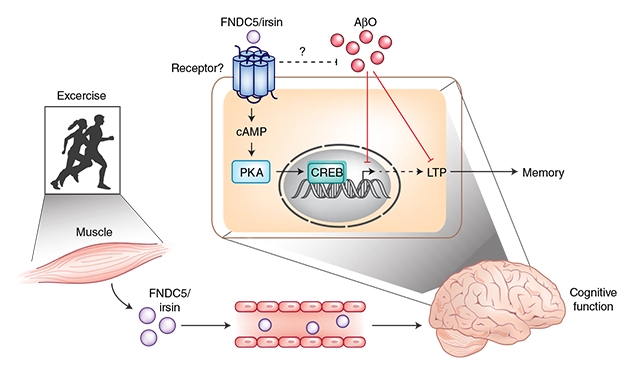 Irisin Protects the Brain. Irisin, released by muscles during exercise, and by neurons in the brain, seems to protect against synthetic Aβ oligomers. [Courtesy of Chen and Gan, News &Views, Nature 2018.]
Making matters murkier, researchers have yet to identify the receptor for irisin in the brain. Yonggeun Hong of Inje University in South Korea thinks this is a major problem. "The discovery of the irisin receptor(s) and the comprehensive signaling mechanisms stimulated in the periphery and in the brain are mandatory for the field," he wrote. Spiegelman and colleagues recently pegged αV integrins as irisin receptors on osteoclasts and fat cells (Kim et al., 2018). Interestingly, De Felice reported that irisin stimulated the cyclic AMP (cAMP)-protein kinase A (PKA)-cAMP responsive element binding protein (CREB) pathway in cortical slices. This pathway is activated by integrin receptors.
Henrik Zetterberg of the University of Gothenburg in Sweden commented that the disparate plasma and CSF results point to the existence of distinctly regulated pools of the peptide in blood and brain. However, he does not rule out muscle irisin somehow providing neuroprotection. Zetterberg suggested monitoring CSF and plasma irisin levels in FINGER and other studies that use aerobic exercise as an intervention (Rosenberg et al., 2018; Blumenthal et al., 2019). The CSF findings also cast irisin as a potential AD biomarker, Zetterberg added, but he said the proteins recognized by the antibodies would have to be better characterized.
Despite some caveats, most researchers Alzforum asked for comment were cautiously optimistic about the potential benefits of the exercise hormone. Dennis Selkoe of Brigham and Women's Hospital, Boston, called some of the data compelling. "The concept that exercise can mitigate some of the effects of Aβ oligomers has been seen in several previous studies, and the current work on the beneficial effects of irisin may help explain the reproducible benefits of exercise in AD and mouse models," he wrote.
In a News & Views editorial accompanying the paper, Xu Chen the University of California, San Francisco, and Li Gan of Weill Cornell Medical College in New York weighed in on irisin as a potential substitute for exercise. "As a critical mediator of the beneficial effect of exercise in preserving synaptic function and memory, FNDC5/irisin may be an alternative to exercise for elderly patients with AD," they wrote. "In particular, the effectiveness of peripheral administration of FNDC5/irisin makes it an attractive therapeutic candidate—if validated in humans."—Jessica Shugart
References
News Citations
Research Models Citations
Paper Citations
Primary Papers
Lourenco MV, Frozza RL, de Freitas GB, Zhang H, Kincheski GC, Ribeiro FC, Gonçalves RA, Clarke JR, Beckman D, Staniszewski A, Berman H, Guerra LA, Forny-Germano L, Meier S, Wilcock DM, de Souza JM, Alves-Leon S, Prado VF, Prado MA, Abisambra JF, Tovar-Moll F, Mattos P, Arancio O, Ferreira ST, De Felice FG. Exercise-linked FNDC5/irisin rescues synaptic plasticity and memory defects in Alzheimer's models.

Nat Med

. 2019 Jan;25(1):165-175. Epub 2019 Jan 7 PubMed.