Could Disposing of Damaged Mitochondria Treat Alzheimer's Disease?
Malfunctioning mitochondria accumulate in the Alzheimer's disease brain. Could they be purged? In the February 11 Nature Neuroscience, researchers led by Vilhelm Bohr at the National Institute on Aging, Baltimore, argue that these defective organelles play a key role in disease progression. In both animal and cellular models, revving up their disposal lessened the hallmark pathologies of AD: amyloid-β plaques and phosphorylated tau. In addition, learning and memory behavior bounced back to normal in treated worms and mice. "We believe mitophagy is a central process early in Alzheimer's disease, and could be a therapeutic target," Bohr told Alzforum.
Mitophagy is compromised in AD brain.
Stimulating it reduces Aβ/tau pathology and improves memory in animal models.
Phosphorylated tau prevents mitophagy by sequestering parkin.
"This is a remarkable and outstanding paper," Flint Beal at Weill Cornell Medical College, New York, wrote to Alzforum. "It ties tau phosphorylation and amyloid pathology to mitochondrial dysfunction and defective mitophagy. Aging, the most important risk factor for AD, is also linked to reductions in mitophagy."
The relationship between mitochondrial damage and AD pathology seems to run both ways, with each worsening the other (Nov 2009 news). Recently, researchers led by Jürgen Götz at the University of Queensland in Brisbane, Australia, elucidated one mechanism by which tau pathology contributes to mitochondrial mismanagement. They report in the February 1 EMBO Journal that cytoplasmic tau binds to the ubiquitin ligase parkin, preventing parkin from reaching damaged mitochondria and triggering their disposal via mitophagy.
"Together with other studies, these papers show clear evidence of a nexus between mitochondrial dysfunction and protein aggregation," said Russell Swerdlow at the University of Kansas in Kansas City. It remains unclear which phenomenon occurs first. Swerdlow speculated the order might vary in different forms of the disease, with familial AD more likely triggered by protein aggregation, and sporadic AD by aging, dysfunctional mitochondria (Aug 2013 news).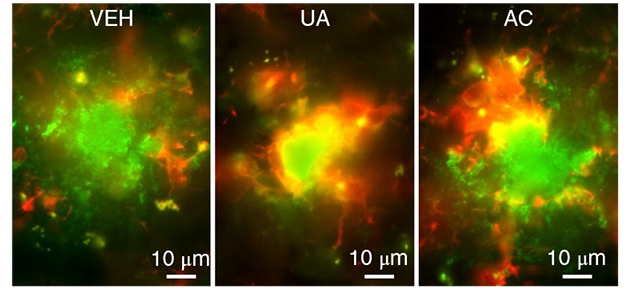 Mitochondria Aid Phagocytosis. In AD mice treated with a mitophagy enhancer (center and right), more microglia (red) feast on plaques (green) than in untreated AD mice (left). [Courtesy of Fang et al., Nature Neuroscience.]
Previous research has established that neurons in AD brain contain fewer healthy, intact mitochondria and more that are broken, oversized, and misplaced (May 2001 news; Jul 2009 news). Cells maintain their pool of mitochondria mainly via lysosomal degradation of damaged organelles. The kinase PINK1 tags defective mitochondria and recruits parkin, which in turn ubiquitinates mitochondrial proteins, flagging the organelle for disposal in lysosomes. Mutations in either of these genes cause Parkinson's disease, but have not been linked to AD (Apr 2004 news; Apr 2014 news; Sep 2015 news).
Bohr and colleagues wondered what role mitophagy might play in AD progression. Joint first authors Evandro Fang, Yujun Hou, and Konstantinos Palikaras measured the number of mitochondria associated with lysosomes in postmortem AD hippocampus, finding about half as much mitophagy as in control brain. They found the same thing in human neurons generated from iPS cells from AD patients. One of these lines carried an APP mutation, and a second had two copies of ApoE4. In both, proteins that initiate mitophagy, TBK1 and ULK1, were half as active as in control neurons. TBK1 variants cause familial forms of amyotrophic lateral sclerosis and frontotemporal dementia (Feb 2015 news; Mar 2015 news).
Would boosting mitophagy ameliorate AD? The authors first screened for compounds that enhanced mitophagy in the roundworm Caenorhabditis elegans. They identified an antibiotic, actinonin, and a plant compound, urolithin A. They fed urolithin A to a worm that expresses human Aβ42, and found it lowered levels of the peptide throughout the body. Notably, these worms treated with either urolithin A or actinonin learned to avoid a noxious chemical as quickly as wild-types did. Treatment likewise restored normal memory to a worm model of tau pathology (Fatouros et al., 2012). In both models, the improvement depended on mitophagy, as it did not occur in PINK1 mutants.
Turning to mice, the authors fed urolithin A or actinonin to APP/PS1 animals for two months. Mitophagy in hippocampal neurons ramped up to normal, while the number of damaged mitochondria fell to control levels. Amyloid plaque burden in the hippocampus fell by two-thirds, and treated animals performed as well as wild-types in the Morris water and Y mazes.
How does mitophagy lower amyloid? Perhaps via the innate immune system. In treated animals, the authors detected more activated microglia surrounding and engulfing plaques than in controls (see image above). Microglia in these mice were more phagocytic than those in untreated mice, as measured by cell shape and protein expression. In addition, these microglia boasted healthy mitochondria similar to those in wild-type mice, while untreated APP/PS1 microglia accumulated threefold more damaged mitochondria than controls did. Possibly, phagocytosis becomes impaired in untreated APP/PS1 mice because this process requires a great deal of cellular energy, and thus needs healthy mitochondria, the authors speculated.
Swerdlow suggested another possibility. He pointed to recent studies that indicate aggregated Aβ and tau can end up inside mitochondria, where they are either cleared by mitochondria themselves, or eliminated when mitophagy grinds up the organelles (Sorrentino et al., 2017; Du et al., 2017). Both Sorrentino et al. and Du et al. found that enhancing mitophagy lowered amyloid aggregation, in agreement with Bohr's data. "Mitochondria are like trash bags, and mitophagy takes out the trash," Swerdlow suggested.
Moreover, Shirley ShiDu Yan and colleagues at the University of Kansas in Lawrence reported that stimulating mitophagy with PINK1 improved synaptic plasticity and memory in AD mice. "The present study from Fang et al. supports our discovery," Yan wrote to Alzforum.
What about tau? Because APP/PS1 mice develop little tau pathology, Bohr and colleagues turned to 3xTg AD mice, which carry a tau mutation on top of APP and PS1 mutations, and form tangles. Treating them with urolithin A for one month inhibited tau phosphorylation and restored memory in the Y maze and object recognition tests. Intriguingly, previous research from Eva Mandelkow at the German Center for Neurodegenerative Diseases in Bonn found that a tau kinase, MARK2, also regulates PINK1 and mitochondrial transport (Matenia et al., 2012). Bohr noted that in AD, tau pathology associates more closely with cognitive decline than amyloid does, suggesting that targeting tau pathology by boosting mitophagy could help patients.
Bohr and colleagues are testing this in a clinical trial run by Steen Hasselbalch at Copenhagen University Hospital, Denmark. AD patients will take nicotinamide riboside, a Vitamin B3 variant that boosts nicotinamide adenine dinucleotide (NAD+). NAD+ precursors are known to stimulate mitophagy. Bohr said an advantage of this dietary supplement is that it has few side effects. NAD+ precursors are beginning to be evaluated for neurodegenerative and other conditions (Feb 2019 news).
Besides testing nicotinamide riboside in people, Bohr plans to further dissect how tau and mitochondria interact in worms. Prior studies have blamed abnormal tau for instigating mitochondrial dysfunction (Manczak and Reddy, 2012; Duboff et al., 2013; Eckert et al., 2014).
Götz and colleagues added to this literature by showing that cytosolic tau blocks mitophagy. First author Nadia Cummins found that overexpressing either human wild-type or P301L tau in mouse neuroblastoma cells prevented initiation of mitophagy after mitochondria had sustained damage. She traced the cause to a lack of parkin recruitment to these organelles and determined by co-immunoprecipitation that both types of tau directly bound parkin. Testing tau fragments, she found that the amino-terminal end of tau was responsible. Notably, tau did not interact with parkin that was already attached to mitochondria. In short, tau appears to sequester parkin in the cytosol, preventing it from reaching these organelles, the authors concluded. In AD, hyperphosphorylated tau dissociates from microtubules and builds up in cytoplasm.
Bohr noted that the findings dovetail with his. The interaction of tau and parkin strengthens the evidence that mitochondrial dysfunction may crop up early in AD, he said.—Madolyn Bowman Rogers
References
News Citations
Research Models Citations
Paper Citations
Primary Papers
Fang EF, Hou Y, Palikaras K, Adriaanse BA, Kerr JS, Yang B, Lautrup S, Hasan-Olive MM, Caponio D, Dan X, Rocktäschel P, Croteau DL, Akbari M, Greig NH, Fladby T, Nilsen H, Cader MZ, Mattson MP, Tavernarakis N, Bohr VA. Mitophagy inhibits amyloid-β and tau pathology and reverses cognitive deficits in models of Alzheimer's disease.

Nat Neurosci

. 2019 Mar;22(3):401-412. Epub 2019 Feb 11 PubMed.
Cummins N, Tweedie A, Zuryn S, Bertran-Gonzalez J, Götz J. Disease-associated tau impairs mitophagy by inhibiting Parkin translocation to mitochondria.

EMBO J

. 2019 Feb 1;38(3) Epub 2018 Dec 11 PubMed.