Can a Single Amyloid PET Scan Predict Time to Symptom Onset?
How soon will a person with amyloid plaques in the brain develop the symptoms of late-onset Alzheimer's disease? In the September 9 Neurology, researchers led by Suzanne Schindler at Washington University in St. Louis debuted a method for answering this question from a single PiB PET scan. How so? Their longitudinal study data showed that once amyloid burden had reached a threshold of 1.2 SUVR, plaques accumulated at the same constant rate in everyone. This allowed the authors to calculate each person's "amyloid time," or years since 1.2 SUVR, from one scan. They were then able to predict symptom onset based on a person's age at the point of crossing that threshold, as older people developed memory problems at a lower amyloid burden than did younger people.
Above 1.2 SUVR on PiB PET, amyloid accumulates at a constant rate in everyone.
A single scan can determine a person's "amyloid time," or years past threshold.
Amyloid time can be used to estimate age of symptom onset in LOAD.
Schindler noted that this predictive tool could help researchers select the right patients for clinical trials.
Others were enthusiastic about this work. "This is a great step toward translating the wealth of longitudinal amyloid PET data into a prognostic tool to project possible dementia onset," Michelle Farrell at Massachusetts General Hospital, Charlestown, wrote to Alzforum. Colin Masters and Victor Fedyashov at the University of Melbourne, Australia, agreed. "The results look very promising," they wrote, noting the need for replication in larger datasets (full comments below).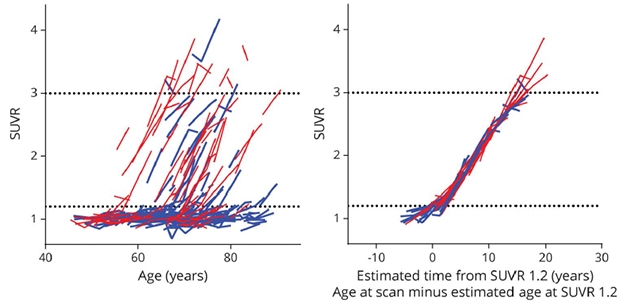 Order From Chaos. Taking each person's amyloid accumulation trajectory from a spaghetti plot (left) and lining them up using years since a 1.2 SUVR on PiB PET instead of age (right) reveals that plaques grow at roughly the same trajectory in everyone. [Republished with permission, © 2021 American Academy of Neurology.]
Other researchers have reported finding a consistent trajectory of amyloid accumulation in preclinical AD. Sterling Johnson at the University of Wisconsin School of Medicine in Madison correlated amyloid "chronicity," or accumulation time, with cognitive decline (Oct 2019 news). However, this information had not been translated into a formula for determining age at onset of dementia.
To do this, Schindler used data from 236 people, average age 67, who participated in aging studies at the Knight Alzheimer's Disease Research Center. All had at least two PiB PET scans, with an average of five years between them, and all but 12 were cognitively healthy at the time of their baseline scan. For amyloid loads below 1.2 or above 3.0 SUVR, the researchers saw little relationship between plaque burden and its rate of accumulation. Between 1.2 and 3.0 SUVR, however, amyloid accumulated at the same steady rate in everyone. There were two phases, with plaques growing rapidly until about 1.8 SUVR, and more slowly thereafter. The SUVR, aka standard uptake value ratio, is a measurement that compares uptake of a radiolabeled tracer in brain regions of interest against that in a reference region not expected to bind the tracer.
Remarkably, when the researchers lined up all the individual trajectories from a spaghetti plot, using time since 1.2 SUVR on the x axis instead of age, the curves became nearly superimposed (see image above). It took 17 years on average to progress from 1.2 to 3.0 SUVR.
When along this time course do symptoms appear? To try to answer this, the researchers analyzed data from another 180 participants who had at least one PiB PET scan in the 1.2-3.0 SUVR range, and who had undergone annual clinical and cognitive assessments for an average of eight years. The authors found the amount of "amyloid time," i.e., the time since a person had had an SUVR of 1.2, that elapsed before symptoms showed up varied by age, but not by other factors captured in this study, such as sex, race, education, or even APOE genotype. For example, someone who reached 1.2 SUVR at age 50 would become symptomatic about 20 years later. For a 60-year-old, the average time to onset would be 17 years; for an 80-year-old, 10 years.
"This is consistent with the idea that older subjects may have a greater degree of comorbid pathology, thus a smaller amount of amyloid pathology may be necessary for clinical impairment," Elizabeth Mormino at Stanford University in Palo Alto, California, wrote to Alzforum (full comment below).
Why did APOE4 have no effect? After all, carriers are known to have a much higher risk of developing AD. Schindler's data suggest the lipoprotein exerts its effects prior to a person's reaching 1.2 SUVR. At such low levels of plaque, APOE4 carriers were already accumulating amyloid at a steady rate, while noncarriers were not. The finding jibes with in vitro studies showing that ApoE4 helps seed Aβ, shortening the initial lag phase of aggregation. As a result, APOE4 carriers in these cohorts reached 1.2 SUVR earlier in life, at an average age of 60 years for homozygotes and 64 years for heterozygotes, compared to 69 years for noncarriers.
"A key contribution of [this] paper is the individual-level assessment," noted Murat Bilgel at the National Institute on Aging in Bethesda, Maryland (full comment below). "Previous studies were able to estimate population-average intervals only."
Nonetheless, there was some individual variation in the estimated onset age, with a standard deviation of plus or minus three years (see image above). "The influence of genes, environment and age, and the poorly defined concepts of resilience/vulnerability, need to be incorporated," Masters and Fedyashov wrote.
In future work, Schindler is applying the same methodology to develop predictive formulas for other biomarkers. She noted the method works for the more commonly used tracer florbetapir as well, although the data are not as clean, perhaps because the tracer is less sensitive than PiB. Schindler also has preliminary evidence that the approach can estimate onset age from fluid biomarkers such as cerebrospinal fluid Aβ42/Aβ40.—Madolyn Bowman Rogers
References
News Citations
Primary Papers
Schindler SE, Li Y, Buckles VD, Gordon BA, Benzinger TL, Wang G, Coble D, Klunk WE, Fagan AM, Holtzman DM, Bateman RJ, Morris JC, Xiong C. Predicting Symptom Onset in Sporadic Alzheimer Disease With Amyloid PET.

Neurology

. 2021 Nov 2;97(18):e1823-e1834. Epub 2021 Sep 9 PubMed.