Can 'Cryptic Peptides' Peg People with TDP-43 Pathology?
Could a biomarker for TDP-43 pathology be on the horizon? This RNA/DNA-binding protein accumulates in nearly all people with amyotrophic lateral sclerosis, and almost half of those with frontotemporal dementia, but can only be detected at autopsy. Two new bioRxiv preprints may change that.
In one, uploaded January 23, Michael Ward at the National Institute of Neurological Disorders and Stroke, Bethesda, Maryland, Pietro Fratta at University College London, Leonard Petrucelli at the Mayo Clinic in Jacksonville, Florida, and colleagues describe the consequences of RNA mis-splicing errors caused by loss of TDP-43 from the nucleus, as occurs in TDP-43 proteopathies. These errors result in transcripts that contain extra pieces, called "cryptic exons." They are usually degraded. However, the researchers found that a small number of such transcripts are made into proteins. They detected eight such "cryptic peptide"-containing proteins in the cerebrospinal fluid of people with ALS/FTD, suggesting they could be biomarkers of the disease.
In TDP-43 proteopathy, some mis-spliced transcripts are translated into protein.
These proteins are detected in the CSF of patients but not controls.
They may flag presymptomatic disease and predict onset.
"This is a remarkable feat of science by a fantastic group of experts," Peter Nelson at the University of Kentucky, Lexington, told Alzforum. Sami Barmada at the University of Michigan, Ann Arbor, wrote, "This is one of the clearest demonstrations that changes at the RNA level in models of disease have substantial and consequential impacts at the protein level."
The second manuscript, uploaded January 24, delved deeper into the biomarker potential. Scientists led by Philip Wong at Johns Hopkins University School of Medicine, Baltimore, report that they detected a cryptic peptide version of histone-binding protein HDGFL2 in the CSF of people with a C9ORF72 expansion, even before they developed symptoms of ALS or FTD. These expansions cause TDP-43 to aggregate in the cytosol, sucking it out of the nucleus (Dejesus-Hernandez et al., 2011; Ryan et al., 2022).
"These converging studies establish long-sought prognostic TDP-43-dependent protein biomarkers, which will transform not only the field of ALS-FTD, but other human disease exhibiting TDP-43 proteinopathy," Wong predicted.
From Cryptic Exon to Peptide. In the absence of nuclear TDP-43, splicing errors lead to new sequences (red) in some transcripts. Some of these transcripts are made into proteins with new domains. [Courtesy of Seddighi et al., 2023.]
Wong and colleagues first reported TDP-43's role in keeping cryptic exons out of transcripts (Aug 2015 news). TDP-43 affects splicing of thousands of genes, and as it is lost from the nucleus, such errors accumulate. Typically, cryptic exons disrupt the normal reading frame of a transcript, or add a premature stop codon. Cells recognize these faulty transcripts and dispose of them before they can be translated. Subsequent studies by several groups identified specific examples of this, finding that cryptic exons in transcripts for the microtubule-binding protein stathmin-2, and the axonal regulator UNC13A, squelched expression of those proteins (Dec 2018 conference news; Jan 2019 news; Apr 2021 news).
Are transcripts with cryptic exons always degraded? To investigate, joint first authors Sahba Seddighi and Yue Qi in Ward's lab, and Anna-Leigh Brown in Fratta's, generated glutamatergic neurons from human iPSCs that had their TDP-43 gene knocked out by CRISPR. As expected, RNA splicing ran amok in these neurons. The authors identified 233 abnormally spliced transcripts, most of which contained cryptic exons, though a few skipped exons instead, or included entire introns. Most of these bungled transcripts were degraded, as shown by the low levels of their protein product compared to neurons with normal TDP-43 expression.
Some were translated, however. Mass spectrometry analysis of protein from these neurons pulled out 12 that expressed cryptic peptides: HDGFL2, MYO18A, CAMK2B, DNM1, ACTL6B, KCNQ2, MYO1C, ADGRB1, AGRN, SYT7, KALRN, RSF1 (image at right). This list is not comprehensive, as different experiments identified other cryptic peptides. In most of the 12, though, the cryptic exon or abnormal splice site maintained the transcript reading frame, creating a nearly normal version of the protein with an added domain. Such in-frame cryptic exons tend to escape cell quality-control mechanisms, and thus are more likely to be translated. However, for SYT7, KALRN, and RSF1, the cryptic exon altered the reading frame and introduced premature stop codons, producing proteins truncated after the new domain.
These new domains may affect protein function. The authors immunoprecipitated HDGFL2 from TDP-43 knockout neurons, and found it brought down different proteins than did HDGFL2 from control neurons. Out of 178 protein partners, 16 were enriched and 13 depleted in TDP-43 knockout neurons. The former tended to regulate mRNA splicing and DNA repair, perhaps to compensate for loss of TDP-43, while the latter were mostly cytoskeleton regulators. This suggests cryptic peptides could change the biology of the cell, potentially shedding light on previously unknown disease mechanisms, Ward noted.
Fen-Biao Gao at the University of Massachusetts Medical School thinks the data support the idea that correcting multiple transcripts affected by TDP-43 may be necessary to ameliorate disease (Halim and Gao, 2022). "A major challenge for the future is to identity the subset of TDP-43 targets, if they exist, that may be responsible for the bulk of the consequences of loss of TDP-43 function," Gao wrote to Alzforum (full comment below).
Do cryptic peptides occur in people? Using mass spec, the scientists measured four dozen proteins, known to be abundant in ALS CSF, and that could contain cryptic peptides. In 12 or more of 15 samples from ALS patients, eight of these proteins—HDGFL2, MYO18A, RSF1, SYT7, SYNE1, IGLON5, SYN3, TRRAP—contained cryptic peptides, suggesting they could be biomarkers of the disease. The list varies from that of de novo peptides found in cultured neurons because not all proteins make it into CSF in large enough quantity to be detected, while other proteins are more abundant there than in neurons, Ward said. He noted that investigations of other cell types, such as inhibitory neurons or astrocytes, might turn up additional cryptic peptides that could be better disease markers.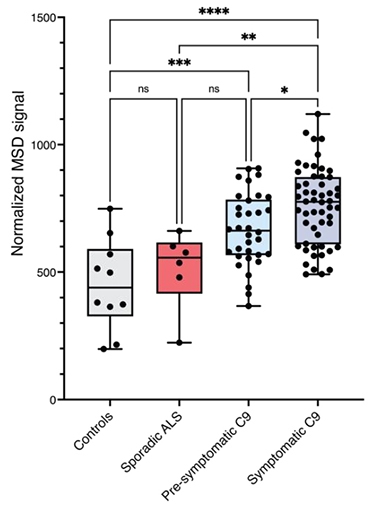 Separately, Wong and colleagues focused on whether cryptic peptides could be biomarkers of disease. Rather than a large proteomic analysis, as Seddighi and colleagues had done, first author Katherine Irwin generated monoclonal antibodies to cryptic peptides in just five proteins: HDGFL2, ACTL6B, AGRN, EPB41L4A, and SLC24A3. She selected these because the normal proteins are highly expressed in brain, and their cryptic exons were predicted to be in-frame and produce exposed epitopes that might be easily detected by antibodies. The antibody against HDGFL2 was particularly promising. It detected a cryptic peptide-containing version of the protein in HeLa cells lacking TDP-43.
The authors developed a sandwich ELISA and used it to quantify the amount of cryptic HDGFL2 in CSF samples from 31 C9ORF72 carriers with symptoms of ALS or FTD, and from 15 asymptomatic carriers, who were enrolled in a natural history study at the NIH (Offit et al., 2020). Participants donated two samples, on average, over 2.5 years. The amount of cryptic HDGFL2 was significantly higher in carriers, even those who were presymptomatic, than in CSF samples from 10 controls. Wong and colleagues had earlier found that cryptic exons show up in transcripts in postmortem Alzheimer's disease brain as soon as TDP-43 abandons the nucleus, and before it forms visible deposits, suggesting those RNAs could be early markers of pathology (Sun et al., 2017).
"Since the delay between first symptoms and a diagnosis of ALS can be frustratingly long, the potential to find a biomarker that works presymptomatically would be very valuable," noted Steven Finkbeiner at the Gladstone Institutes in San Francisco (comment below).
However, the amount of cryptic HDGFL2 did not correlate with symptom severity, nor with deterioration over the 2.5 years of the study. Moreover, although levels were slightly higher in symptomatic than presymptomatic carriers, among the symptomatic group, they tended to be lower the longer that person had had symptoms. This suggests expression peaks early in the symptomatic stage, and then falls. This is the opposite pattern to the neurodegeneration marker NfL in ALS/FTD, which climbs steadily as symptoms worsen (image below). Might this difference help clinicians better identify disease stages?
Diverging Trajectories. The opposite longitudinal trajectories of cryptic HDGFL2 and NfL could help predict when symptoms will appear, with ratios around one indicating onset is imminent. [Courtesy of Irwin et al., 2023.]
Indeed, the ratio of NfL to cryptic HDGFL2 distinguished presymptomatic and symptomatic carriers in this cohort. Overall, 82 percent of presymptomatic people had a ratio below one, while 97 percent of symptomatic people were above one. Notably, the presymptomatic volunteer with the highest NfL/cryptic HDGFL2 ratio developed movement problems during the study. Together, the data hint this ratio could help predict progression.
What about idiopathic disease? Here the data were less clear. In a pilot study of six people with sporadic ALS, the cryptic HDGFL2 was higher than in healthy controls, but the difference missed significance. This may be because the sporadic patients tended to be at a later stage of disease, when cryptic HDGFL2 had already started to fall, Wong noted. He thinks other cryptic peptides might make better markers at this stage.
"More work remains to quantify cryptic exon-containing transcripts and proteins in normal controls, and patients with other diseases such as Alzheimer's," noted Johnathan Cooper-Knock at the University of Sheffield, U.K. TDP-43 deposits are found in 40 percent of postmortem AD brains, and isolated TDP-43 pathology, called limbic-predominant age-related TDP-43 encephalopathy neurological change, or LATE-NC, is common in old age (Meneses et al., 2021; Feb 2022 conference news; Mar 2022 conference news). Nelson believes these potential biomarkers should be investigated for this application as well. "LATE-NC is 100-fold more common than ALS, and a context where a biomarker is particularly urgently needed," he wrote.
If TDP-43 mis-splicing is responsible for neurodegeneration, are there ways to target it therapeutically? A recent paper suggests one approach. In the February 2 Cell Stem Cell, researchers led by Justin Ichida at the University of Southern California, Los Angeles, showed that suppressing the spliceosome-associated factor SYF2 kept cryptic exons out of transcripts in neurons made from both expanded C9ORF72 and sporadic ALS pluripotent stem cells. Suppression of SYF2 also retained TDP-43 in the nucleus and improved neuron health. In mice that overexpress TDP-43, the strategy slowed neurodegeneration.—Madolyn Bowman Rogers
References
News Citations
Paper Citations
Primary Papers
Seddighi S, Qi YA, Brown AL, Wilkins OG, Bereda C, Belair C, Zhang Y, Prudencio M, Keuss MJ, Khandeshi A, Pickles S, Hill SE, Hawrot J, Ramos DM, Yuan H, Roberts J, Sacramento EK, Shah SI, Nalls MA, Colon-Mercado J, Reyes JF, Ryan VH, Nelson MP, Cook C, Li Z, Screven L, Kwan JY, Shantaraman A, Ping L, Koike Y, Oskarsson B, Staff N, Duong DM, Ahmed A, Secrier M, Ule J, Jacobson S, Rohrer J, Malaspina A, Glass JD, Ori A, Seyfried NT, Maragkakis M, Petrucelli L, Fratta P, Ward ME. Mis-spliced transcripts generate de novo proteins in TDP-43-related ALS/FTD.

bioRxiv

. January 23, 2023 bioRxiv
Irwin KE, Jasin P, Braunstein KE, Sinha I, Bowden KD, Moghekar A, Oh ES, Raitcheva D, Bartlett D, Berry JD, Traynor B, Ling JP, Wong PC. A fluid biomarker reveals loss of TDP-43 splicing repression in pre-symptomatic ALS.

bioRxiv

. January 24, 2023 bioRxiv
Linares GR, Li Y, Chang WH, Rubin-Sigler J, Mendonca S, Hong S, Eoh Y, Guo W, Huang YH, Chang J, Tu S, Dorjsuren N, Santana M, Hung ST, Yu J, Perez J, Chickering M, Cheng TY, Huang CC, Lee SJ, Deng HJ, Bach KT, Gray K, Subramanyam V, Rosenfeld J, Alworth SV, Goodarzi H, Ichida J. SYF2 suppression mitigates neurodegeneration in models of diverse forms of ALS.

Cell Stem Cell, 2023 February 2

Cell Stem Cell