Blood-Brain Barrier Surprise: Proteins Flood into Young Brain
The blood-brain barrier keeps most plasma proteins out of the brain, but becomes leaky with age and in Alzheimer's. Or so scientists thought. In the July 1 Nature, researchers led by Tony Wyss-Coray at Stanford University turn this idea on its head. They found that in young healthy mice, the blood-brain barrier allows in large quantities of endogenous plasma protein via receptor-mediated transport. This physiological uptake dwindles with age, even as nonspecific passage of large molecules rises. Overall, these changes result in less protein influx to the aging brain, rather than more. Curiously, inhibiting a single alkaline phosphatase can restore receptor-mediated uptake to old brains, the authors found.
In young mice, plasma proteins pass readily into the brain.
With age, this receptor-mediated uptake slows.
Inhibiting an alkaline phosphatase can restore it.
"It's really startling that plasma proteins get into the brain freely. We didn't know that before," said Costantino Iadecola at Weill Cornell Medical College, New York. "This paper will open a new chapter in blood-brain barrier biology."
Others were intrigued by implications for disease. "It will be crucial to understand how the age-related transition in protein entry into the brain affects neural-circuit function, and whether this has a role in age-related cognitive decline," Roeben Munji and Richard Daneman at the University of California, San Diego, wrote in an accompanying Nature editorial. The findings may also affect drug delivery, since several companies are developing strategies for ferrying drugs into the brain through the transferrin receptor. An age-related drop in efficiency could hinder this.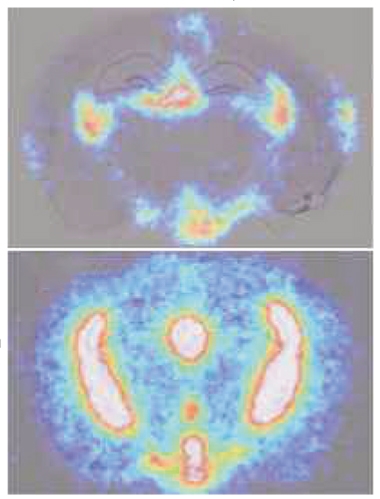 Most studies of blood-brain barrier integrity infuse exogenous solutes such as dextran into the blood. Wyss-Coray and colleagues instead wanted to examine what happens with endogenous proteins. To do this, first author Andrew Yang collected blood from young healthy mice, depleted highly abundant proteins such as albumin and antibodies, and radiolabeled the remaining proteins. Twenty hours after infusing these proteins back into mice, the researchers found a strong signal in the brain, indicating high uptake. Entry was not indiscriminate for all proteins, however; in control experiments, very little labeled IgG entered the brain (see image at right).
The scientists were surprised by the amount of protein that got in. "At first we didn't believe it," Wyss-Coray said. To confirm, they labeled the plasma proteome in several other ways, including with fluorescent tags of varying charges and with chemical linkers such as biotin. In every case, they saw the same high brain entry. Fluorescently labeled plasma proteins appeared as bright spots inside brain endothelial cells, pericytes, neurons, and microglia (see image below). Fluorescence showed up in choroid plexus, indicating that proteins also cross the blood-cerebrospinal fluid barrier. In fact, "barrier" may be the wrong word for the blood-brain boundary, Wyss-Coray suggested. "It's actually a very sophisticated filter of blood proteins," he told Alzforum.
Who let these proteins in? To identify the transporters, the researchers isolated endothelial cells four hours after injecting labeled plasma into the bloodstream. They sorted these cells by fluorescence, separating those with high and low uptake, and correlated that difference with gene expression via single-cell RNA sequencing of 745 cells. They found several expected genes associated with enhanced protein uptake, including the transferrin receptor, the amino acid transporter SLC3A2, the fatty acid transporter MFSD2A, and the lipoprotein transporter APOE.
However, the few genes associated with reduced brain uptake had not been known to have that function before, Wyss-Coray noted. Chief among these was the alkaline phosphatase ALPL, also known as tissue nonspecific alkaline phosphatase. This protein promotes bone mineralization (Murshed et al., 2005).
The transcriptomic analysis revealed a gradient along the vasculature, changing from sparse transporters in arterioles to venules riddled with transporters (see image below). It makes sense for venules to do most of the taking up, because blood pressure is lowest there, Wyss-Coray said. Most immune cells also enter the brain from venules.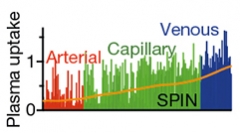 "Just five years ago, we wouldn't have been able to do this study, because the single-cell transcriptomic technology wasn't there," Wyss-Coray told Alzforum.
What happens with age? In 2-year-old mice, the pattern of uptake shifted. Entry of specific proteins dropped by half, while nonspecific influx of IgG rose sixfold. Examining a previously derived dataset of gene expression, the authors found that most of the genes that support specific protein uptake get expressed less with age. Meanwhile, genes involved in nonspecific transcytosis, such as the caveolar gene CAV1, go up (Yousef et al., 2019). The authors confirmed these expression changes by measuring the amount of the corresponding proteins in aged endothelium.
Likewise, when they looked at blood vessels from aged brain under a microscope, they found half as many clathrin-coated vesicles, which mediate receptor transport, but six times as many nonspecific caveolar vesicles, compared with the numbers in young mice. This again supports a shift from specific to nonspecific transcytosis with aging.
Part of the reason may be a loss of pericytes. These little cells surround blood vessels, and induce expression of transferrin, MFSD2A, and other transport genes. They die off as the brain ages (Feb 2018 news). Yang and colleagues correlated pericyte loss with expression changes in old mice, and they found calcium nodules in brain blood vessels in these old mice (see image at right). Notably, transgenic mice lacking pericytes develop calcifications (Keller et al., 2013).
One culprit may be the calcifying phosphatase ALPL. The authors found that its expression shoots up threefold in vasculature of aged mice. Because this phosphatase contributes to cardiac calcification, several companies are developing ALPL inhibitors. Yang and colleagues administered one to aged mice. It restored receptor-mediated transferrin uptake to the levels seen in young animals.
Possibly, such inhibitors could boost "brain shuttle" strategies that sneak therapeutics into aged brain via the transferrin receptor, Wyss-Coray suggested (Jan 2018 news; May 2020 news). "Now that the first transferrin receptor-based shuttles are in the clinic, this paper contributes to the understanding of how BBB shuttling mechanisms may change with age and reinforces the importance of continued research in humans to develop new and more efficient approaches for treating elderly patient populations," agreed Jens Niewoehner at Roche (see RO7126209).
In future work, the scientists will identify specific proteins that pass into young brains, and explore how they change in mouse models of amyloidosis. Alterations in the blood-brain barrier have been linked to cognitive decline and seizures in AD (Jan 2019 news; Dec 2019 news).
"Numerous AD risk genes are involved in both receptor-mediated endocytosis and nonspecific uptake, suggesting that they could also contribute to AD pathogenesis via altered blood-brain barrier transcytosis," Li-Huei Tsai, Joel Blanchard, and Adele Bubnys at the Massachusetts Institute of Technology, Cambridge wrote to Alzforum (full comment below).—Madolyn Bowman Rogers
References
News Citations
Therapeutics Citations
Paper Citations
Murshed M, Harmey D, Millán JL, McKee MD, Karsenty G. Unique coexpression in osteoblasts of broadly expressed genes accounts for the spatial restriction of ECM mineralization to bone.

Genes Dev

. 2005 May 1;19(9):1093-104. Epub 2005 Apr 15 PubMed.
Yousef H, Czupalla CJ, Lee D, Chen MB, Burke AN, Zera KA, Zandstra J, Berber E, Lehallier B, Mathur V, Nair RV, Bonanno LN, Yang AC, Peterson T, Hadeiba H, Merkel T, Körbelin J, Schwaninger M, Buckwalter MS, Quake SR, Butcher EC, Wyss-Coray T. Aged blood impairs hippocampal neural precursor activity and activates microglia via brain endothelial cell VCAM1.

Nat Med

. 2019 Jun;25(6):988-1000. Epub 2019 May 13 PubMed.
Keller A, Westenberger A, Sobrido MJ, García-Murias M, Domingo A, Sears RL, Lemos RR, Ordoñez-Ugalde A, Nicolas G, da Cunha JE, Rushing EJ, Hugelshofer M, Wurnig MC, Kaech A, Reimann R, Lohmann K, Dobričić V, Carracedo A, Petrović I, Miyasaki JM, Abakumova I, Mäe MA, Raschperger E, Zatz M, Zschiedrich K, Klepper J, Spiteri E, Prieto JM, Navas I, Preuss M, Dering C, Janković M, Paucar M, Svenningsson P, Saliminejad K, Khorshid HR, Novaković I, Aguzzi A, Boss A, Le Ber I, Defer G, Hannequin D, Kostić VS, Campion D, Geschwind DH, Coppola G, Betsholtz C, Klein C, Oliveira JR. Mutations in the gene encoding PDGF-B cause brain calcifications in humans and mice.

Nat Genet

. 2013 Sep;45(9):1077-82. Epub 2013 Aug 4 PubMed.
Primary Papers
Yang AC, Stevens MY, Chen MB, Lee DP, Stähli D, Gate D, Contrepois K, Chen W, Iram T, Zhang L, Vest RT, Chaney A, Lehallier B, Olsson N, du Bois H, Hsieh R, Cropper HC, Berdnik D, Li L, Wang EY, Traber GM, Bertozzi CR, Luo J, Snyder MP, Elias JE, Quake SR, James ML, Wyss-Coray T. Physiological blood-brain transport is impaired with age by a shift in transcytosis.

Nature

. 2020 Jul 1; PubMed.
Munji RN, Daneman R. Young brains welcome protein.

Nature

. 2020 Jul 1.