Barriers Between Blood and CSF, Brain Yield to Aβ—Not a Bad Thing?
The barrier between the blood and central nervous system crumbles in Alzheimer's disease, but researchers have known little about how this happens, or what it does to brain pathology. Two new papers shed some light on how Aβ damages the cells that protect the brain parenchyma and cerebrospinal fluid. The studies examine different systems and describe distinct mechanisms, but both add to the picture of what may happen in disease.
One study appeared in the September 18 Science Advances, an open-access online journal AAAS launched this past February. Researchers led by Matthew Campbell at Trinity College Dublin report that Aβ40 monomers open up small gaps in the blood-brain barrier, allowing the peptides to squeeze between endothelial cells out into the bloodstream. This clearance route was not previously suspected, and may help the brain eliminate high concentrations of Aβ, Campbell suggested. In keeping with this, he found that transiently weakening the integrity of the blood-brain barrier in mouse models of amyloid accumulation heightened Aβ clearance, lowered brain amyloid load, and improved cognition, hinting that this mechanism could be harnessed therapeutically. Campbell and colleagues are testing this idea in primates.
By contrast, researchers led by Roosmarijn Vandenbroucke at Ghent University, Belgium, focused on harmful effects of Aβ on the choroid plexus epithelium, a membrane that lines brain ventricles and separates blood vessels from the cerebrospinal fluid (CSF). In the September 16 Journal of Neuroscience, these researchers reported that high levels of synthetic Aβ42 oligomers damaged this barrier within hours, disrupting tight junctions between epithelial cells and distorting the cells' shape. The scientists traced the cause to upregulated inflammatory factors and matrix metalloproteinases. MMPs are enzymes that chew up proteins, including those in tight junctions. Inhibition of MMPs prevented damage.
Costantino Iadecola at Weill Cornell Medical College, New York, commended the authors for focusing on an area that receives little study. "We don't know enough about the blood-brain barrier and blood-CSF barrier. These papers address interesting questions that should improve our understanding of Aβ's effects on these structures," he told Alzforum.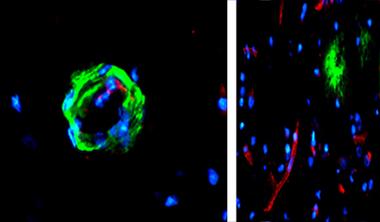 The blood-brain barrier forms in capillaries, where proteins such as claudin-5 and occludin bind to create tight junctions between the endothelial cells that comprise the vessel. The junctions prevent molecules from slipping between the cells, thus blocking passage of solutes into or out of the brain. This barrier helps maintain brain homeostasis but also complicates clearance of detritus, including Aβ. Some Aβ can pass through the blood-brain barrier via active transport across endothelial cells (see Deane et al., 2003; Deane et al., 2004). On the other hand, it is still unclear whether Aβ can also filter out through the tight junctions between endothelial cells, the so-called "paracellular" pathway. Intriguingly, Aβ has been found to suppress tight junction proteins (see Sep 2011 news; Carrano et al., 2011; Hartz et al., 2012).
Confirming these latter findings, first author James Keaney in Campbell's group demonstrated that adding synthetic Aβ40 monomers and dimers transiently suppressed claudin-5 and occludin in endothelial cell cultures. Similarly, in aged Tg2576 mice, which overexpress amyloid precursor protein, the authors saw scant claudin-5 and occludin along portions of capillaries clogged with amyloid. Postmortem brain sections from 30 Alzheimer's patients and controls also showed less claudin-5 and occludin in blood vessels choked with amyloid, but normal amounts in healthy vessel sections just a few microns away (see image below).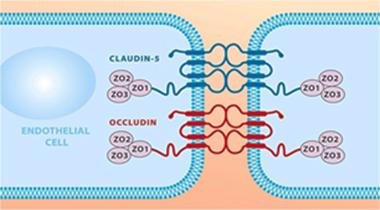 Could the drop in these tight-junction proteins allow Aβ40 to slip out of the brain? The authors used siRNAs to suppress claudin-5 and occludin translation in endothelial cell cultures that maintain tight junctions and form a monolayer separating two pools of medium. The authors found that in this cell-based model of the blood-brain barrier, Aβ40 monomers, but not dimers, passed through the weakened barrier. This suggested the gaps were only large enough for molecules less than 8 kDa in size to pass. Suppression of the same tight-junction proteins in wild-type mice allowed molecules of 3 kDa, but not 10 kDa, to diffuse from brain to blood.
The authors wondered what effect this permeability would have in the context of excess amyloid. They suppressed claudin-5 and occludin expression once every three weeks for nine months in Tg2576 and APPPS1 mice, causing a sporadic, transient relaxation of the blood-brain barrier. Plasma levels of soluble Aβ40 jumped about threefold, while brain levels dropped in half. Treated animals performed better in a T-maze, which measures spatial memory.
The results hint at therapeutic potential, suggested the author. Campbell is investigating whether suppressing these tight-junction proteins in mice just before administering an anti-amyloid antibody would enhance Aβ clearance from brain. Campbell noted that so far, the transient suppression of tight-junction proteins by siRNA appears safe in both mice and monkeys, with no signs of the brain edema that is known to accompany blood-brain barrier breakdown. He believes this is because the barrier opens only slightly, for a brief period. "We are taking away just a small amount of junctional material to render the barrier marginally permeable," Campbell explained.
Others agreed the finding has promise. "The data indicate you can modulate the absorption of Aβ into blood, and that in turn lowers brain amyloid and delays cognitive decline. That's worth investigating," noted Roy Weller at the University of Southampton, U.K. However, researchers cautioned that side effects would have to be carefully studied to ensure toxic molecules are not entering the brain through the weakened barrier.
Vandenbroucke called the finding fascinating, though she wondered how systemic suppression of tight-junction proteins would affect the blood-CSF barrier. Molecules that pass through that different boundary gain direct access to CSF and brain interstitial fluid, unlike molecules that wriggle through the blood-brain barrier, where other cell types such as pericytes and astrocytes provide an additional layer of protection for brain parenchyma. Thus, the blood-CSF barrier might be more vulnerable than the blood-brain barrier to harmful effects from transient permeability, Vandenbroucke speculated.
The barrier between blood and CSF has received far less attention than the blood-brain barrier, though some studies claim that this boundary also falters in AD brain (see Serot et al., 2000; Krzyzanowska and Carro, 2012). To investigate, joint first authors Marjana Brkic and Sriram Balusu in Vandenbroucke's group injected synthetic Aβ42 oligomers into the brain ventricles of wild-type mice. After both two hours and six hours, they saw a massive boost in the expression of inflammatory cytokines IL6, IL1β, and TNFα, in the choroid plexus. This was accompanied by increased expression and activity of several MMPs, in particular MMP3, which shot up 15-fold. At the same time, epithelial cells in the choroid plexus shrank, losing their plump, cuboidal shape. Expression of claudin-5 and occludin dropped in half, and the blood-CSF barrier leaked.
MMPs have been implicated in blood-CSF barrier disruption before (see Zeni et al., 2007; Batra et al., 2010; Vandenbroucke et al., 2012). Brkic and colleagues wondered if these enzymes, which are triggered by inflammation, might be chewing up the barrier. Supporting this, co-injecting a broad-spectrum MMP inhibitor along with Aβ42 prevented barrier damage. Likewise, MMP3 knockout mice injected with Aβ42 oligomers developed only slight leakage compared to injected wild-type counterparts.
These experiments highlight acute effects of Aβ, but what happens long-term? In ongoing work, the authors are examining the blood-CSF barrier days and weeks after Aβ injection. They are also studying this barrier in APPPS1 mice, which overproduce Aβ. In preliminary work, these animals appear to spontaneously develop some leakage between CSF and blood, though less pronounced than in injected mice, Vandenbroucke told Alzforum. This might mean that under chronic conditions of high Aβ, tight junctions can stabilize to some extent, she suggested.
In addition, Vandenbroucke will assess whether inhibiting MMPs improves cognition in mice. Such data would make a case for therapeutically suppressing these enzymes. Broad-spectrum MMP inhibitors have been tested in clinical trials for cancer, but caused side effects such as muscle pain, and are not an option, Vandenbroucke noted. Alternatives would be to target MMP3 specifically, or to suppress upstream inflammatory factors that boost its expression. Alzheimer patients' brains have been reported to contain elevated levels of metalloproteinases (see Wang et al., 2014).
Berislav Zlokovic at the University of Southern California, Los Angeles, found the data intriguing. "The present study is novel in shedding light on the negative impact of Aβ1-42 oligomers at the BCSFB and the potential ability of MMPs, specifically MMP-3, to mediate this effect. MMPs appear to be crucially important in regulating the integrity of the brain's specialized vascular barriers, including both the blood-brain barrier and blood-CSF barrier," he wrote to Alzforum (see full comment below).—Madolyn Bowman Rogers
References
News Citations
Research Models Citations
Paper Citations
Primary Papers
Keaney J, Walsh DM, O'Malley T, Hudson N, Crosbie DE, Loftus T, Sheehan F, McDaid J, Humphries MM, Callanan JJ, Brett FM, Farrell MA, Humphries P, Campbell M. Autoregulated paracellular clearance of amyloid-β across the blood-brain barrier.

Sci Adv

. 2015 Sep 4;1(8):e1500472. PubMed.
Brkic M, Balusu S, Van Wonterghem E, Gorlé N, Benilova I, Kremer A, Van Hove I, Moons L, De Strooper B, Kanazir S, Libert C, Vandenbroucke RE. Amyloid β Oligomers Disrupt Blood-CSF Barrier Integrity by Activating Matrix Metalloproteinases.

J Neurosci

. 2015 Sep 16;35(37):12766-78. PubMed.