Aβ Acts Through Pericytes to Throttle Brain Blood Flow
In Alzheimer's disease, blood flows sluggishly through the brain, partly because Aβ provokes small blood vessels to constrict. In the June 20 Science, researchers led by David Attwell at University College London blame this on pericytes, tiny cells that wrap around capillaries. The researchers found that in rodent brain, synthetic Aβ42 oligomers sparked formation of reactive oxygen species in pericytes, leading to release of the vasoconstrictor endothelin-1. Endothelin-1 in turn instructed pericytes to squeeze the blood vessels, narrowing diameter by about a quarter.
Aβ stimulates production of reactive oxygen species in cortical pericytes.
In response, these cells tighten around capillaries, slowing blood flow.
Targeting these cells might help restore vascular function.
In human AD brain tissue, too, pericytes appeared to pinch capillaries. This would have increased the overall vascular resistance threefold, and stemmed cerebral blood flow by about half, Attwell calculated. This is similar to the actual decrease in blood flow measured in AD (Asllani et al., 2008). "Provocatively, one can ask what fraction of the neuronal dysfunction and damage occurring in AD is caused directly by Aβ and tau, and what fraction reflects the decrease in energy supplied by the blood," Attwell wrote to Alzforum. He believes therapeutics that restore vascular health could prove beneficial in AD.
Costantino Iadecola at Weill Cornell Medical College in New York agreed the findings extend researchers' understanding of vascular dysfunction in Alzheimer's. "[The data] point to an emerging role of cerebral capillaries in the vascular pathobiology of Aβ, and reinforce the idea that Aβ acts at all levels of the cerebrovascular tree and on different cells to exert deleterious effects on the brain circulation," he wrote to Alzforum (full comment below). He noted that the next step will be to show that preventing pericyte vasoconstriction can rescue learning and memory in mice.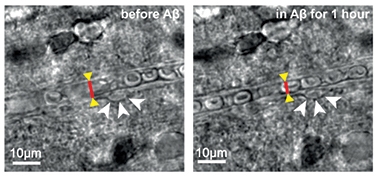 Researchers have known for decades that Aβ40 and Aβ42 tighten brain blood vessels, and that this occurs through generation of reactive oxygen species (Suo et al., 1998; Niwa et al., 2001; Dietrich et al., 2010). Previous work from Iadecola blamed macrophages near arterioles for ROS production (Park et al., 2011; Park et al., 2017). Attwell wondered if pericytes and capillaries might be involved. While the role of pericytes in regulating blood flow is controversial (Feb 2017 news; May 2017 news), Attwell previously found that a subset of these cells contain α-smooth muscle actin and can squeeze capillaries, reducing their diameter (Peppiatt et al., 2006; Hall et al., 2014).
To see if this happens in response to Aβ, first author Ross Nortley applied synthetic oligomeric Aβ40 or Aβ42 to cortical brain slices taken from rats. An hour of exposure to either peptide narrowed capillaries near pericytes by 15 percent. The degree of narrowing depended on Aβ concentration, reaching its maximal effect at 20 nM Aβ42, and half-maximal at 5 nM. In AD brain, soluble Aβ has been measured at 6 nM, Attwell noted (Roberts et al., 2017).
Through what cell types in these slices did Aβ act? Aβ is known to prod NADPH oxidases to form reactive superoxides. The NADPH oxidase found in pericytes and endothelial cells is NOX4, and in immune cells, NOX2. A NOX4 blocker prevented capillary constriction after Aβ application, while a NOX2 blocker only partially ameliorated it. This suggested that pericytes play a larger role than macrophages in mediating Aβ's effects, the authors concluded. Supporting this, Aβ exposure boosted ROS in cortical pericytes by sevenfold, but in macrophages only twofold.
ROS enhance transcription of the vasoconstrictor endothelin-1 in pericytes, microglia, and endothelial cells (Belaidi et al., 2016). Pericytes also express the endothelin-1 type A receptor. If the authors blocked this receptor as they added Aβ, pericytes did not clamp down on capillaries. Applying C-type natriuretic peptide (CNP) to rat cortical slices had a more powerful effect, relaxing capillaries that had previously tightened. This compound is known to reverse the effects of endothelin-1.
Do pericytes in human brain respond the same way? Nortley and colleagues obtained human cortical tissue that had been removed during neurosurgeries, and added synthetic oligomeric Aβ42 to these slices. Forty minutes of exposure shrank capillary diameter by 25 percent. To see if this narrowing was associated with pericytes, the authors examined postmortem cortical tissue from four people with a high amyloid plaque load, three with moderate plaque, and six age-matched controls without amyloid deposition. Though the number of samples was small, capillaries around pericytes were 30 percent narrower in amyloid-laden brain tissue than in control tissue. The degree of narrowing correlated with plaque load.
The authors made similar observations in APPNL-G-F knock-in mice. In four such mice, capillary diameter around cortical pericytes was down about a quarter compared to three wild-types, but there was no difference in capillaries in the cerebellum, where plaques are scarce.
Attwell noted that boosting cerebral blood flow may help ameliorate AD, particularly because low blood flow itself stimulates Aβ production (Sun et al., 2006; Zhang et al., 2007). He suggested several potential approaches, such as inhibiting NOX4, mopping up ROS, suppressing endothelin-1 release, or blocking its receptor. He is testing these approaches in APPNL-G-F mice.—Madolyn Bowman Rogers
References
News Citations
Research Models Citations
Paper Citations
Primary Papers
Nortley R, Korte N, Izquierdo P, Hirunpattarasilp C, Mishra A, Jaunmuktane Z, Kyrargyri V, Pfeiffer T, Khennouf L, Madry C, Gong H, Richard-Loendt A, Huang W, Saito T, Saido TC, Brandner S, Sethi H, Attwell D. Amyloid β oligomers constrict human capillaries in Alzheimer's disease via signaling to pericytes.

Science

. 2019 Jul 19;365(6450) Epub 2019 Jun 20 PubMed.