ApoE Binds Complement Protein, Keeps Inflammatory Cascade in Check
This story was updated on February 5, 2019.
Just when you thought ApoE biology couldn't get any more complicated, scientists have discovered a new function for this apolipoprotein. According to a January 28 paper in Nature Medicine, ApoE keeps the classical complement cascade in check by binding to a key activator, C1q. Researchers led by Changjun Yin and Andreas Habenicht of Ludwig-Maximilians-University in Munich and Christine Skerka of the Leibniz Institute in Jena, Germany, also spotted the ApoE-C1q complexes in three places: commingling with lipid deposits in both the choroid plexus and atherosclerotic arteries, and with Aβ plaques in the cortex. In ApoE-knockout mice, complement activation ran rampant. Suppressing complement protein C5 curbed the infiltration of inflammatory cells in these regions in animal models.
ApoE binds to C1q, blocking initiation of the classical complement cascade.
ApoE-C1q complexes are around lipid deposits in the choroid plexus, near Aβ plaques, and in arterial plaques.
Shutting down complement protein C5 ameliorated harmful inflammation.
"The authors demonstrate that ApoE's high-affinity binding to the C1q protein inhibits the classical complement cascade, a clear example of a disease-modifying effect of ApoE not directly related to amyloid," commented Bill Rebeck of Georgetown University in Washington, D.C. Yadong Huang of the University of California, San Francisco, noted that the study links two prominent risk factors for AD: ApoE and inflammation.
"They present convincing evidence that ApoE is a checkpoint inhibitor for complement activation once complement activation is underway," commented Cynthia Lemere of Brigham and Women's Hospital in Boston. "This seems to be a common pathway for both AD and atherosclerosis."
The best-known function of ApoE is that of lipid transporter: It sops up circulating lipids and facilitates their uptake and metabolism by cells. The E4 isoform boosts AD risk, and researchers have proposed myriad mechanisms to explain this, including that ApoE4 hinders Aβ clearance while ramping up its production (Apr 2013 news; Jun 2018 news; Jan 2017 news). Studies have also implicated E4 in messing with synaptic pruning, and exacerbating neuroinflammatory responses against tau pathology (Sep 2016 news; Apr 2017 news). ApoE4 carriers also have higher levels of plasma cholesterol, putting them at greater risk for atherosclerosis.
The German researchers hypothesized that ApoE might figure in the pathogenesis of AD and atherosclerosis by a common mechanism. To investigate, they started by examining ApoE in the choroid plexus. The ChP forms a barrier between the blood and cerebrospinal fluid (CSF), and is one of the key ports of entry for immune cells recruited to the brain. Previous studies indicated that ApoE expression is high in the ChP, and that increased inflammation there causes cognitive deficits with age (Aug 2014 news). Co-first authors Yin, Habenicht, and colleagues found that in ApoE knockout mice—which have sky-high levels of circulating lipids—the ChP was chock-full of lipid deposits, and massively infiltrated by leukocytes. Skerka thinks the blood-CSF barrier was compromised as well, because the researchers detected immunoglobulins in the ChP.
Amidst this greasy mess, the scientists also spotted abundant complement proteins, including C3, C3a, and C5. C5 is primarily produced in the liver. It is required to amplify recruitment of immune cells to the site of complement activation, and to form the attack complex that ultimately punctures target cells, such as microbes. When the researchers turned down C5 expression in the liver, dramatically fewer leukocytes reached the ChP in the ApoE knockouts. In all, the findings suggested that without ApoE, lipid build-up in the ChP tripped off the complement cascade there, leading to infiltration of immune cells.
Would a similar scenario unfold in the presence of human ApoE isoforms? To find out, the researchers looked at the ChPs of mice expressing human ApoE3 or ApoE4 instead of mouse ApoE. Similar to wild-type, neither of these mouse models had lipid deposits, complement proteins, nor leukocyte infiltration in the ChP. However, this changed when the researchers put the ApoE4 mice on a high-fat diet. With plasma cholesterol levels rivaling those of ApoE knockouts, these mice developed abundant lipid deposits in their ChPs. However, they had only minimal activation of the complement cascade. This suggested that though lipids built up in the ChPs of ApoE4 mice eating fatty chow, the presence of ApoE4 still kept the complement cascade in check there.
How so? Co-first author Susanne Ackermann and colleagues from the Skerka lab investigated this question in vitro. They exposed typical complement targets, including E. Coli, to normal human serum, which is naturally steeped in complement proteins. All three isoforms of ApoE effectively spared these targets from lysis. Oxidized low-density lipoproteins and Aβ fibrils also kicked off the complement cascade in human serum, but ApoE isoforms blocked that, too. Using a slew of structural and biochemical techniques, the researchers found that ApoE bound to C1q. A peptide containing residues 139-152 of ApoE bound with high affinity to the stalk region of the activated form of C1q only: C1q exists in an inactive form until encountering a target, then changes conformation. Notably, all three isoforms of ApoE bound to C1q with equal affinity.
How does all this relate to the different effects of ApoE isoforms on AD risk, then? "That's the key unresolved question here," said Huang, who was intrigued that all ApoE isoforms appeared to bind and inhibit C1q equally. Skerka proposed that the isoforms modulate AD risk by differentially influencing complement activators, such as lipids and Aβ. Even if all isoforms inhibit the cascade with equal vigor, perhaps accumulating triggers eventually overwhelm this checkpoint in ApoE4 carriers on a high fat diet, for example, she suggested.
The researchers next looked for evidence of the ApoE-C1q connection in human postmortem brain tissue from Neurobiobank Munich. The samples came from 30 people, averaging 70 years of age at death, 10 of whom carried at least one copy of ApoE4. Seventeen had been diagnosed with dementia, and also had significant burdens of Aβ and tau pathology, while 13 had not been diagnosed with dementia and had little to no evidence of these pathologies. The researchers found lipid deposits in 29 out of 30 ChP samples. The burden of ChP lipid deposits was highest in people with dementia, and correlated with the extent of Aβ and tau pathology. On average, ApoE4 carriers, all but one of whom had dementia, had the highest ChP lipid load. Using proximity labeling, they found ApoE-C1q complexes mingling within the lipid deposits.
The researchers also detected numerous complement proteins as well as ApoE around plaques, as reported previously. Using proximity labeling, they found that ApoE formed complexes with C1q there, as well. C1q has been reported to nucleate Aβ aggregation (Webster et al., 1995). Yin also found ApoE-C1q complexes in and around plaques in APP/PS1 mice. In those animals, knocking down liver expression of C5 reduced the number of microglia surrounding plaques, suggesting that microglial recruitment to plaques is at least partly driven by the complement cascade and that ApoE cannot completely shut it down. Lemere noted that this finding agrees with her studies in C3-deficient APP/PS1 mice, which also had fewer microglia surrounding plaques. Shutting down the cascade did not affect the overall plaque burden.
What about in atherosclerosis? ApoE knockout mice eventually develop atherosclerosis, and the researchers compared gene expression profiles in the early stages of the disease to wild-type mice. They found numerous complement proteins upregulated in the atherosclerotic arteries. Knocking down C5 expression in these mice reduced atherosclerosis by 65 percent, suggesting the complement cascade played a major role in the disease.
The researchers examined postmortem carotid artery samples from five healthy control, six early, and nine advanced atherosclerotic arteries. They found activated macrophages along with ApoE, C1q, and C5 within atherosclerotic plaques in the early and advanced stages. Notably, while both ApoE and C1q were expressed in the uninflamed areas of the arterial wall, they only formed complexes around plaques.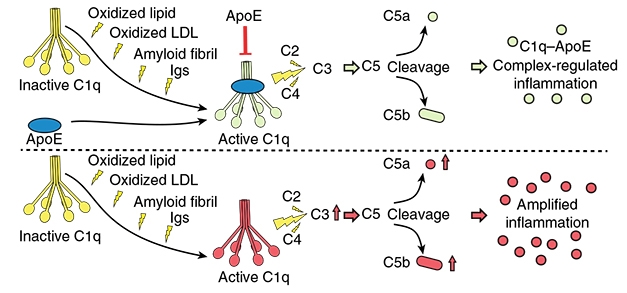 ApoE Checks C1q. In the proposed model, multiple triggers, including oxidized lipids and Aβ, activate C1q, initiating the complement cascade. ApoE binds and inhibits C1q. [Courtesy of Yin et al., 2019.]
Habenicht believes the complement cascade could be a common therapeutic target in both AD and atherosclerosis. How ChP lipid deposits relate to AD pathology remains unclear. Larger human studies need to be done, Habenicht added.
Lemere wondered whether an overactive complement cascade could explain amyloid-related imaging abnormalities (ARIA) that occur in some people in response to Aβ immunotherapy, especially in ApoE4 carriers. "Perhaps ApoE4 carriers have diminished ability for ApoE to act as a complement checkpoint inhibitor," she wrote. "If so, reducing complement activation … might be an effective way to combat ARIA."
To Huang's mind, that the relationship between ApoE and inflammation, and the role of inflammation in neurodegeneration, is not clear-cut. For example, recent studies suggest that ApoE, and ApoE4 more so, exacerbates harmful inflammatory responses against tau, ramping up neurodegeneration in tauopathy models (Sep 2017 news). How does this square with the present data, which cast ApoE as a soother of inflammation? The findings open up a new area for investigation, he said.—Jessica Shugart
Further Reading
No Available Further Reading
Primary Papers
Yin C, Ackermann S, Ma Z, Mohanta SK, Zhang C, Li Y, Nietzsche S, Westermann M, Peng L, Hu D, Bontha SV, Srikakulapu P, Beer M, Megens RT, Steffens S, Hildner M, Halder LD, Eckstein HH, Pelisek J, Herms J, Roeber S, Arzberger T, Borodovsky A, Habenicht L, Binder CJ, Weber C, Zipfel PF, Skerka C, Habenicht AJ. ApoE attenuates unresolvable inflammation by complex formation with activated C1q.

Nat Med

. 2019 Mar;25(3):496-506. Epub 2019 Jan 28 PubMed.