An Antimicrobial Approach to Treating Alzheimer's?
Do periodontal bacteria cause some cases of Alzheimer's disease? Scientists at one start-up think so, and their investors are putting their money where their mouths are, moving forward with clinical development of a bacterial protease inhibitor. In the January 23 Science Advances, Stephen Dominy and Casey Lynch of Cortexyme, Inc., South San Francisco, California, claim that the oral pathogen Porphyromonas gingivalis can move from the mouth into the brain, where it may instigate AD. People with Alzheimer's disease have elevated levels of the bacterial protease gingipain in their brain tissue, they find. In mice, small-molecule gingipain inhibitors ameliorate infection, reduce Aβ42 peptide production and neuroinflammation, and protect neurons from gingipain toxicity. The company has completed Phase 1 clinical trials of their gingipain inhibitor COR388, and will run a Phase 2/3 study to determine if it can improve cognition in people with mild to moderate AD, Lynch told Alzforum.
Traces of a gum bacteria are present in the brains of people with AD.
It may initiate or aggravate AD pathology.
Inhibitors of the bacterium's proteases are in clinical trials.
Multiple studies confirm that older people with periodontal disease have an increased risk of Alzheimer's and cognitive decline (Leira et al., 2017). While it's unclear whether poor hygiene and gum disease lead to dementia, or vice versa, one hypothesis blames the association on P. gingivalis, a predominant cause of chronic gum inflammation.
P. gingivalis is not the only microbe implicated in AD. Others include spirochetes, Chlamydia pneumoniae, and herpes simplex virus (June 2018 news; June 2018 news). Nonetheless, mouse studies support the theory that this particular oral bacteria can travel to the brain, where infection triggers or exacerbates AD pathology by increasing Aβ production, amyloid deposition, tau phosphorylation, and neuroinflammation, resulting in hippocampal cell death and cognitive decline (Ilievski et al., 2018; Ishida et al., 2017).
In the new work, Dominy and Lynch claim that P. gingivalis infects the central nervous system. In postmortem samples of the middle temporal gyri from 100 adults, people with neuropathologically confirmed AD had two to three times more gingipain than did non-demented controls. The bacteria release these three related proteases to clear the way for its spread, and they destroy gum tissue in periodontal disease. In the AD samples, gingipains correlated with increasing tau and ubiquitin immunoreactivity, regardless of symptoms. Protease levels did not correlate with age, suggesting time alone did not explain the relationship, Lynch told Alzforum.
The researchers also spotted gingipain and bacterial DNA in the cortices of three AD brain samples and in six of seven non-demented controls, consistent with common P. gingivalis infection in older adults. To assess CNS infection in living people, they devised an assay to test for fragmented bacterial DNA in cerebrospinal fluid, and reported results in a small sample. Of 10 people clinically diagnosed with AD, seven tested positive, albeit at DNA levels down to a thousandth of those found in the mouth.
In the brain, the proteases appeared primarily in neurons, and some co-localized with phospho-tau and intraneural Aβ. The former could potentially contribute to tau pathology, the researchers believe, as gingipains cut up tau in P. gingivalis-infected SH-SY5Y cells. In vitro digestion of tau with gingipains revealed dozens of cleavage sites and fragments known to be increased in CSF in AD, or implicated in tangle formation. The interaction with Aβ is consistent with that peptide's proposed antimicrobial function (May 2016 news; Spitzer et al., 2016).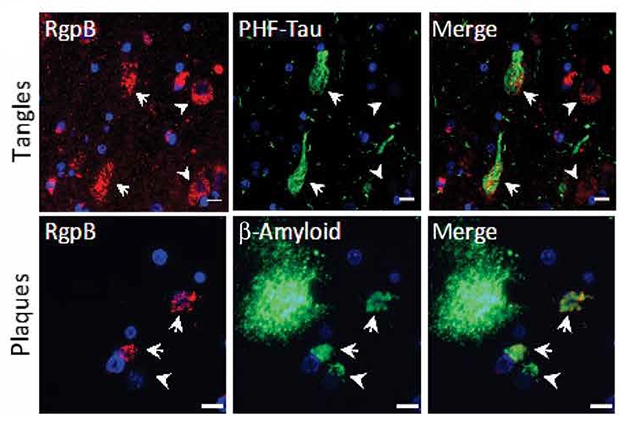 Trouble Spots. The gingipain protease RgpB (red) co-localizes with tau-paired helical filaments (top) and intracellular Aβ (bottom) in the AD hippocampus. [From Dominy et al., 2019, Science Advances.]​
Lynch and Dominy believe their data indicate that infection can precede and precipitate AD, but other researchers were not convinced. "What they've done is solid and suggestive, but it's not proof," said Brian Balin, Philadelphia College of Osteopathic Medicine. Balin told Alzforum he'd like to see detection of the intact organism, in addition to antigens or DNA, and detection in areas hit early in AD, such as the entorhinal cortex or locus coeruleus.
Another approach would be to identify people with and without the infection, and follow them over time to see who develops AD. Dominy said he'd like to do that, but is focusing on the trial. "We are in the clinic testing a highly specific gingipain inhibitor, and that's how we want to prove this is causative," he told Alzforum.

Bacterial Traces: Gingipain in gum tissue from a person with periodontal disease (left) and in hippocampus from a 63-year old with AD (middle), compared with a cognitively normal control. [From Dominy et al., 2019 Science Advances.]
Gingipain not only bestows gum-destroying powers to P. gingivalis, the protease is also neurotoxic, the researchers claim. It killed neurons in culture and upon injection into mouse hippocampus, but its deadly action was blocked by small-molecule inhibitors. These also reversed AD-like changes in a mouse model of periodontal disease.
In that model, the investigators applied P. gingivalis to the mouths of 44-week-old wild-type BALB/c mice every other day for six weeks. After 10 weeks, bacterial DNA was detected in their brains. The infection boosted endogenous mouse Aβ42 levels, and Aβ42 was toxic to P. gingivalis in vitro. The mouth infection led to a reduction in hippocampal neuron number at 10 weeks. Treating mice with gingipain inhibitors starting one week before and continuing for four weeks after the end of bacteria application reduced bacterial DNA and Aβ levels in the brain, and prevented the loss of hippocampal neurons. In the same infection model, COR388 was also reported to reduce brain P. gingivalis DNA and Aβ42, and levels of tumor necrosis factor, a mediator of neuroinflammation.
Cortexyme will begin a Phase 2/3 trial this spring, Lynch told Alzforum. It aims to treat more than 500 people who have mild to moderate AD for one year. The primary endpoint will be cognition measured by the ADAS-Cog. They will also measure P. gingivalis DNA in CSF before and after treatment. The company presented Phase 1 results at the Clinical Trial on Alzheimer's Disease conference in October 2018. Twenty-four healthy older adults and nine with Alzheimer's received the drug or placebo for up to 28 days. The treatment appeared tolerable, causing no serious adverse reactions, and no one withdrew.—Pat McCaffrey
References
Therapeutics Citations
News Citations
Paper Citations
External Citations
Primary Papers
Dominy SS, Lynch C, Ermini F, Benedyk M, Marczyk A, Konradi A, Nguyen M, Haditsch U, Raha D, Griffin C, Holsinger LJ, Arastu-Kapur S, Kaba S, Lee A, Ryder MI, Potempa B, Mydel P, Hellvard A, Adamowicz K, Hasturk H, Walker GD, Reynolds EC, Faull RL, Curtis MA, Dragunow M, Potempa J. Porphyromonas gingivalis in Alzheimer's disease brains: Evidence for disease causation and treatment with small-molecule inhibitors.

Sci Adv

. 2019 Jan;5(1):eaau3333. Epub 2019 Jan 23 PubMed.