Anatomy News Flash: Brain Drains Lymphatic Fluid Through Its Base
The 2015 discovery of lymphatic vessels in the brain's meninges threw open a door to seeing how this still-mysterious organ clears waste. Subsequent work showed that these vessels, which reside in the brain's outermost membrane, the dura mater, help drain large molecules and immune cells from cerebrospinal fluid to the periphery. It remained unclear, however, how molecules pass from inside the brain into these meningeal vessels. Now, in the July 24 Nature online, researchers led by Sung-Hong Park and Gou Young Koh at the Korea Advanced Institute of Science and Technology in Daejeon, South Korea, make the case that this occurs in vessels located at the base of the brain. In mice, they found that these vessels have the right anatomical features and are well-positioned spatially to take up solutes from CSF. Functional studies appeared to confirm this when labeled tracers were seen leaving the brain via this route.
Basal, but not dorsal, lymphatic vessels specialize in fluid uptake.
Tracers travel through basal lymphatic vessels to reach cervical lymph nodes.
Those vessels become misshapen with age, slowing transport.
Notably, transport was less efficient in old mice, in whom those basal lymphatic vessels were enlarged and misshapen. Clearance of brain proteins is known to slow with age.
"The identification of the precise exit routes for fluids leaving the brain is a crucial step toward understanding how waste is cleared from the CNS," Taija Mäkinen at Uppsala University, Sweden, wrote in an accompanying Nature editorial. "This finding might eventually enable the development of therapies that promote CNS drainage to combat pathological processes in neurological diseases."
Others agree this is a step forward. "The study combines creative noninvasive MRI and microscopy at a technically very high level, and adds to our understanding of how lymph is drained from the CNS," Matthias Nahrendorf at Massachusetts General Hospital, Boston, wrote to Alzforum. He also cautioned that it remains unknown whether the same route functions in humans.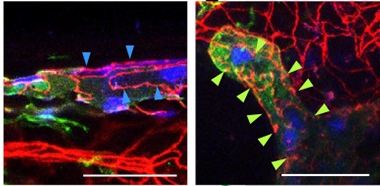 Although putative lymphatic vessels in the brain were first identified by the 17th-century anatomist Paolo Mascagni, 20th-century scientists doubted their existence. In 2015, two separate groups unambiguously identified lymphatic vessels in mouse dura and showed that they drained solutes from CSF. Human verification followed (Nov 2017 news; Oct 2017 news). How solutes enter these vessels remained a puzzle, however. The vessels were most apparent on the top of the brain, where they were separated from brain fluid by a thick dural layer. A recent study found that tracer traveling from brain to lymph nodes did not run through dorsal lymphatic vessels (Ma et al., 2017).

Special Architecture. Lymphatic vessels at the top of the brain (left) have tightly sealed junctions, while those at the base (right) have branched endings where endothelial cells are loosely buttoned together. [Courtesy of Ahn et al., Nature.]
Park and Koh wondered if lymphatic vessels elsewhere in the brain might handle drainage instead. Vessels at the base of the skull have been hard to study because of the complicated bony architecture there. To visualize these structures, first author Ji Hoon Ahn used Prox1-GFP mice, which express a fluorescent reporter in lymphatic endothelial cells (Choi et al., 2011). Examining basal vessels in these mice, the scientists found that they were highly branched, with numerous rounded ends, and possessed features characteristic of capillaries.
Individual endothelial cells in the vessel walls had a multilobed shape, like oak leaves. Instead of being tightly sealed together along their whole length, as a zipper is, the cells were pegged together at discrete spots as though buttoned (see image above). These "button-like" junctions leave gaps where fluid can enter. The vessels contained internal valves that help prevent fluid from running backward. In contrast, dorsal lymphatic vessels have zipper-like junctions and no valves. Moreover, basal lymphatic vessels lacked a covering sheath of smooth muscle cells. These features would allow the basal vessels to absorb and transport CSF, the scientists reasoned.
The surroundings of the basal lymphatic vessels suggested they were in the right location to interact with CSF. They course through a thin dural layer that measures only one or two cells across. They lie close to the subarachnoid space, separated from it by only a loose, mesh-like arachnoid barrier. Dorsal lymphatic vessels, on the other hand, lie in a thick, fibrous dural layer and are separated from CSF by a tight arachnoid membrane (see image at right).
To test whether basal lymphatic vessels indeed drain the brain, the authors infused a large-molecule tracer, Quantum Dot 705, into the brain parenchyma or subarachnoid space of Prox1-GFP mice. In either case, the signal appeared in basal lymphatic vessels within five minutes, then exited the skull and accumulated in cervical lymph nodes. The signal never appeared in dorsal lymphatic vessels. In other experiments, the authors observed T cells passing directly from brain into basal lymph vessels, suggesting immune cells might leave the brain via this route, as well.
What happens with age? Two-year-old mice had fewer valves in their basal lymphatic vessels, and those that remained were misshapen. Those vessels were larger and more branched, possibly to compensate for poor drainage, the authors suggested. Supporting this, the aged vessels poorly cleared Quantum Dot 705 from brain (see image below right). Given that clearance of pathological protein aggregates such as Aβ42 slows with age, this finding may inform what goes awry in neurodegenerative diseases, the authors believe.
The findings in aged mice replicate previous work from Jonathan Kipnis and colleagues at the University of Virginia, Charlottesville, who saw CSF drainage from brain to lymph nodes slow down in aged wild-type mice. In that study, ablating meningeal vessels in 5xFAD mice led to more amyloid plaque buildup in the hippocampus and meninges, suggesting this disposal route is crucial for controlling Aβ levels (Jul 2018 news). "Step by step, the field is recognizing the full potential of the meningeal lymphatic vasculature as a novel and exciting therapeutic target for age-related diseases of the CNS," Kipnis wrote to Alzforum (full comment below).
Still, researchers cautioned that it remains unclear how much Aβ is cleared through this versus other routes. "Several CSF clearance pathways have been described in rodents, including one along the olfactory nerve rootlets and cribriform plate, perineural pathways along the cranial nerves, and the dorsal and basal pathways discussed in this paper," Costantino Iadecola at Weill Cornell Medical College, New York, wrote to Alzforum (full comment below). Roxana Carare and Roy Weller at the University of Southampton, U.K., wondered how meningeal lymphatics interact with interstitial fluid drainage along blood vessel walls, which they believe clears solutes and is associated with cerebral amyloid angiopathy (see comment below; Morris et al., 2016; Aldea et al., 2019).
Researchers also said the question of how immune cells commute between brain and periphery deserves more study. Nahrendorf reported that immune cells can travel directly from bone marrow inside the skull into brain tissue (Aug 2018 news). How do they get out? Kipnis noted that the dorsal meninges are loaded with immune cells. "Whilst the major route for CSF solutes may be through the basal lymphatics, the dural sinus is heavily populated by immune cells and their trafficking is happening throughout the entire meningeal lymphatic network, including dorsal sites," he wrote (Louveau et al., 2018).—Madolyn Bowman Rogers
References
News Citations
Research Models Citations
Paper Citations
Primary Papers
Ahn JH, Cho H, Kim JH, Kim SH, Ham JS, Park I, Suh SH, Hong SP, Song JH, Hong YK, Jeong Y, Park SH, Koh GY. Meningeal lymphatic vessels at the skull base drain cerebrospinal fluid.

Nature

. 2019 Jul 24; PubMed.
Mäkinen T. Lymphatic vessels at the base of the mouse brain provide direct drainage to the periphery.

Nature

. 2019 Aug;572(7767):34-35. PubMed.