Among AD Mutations, Only ApoE4 Seems to Hobble Microglia
New research adds to the evidence that ApoE regulates microglial health and activity. Researchers led by Tarja Malm at the University of Eastern Finland, Kuopio, examined how several Alzheimer's risk factors affect microglia generated from human induced pluripotent stem cells. In the October 8 Stem Cell Reports, they describe a new protocol for rapidly generating these microglia. In these cells, the ApoE4 allele suppressed energy production, phagocytosis, and cell migration, while upping release of proinflammatory cytokines. By contrast, familial AD mutations in amyloid precursor protein and presenilin 1 left microglial function largely alone.
A new protocol quickly generates human microglia from iPS cells.
Familial AD mutations in APP and PS1 barely affect these cells.
ApoE4 weakens their phagocytosis and heightens inflammatory responses.
The findings confirm recent reports of the key role ApoE plays in orchestrating microglial responses to disease. They also reinforce the concept that familial and sporadic disease start in different cells, with inflammatory processes more important in the latter. "ApoE4 contributes to AD risk via microglia, while familial AD mutations act on other brain cell types," Malm noted.
Previous work from Oleg Butovsky at Brigham and Women's Hospital, Boston, found that ApoE is required for mouse microglia to rev up phagocytosis in response to neurodegeneration (Sep 2017 news). The E4 allele impairs this phagocytic response (May 2019 conference news).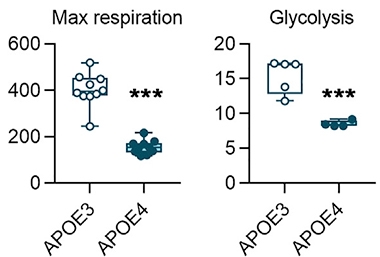 Few studies have examined what APP and PS1 mutations might do in microglia, although some work suggests that they can alter their inflammatory responses and Aβ uptake (Manocha et al., 2016; Zhao et al., 2017). These mouse studies may not translate to people, however, as research indicates that mouse and human microglia respond differently to disease (Feb 2018 news).
To investigate human cell responses, Malm and colleagues developed a protocol for generating microglia from induced pluripotent stem cells. They tried to mimic the in vivo differentiation of microglia from the yolk sac, first subjecting iPSCs to low-oxygen conditions to generate erythromyeloid progenitors, then adding growth factors to guide development into mature microglia. The protocol took 24 days and yielded 20 microglia for every iPS cell.
Microglia rapidly alter their gene expression when cultured, which complicates their study (Jun 2017 news). Importantly, Malm's iPSC-derived cells did not express macrophage genes, suggesting the protocol produced a pure microglial population. The cells had the ramified shape typical of human microglia. Their transcriptional profile matched that of other iPS-derived microglia, as well as microglia freshly isolated from human brain (Zhang et al., 2016; Abud et al., 2017).
The method resembles one developed by Mathew Blurton-Jones and colleagues at the University of California, Irvine, though that one did not rely on low oxygen and takes two weeks longer (McQuade et al., 2018).
Julia TCW at the Icahn School of Medicine at Mount Sinai, New York, praised Malm's protocol, noting that it appears robust and well-validated. "Because it's simple and fast, it could be more practical than other methods. These induced microglia could be utilized for many assays," TCW told Alzforum.
For this study, first author Henna Konttinen initially generated iPSC lines from fibroblasts donated by 12 volunteers, then differentiated them into microglia. Two of the donors carried the Swedish mutation in APP, two had the presenilin 1 DE9 deletion, three were homozygous for ApoE4, and the remaining five were from healthy ApoE3/3 controls.
The APP and PS1 mutant microglia behaved like wild-type microglia in most assays. They produced the same amount of Aβ42 as controls and gobbled up the yeast glycan zymosan as well as controls. When stressed, APP and PS1 microglia did behave slightly differently. They migrated faster than wild-type to fill a gap in the cell layer in the culture dish. They released less of several pro-inflammatory cytokines when stimulated with lipopolysaccharide or interferon-γ to mimic inflammation. Their weak inflammatory response suggests that APP and PS1 mutant microglia may have a senescent phenotype and are unable to mount an immune reaction, the authors noted.
"We were surprised that these familial mutations did very little to microglial function," Malm said. TCW noted that APP and PS1 are barely expressed in microglia under basal conditions.
ApoE4 microglia were a different story. These cells ingested fewer yeast particles than did ApoE3 controls, and they moved more slowly to fill in a void in the cultured cell layer. Upon stimulation with LPS and IFN-γ, E4 microglia ramped up secretion of several proinflammatory cytokines, including IL-6, IL-8, MCP-1, TNFα, and RANTES. Overall, the findings suggest a shift from a phagocytic to an inflammatory phenotype.
The results agree with other recent work. "In general, their findings are consistent with ours," Li-Huei Tsai at Massachusetts Institute of Technology, Cambridge, wrote to Alzforum. She found sluggish phagocytosis and a heated inflammatory response in two ApoE3/4 induced human microglial lines compared to isogenic ApoE3/3 controls (Jun 2018 news). Likewise, TCW recently reported a higher inflammatory response in E4/4 than E3/3 human microglia (Aug 2019 news). In ongoing work, TCW sees preliminary evidence of poor phagocytosis in ApoE4/4 microglia as well, she told Alzforum.
Curiously, research in a mouse microglial cell line reported the opposite—increased motility and phagocytosis in ApoE4 microglia compared to E3s (Muth et al., 2019). "Our study, together with other recent research, underlines the importance of modeling function using human cells," Malm noted.
The ApoE4 allele also put a damper on mitochondrial energy production, halving oxygen consumption and ATP production. Anaerobic glycolysis was flat, suggesting overall metabolism was slowed by the E4 allele (see image above).
"The effect of ApoE isoform on microglial metabolism is an interesting aspect of this study," wrote Jason Ulrich, Washington University in St. Louis, to Alzforum (full comment below). He noted that a previous study reported low microglial oxidative and glycolytic energy production in 5xFAD mice that lacked TREM2 (Aug 2017 news). "Glycolytic activation of microglia could play an important role in the microglial response to AD pathology," he wrote. "It would be interesting to know how ApoE genotype would influence microglial metabolism in response to stimuli more associated with neurodegenerative disease, such as myelin debris or dying neurons."—Madolyn Bowman Rogers
References
News Citations
Mutations Citations
Research Models Citations
Paper Citations
Primary Papers
Konttinen H, Cabral-da-Silva ME, Ohtonen S, Wojciechowski S, Shakirzyanova A, Caligola S, Giugno R, Ishchenko Y, Hernández D, Fazaludeen MF, Eamen S, Budia MG, Fagerlund I, Scoyni F, Korhonen P, Huber N, Haapasalo A, Hewitt AW, Vickers J, Smith GC, Oksanen M, Graff C, Kanninen KM, Lehtonen S, Propson N, Schwartz MP, Pébay A, Koistinaho J, Ooi L, Malm T. PSEN1ΔE9, APPswe, and APOE4 Confer Disparate Phenotypes in Human iPSC-Derived Microglia.

Stem Cell Reports

. 2019 Oct 8;13(4):669-683. Epub 2019 Sep 12 PubMed.